Axios Generate
December 19, 2017
Good morning and welcome back! A quick note for Washingtonians: Axios' Mike Allen will be hosting two live News Shaper interviews this week and you're invited.
Tomorrow he will be interviewing National Economic Council Director Gary D. Cohn, where they'll go behind the scenes of the tax negotiations, and look ahead to next year's agenda. Then Thursday, Mike and Sen. Mark Warner will discuss the latest on Bob Mueller's investigation. To RSVP for Wednesday's event, click here. For Thursday's, click here.
Ok, let's dive in . . .
Breaking: China launches trading plan and BHP threatens to bail on U.S. Chamber
Chinese carbon trading market: China, which is the world's largest greenhouse gas polluter, on Tuesday unveiled plans for a national carbon trading market that Bloomberg notes will be "the world's biggest trading system for the climate-warming emissions."
Here's more, via the New York Times: "The nationwide market would initially cover only China's vast, state-dominated power generation sector, which produced almost half of the country's emissions from the burning of fossil fuels last year."
Coal and climate tussle: Mining giant BHP said Tuesday that it plans to abandon the World Coal Association, and may also leave the U.S. Chamber of Commerce over differences on climate policy, including the Chamber's opposition to pricing carbon and its attacks on the Paris climate deal.
BHP's newly published review of its membership in trade associations is here.
Quick take, via the Financial Times: "The move reflects the growing importance of environmental, social and governance standards within multinationals, which want to protect their brands and insulate themselves from threats posed by activists and consumer boycotts."
ICYMI: The EPA has taken its first steps toward replacing the big Obama-era regulations on power plant carbon emissions with a more modest rule, my Axios colleague Amy Harder reported yesterday.
Trump's security plan goes big on energy "dominance"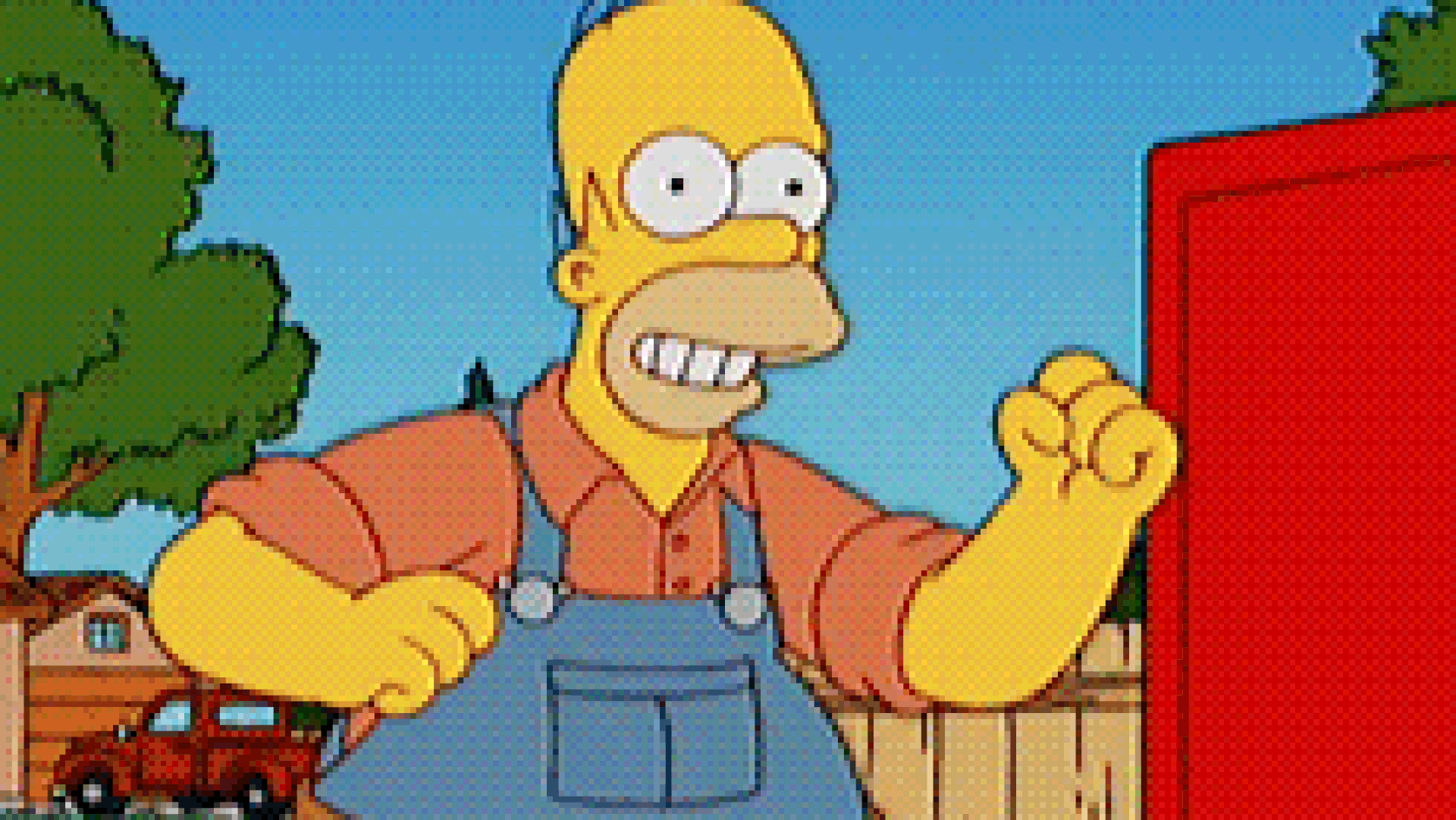 Putting it in writing: The new White House National Security Strategy goes big on the administration's of-repeated mantra that it's seeking U.S. energy "dominance," mentioning the idea no less than a half-dozen times.
"Unleashing these abundant energy resources — coal, natural gas, petroleum, renewables, and nuclear — stimulates the economy and builds a foundation for future growth," it states.
The document lists several "priority actions," including: speeding up permitting for infrastructure like pipelines and export terminals and promoting U.S. exports overall; working with allies to protect infrastructure from cyber and physical attacks; and helping achieve "universal access" to affordable energy.
Why it matters: Prominently emphasizing "dominance" in the security strategy signals how the White House is using a multi-pronged rationale to back up its moves to promote U.S. coal and oil-and-gas.
Officials define "energy dominance" broadly to encompass many energy sources including renewables. However, the administration has focused largely on actions and plans to curb regulations that affect fossil fuels, especially coal, while promoting U.S. natural gas and oil exports.
Climate posture: As we noted yesterday, the plan omits the Obama administration's recognition of climate change as a security threat. However, it does discuss climate in other ways, noting: "Climate policies will continue to shape the global energy system."
Consistent with the White House message at the recent UN climate talks in Bonn, Germany, it makes that case that fossil fuels and other energy forms will be needed to meet rising energy demand in the developing world, while casting U.S. policy as a model for other economies.
"The United States will remain a global leader in reducing traditional pollution, as well as greenhouse gases, while expanding our economy. This achievement, which can serve as a model to other countries, flows from innovation, technology breakthroughs, and energy efficiency gains, not from onerous regulation," it states.
Overall the plan is consistent with what amounts to a Trump doctrine on climate, which is basically:
Question the scientific consensus on human-caused warming and throttle back the Obama administration's high priority on the topic with moves like quitting the Paris climate deal and withdrawing regulations.
But at the same time, recognizing that it's probably wise to do something, and that something is to emphasize natural gas — which is a big factor behind the drop in U.S. CO2 emissions since 2005 — plus a more efficient use of coal and carbon-free nuclear power.
Yes, but: A number of analyses conclude that various White House policies will together slow or even halt the decline of U.S. emissions, putting the country further away from meeting its 2015 pledge in the Paris climate deal to cut emissions 26%–28% below 2005 levels by 2025.
Editor's note: This piece has been corrected to show that for climate, the NSS did not only state: "Climate policies will continue to shape the global energy system."
So hot right now, part 1: 2017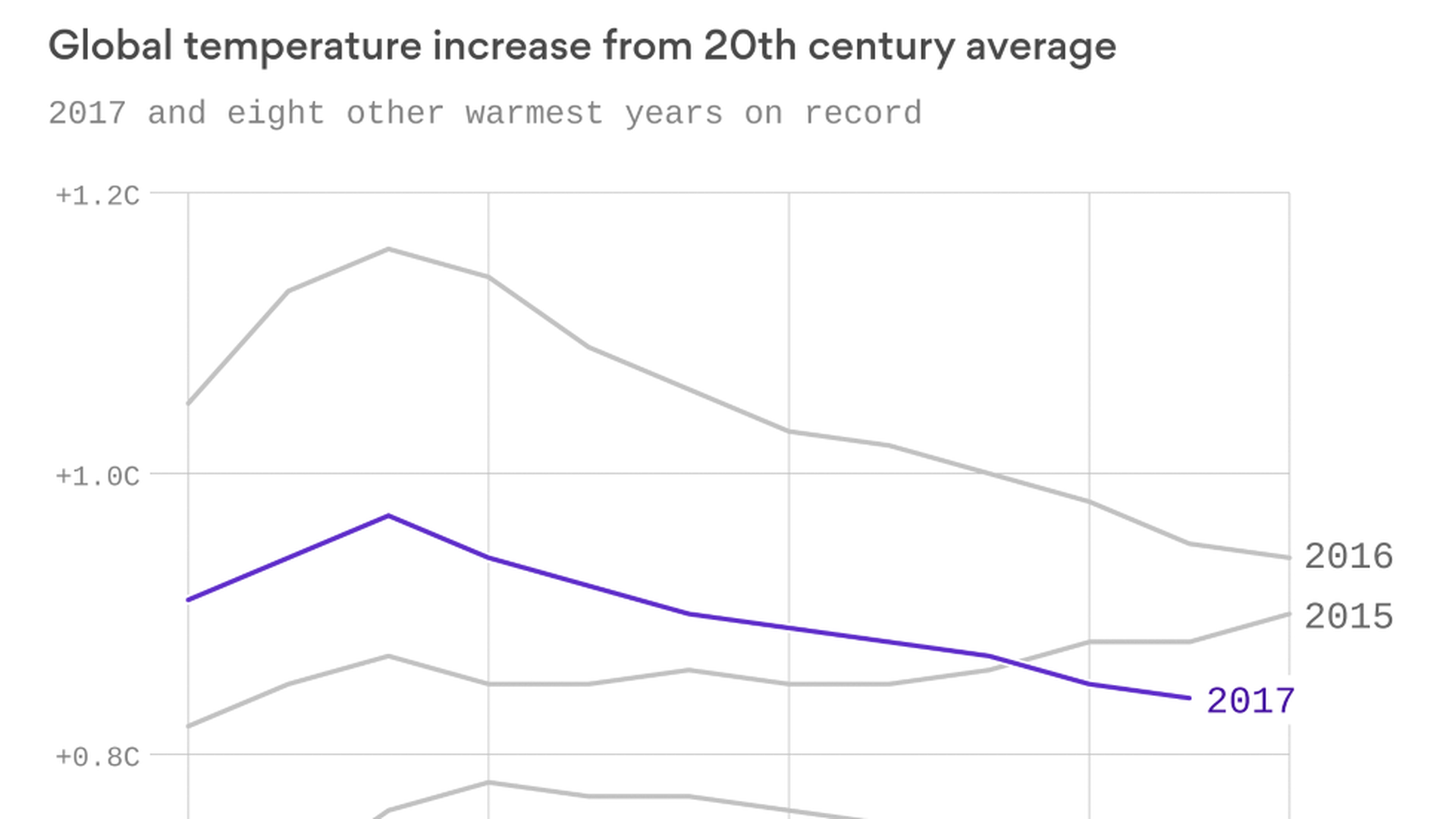 Historic: New federal data makes abundantly clear that 2017 will be among the warmest years in the modern temperature record that dates back to the late 1800s.
According to the National Oceanic and Atmospheric Administration, the average global temperature for January–November period was 0.84°C above the 20th-century average, placing it behind the two warmest years on record — 2016 and 2015 respectively (see chart above).
Why it matters: Scientists are warning that, despite progress in slowing global carbon emissions, the world is still on pace to eventually have warming that goes beyond 2°C above the pre-industrial average — the level determined by the Paris climate agreement that would ward off the most dangerous climatic changes.
Place or show: NASA uses a slightly different methodology than NOAA to track global temperatures. Gavin Schmidt, who directs NASA's Goddard Institute for Space Studies, said via Twitter yesterday that 2017 is almost certain to be the second-warmest on record.
Shale, OPEC, and more oil notes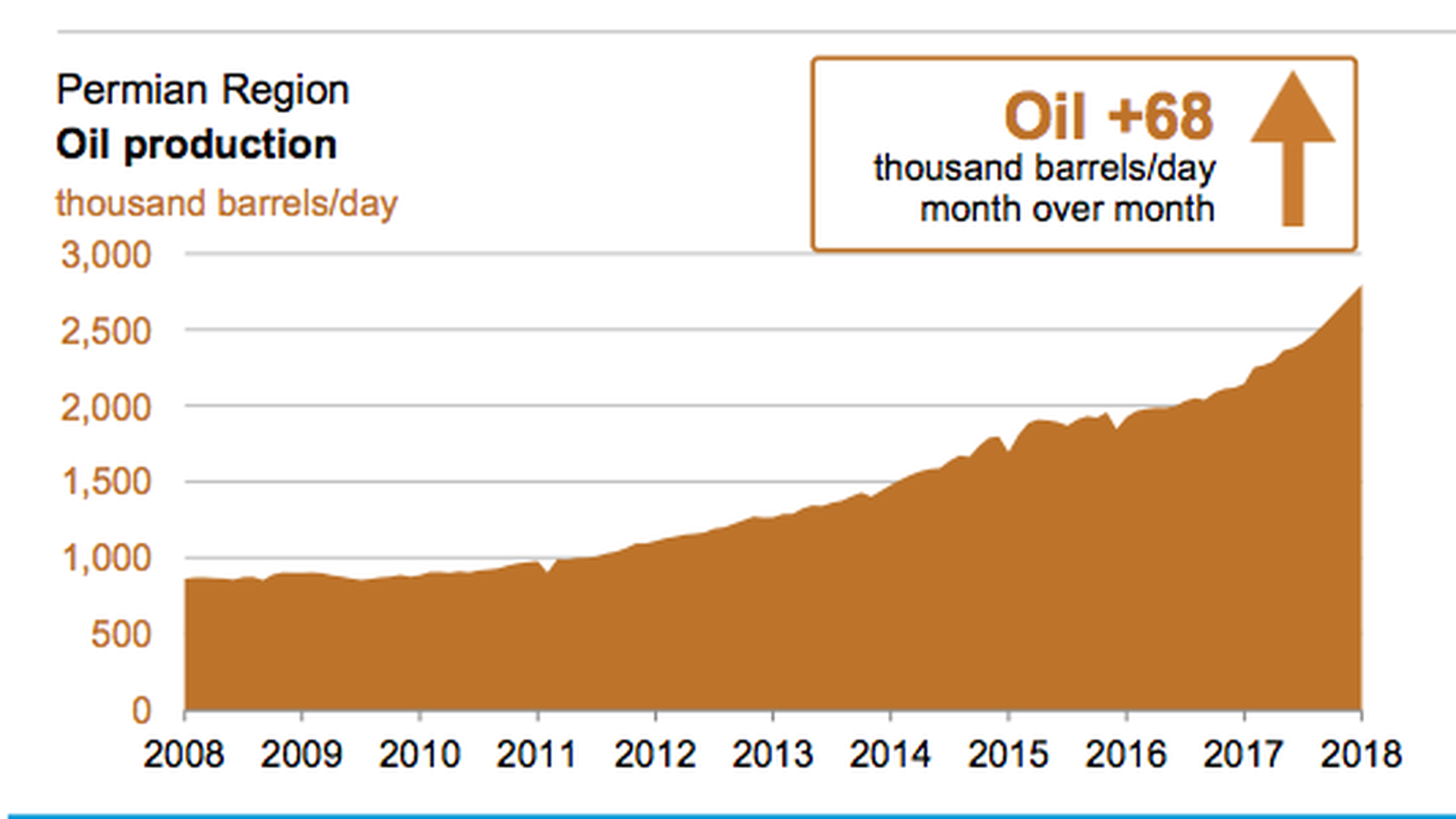 New data: The Energy Information Administration projects that oil production from shale formations — the stuff tapped via fracking — will rise by another 94,000 barrels per day in January to reach 6.41 million bpd, according to the latest monthly drilling productivity report released Monday.
The increase is led by a 68,000 bpd rise in the Permian region of Texas and New Mexico (see chart above).
State of play: The Dallas Fed is out with a new look at OPEC and Russia's agreement to extend their production-limiting deal through 2018, and how U.S. shale factors into the equation.
This is helpful: Platts has published a comparison of the differing 2018 oil market outlooks from three key supply and demand forecasting bodies: OPEC, EIA and the International Energy Agency.
Aramco IPO: A Tuesday column by a pair of Reuters editors looks at Saudi Arabia's process for selecting the international listing venue for the massive planned IPO of Saudi Aramco.
Hong Kong, they write, is "morphing from a mere back-up plan to a potential front-runner among the deal's backers."
So hot right now, part 2: Brazil
French multinational energy giant Total announced yesterday that it has made a final investment decision to move ahead with large-scale production in the massive Libra field in the deepwater Santos Basin off Brazil's coast.
The big picture: It's the latest in a string of moves by the world's biggest oil companies to bolster their investment in Brazil. It comes on the heels of companies including Exxon and Shell last year acquiring exploration blocs in the so-called pre-salt offshore basins, which are thought to contain massive hydrocarbon resources.
In a separate announcement yesterday, Statoil said it's paying up to $2.9 billion to acquire a 25% stake in a much older, long-producing offshore field called Roncador.
Between the lines: The major industry investments signal interest among large companies in big offshore initiatives even at a time when the hefty spending on U.S. onshore shale projects gets lots of attention — and right now Brazil is among the hottest regions.
"Brazil has had cycles and right now you are seeing the renaissance of the oil industry in Brazil again," Horacio Cuenca, a top analyst with the consultancy Wood Mackenzie, tells Axios.
Why now? Cuenca says a convergence of factors explain why Brazil is such a hotspot and expects heavy interest in the next bidding rounds:
The investment climate has changed as the government has opened the pre-salt to foreign operators.
That change comes as oil companies have figured out how to lower their operating costs for deepwater projects.
"Wells in the pre-salt are just incredibly productive," he says, noting the ability to generate 50,000 barrels per day from a single well. That's important when a single well can cost $100 million.
"The fact that they are so productive means you need less of them to develop massive resources...You have big discoveries and they can be produced with few wells," Cuenca says.
Two things about Tesla
Lobbying: Tesla has further expanded its lobbying reach by bringing on the powerhouse firm Holland & Knight, a newly public filing shows.
The filing shows that the registration was effective as of Nov.1, and the lobbying areas are taxes and solar tariffs.
While the tax legislation is finished (and largely avoids provisions that had spooked EV and renewables companies), the White House is slated to make a decision soon on whether to impose tariffs on solar panel imports.
Flashback: Tesla opposes the proposed import penalties.
Trucks: A new note from Morgan Stanley analysts looks more deeply at a topic we explored here — how corporate pre-orders for Tesla's electric semi-truck amount to a vote of confidence in the product. Tesla's truck is getting "important validation," Morgan Stanley says, a conclusion based on pre-order levels and their analysts' discussions within the trucking industry.
Morgan Stanley highlights — but hasn't independently confirmed — a story on the site Green Car Reports that Tesla might have received upwards of 1,230 pre-orders for the semi-truck unveiled last month. What's known is that there are over 250 publicly announced orders from companies such as PepsiCo and Anheuser-Busch.