Axios Generate
April 16, 2020
Good morning. Today's Smart Brevity count: 1,424 words, a 5.5-minute read.
🎵And on this date in 1999, Tom Waits released the album "Mule Variations," so a track with a message for our times opens today's edition...
1 big thing: Flashing red lights for green energy amid coronavirus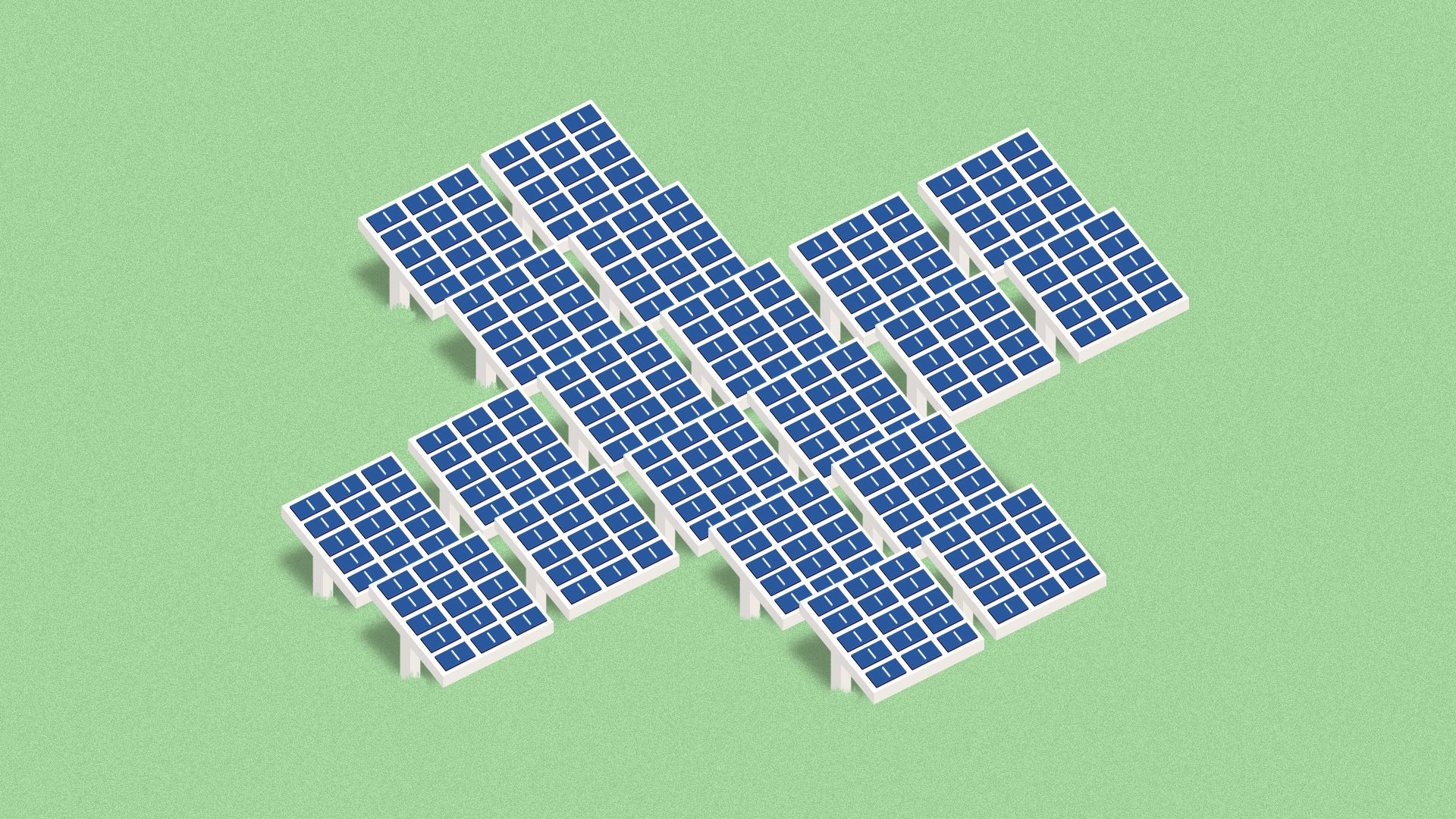 Three pieces of analysis caught my eye that suggest trouble for the growth of low-carbon energy sectors, as we continue gauging the ongoing effects from the coronavirus pandemic.
State of play: Several industry groups and analysts issued a memorandum tallying the early stages of U.S. job losses in the sector at 3% already. Meanwhile, an intergovernmental agency warns that COVID-19 could hinder oil industry efforts on climate and a group of business leaders said 84% of their members have delayed projects.
A BW Research Partnership report concludes that over 106,000 workers lost jobs last month across several broad categories: efficiency, renewable power, alternative fuels, storage and grid tech, and electric cars.
Types of jobs lost include electricians, panel installers, wind industry technicians, manufacturing workers and more, with the efficiency sector taking the biggest hit.
Why it matters: The BW analysis provides a wide-angle look at the various reports emerging of how the economic contraction and movement restrictions are affecting these sectors.
Threat level: The 106,400 jobs lost across these sectors in March represents an immediate 3% drop in employment, but there's more to come, according to BW.
"Unfortunately, this only captures the initial impacts of the COVID-19 crisis and does not include many temporarily furloughed or underemployed workers; job losses in clean energy will continue to grow into the coming months."
What's next: They estimate that the sectors identified could lose a combined half a million jobs in the months ahead absent new support.
The report comes as the renewables sector has been urging lawmakers — without success so far — for help as part of the wider economic response to COVID-19.
They're seeking relief from deadlines to take advantage of tax incentives, and the ability to quickly monetize those credits.
More broadly, there's a push in multiple regions, including the EU, to have economic rescue packages boost low-carbon energy. It comes as the sector is taking a hit worldwide.
For instance, the consultancy Wood Mackenzie's revised projections this week note that "2020 solar installations have been revised down by 18% from pre-coronavirus levels from 129.5 GW to 106.4 GW."
Separately, the International Energy Agency's monthly oil market report sounds the alarm about the diversification efforts of the world's largest oil-and-gas companies.
"Global capital expenditure by exploration and production companies in 2020 is forecast to drop by about 32% versus 2019 to $335 billion, the lowest level for 13 years," the Paris-based agency noted.
"This reduction of financial resources also undermines the ability of the oil industry to develop some of the technologies needed for clean energy transitions around the world."
Plus, just this morning, the trade group Advanced Energy Economy released a survey about the effects of COVID-19 on their members.
It finds that "84% of companies have had to stop or delay projects," while nearly half have had "customers or clients cancel or delay projects through force majeure."
Go deeper: More than 100,000 clean energy workers lost their jobs in March (L.A. Times)
Bonus chart: Early snapshot of job losses
California has seen the steepest initial job losses in the broadly defined "clean energy" sector, per BW analysis of unemployment claims filed in March.
2. Shell bolsters climate ambitions
Royal Dutch Shell unveiled wide-ranging new climate goals Thursday that would see the oil-and-gas giant become "net-zero emissions energy business" by 2050.
Why it matters: It's the latest and among the biggest moves by European-based majors on global warming — one that would require a major transformation of their businesses to succeed.
Driving the news: Shell said it aims to have net-zero emissions from the extraction and manufacture of its products, and the energy for those operations, by 2050.
But Shell acknowledges that so-called scope 3 emissions — that is, emissions from use of their products in the economy — are a vastly larger source of Co2, representing about 85% of the emissions linked to the company.
How it works: The plan calls for cutting a large amount of scope 3 emissions in several ways.
Changing their product mix over time to become more climate friendly via ore emphasis on renewables, hydrogen and biofuels. Shell aims to reduce the "net carbon footprint" of products they sell by 30% by 2035 and 65% by 2050.
Expanding use of carbon capture and natural ways to mop up CO2 like reforestation.
Overall, Shell said this will involve working with customers on their emissions-cutting efforts, and developing a method to track those reductions.
The big picture: Shell must "must pivot over time towards serving the businesses and sectors that, by 2050, are net-zero emissions themselves," the announcement states.
What we don't know: "The company did not disclose the financial impact of meeting its new climate targets and said the new goals were not yet reflected in its operating plan and budgets," per FT.
What they're saying: Bloomberg reports on criticism of the plan...
"Shell has taken a step in the right direction, but it falls short of aligning with the Paris climate agreement's goals, Dutch investor group Follow This said. Shell's target of reducing scope 3 carbon intensity by 65% by 2050 equates to an absolute cut in emissions of 50%, the group said."
Go deeper: Big Oil's varied climate targets (Reuters)
3. Report: Administration weighs paying oil cos not to produce
The crisis facing domestic oil producers is prompting Trump administration policymakers to think creatively about ways to help — including one idea that has some connectivity to the climate movement.
What's new: Bloomberg reports that the administration is "considering paying U.S. oil producers to leave crude in the ground to help alleviate a glut that has caused prices to plummet and pushed some drillers into bankruptcy."
They report on a draft plan to effectively buy large amounts of oil to be part of the nation's emergency stockpile — but without extracting it first.
The plan would require billions of dollars from Congress, per Bloomberg.
The White House and Energy Department did not provide comment to Axios.
Why it matters: The reported plan, along with other administration policy efforts, signals how the new global production-limiting pact won't be enough on its own to help the deeply distressed industry.
The intrigue: These are wild times.
Some environmentalists have for years used the slogan "keep it in the ground" — the idea that climate policy should thwart extraction, not just focus on cutting demand and using cleaner sources.
Bloomberg points out the vital difference here, noting that while activists have favored the "keep it in the ground" approach, "Trump's venture is aimed at sustaining the industry — not ending it."
The odds: Bloomberg and the Washington Examiner report the plan would likely face Democratic opposition.
4. Big Tech's latest green move
Microsoft is unveiling plans for a new digital platform for environmental data and committing to conserve more land than it operates on in the next five years, Axios' Amy Harder reports.
The big picture: The pursuits, a follow-up to the tech giant's big climate change goal earlier this year, is one of the first major corporate announcements on environmental issues since the pandemic erupted, causing many such initiatives to be put on hold.
What they're saying: "There's never been a more important time to be keeping our foot on the accelerator of our sustainability work and not taking it off," Lucas Joppa, Microsoft's chief sustainability officer, told Axios Tuesday.
Joppa was referring to the general connection between wildlife and ecosystems — the novel coronavirus likely came from a live wildlife market in China — and humanity.
Driving the news: That point was also mentioned in a blog post by President Brad Smith Wednesday. The announcement includes two main parts...
The tech giant will conserve more than the 11,000 acres it operates on globally — about three-quarters the size of Manhattan — within five years.
It also unveiled plans to create a new cloud-based platform, called Planetary Computer, which will be connected with Microsoft's AI for Earth program announced 2.5 years ago.
Users will be able to more quickly aggregate and assess environmental data, like the quality of forests and wildlife. Greenhouse gas emission data isn't in the specific plan as of yet, but Joppa says it could be in the future.
5. Quote of the day
"During wartime, it's better not to wage battle on two fronts at the same time."
Who said it: Andrei Baklanov, Russia's former ambassador to Saudi Arabia.
He's quoted in this New Yorker piece on what prompted Russia to revive oil supply cooperation with Saudi Arabia after their rupture six weeks ago, a reversal from Russia's view that it could win a price war.
Context: The two fronts Baklanov mentions were Saudi plans to boost output after the split and the collapse in demand from the coronavirus pandemic.
"Oil markets ended up being pushed downward by two forces at once, each of which was larger than Russia had imagined: a supply shock made more dramatic by Saudi dumping, and a virus wreaking unprecedented economic havoc," Joshua Yaffa writes in this lucid and illuminating look at Russia's internal politics.