Axios Generate
October 04, 2017
Good morning and welcome back to Generate. A reminder that my Axios colleagues are publishing vital news and analysis each day. You can sign up for our informative — and free — newsletters on health care, business, science and much more here. OK, let's get going...
IEA: Solar and wind marching ahead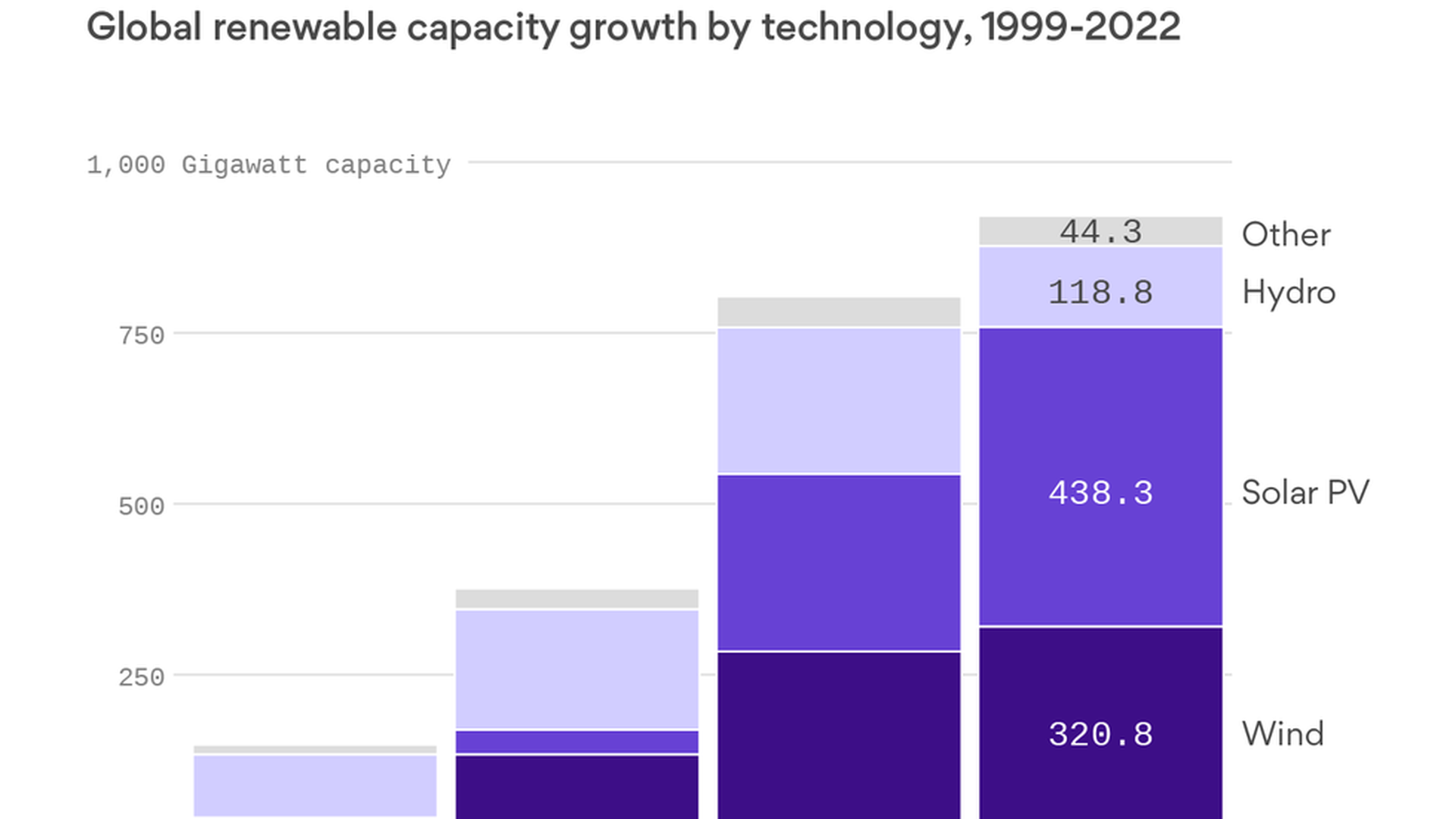 A new International Energy Agency forecast this morning projects that worldwide renewable energy capacity will grow by another 43% over the next five years amid surging solar increases in China and other factors.
Why it matters: The worldwide expansion of solar and wind power is one of the various reasons why global carbon dioxide emissions has leveled off in recent years. Going forward, much greater deployment of zero-carbon energy is key to efforts to avoid the most dangerous levels of global warming.
Crystal ball: In its newly released five-year forecast, the IEA predicts over 920 gigawatts of capacity growth, signaling a somewhat more aggressive forecast than last year's study, largely on the strength of upward revisions to forecasts for China and India.
The chart above, put together by my colleague Andrew Witherspoon, shows the major technologies fueling the growth, with wind and solar together representing over 80% of the projected increase.
"China alone is responsible for 40% of global renewable capacity growth, which is largely driven by concerns about air pollution and capacity targets that were outlined in the country's 13th five-year plan to 2020," IEA said.
One big question: Whether IEA's outlook is low-balling the upcoming expansion of renewable energy. As Bloomberg New Energy Finance founder Michael Liebreich pointed out in a recent presentation, actual renewables growth has for many years outpaced IEA's annual forecasts (check out pages 54-74 of this document).
One big number: In 2016, additions of solar photovoltaic capacity rose by 50%, faster than any other kind of fuel for the first time, with China leading the way.
Oil news and notes
Breaking: Via Bloomberg, Russian President Vladimir Putin signaled Wednesday that Russia's deal with OPEC to curb output could last longer than the first quarter of 2018, when it's currently slated to expire. Maybe much longer.
"If we speak about a possible extension, then of course, it should be at least until the end of 2018," he said.
Speaking of the production deal, Platts reports this morning: "The OPEC/non-OPEC coalition will try to recruit at least 10 and up to 16 more oil producing countries to join in output cuts to bolster market rebalancing efforts, Venezuelan oil minister Eulogio del Pino said Wednesday.
More on Russia and Saudi cooperation: Reuters sets the table for Thursday's meeting between the leaders of the two mammoth energy producers, noting that they're expected to discuss the crude production-limiting agreement and more...
"A slew of investment deals, including on a liquefied natural gas project and petrochemical plants, could also be signed during King Salman's trip and plans for a $1-billion fund to invest in energy projects are likely to be finalised," they report.
Shale: A Barclays research note points to one reason why Chevron is so bullish on the Permian Basin, where the oil giant is investing billions of dollars: data, and lots of it. "In total, [Chevron] has drawn on 5.5 million wells' operating data in its model analysis and thinks its sample size could be twice as big as most of its key competitors," Barclays states.
Lobbying: Canadian oil giant Suncor Energy has brought on Nelson Mullins Riley & Scarborough for representation on oil trade and regulations on oil from Canada, a newly public filing shows.
Tech: Via The Financial Times, "BP is experimenting with blockchain to make oil and gas trading more efficient in the latest sign of big companies bringing the database technology into mainstream use."
Insight: New analysis from the consulting firm Rystad Energy looks at how the decline in oil industry spending after the price collapse a few years back has affected development in existing, "mature" oilfields, where the drilling of new wells has dropped by half.
"This lower level of activity on already-declining fields has had quite a dramatic impact on decline rates. Mature, offshore oil fields now decline at a rate of -8% per year, whereas the same fields declined by only -5% in 2014, before the drop in drilling activities," they note.
In the U.S., they predict oil production will reach 15 million barrels per day within five years as activity shifts increasingly toward onshore shale regions.
Study: Tech's role in shale oil surge may be overstated
Challenging the narrative: Advances in fracking and drilling technology are getting way too much credit for the nation's shale oil and gas production surge, according to research by two MIT experts published in the journal Applied Energy.
Study details: The paper uses data from North Dakota's Williston Basin to weigh the relative influence of technological improvements against concentration of development in "sweet spots" of acreage. "Our research shows that the portion of improvement that came from technology is over-estimated by about 50%," said co-author Francis O'Sullivan, research director at the MIT Energy Initiative.
"It's all about location, location, location. Where you drill matters, and in the shale business, it turns out to matter even more," O'Sullivan said in a statement alongside the research.
"We may not have the same acreage left to drill in the future so U.S. resources may not be as economical as some have thought," he said.
The big picture: While the paper is based on analysis in North Dakota, the authors say the conclusions likely apply to shale production more broadly.
Why it's important: If they're right, it injects a note of caution about the ultimate extent of production growth in the U.S. in years ahead at a time when the shale surge has made the U.S. an influential player in global oil-and-gas markets.
One interesting number: 0.0007%
Pushing back: The Rhodium Group consultancy has published a brief note challenging the Energy Department's rationale for asking the Federal Energy Regulatory Commission to write new power market rules that better compensate plants that store at least 90 days of fuel onsite.
DOE's premise that the measure is needed to prevent retirement of coal and nuclear plants in order protect grid resilience in the event of disasters isn't rooted in data, they argue, citing several years worth of reports that power companies file with regulators when there are supply disturbances.
"Between 2012 and 2016, there were roughly 3.4 billion customer-hours impacted by major electricity disruptions. Of that, 2,815 hours, or 0.0007% of the total, was due to fuel supply problems," they note.
Why you'll hear about this again: The analysis from Rhodium — a group that works extensively on climate and energy issues — is one of many data points likely to surface in what's shaping up as a ferocious administrative and PR battle over the regulations that could shake up power markets in a big way.
What they're saying: As we mentioned yesterday, the DOE push for new power markets that's got major energy interests quickly taking sides was a focus of Capitol Hill hearings on Tuesday.
The Washington Examiner has a rundown of what some lawmakers said here.
What's happening today
EPA: This morning the Senate Environment and Public Works Committee will hear from nominees for senior EPA jobs including Bill Wehrum, the pick to be top air pollution regulator, and general counsel nominee Matthew Leopold.
Why it matters: Re-upping what we noted in Monday's edition — Wehrum will help shepherd EPA's high-profile, and sure-to-be-litigated efforts to roll back Obama-era climate change regulations for power plants. Expect them both to face questions on the topic at the hearing.
Arctic: The Senate Budget Committee begins its two-day markup of the fiscal 2019 budget resolution, a plan that could pave the way for subsequent legislation to open the Arctic National Wildlife Refuge to oil drilling that's immune from filibuster.
Pipelines: The Senate Commerce, Science and Transportation Committee will vote on Howard Elliott to head the Pipeline and Hazardous Materials Safety Administration, which regulates the safety of the country's vast oil and gas pipeline network.
Interior: This morning brings the first meeting of the Interior secretary Ryan Zinke's Royalty Policy Committee. The members are listed here, and the presentations they'll receive are available here.
One more thing! Reuters has a good look at EPA's upcoming proposal to nix Obama-era climate rules for power plants and solicit input on potentially replacing them.