Axios Generate
June 10, 2019
Good morning, welcome back! I hope you had a great weekend. 
My latest Harder Line column takes a big climate and energy topic — natural gas, and likens it to something a little more personal: our exercise and diet regimes. I'll share that, and then Ben Geman will get you up to speed on other news.
Today's Generate is 1,215 words, a 4 minute read.
1 big thing: Natural gas fights climate change — but not enough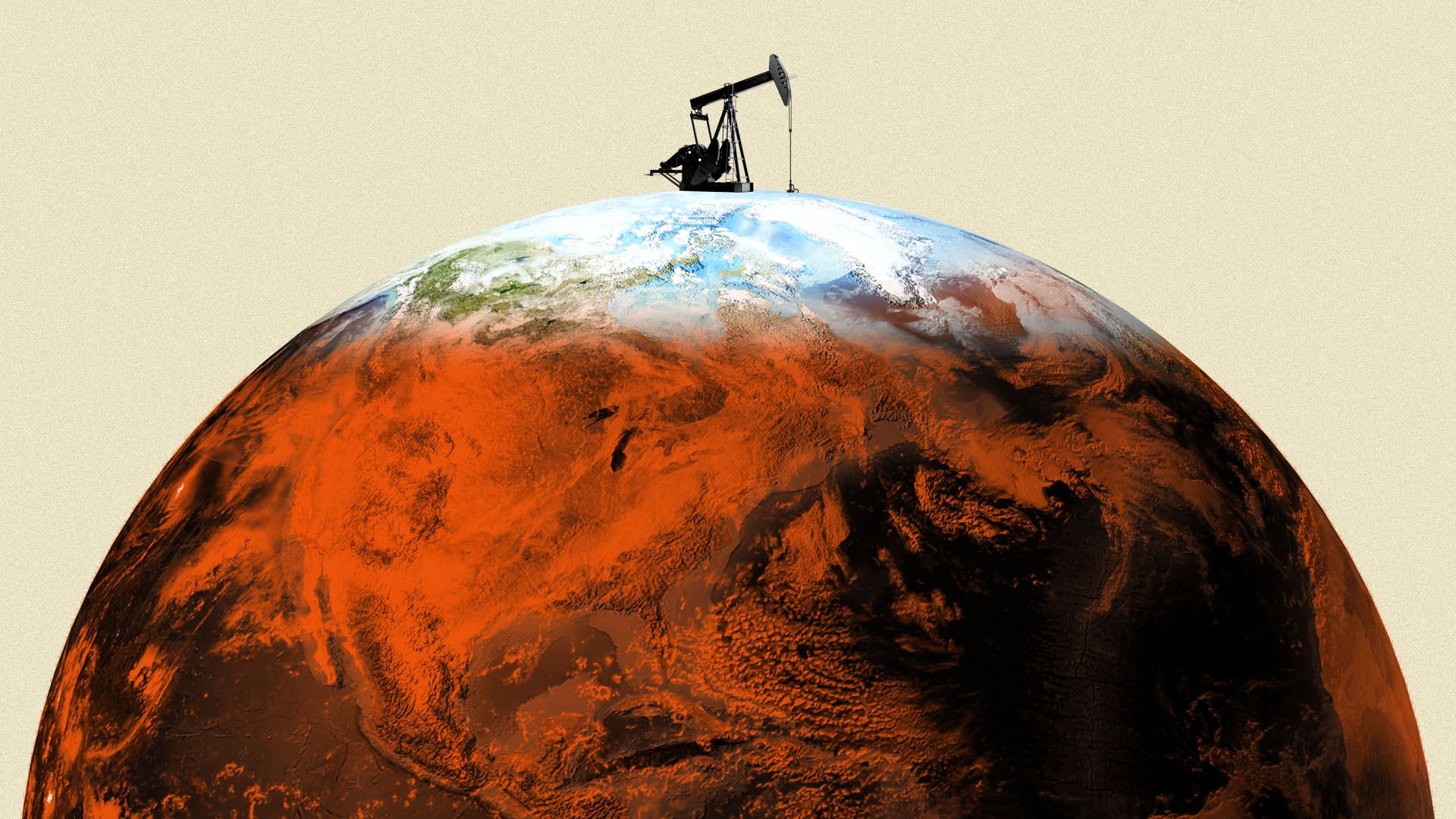 Natural gas is to climate change what our mediocre exercise and diet regimes are to our health: far from perfect but better than nothing.
Why it matters: Natural gas, which is becoming the world's dominant energy, emits half as much carbon dioxide as coal. That's why it's emerging as a good-enough-for-now solution to climate change. But since it's a fossil fuel, it still produces heat-trapping emissions.
The big picture: Natural gas was the fastest-growing energy source last year —accounting for 45% of all such growth — with most regions and many industries turning to the fuel as a cleaner alternative to coal and oil, according to an International Energy Agency report released Friday. It's set to keep growing in the coming years.
The intrigue: Environmentalists and some politicians are increasingly opposed to natural gas because they worry it's locking in far too much global warming. Looking purely at the math and science of climate change, they're right.
Ramping up natural gas would make it impossible to cut emissions to a level scientists say would avert the worst impacts of a warmer world. That assumes there won't be a massive buildout of emissions-capturing technology, which is still in its infancy and expensive.
But, but, but: Science and math don't operate in a vacuum. And the reality is, natural gas is providing a cheap, plentiful, cleaner-burning option for countries to get off the world's dirtiest — and historically dominant — power source: coal.
Apart from climate change, natural gas emits very little particulate pollution, which is a big draw for developing nations whose populations are choking on smog from coal and oil.
To think countries wouldn't make this transition because of what the science says reflects a lack of appreciation for how the real world embraces science: imperfectly and unevenly. (Much like our diets.)
Go deeper: More of that analogy in the full column. 
2. Climate litigation in the Trump era
Federal courts have not yet upheld any Trump administration efforts to delay or unwind climate regulations, a new analysis from Columbia University's Sabin Center on Climate Change Law shows.
Why it matters: Courts are a key policy venue at a time when legislation is frozen, Trump is rolling back Obama-era rules, and advocates are pushing for consideration of greenhouses gases to be woven into various federal decisions.
The big picture: The analysis, which updates an early 2018 study, looks at 129 cases in this busy area.
Far more cases in federal courts support climate-related protections and policies than oppose them (as the chart above shows).
EPA and the Interior Department were by far the most frequently sued federal agencies.
The intrigue: Lawsuits defending Obama-era policies are just a relatively small share of total climate cases.
Instead, many backing protections address trends that pre-date Trump, such as lawsuits pushing agencies to consider emissions when conducting reviews under the National Environmental Policy Act (NEPA).
"They also indicate new developments, such as a surge of municipalities suing fossil fuel companies for damages related to their GHG emissions under different tort law claims and a suite of Freedom of Information Act (FOIA) lawsuits seeking transparency from the Trump Administration," writes the Sabin Center's Dena P. Adler.
What's next: Several big Trump initiatives will be litigated in coming years, including looming regulations to weaken Obama-era auto mileage rules.
3. On our radar: Oil data, Trump, FERC
Crude oil: Market watchers will be keeping a close eye on 2 reports this week in addition to the Energy Information Administration's regular Wednesday data dump.
Tomorrow EIA will release its latest monthly outlook, which provides updated production and price projections.
On Friday comes the International Energy Agency's monthly oil market report, which includes closely watched global demand forecasts.
White House: President Trump will visit the Southwest Iowa Renewable Energy ethanol plant in Iowa on Tuesday. He'll tout a recent EPA policy that allows year-round sales of gasoline with 15% ethanol, the White House said.
Congress: On Wednesday a House Energy and Commerce panel will hear from all four sitting members of the Federal Energy Regulatory Commission.
Global energy: BP will release its big Statistical Review of World Energy tomorrow. It's a detailed look at global supply and demand trends.
4. Mike Bloomberg's nuclear stance
Absent from billionaire Michael Bloomberg's new $500 million "Beyond Carbon" campaign to get off coal and natural gas is any mention of nuclear energy, America's largest source of carbon-free electricity, Amy reports.
What they're saying: A Bloomberg aide told Axios the former New York mayor and climate advocate isn't taking a "hard stance" on nuclear.
"We'll pursue all of the options available, including nuclear," the aide said. "If nuclear is determined to be the best alternative to coal, oil and gas, our work will support it. In other cases, there may be a different alternative worth pursuing."
The big picture: Nuclear is controversial for several reasons — namely the lack of a permanent way to store radioactive waste. But it provides more than half of America's carbon-free power.
Numerous plants have closed or are set to close before their federal licenses require because their operators say they're not economically sustainable. Natural gas often replaces them, raising greenhouse gas emissions.
One level deeper: Several states have passed or are considering policies to subsidize their nuclear plants. The Bloomberg aide cited Illinois and New Jersey as states whose policies Bloomberg supports, and one pending in Ohio — where the proposal includes repealing some renewable-energy policies — that he opposes.
5. Catch up fast: Oil markets, cars, science
Regulations: Via The Los Angeles Times, the White House is rejecting a plea from automakers to reopen talks with California on administration plans to weaken federal emissions and mileage standards.
Markets: Per Reuters, "Oil prices were steady on Monday as U.S.-China trade tensions continued to threaten demand for oil, but tight crude supply and the swift end to a trade dispute between Mexico and the United States offered support."
Science: The Washington Post reported Saturday ... "White House officials barred a State Department intelligence agency from submitting written testimony this week to the House Intelligence Committee warning that human-caused climate change is 'possibly catastrophic.'"
6. Parsing the DNC climate debate drama
A couple notes on the Jay Inslee-led push for the Democratic National Committee to hold a climate-focused debate — an idea activists are pushing but the DNC has rejected.
What's new since our last edition: Per HuffPost, over 50 members of the DNC, including state party chairs in a dozen states, have already signed onto a resolution calling on the DNC to agree to the idea.
The intrigue: In a sign of the kerfuffle's growing prominence, DNC Chairman Tom Perez took to Twitter a couple of days ago to explain the reason for rejecting the idea.
But, but, but: "I have personally told media partners seeking to host a 2020 primary debate how important it is for climate change to be debated during each and every debate," he said.
That puts his personal weight behind what was previously said through a party spokeswoman.
Thought bubble: I think it's safe to say we'll see far more climate and energy questions in the debates than last cycle, although that's a super-low bar.
Also, I can't remember where I first read this, but it's worth repeating...
One interesting thing about Inslee's candidacy is that while he's succeeding in raising climate's profile, that's not translating into clear gains for his campaign.
The latest sign is yet another poll — an Iowa survey released over the weekend by the Des Moines Register and CNN — shows him at 1%.