Axios Generate
June 21, 2017
Good morning!
Some news before we dive in: The Axios newsletter family is growing again! We will soon launch Media Trends, my colleague Sara Fischer's weekly look at the business, technology, and political dynamics shaping the fast-changing media landscape. You can sign up for free here. Onward . . .
Crude oil's big slide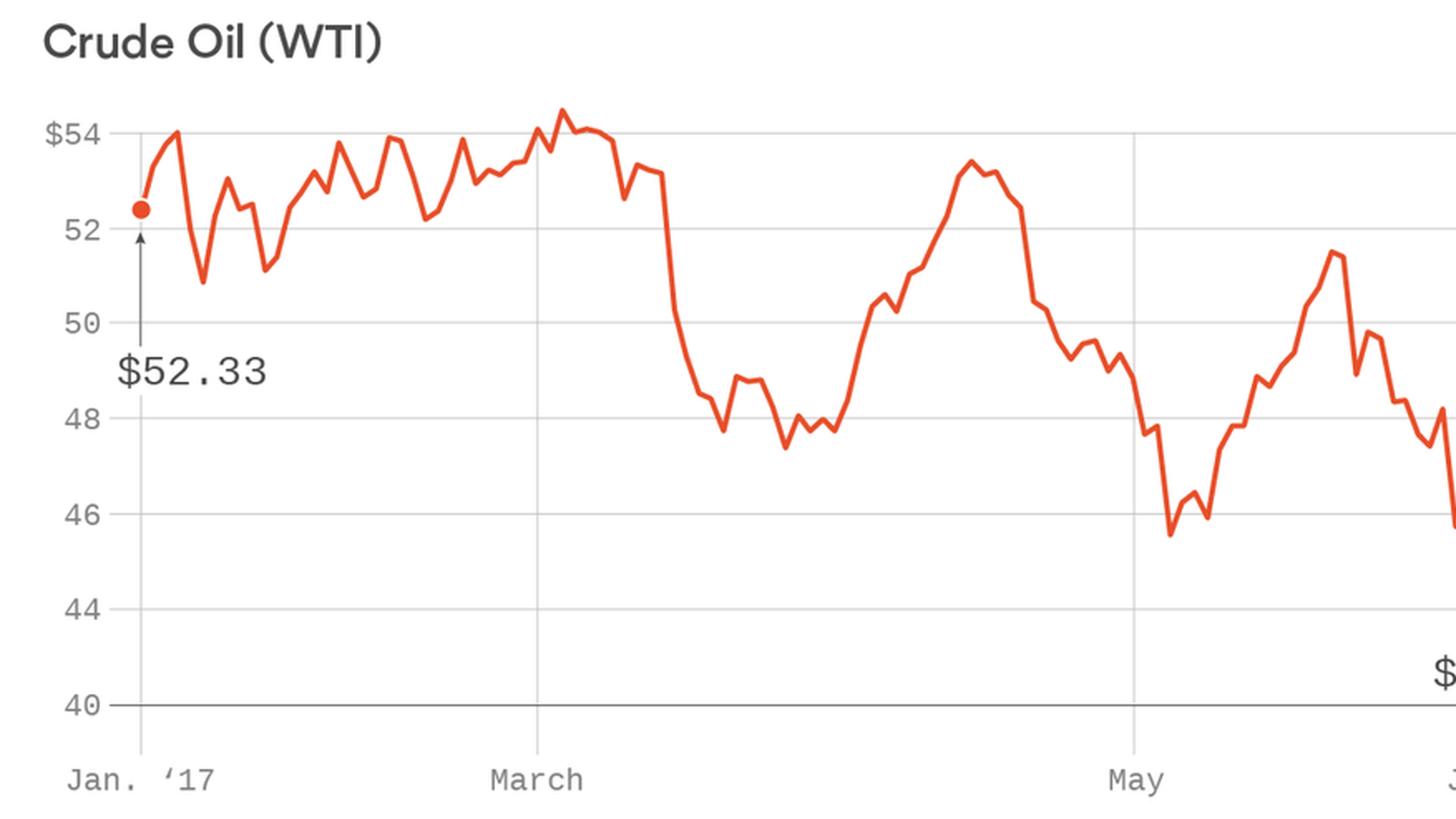 Rough ride: U.S. crude oil prices tumbled to their lowest levels in roughly nine months yesterday and remained in that terrain in early trading on Wednesday, hanging around the mid-$43 per barrel range. Brent crude prices hit roughly half-year lows yesterday.
What's going on: Traders are reacting to the the glut of oil sloshing around global markets despite joint efforts by OPEC and other producers including Russia to limit output.
What they're saying: OPEC is struggling for influence. "[M]arket participants are not convinced that the OPEC's efforts will help shore up prices in a meaningful way in the short-term as shale supply continues to rise in the U.S.," said Fawad Razaqzada, an analyst at Forex.com, via Reuters.
Warning signs: The Houston Chronicle points out that a prolonged tumble could threaten the U.S. oil sector's ongoing rebound from the 2015-2016 price collapse.
What's next: Traders are keeping their eyes on the Energy Information Administration's weekly crude oil inventories report that's due out at 10:30 this morning.
Read more here.
Moniz's new group is studying the grid
Some news about a familiar name from the Obama years, via my Axios colleague Amy Harder:
Former Energy secretary Ernest Moniz is launching a new research nonprofit and its first project is going to be a report about America's electricity grid, expected to be published in the fall.
Why it matters: The new group, Energy Futures Initiative, represents the latest in a string of efforts by people outside the government to recreate policies on energy and climate change in the wake of the vacuum the Trump administration is creating.
Don't forget: Energy secretary Rick Perry also is set to issue a study as soon as next week on the power grid that many renewable energy and environmental advocates worry will be biased in favor of fossil fuels and nuclear power. Energy Department officials have said it won't be.
Click here for the rest of the story.
Electric vehicle notes
Tesla: Axios' Ina Fried reports that Chris Lattner, who left Apple to become Tesla's head of autopilot software in January, is now leaving the carmaker after just six months.
Tesla said Lattner "wasn't the right fit," according to the Wall Street Journal. The WSJ piece says the shakeup in the company's self-driving car team is "adding more turmoil to a program that is under pressure to meet the grand ambitions of Chief Executive Elon Musk."
More Tesla: TechCrunch broke the news that Tesla has hired computer vision expert Andrej Karpathy as "director of AI and Autopilot vision."
Volvo: The automaker announced Wednesday morning that its Polestar performance vehicle arm will become a "separately-branded electrified global high performance car company."
New CO2 tax push faces huge questions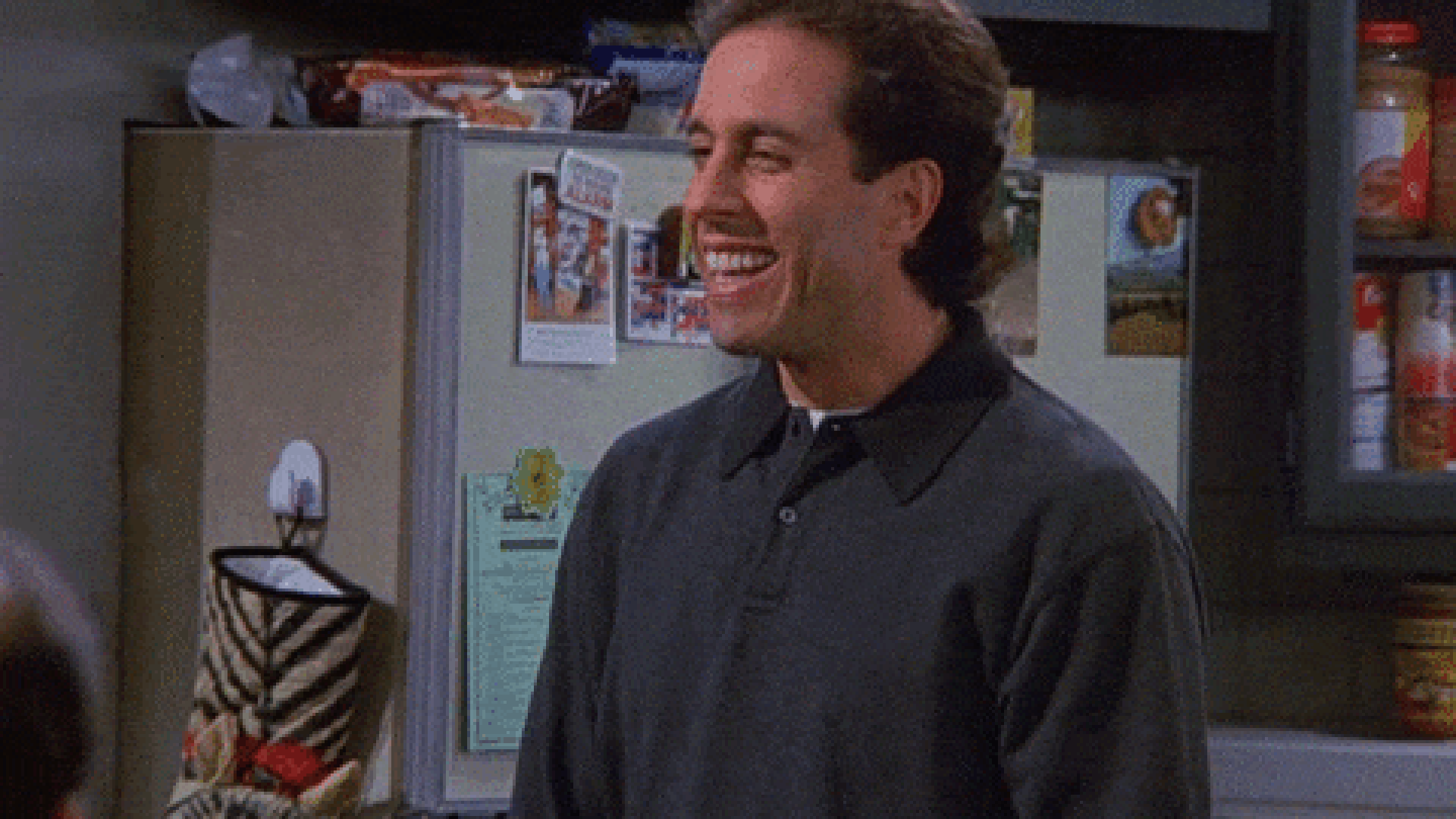 Here's some followup to the news that some big oil companies joined the Climate Leadership Council pushing for a carbon tax...
Your Generate host chatted with a few GOP lawmakers on Capitol Hill yesterday. There's very little immediate indication that having the oil majors sign onto the group will move the needle on what's currently a political non-starter.
What they're saying: While some lawmakers cleared their throats by noting that they're not familiar with the specifics, carbon tax opponents signaled that they're not likely to move off that position.
"The federal government would certainly welcome voluntary contributions from BP, ExxonMobil and others if they are willing to send their money, but I don't know if that proposal is one I could support, and I'm generally not in favor of carbon taxes," GOP Sen. Marco Rubio said.
To be sure: "I think it makes the conversation about this as a policy initiative more interesting, and so how that then moves forward I think remains to be seen," said Senate energy committee chairman Lisa Murkowski, who also reiterated her skepticism of carbon tax proposals.
What might really matter: If lobbying and advocacy groups backed by the fossil fuel industry dropped opposition to carbon taxes. And, if the big oil and gas companies in the Council translate their support for the group's plan into a real lobbying effort.
Yes, but:
Several insiders I chatted with yesterday were skeptical of this, noting that while Exxon has long supported a carbon tax, it has not pushed for it behind the scenes in its Beltway maneuvering.
"They have expended literally no effort on it ever,"
one industry lobbyist tells Axios.
On my screen
Oil: Bloomberg reports on the energy implications of the naming of Mohammed bin Salman as Saudi Arabia's crown prince. He will "will need higher crude prices to push ahead with his plans to reform the kingdom's economy, making an about-face in oil policy unlikely in the short term," they report.
Climate: The New York Times says that roughly 120-degree temperatures in Phoenix have forced American Airlines to cancel dozens of flights in recent days.
"As the global climate changes, disruptions like these are likely to become more frequent, researchers say, potentially making air travel costlier and less predictable with a greater risk of injury to travelers from increased turbulence."
DOE: The Dallas Morning News has a detailed dispatch from Perry's first public appearance before Congress since his confirmation hearing.
What's next: Perry will discuss the White House budget request before a Senate Appropriations subcommittee this afternoon.
People: The big oil-and-gas producer Hess Corp. has brought on Alex Mistri as VP for government and external affairs. Mistri comes to Hess from the Glover Park Group. He was a former aide to President George W.Bush, an U.S. embassy official in Iraq, and has also worked on Capitol Hill.
Mood: A new Associated Press-NORC poll finds that less than a third of respondents support President Trump's decision to pull out of the Paris climate agreement.