Good morning and welcome back! Happy third birthday to my delightful, sweet, opinionated, dinosaur-obsessed son. He's just the coolest person ever.
And researching today's newsletter I also learned that today is Ziggy Marley's birthday, which is wild because my son loves Ziggy Marley. So, as he would say, "I want to listen to 'Into Da Gwoove.'" Absolutely. Let's dive in . . .
https://www.axios.com/newsletters/axios-generate-b96259f7-2e1d-42c3-ace7-1e13aa8d5660.html?chunk=0#story0
Amy's notebook: China playing both sides in solar fight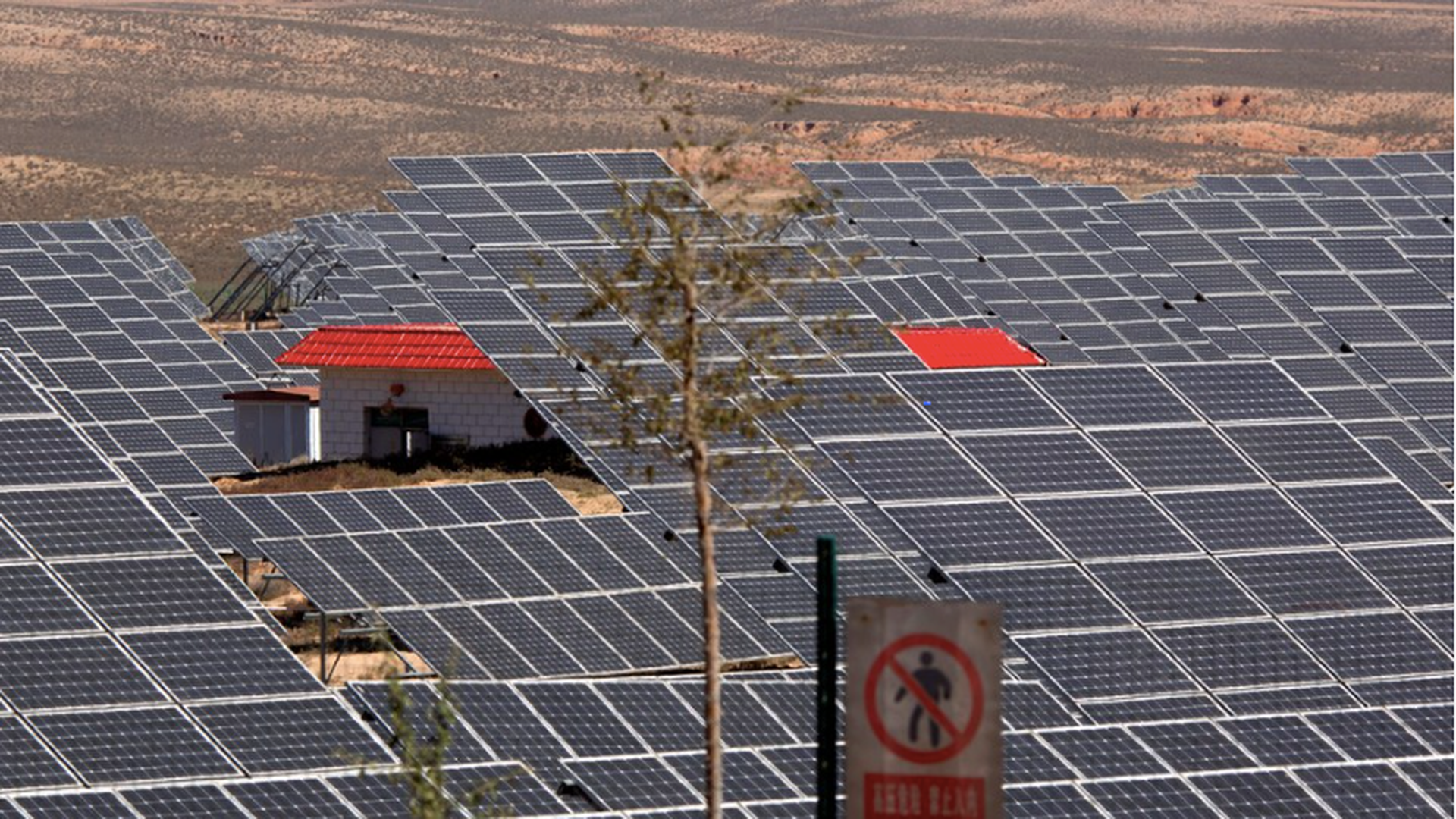 My Axios colleague Amy Harder has this item that follows up on her most recent column. Check it out...
Chinese interests keep coming up in a fight playing out within America's solar industry about how the Trump administration should address a flood of cheap solar imports, coming mostly from China or Chinese-owned companies.
Why it matters: The dynamic reveals how widespread Chinese interests are in clean energy, and in particular solar manufacturing, a space it has dominated since at least 2010. President Trump has said he wants to reverse decades of open-trade policies to help protect American jobs and manufacturing. It would take huge policy changes and a lot of time to reduce China's dominance.
Driving the news: The International Trade Commission is considering what trade remedy it should recommend Trump employ to address the cheap solar imports. The independent federal agency unanimously voted in September that those imports have economically injured two U.S.-based but foreign-owned solar manufacturers. Trump will ultimately decide whether to impose tariffs or another kind of remedy.
Click here for more in the Axios stream.
https://www.axios.com/newsletters/axios-generate-b96259f7-2e1d-42c3-ace7-1e13aa8d5660.html?chunk=1#story1
Latest in oil markets: Aramco IPO, shale snapshot, the return of risk
Aramco plot thickens: "China is offering to buy up to 5 percent of Saudi Aramco directly, sources said, a move that could give Saudi Arabia the flexibility to consider various options for its plan to float the world's biggest oil producer on the stock market," Reuters reports.
Why it matters: The deal, if it came to pass, would deepen the energy ties between Saudi Arabia and China, the world's second-largest oil consuming nation after the U.S.
Flashback: Yesterday we examined the turmoil around Aramco's planned IPO.
More intrigue: Aramco asked FTI Consulting to halt investor relations work, per Reuters.
Why markets could get more volatile: "Geopolitical risks to the oil market have continued to intensify," Goldman Sachs notes in an early morning update that sizes up tensions. These include Iraq's seizure of oilfields once controlled by the Kurdistan Regional Government and Trump's decertification of the Iran deal.
Yes, but: There are countervailing forces that make it unlikely that large volumes of production will vanish from the market.
"In the case of Iran, there are likely no immediate impacts on oil flows and there remains high uncertainty on potential reintroduction of US secondary sanctions," the bank's analysts note. Even if that happens, several hundred thousands barrels per day of exports are at risk, but absent other countries joining the U.S., production is unlikely to crater to pre-Iran nuclear deal levels.
Bottom line: Prices probably won't go bonkers, in part because of the response of U.S. shale and OPEC's space capacity, but recent developments are one reason why Goldman says there are now more "symmetrical" risks to its year-end 2018 Brent forecast of $58-per-barrel, whereas they previously saw more risk that it was too high.
U.S. shale production up: The latest Energy Information Administration data forecasts shale oil production from the countries major shale plays — led again by the Permian Basin — to rise another 81,000 barrels per day next month, bringing it to over 6.1 million bpd.
Why it matters: The data underscores how the U.S. has again become a crude production powerhouse as companies grow production even at rather modest oil prices. Shale now accounts for roughly two-thirds of U.S. crude output.
Go deeper: CNBC takes a closer look at the region-by-region data here.
More context: Veteran oil analyst Adam Sieminski puts EIA's separate 2017-2018 forecasts of U.S. oil production growth in perspective, noting they amount to one million barrels per day every 24 months, compared with every eight months during the 2014 surge and with every 12 months in 2012-2013.
https://www.axios.com/newsletters/axios-generate-b96259f7-2e1d-42c3-ace7-1e13aa8d5660.html?chunk=2#story2
Midwestern senators to press EPA chief on ethanol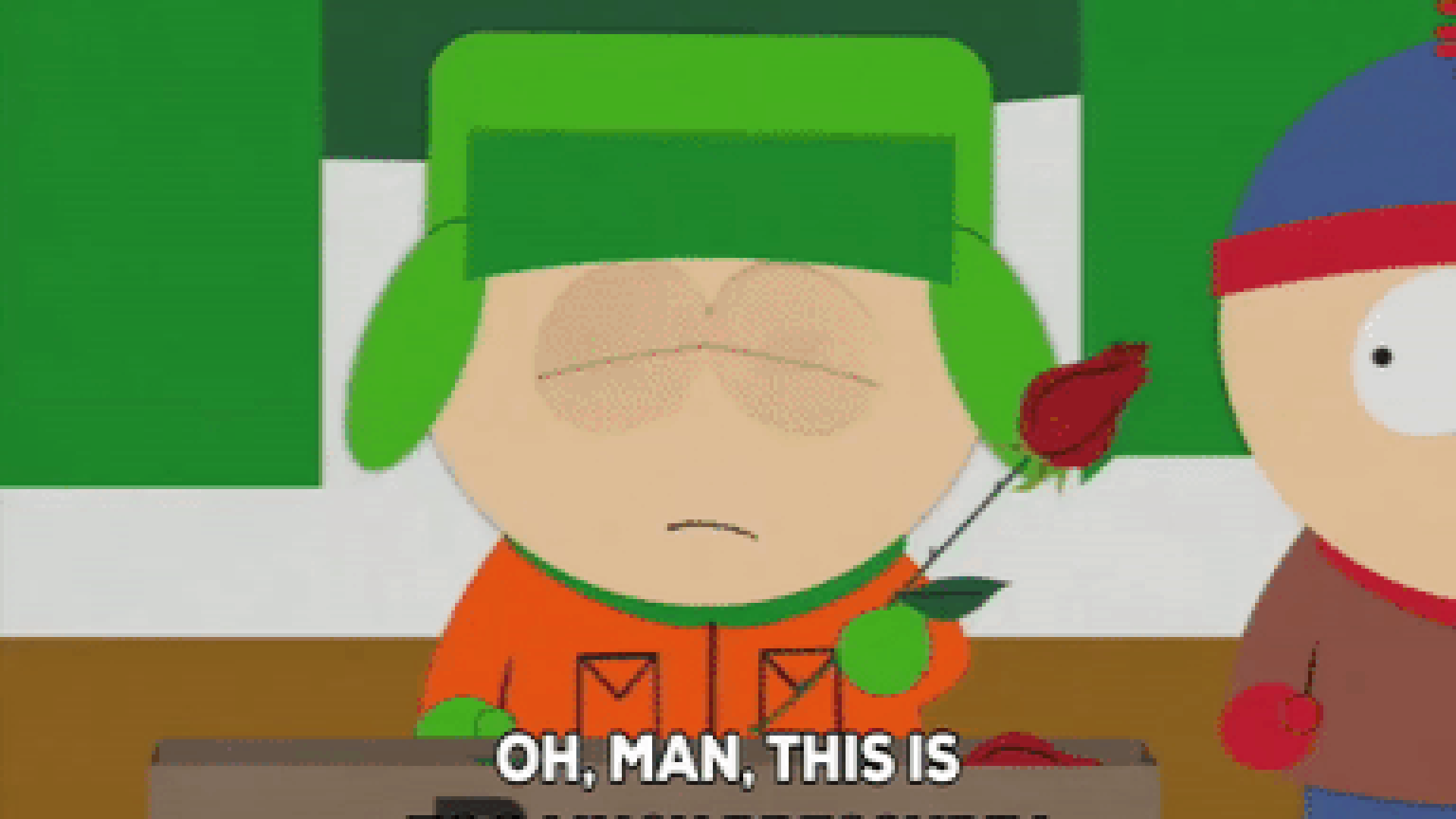 My Axios colleagues Jonathan Swan and Amy Harder have a dispatch from the forever war over biofuels...
A group of Midwestern Republican senators are meeting Tuesday with EPA administrator Scott Pruitt to express their concerns about the agency's recent moves on ethanol, according to a spokesman for Sen. Chuck Grassley. The Iowa Republican lunched with Pruitt on Monday to discuss the same issues.
Why it matters: Ethanol is one of the few energy issues that's controversial within the Republican Party, so expect this tension to continue to thrum throughout Trump's administration. This meeting comes ahead of a November 30 deadline for EPA to issue final annual regulations for the federal ethanol mandate.
The backstory: Trump has supported ethanol, which comes mostly from corn and is thus important to senators from corn-rich states, like Iowa. Pruitt, in his former job as attorney general of Oklahoma, signed onto litigation opposing the federal mandate, also called the renewable fuel standard (RFS). Trump has aggressively supported the mandate and campaigned heavily on it while touring Iowa during the presidential campaign.
Click here for the rest of the story in the Axios stream.
https://www.axios.com/newsletters/axios-generate-b96259f7-2e1d-42c3-ace7-1e13aa8d5660.html?chunk=3#story3
Snapshots from the new FERC battle
A few tidbits on the DOE request for new FERC rules that boost consumer payments to coal and nuclear plants based on their "resilience and reliability" attributes...
Enlisting allies: A new comment filing in the FERC docket making the rounds yesterday signals how the fight over the rule is taking on the hues of familiar Beltway advocacy campaigns.
The United Way of Jefferson County, Ohio, says that DOE's proposal should be adopted because it will sustain the viability of critical power plants, create jobs, maintain reliability and "provide substantial economic benefits to the many hard-working Americans living throughout the region."
The filing notes that First Energy, an Ohio power company with a generation mix that's heavy on coal and nuclear, provides the group $15,000 annually. As a few people noted on Twitter yesterday, the party listed as filing the document is...First Energy.
From the wonksphere: Experts from think tanks and academia weighed in yesterday where it matters most: via blogs.
University of California-Davis economics professor James Bushnell criticizes the proposal here, arguing that it's a thinly disguised sop to coal. Below is an excerpt of his lengthy post on the blog of Energy Institute at Haas:
There is almost nothing a nuclear and coal plant can do that a modern natural-gas power plant can't do, with the possible exception of providing power at the end of a congested gas pipeline during an extreme cold snap. This fuel reliability story, calling upon anecdotes from the 2014 polar vortex, provides pretty much the entire basis for calling coal and nuclear more reliable.
The DOE proposal identifies the ability to store 90 days-worth of fuel on-site as the key attribute that is not rewarded in today's market. Why 90 days? Are we really planning for a 3-month polar vortex now, or is that long enough to disqualify gas plants with on-site oil reserves, an obvious alternative solution to the "problem"?
Over at Resources For the Future, senior fellow Timothy Brennan says there are ways to try and ensure reliability without funneling more ratepayer cash to financially struggling coal and nuclear plants.
Instead, he writes in a new post, regulators could "treat offers of energy or capacity as binding, subject to meaningful penalties for nonperformance."
https://www.axios.com/newsletters/axios-generate-b96259f7-2e1d-42c3-ace7-1e13aa8d5660.html?chunk=4#story4
On my screen: China's strategy, methane emissions, batteries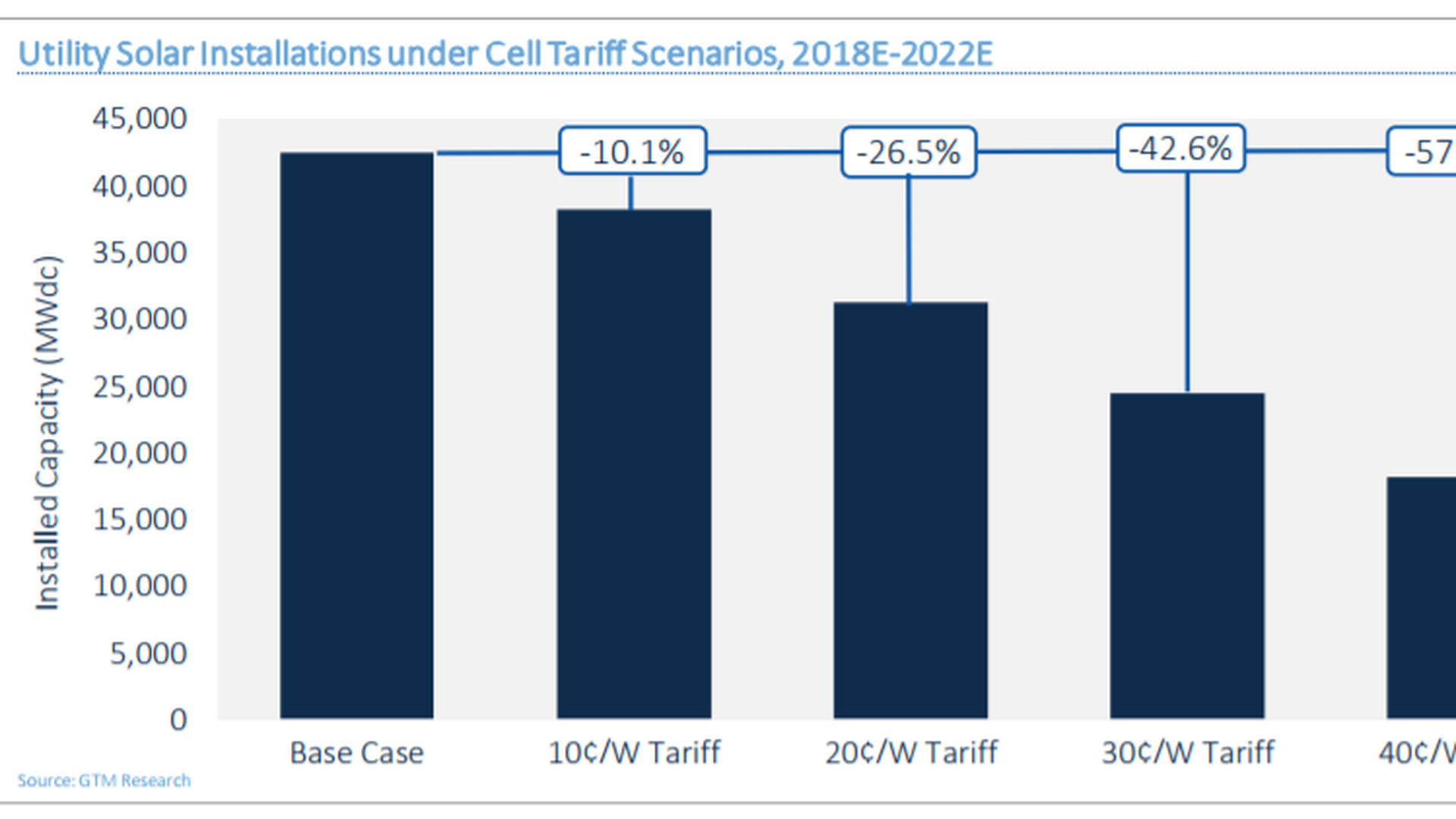 Solar trade analysis: New forecasts from GTM Research examine how varying levels of import tariffs on solar panel equipment would affect the amount of new generating capacity installed in coming years.
The chart above shows their forecast of how the utility-scale sector — which already faces "razor-thin economic competitiveness with other generation sources" — would be hit hard by new import penalties. The latter two bars most closely resemble the tariffs that two financially distressed panel manufacturers (Suniva and SolarWorld) are seeking from the Trump administration, GTM notes.
Why it matters: If they're correct, the research underscores how potential new trade penalties could significantly alter the trajectory of solar power's U.S. growth in coming years.
China's renewable motives: The Center for Strategic and International Studies is out with a nice, wide-ranging overview of China's internal political and economic motivations for its aggressive moves on renewable power. One interesting note on the geopolitical effect:
"China will have one less excuse to expand its regional military presence for the sake of energy security as it raises the share of domestically-produced renewable energy in its energy mix."
Things are happening: The White House Office of Management and Budget just posted records of two separate meetings this month with outside parties — the Environmental Defense Fund and the American Petroleum Institute — on EPA plans to scuttle an Obama-era regulation on methane emissions from new oil-and-gas infrastructure.
Why it matters: The intermittent posting of such records by OMB's Office of Information and Regulatory Affairs is often a sign that the White House is close, or at least getting closer, to signing off on an agency's rulemaking proposal.
Batteries: Bloomberg New Energy Finance has published a snapshot of its latest research into the global market for lithium, a key component of batteries for electric vehicles and other uses.
"In the near term, there may be supply shortages of lithium. These are likely to ease during the early 2020s, but supply is likely to be squeezed after 2024 unless more projects are commissioned," BNEF says.
Big picture: The New York Times has a good interview on the global with Jason Bordoff, who heads the Center on Global Energy Policy at Columbia University, on everything from OPEC to EVs to LNG.