Good morning, and welcome back to Generate. I'll be helping host our newsletter occasionally, when my column Harder Line runs on most Mondays and when Ben is taking well-deserved vacations. Today I'll share with you my latest column, and then hand the reins back to Ben to get you up to speed on the rest of the news.
Questions or comments about column or otherwise? You can always reach me at amy@axios.com. So let's get to it. . .
https://www.axios.com/newsletters/axios-generate-b9069530-fa53-4fad-9359-0c8ffc48076b.html?chunk=0#story0
Trump's American Pipe Dream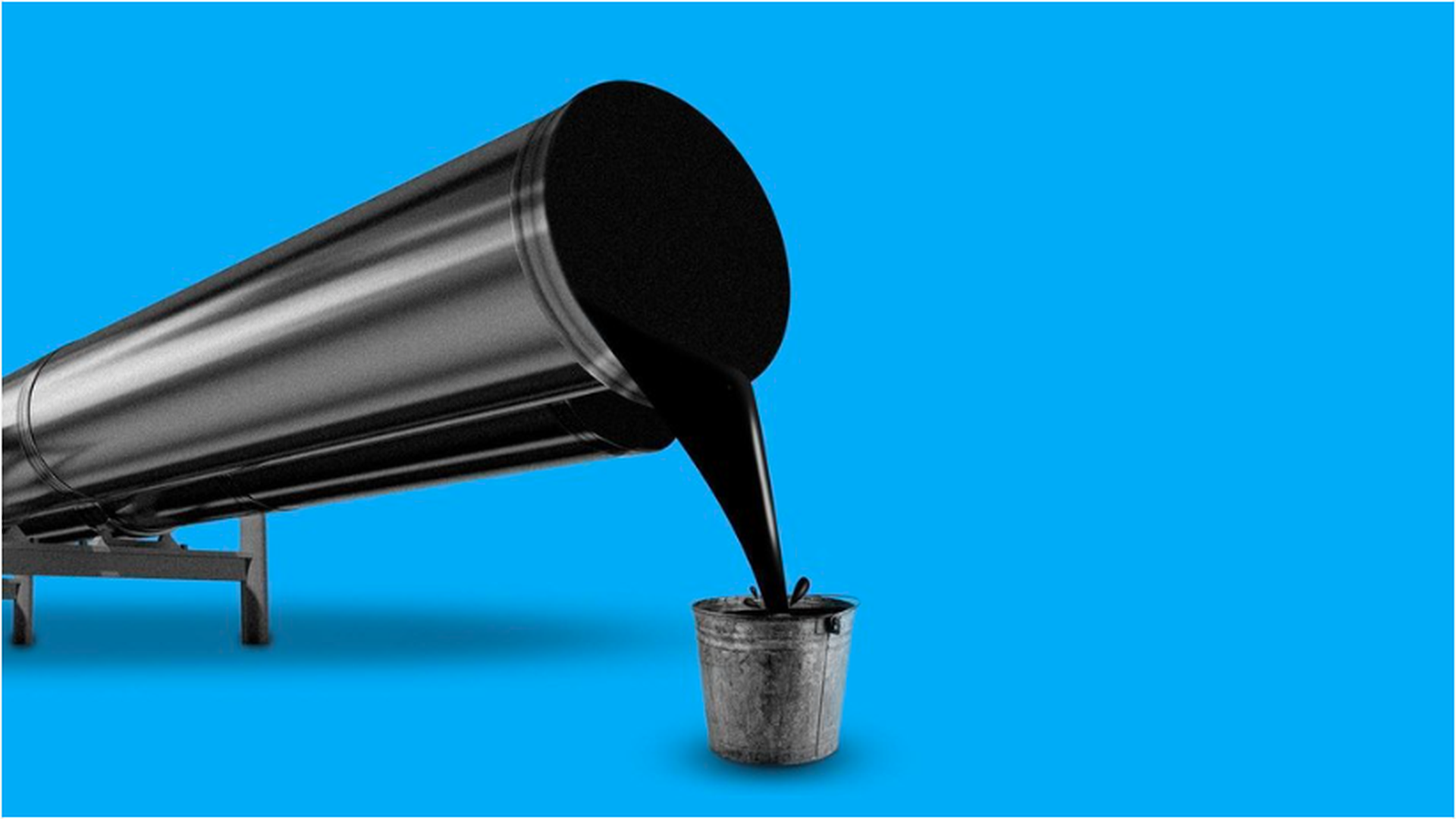 President Donald Trump wants American pipelines to be built with American steel. American energy companies are telling him "no thanks."
Pipeline, oil and gas companies — along with their Beltway lobbying groups — are telling the Trump administration that domestic steel requirements would be almost impossible to meet and prohibitively expensive, letters reviewed by Axios show.
Why it matters: Reviving the U.S. steel industry is at the heart of Trump's governing mantra, but so is supercharging domestic oil and natural gas production. Doing the former by requiring pipelines to be made of U.S. steel counteracts the latter, energy industry officials say. How the administration goes about seeking to achieve both of these goals will help reveal which Trump cares about the most.
"There's a mismatch in agendas here if a key goal is to facilitate American energy production and distribution," said Dave Conover, vice president for corporate communications at Houston-based Kinder Morgan, which bills itself as North America's biggest energy infrastructure company.
Reality check: On average, U.S. pipelines are made with about 30% domestic steel components, according to data by IHS Global Insight and the International Trade Association.
There are very few U.S. companies that make steel for the parts required by large pipelines, so companies look abroad, according to a letter the American Petroleum Institute and four other groups recently sent to the Commerce Department, which is studying the issue at the request of Trump.
Click here to read the rest of this week's Harder Line column.
https://www.axios.com/newsletters/axios-generate-b9069530-fa53-4fad-9359-0c8ffc48076b.html?chunk=1#story1
Perry's power study draws fresh worries
Happening today: Major green energy trade groups are going public with concerns about a newly initiated, wide-ranging Energy Department study of power markets and reliability.
The 60-day study, begun in mid-April, is reviewing (among other things) whether "regulatory burdens" and "mandates and tax and subsidy policies" for renewables are forcing coal and nuclear plants into retirement.
Why it matters: The study is designed to help inform Trump administration policy, and represents one of Energy secretary Rick Perry's first major moves.
Driving the news: Three major groups — Advanced Energy Economy, the Solar Energy Industries Association, and the American Wind Energy Association — today released their April 28 letter to DOE about the study.
What they want: It asks Perry to create a "public process" that will formally seek input from outside voices, including their groups, as the department crafts the study.
The letter says that "numerous" studies have shown that low natural gas prices and stagnant power demand are the main reasons why coal and nuclear plants are closing — not regulations and pro-renewables policies.
One level deeper: Renewables advocates are wary of the political appointee that Perry has reportedly tapped to lead the study. Economist Travis Fisher comes to DOE from the conservative Institute for Energy Research, a group with fossil fuel industry backing.
Sources tell Axios that Fisher had begun meeting with outside parties. But advocates want a more formalized and substantive stakeholder process.
Advocates of renewables, efficiency, and emerging grid technologies fear that the study will be used to justify rolling back federal support, and even spur moves against state-level policies that bolster those energy techs.
Quick take: They're worried that Perry will not have their back as expected. Renewables advocates had seen Perry, who compiled a pro-wind record as Texas governor, as a potential ally and moderating force in the Trump administration.
In Congress:
A separate
letter from seven Democratic senators
, including Maria Cantwell, the top Democrat on the Senate's Energy Committee, attacks the study as a "thinly disguised attempt" to favor coal and nuclear at the expense of wind and solar energy.
https://www.axios.com/newsletters/axios-generate-b9069530-fa53-4fad-9359-0c8ffc48076b.html?chunk=2#story2
Tech news: energy cyber defense
Unveiled today: Cybersecurity firm Darktrace and industrial conglomerate Siemens have forged a strategic partnership to bring Darktrace technology into the power and oil-and-gas industries.
Why it matters: Energy companies and systems have already been targeted by numerous cyber attacks.
What it does: The partnership is designed to help Siemens' customers to use Darktrace's tech in their critical infrastructure and computer networks, according to the announcement.
In their words: "Leveraging advances in machine learning and probabilistic mathematics, Darktrace's Industrial Immune System platform can detect and remediate in-progress cyber threats at their nascent stages."
Darktrace CEO Nicole Eagan argues that energy sector cyber vulnerabilities are increasingly going beyond just corporate networks, and now extend into the energy sector's increasingly digitized physical operations.
https://www.axios.com/newsletters/axios-generate-b9069530-fa53-4fad-9359-0c8ffc48076b.html?chunk=3#story3
Lightning round
Coal and health care: The Washington Post's story on the new congressional deal on funding through September notes that it would "permanently extend a program that provides health-care coverage for coal miners."
Tesla and Trump: Via Ina Fried of Axios, Elon Musk is defending his interactions with the Trump administration, saying he has been able to use his position on two advisory councils to raise issues such as climate change and immigration.
ARPA-E: Science magazine has a detailed look Energy Department's moves to freeze funding for some previously approved projects at the Advanced Research Projects Agency-Energy, the program that helps development of "breakthrough" energy tech.
Paris accord: Attorneys for the Trump administration are meeting Monday to discuss the legal implications of staying in the agreement, Politico reports.
Why it matters: There are competing views in the Trump administration about whether staying in the largely non-binding pact would still somehow create legal hurdles for Trump's moves to unwind Obama's domestic climate rules.
Streets: The New York Times looks at the climate marches that unfolded Saturday in D.C. and elsewhere.
Bye-bye: The Washington Post looks at changes announced Friday evening to EPA's website that jettison several climate change related pages — including a section on the widely held scientific view that humans have been the primary driver of the global warming that has occurred since the mid-20th century.
One level deeper: EPA has archived that climate science page and other jettisoned sections. But it's not yet clear how the active website will address these topics, especially in light of EPA administrator Scott Pruitt's skepticism of the dominant scientific views on humans' influence.
EPA: In case you missed it Friday, a federal court froze litigation over the Clean Power Plan, the Obama-era rule to cut carbon emissions from powers plants that Trump's EPA is seeking to nullify. The move makes Trump's job easier, Bloomberg reports.
https://www.axios.com/newsletters/axios-generate-b9069530-fa53-4fad-9359-0c8ffc48076b.html?chunk=4#story4
Sonic boom
I like podcasts about energy. Here are a couple recent downloads of interest.
The grid: The Interchange, one of Greentech Media's podcasts, takes an in-depth look at New York State's wide-ranging efforts to reshape its power grid to enable more renewables and distributed resources and expand resiliency (among other goals).
The president: Platts Capitol Crude records a debate over Trump's energy and environmental moves. On the industry side: Kathleen Sgamma of the Western Energy Alliance, an oil-and-gas industry group. On the enviro side: Bob Deans of the Natural Resources Defense Council.
Tablesetter: "It is better than what we expected," Sgamma says of Trump's first 100 days.
https://www.axios.com/newsletters/axios-generate-b9069530-fa53-4fad-9359-0c8ffc48076b.html?chunk=5#story5
What we're watching this week