October 26, 2018
Happy Friday!
At this moment 50 years ago, Big Brother and the Holding Company were atop the Billboard album charts with "Cheap Thrills." So that means the late Janis Joplin brings us today's intro tune...
1 big thing: GM shakes up auto regs fight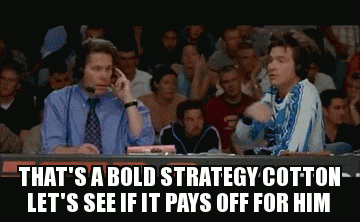 General Motors is urging the Trump administration to create what amounts to a national electric vehicle sales mandate that's modeled on a program in place in California and followed by 9 other states.
Why it matters: The powerful automaker's proposal Friday adds a new wrinkle to the intense, high-stakes battle over administration moves to scuttle auto mileage and carbon emissions standards for 2021–2025 imposed in the Obama-era.
The big picture: GM says its proposal for a national zero emissions vehicle (ZEV) program could lead to addition of 7 million "long-range" EVs on U.S. roads by 2030.
This would cut CO2 emissions by a cumulative 375 million tons between 2021 and 2030 over the existing ZEV program, according to GM, which also says the proposal would bolster jobs and U.S. economic competitiveness in the EV space.
ZEV programs are essentially mandates for EV sales to account for an escalating percentage of an automaker's total sales. They assign credits that are based on the range of the vehicles, and automakers can sell and trade with each other.
Of note: The new proposal is also probably in GM's interest. The automaker plans to launch at least 20 all-electric models by 2023.
Where it stands: It's part of wider comments that GM is filing today on a joint EPA-Transportation Department plan to freeze the escalating Obama standards in 2020 rather than allowing them to keep rising.
Under the Obama-era plan, the escalating standards would have reached over 50 miles per gallon in 2025 (or around 36 mpg in real-world conditions).
The administration plan would also revoke California's power to impose standards — which a number of other states can follow — that are tougher than federal mandates.
That's putting the administration on a legal collision course with California, which is vowing to move ahead with tougher rules even if the national standards are rolled back, if the federal government and the state can't reach a compromise.
The intrigue: GM and other big automakers have applauded White House moves to rewrite auto mileage and emissions rules, calling the Obama-era mandates too onerous and out of step with consumer preferences.
However, the industry has not embraced Trump's move to outright freeze the standards. The Alliance for Automobile Manufacturers, a big trade group that includes Ford, GM and Toyota, has been saying it supports "year over year" increases.
Mark Reuss, GM executive vice president of global product development, told reporters yesterday that GM's wants to avoid a "protracted legal battle."
But automakers also want to avoid having to produce vehicles that meet a patchwork of state requirements. "Engineering to multiple standards is very costly and frankly unnecessary," he said.
But, but, but: Environmentalists I touched based with were critical.
"GM wants to be able to make a small number of EVs and a vast number of gas guzzling SUVs and other light trucks instead of complying with the clean car standards which they negotiated with the Obama administration," said Daniel Becker, a veteran of battles over auto rules.
Public Citizen's Madeline Page said that while she has not seen details of the plan, she believes "This year automakers like GM and Ford have used electric vehicle announcements in order to distract from their (and their trade association's) costly lobbying effort to rollback clean car standards."
The bottom line: Autotrader analyst Michelle Krebs tells Bloomberg...
"GM is taking a leadership position in at least offering an alternative to what could be this endless battle between the federal government and California. ... Whether the administration will accept it, that's another question."
2. UN climate report accused of anti-nuclear bias
A group of roughly 3 dozen scientists and other energy experts are claiming a seminal United Nations report on climate change is biased against nuclear power, Axios' Amy Harder and Andrew Freedman report.
Why it matters: A global entity like the UN climate panel can have a big impact on the acceptance of nuclear power, as calls to address climate change intensify and the challenges facing the nuclear industry grow around the world.
The big picture: Nuclear power, which provides 30% of the world's zero-carbon electricity, is facing international skepticism over past accidents and public fear about its radioactive waste.
In the U.S., numerous plants are poised to shut down earlier than their licenses allow — and some already have — due primarily to market and policy hurdles.
The details: A letter being sent to leaders of G-20 nations claims the recent report by the UN Intergovernmental Panel on Climate Change includes "misinformation about nuclear energy, contrasts nuclear negatively to renewables, and in some cases suggests an equivalency with fossil fuels."
"While IPCC authors note that public fears of nuclear are an obstacle to its diffusion, in several instances they reinforce unfounded fears," the letter states.
The signatories include:
Tom Wigley, a climate scientist at the University of Adelaide in Australia
Kerry Emanuel, atmospheric science professor at the Massachusetts Institute of Technology
David Lea, professor of earth science at the University of California
What they're saying: Emanuel told Axios the IPCC's latest report contains a number of factual errors.
He cited a statement in Chapter 5 of the report that says replacing fossil fuel power plants with nuclear energy has mixed effects for human health — despite the millions of premature deaths that occur worldwide from coal-fired electricity, for example.
"The IPCC says, correctly, that even 1.5 degrees of warming is dangerous, especially for the developing world. We agree with that, on the other hand it throws cold water on what empirically is the fastest way to mitigate emissions we know about today."
— Kerry Emanuel
Go deeper:
3. Petro news: Total's profit, sanctions, LNG
Total's earnings: Total, the French multinational oil-and-gas giant, this morning reported $4 billion in Q3 profits — which is a 48% boost over the same period last year — on the strength of higher oil prices.
It was the company's highest tally since 2012, according to Reuters.
"Total's production rose 8.6 percent to 2.8 million barrels of oil equivalent per day (Mboe/d), a new record output in a quarter, supported by the start-up of production at the Kaombo project in Angola and the ramp-up of projects such as Yamal LNG in Russia," they report.
More earnings: The Italy-based major Eni also posted sharply higher profits, per MarketWatch, while yesterday ConocoPhillips posted big gains too, which the Houston Chronicle breaks down here.
Sanctions: Via the Wall Street Journal, "China is cutting some of its oil trade with Iran after vowing for months to resist U.S. sanctions on the exports, providing Washington with an unexpected boost to its efforts to isolate the Islamic Republic."
LNG: Via the Financial Times, "Saudi Arabia's energy minister has said the kingdom aims to acquire 30 per cent of Russian gas producer Novatek's $21bn liquefied natural gas project in the Arctic, strengthening ties between Riyadh and Moscow."
4. The midterm politics of energy and climate
A couple things worthy of your time...
Driving the news: The New York Times' Lisa Friedman noticed a "small explosion of political ads about global warming" ahead of the midterm elections.
More than 2 dozen candidates in tight races have released ads on climate, she reports.
Why it matters: Friedman notes that more candidates are bucking the "conventional political wisdom says you don't talk about climate change on the campaign trail."
Threat level: The new episode of the Center for Strategic and International Studies podcast Energy 360° looks at the role of energy in the midterms — and the potential fallout from election day. Here's one tidbit...
The House stakes: Energy analyst Kevin Book sizes up how Democrats, if they regain the House, could use their oversight powers to slow down the White House energy agenda.
"After a few adverse meetings with one's overseer, regulators can start to look pragmatically at the option set they have and change within that option set. So you could really change energy policy even if Democrats just control . . . one chamber," he says.
5. Chart of the day: falling emissions intensity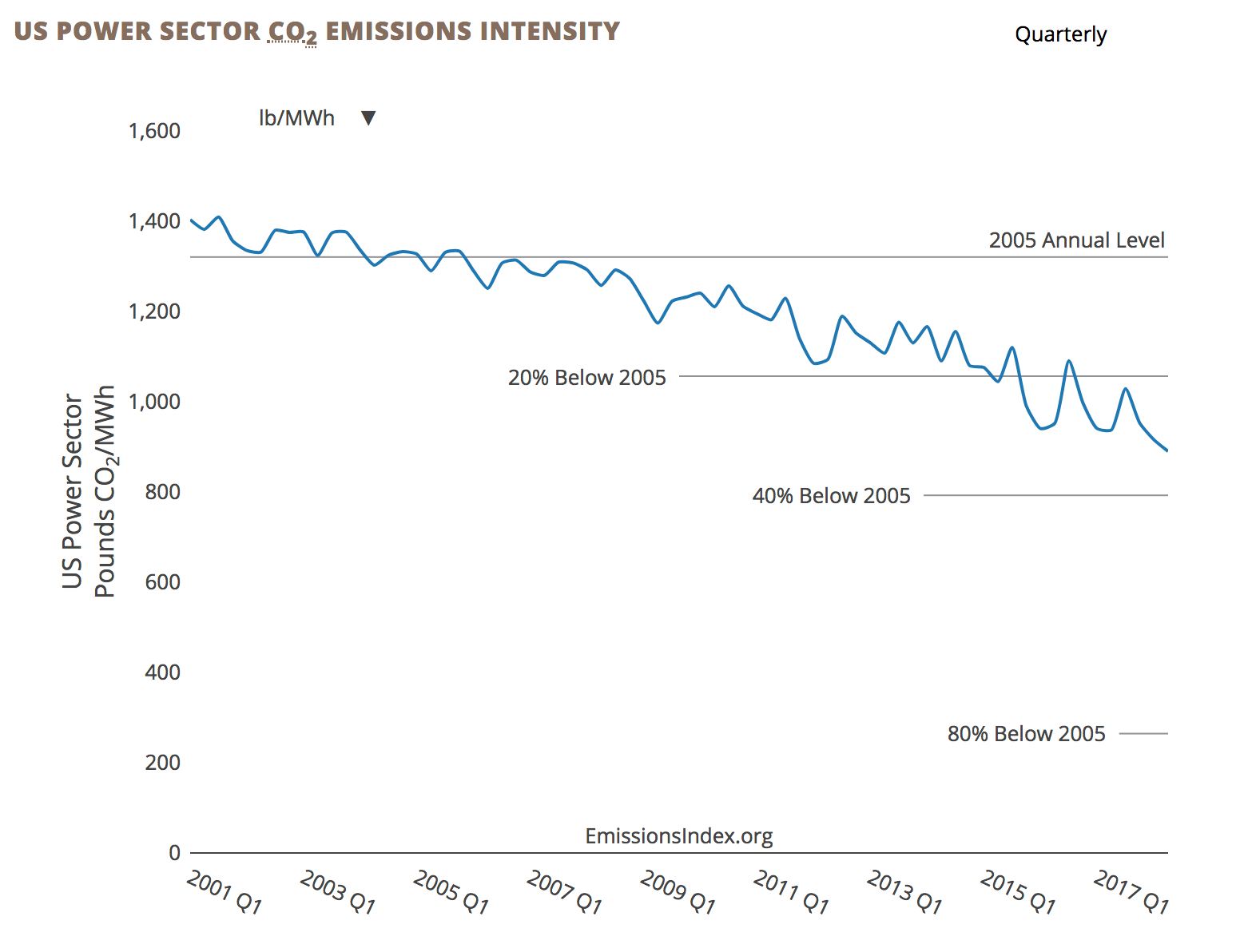 The Power Sector Carbon Index, produced by Carnegie Mellon University, is out with updated, interactive data that tells the story of the ongoing upheaval of the U.S electricity sector.
The big picture: The emissions intensity of U.S. power generation — that is, the amount of CO2 per unit of energy produced — fell another 5% between the second quarters of 2017 and 2018.
Power plant emissions averaged 890 pounds of CO2 per megawatt hour in the April–June stretch this year, which is 33% below 2005 levels.
Overall, aggregate U.S. CO2 emissions from power generation were 1,770 million metric tons in 2017, down from 2,445 million a decade earlier.
What's going on: The numbers reflect the changing generation mix as coal has lost ground to natural gas and renewables. Here are a few snapshots from the recent phases of the ongoing transition. In Q2 of 2018...
Total U.S power generation was 4% higher than the same period a year earlier.
Coal-fired generation dropped another 8% compared to Q2 of last year.
Natural gas generation was up 16%.
Solar generation climbed 24%, while wind was up 9%.
Nuclear generation rose 6%.
But, but, but: A reminder that while power sector CO2 generation is falling in both intensity and aggregate levels, overall U.S. greenhouse gas emissions aren't on track to meet the U.S. commitment under the Paris climate deal of a 26%–28% cut by 2025.
6. New push for climate risk disclosure
Gibson Dunn's Hillary Holmes writes for Axios ... Senator Elizabeth Warren, along with 7 co-sponsors, introduced the Climate Risk Disclosure Act of 2018 in September.
If enacted, this bill would require public companies to disclose a substantial amount of new information about their exposure to climate-related financial risks to the U.S. Securities and Exchange Commission (SEC).
The big picture: As climate change concerns continue to mount, members of Congress, academics and investors are calling for public companies to make increased disclosures about environmental, social and governance (ESG) matters, such as management of a company's carbon footprint.
Reality check: Warren's climate-risk disclosure bill is unlikely to pass in the near future, and under the Trump administration, and Holmes notes the SEC has not heeded calls to act on ESG, including a recent petition for a rule on disclosures.
2020 stakes: The SEC may have to address such issues if public and investor calls for disclosure continue to grow louder and Democrats regain control of the federal government.
Go deeper: Read the whole piece.