Axios Generate
November 29, 2018
Good morning!
Situational awareness: 2018 will go down as the 4th-warmest on record, the World Meteorological Organization said Thursday morning, adding: "The 20 warmest years on record have all occurred in the past 22 years."
Onto music. At this moment in 1991, P.M. Dawn was about to reach the top of Billboard's Hot 100 chart (edging Michael Bolton aside no less) with "Set Adrift on Memory Bliss." So let's get into today's edition by remembering that marionette strings are dangerous things...
1 big thing: Making energy innovation more than a buzzword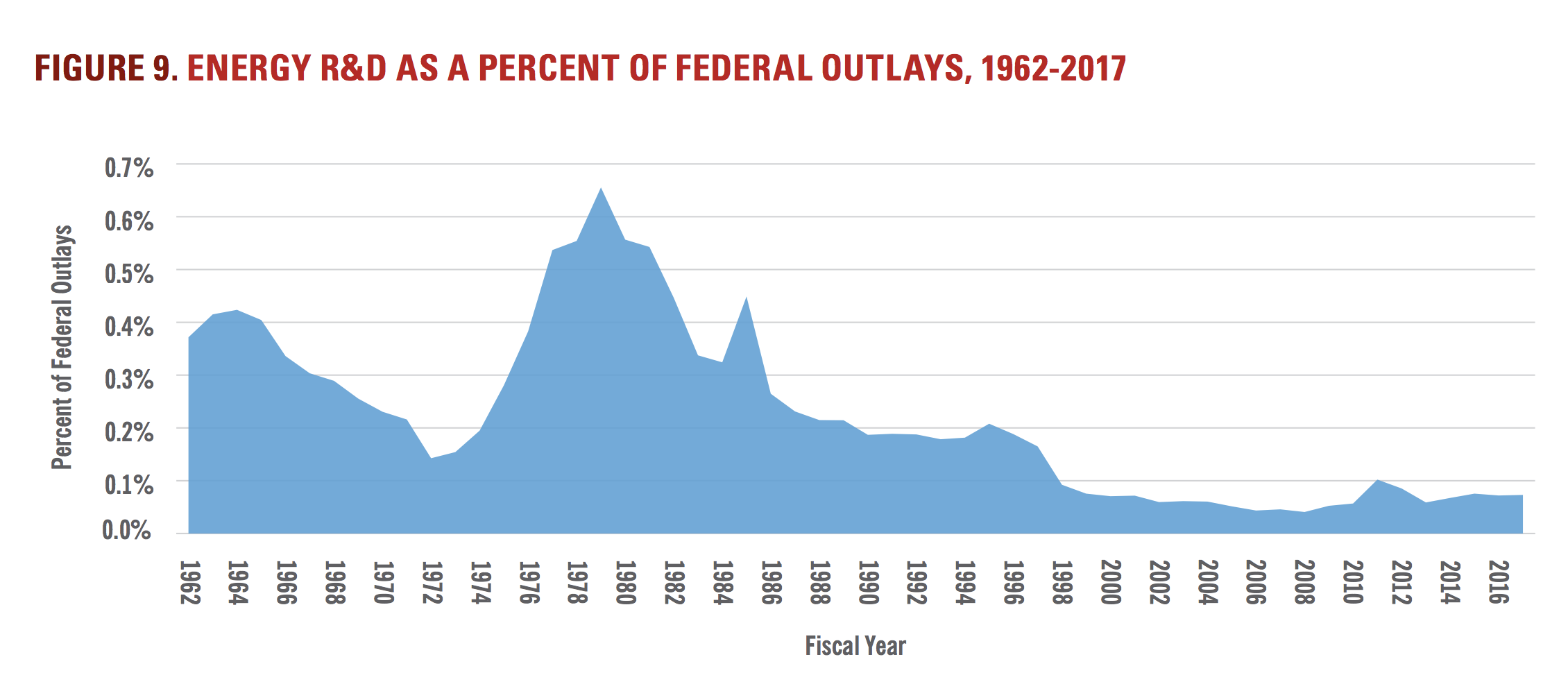 The word "innovation" is having a Beltway moment, so it's worth reading two new substantive reports.
What's new: The reports offer a roadmap for expanding federal initiatives for developing improved and next-wave zero-carbon energy sources and getting them into commercial deployment.
Why it matters: The reports arrive on the heels of major UN and U.S. government projections about the highly damaging consequences of global warming if worldwide emissions are not cut extremely sharply in the next couple decades.
Buzz: "Innovation" is getting tossed around as Republicans are being asked to respond to the big federal climate report released on Black Friday. As my former colleagues at E&E News reported on Wednesday...
"Several ... GOP lawmakers have thrown around the term 'innovation' or stressed technological advancement in public comments about climate change in the past few days, including Sens. Ben Sasse of Nebraska, Mike Lee of Utah and Marco Rubio of Florida."
So the reports are well-timed in the event policymakers actually want ideas for breathing life into the term at a time when other climate policy avenues — like carbon taxes and regulations — are moribund among Republicans.
The big picture: Both reports call for a more robust federal role. That chart above, from the AEIC report, is part of their argument that U.S. R&D is too low.
The AEIC has long made the case that more aggressive federally backed research, development and deployment programs would boost U.S. economic competitiveness.
"They're pushing for a $16 billion annual investment, including boosting money for the Energy Department's Advanced Research Projects Agency-Energy to $1 billion, well more than twice current levels, and for beefing up DOE's network of "Energy Innovation Hubs."
The ITIF report, meanwhile, urges policymakers to bolster various areas that it calls underrepresented in the federal R&D and deployment portfolio.
That includes carbon removal technologies, long-term grid storage, and solutions for wringing emissions out of sectors that are tricky to decarbonize, such as shipping, and cement and steel production.
Reality check: There's some GOP appetite on Capitol Hill for expanding Energy Department clean energy programs, and Congress has batted aside White House requests for deep cuts.
But getting Republican buy-in for a major scale-up is a very different animal.
What's next: Members of the AEIC will be holding private meetings with lawmakers from both parties early next year, a representative of the group tells Axios.
2. Crude oil's slide puts focus on G20 and OPEC
Breaking Thursday: This morning U.S. oil prices traded below $50 per barrel briefly for the first time in 14 months. The price of West Texas Intermediate was $50.91 as we sent this newsletter.
Prices for Brent crude, the international benchmark, are also at their lowest levels in around a year at $59.57.
Why it matters: The latest tumble raises the stakes of discussions at the G20 meeting and the Dec. 6 OPEC meeting when the cartel and Russia will decide on potential output curbs.
What's next: Per Reuters, potential progress on U.S.-China trade negotiations at G20 summit in Argentina that starts tomorrow could put upward pressure on prices again.
And then all eyes will really be on OPEC's looming decision.
What they're saying:
"Prospects for a real deal — one that brings significant quantities of oil off the market to boost price for a sustained period — are not particularly bright," writes Harvard analyst Meghan O'Sullivan in a Bloomberg opinion piece this morning.
And Norbert Ruecker, head of macro and commodity research at Julius Baer, tells the Wall Street Journal, "If you look at the oil price today you get two messages. One, the market doesn't believe those petronations will substantially cut production again, and two, that the global economy is doing worse than the market thought."
3. The sea-level threat to energy infrastructure
One of the dire and costly damage scenarios in the Fourth National Climate Assessment — the report the Trump administration released on Black Friday — stems from rising sea levels that are already affecting coastal cities, Axios' Andrew Freedman writes.
Why it matters: The report says the U.S. will have to ratchet up actions to adapt to global warming-related impacts at the same time that cuts to greenhouse gases are made.
But the climate is a complex system that's tough to turn around on a dime, a certain amount of warming and sea-level rise is baked into the next few decades.
Quick take: Some of those risks involve power and fuels infrastructure, according to the chapter of the report about energy, including...
Nationally, a sea-level rise of 3.3 feet (and the charts above show it could be much higher) could "expose dozens of power plants that are currently out of reach to the risks of a 100-year flood."
"This would put an additional cumulative total of 25 gigawatts (GW) of operating or proposed power capacities at risk," it states.
There will likely be a big increase in flooding risk for Gulf Coast refineries. A sea-level rise of less than 1.6 feet would greatly increase the number of refineries in Texas and Louisiana vulnerable to flooding in even a Category 1 hurricane.
The big picture: The charts above, adapted from the assessment, show possible trajectories that global average sea-level rise may follow. The outcome would depend on several factors, including greenhouse gas emissions from burning fossil fuels, as well as the response of the world's ice sheets and glaciers to increasing temperatures.
Notably, the climate assessment includes some of the latest guidance showing that parts of Antarctica are far less stable than previously thought. That's why its sea-level rise projections are higher than prior reports from the UN Intergovernmental Panel on Climate Change.
Go deeper: Read the full piece.
4. Tom Steyer heads to UN climate conference
U.S. politicians are mostly sitting out next week's big United Nations climate conference in Poland, but at least one notable political activist is going: Tom Steyer, Axios' Amy Harder reports.
Why he matters: Steyer is under an increasingly bright light these days while he weighs a potential 2020 White House run. And the billionaire former hedge fund manager has made climate change a pillar of his activism and political giving for years.
He'll be there for a few days at the end of the first week and stay through the start second, per a spokesperson.
* * *
Speaking of UN climate conferences, Brazil's government says it will no longer host next year's United Nations annual climate summit, citing "budgetary and financial restrictions," Bloomberg reports.
The big picture: Experts have warned that the environmental policies favored by right-wing President-elect Jair Bolsonaro could cause a spike in greenhouse gas emissions and deforestation in the Amazon rainforest — which a recent report claims has reached its highest level in a decade.
The withdrawal of Brazil as a host venue is symbolically important, since it was the Rio Earth Summit of 1992 that kicked off multilateral negotiations on climate change in the first place.
5. On my screen: electric cars, FERC, coal
Electric cars: via Reuters, the head of Volkswagen's U.S. operations said the company is planning to build a new U.S. factory to build electric cars.
"Scott Keogh, the newly appointed CEO of Volkswagen Group of America, said a new plant was needed to build a vehicle yet to be revealed under the Volkswagen brand, priced between $30,000-$40,000, that is due in 2020."
However, the company's existing plant in Chattanooga, Tennessee is also an option, the story notes.
Why it matters: the plan for a mid-priced car is a sign of the coming growth in EV offerings and new competition for Tesla's Model 3, especially if the car really has that price point.
FERC: The Senate Energy and Natural Resources Committee yesterday approved Bernard McNamee for an open seat on the Federal Energy Regulatory Commission, voting 13-10 to send the nomination to the full Senate.
West Virginia's Joe Manchin was the only Democrat to support the nominee.
Why it matters: Via Utility Dive, "Approval from the Energy and Natural Resources Committee shows that Republicans are likely to forge ahead with McNamee's confirmation to FERC despite mounting concerns among environmental groups and the clean energy industry that the nominee is biased against renewables and toward fossil fuels."
Coal: S&P Global Market Intelligence reports that more coal plants are slated to shutter despite White House efforts to bolster the industry. From their analysis of company plans...
"Despite presidential efforts to repeal regulations or otherwise boost coal consumption, power generators in the U.S. are set to retire a total of 14.3 GW of coal-fired power plant capacity in 2018, up from 7.0 GW of capacity retired in 2017."
6. 1 cool thing: Germany's hydrogen train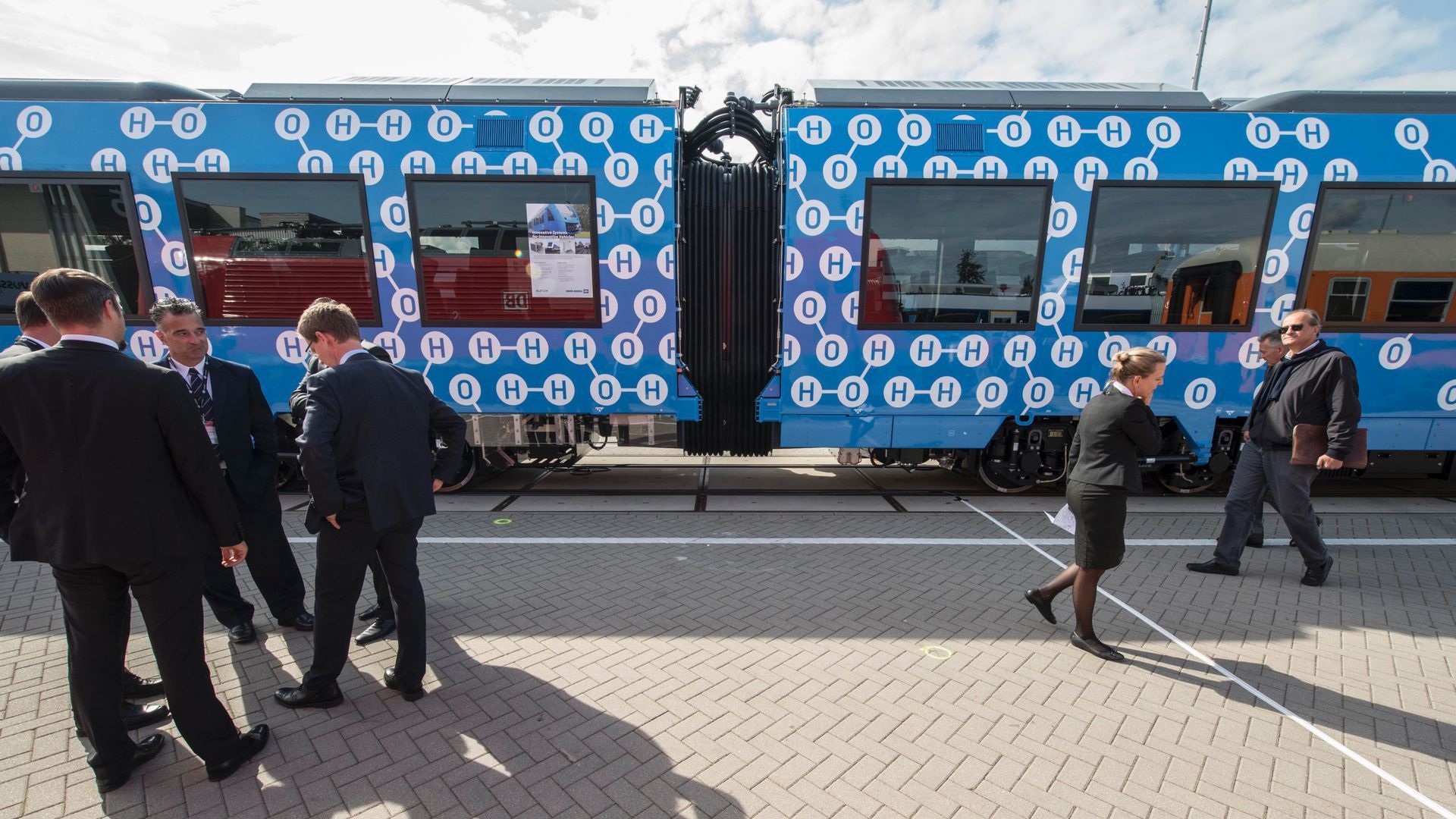 Axios Expert Voices contributor Luca Mastropasqua writes...
In September, Germany started operating the world's first hydrogen train, the Coradia iLint, which is powered by hydrogen fuel cells stored on top of its carriages. Like a conventional electric train, the Coradia iLint produces no direct air pollution, but it can operate without access to the electric grid.
Why it matters: Hydrogen-powered trains like the Coradia iLint could be built on un-electrified lines in areas where diesel engines are still used, which would greatly reduce harmful emissions typical of combustion technologies.
If those trains use hydrogen fuel produced from renewable energy sources, such as wind and solar, they could become an almost entirely carbon-free mode of transport.
Background: Hydrogen is being studied extensively for its potential as a highly efficient, low-carbon energy carrier, with particularly significant applications in the transportation and electricity-generation industries.
How it works: Running in a 62-mile line between 4 towns in northern Germany, the Coradia iLint trains have a range of approximately 620 miles on one fill and a maximum speed of 87 miles per hour.
Fuel will be derived from recycled industrial processes and trucked to the stations for now, but on-site hydrogen production using wind power is planned for a future phase of the project.
Yes, but: In order to allow for widespread use of hydrogen technologies in transportation, renewable hydrogen-production systems will have to be made available at lower costs.
Manufacturers already have the technology to do so, but the supporting infrastructure, such as hydrogen refueling stations and the distribution network, needs to be built.
What's next: Germany is planning to develop another hydrogen train in December 2022, and other European countries such as Italy, France and the U.K. aim to follow suit between 2019 and 2023.
Luca Mastropasqua is a research fellow at the Group of Energy Conversion Systems at Politecnico di Milano.