June 26, 2018
Good morning and welcome back!
Yesterday marked the 1984 release date of Prince's album Purple Rain. That's reason enough to give the late genius today's intro tune ...
1 big thing: Big Oil notches climate case win
A federal district court judge has tossed out a lawsuit against five major oil companies including ExxonMobil and Shell brought by two California cities seeking compensation for the costs of dealing with rising seas.
Why it matters: The litigation by San Francisco and Oakland is an early and important battleground in a wider group of lawsuits that directly go after powerful oil companies over the effects of global warming.
The fallout: Look for oil various companies to cite the California ruling as they battle lawsuits brought by New York City, local and county officials in Colorado and elsewhere.
What happened: Judge William Alsup's 16-page ruling essentially said that executive and legislative processes are best venues to decide how to balance the harms of global warming against the benefits that fossil fuels have provided.
Key lines from the decision: Alsup said he "fully accepts the vast scientific consensus" that burning fossil fuels is warming the planet and accelerating sea level rise. But, in granting the companies' bid to toss the case, he added:
"[Q]uestions of how to appropriately balance these worldwide negatives against the worldwide positives of the energy itself, and of how to allocate the pluses and minuses among the nations of the world, demand the expertise of our environmental agencies, our diplomats, our Executive, and at least the Senate."
Be smart: Attorney David Bookbinder of the nonprofit think tank Niskanen Center, which is co-counsel for Colorado plaintiffs, tells Axios that while "it is never good when a judge says the other side wins," the California decision is just one phase in a longer fight.
"This is round one of many, many rounds of decisions in these cases," he said last night.
Meanwhile, major oil companies called the ruling appropriate.
"We welcome the Court's order dismissing these ill-conceived cases and we will continue to vigorously defend ourselves against all other similar claims," BP spokesman Geoff Morrell said.
Go deeper: Read the full story in the Axios stream.
2. When Alexander Novak meets Rick Perry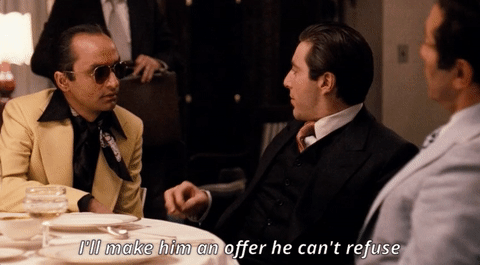 On tap today: Energy Secretary Rick Perry and Russian Energy Minister Alexander Novak are slated to meet today in Washington, D.C., as industry and foreign officials are in town for the big World Gas Conference.
What Russia may seek: RBC Capital Markets analysts, in a note yesterday, suggested Novak could seek to leverage his help in securing the new pledge of an output-boost by OPEC, Russia and others — something the U.S. wanted. The note said:
"It remains to be seen exactly what Russia will seek in return for helping to secure the collective output addition and being a first-mover in calling for a higher production figure. However, sanctions relief seems to be a safe assumption."
— Helima Croft, RBC analyst
What the U.S. may seek: Per CNBC, "Despite thorny U.S.-Russia relations, the U.S. may press Russia and other producers to expand on their just-announced deal to increase crude output, as the U.S. attempts to cut off Iran from the world oil market."
On the record: Perry offered little by way of goals when asked about the meeting during a wide-ranging discussion with reporters ahead of the conference. He said:
"This is kind of a continual opportunity to get to know him, to reach out and send a message that we are certainly amenable to having conversations, to creating a relationship..."
"We have got our issues with Russia, but I am one of those that believes you need to be having conversations with folks and finding the places that we can work together."
— Energy Secretary Rick Perry
3. China's soaring thirst for natural gas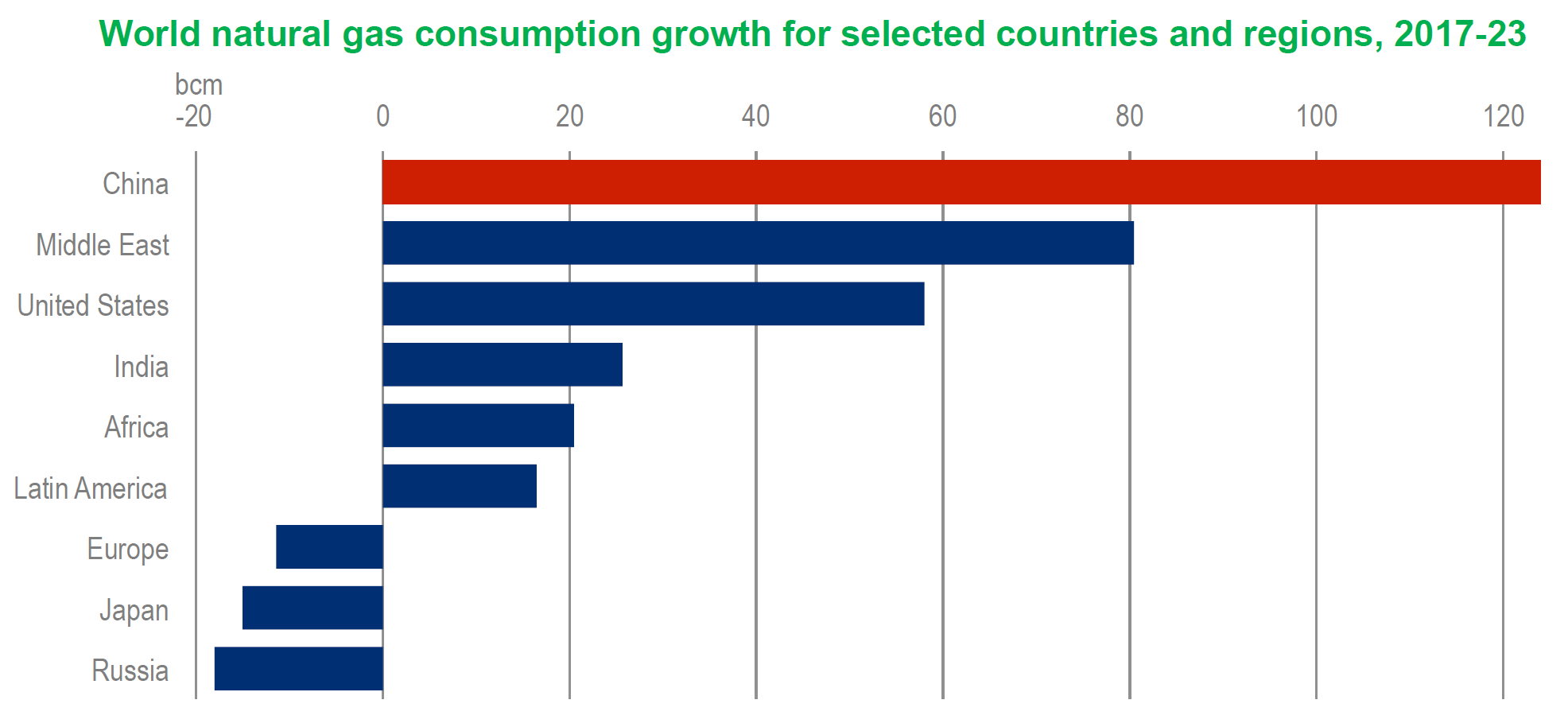 New forecast: Surging Chinese natural gas consumption combined with its limited domestic production will make the country the world's largest gas importer starting in 2019 or even this year, the International Energy Agency said in a new report.
Why it matters: That projection and other new IEA forecasts of China's demand growth underscores the country's huge and growing presence in global energy markets.
"This is the same movie we have seen for coal, for oil, and it's same thing we are seeing again now."
— IEA Executive Director Fatih Birol tells Axios' Amy Harder
The country is already the world's biggest coal consumer and producer, as well as the largest crude oil importer.
Now China is poised to overtake Japan as the largest buyer of foreign gas, with the bulk of the import growth coming from liquefied natural gas (LNG).
By the numbers: IEA's new market outlook forecasts Chinese gas demand growing 60% between last year and 2023, accounting for a remarkable 37% of all worldwide demand growth during the period.
Driving the trend: IEA says an important reason for China's rising thirst is the federal government's edict improve the country's terrible air quality in part by replacing coal with gas for industrial and residential use.
"An increasing role for natural gas — defined as a clean energy source — in every sector of China's economy is backed by strong policy support from the 13th Five-Year Plan," the report states.
However, coal remains the country's largest energy source by far.
Go deeper: Read the full story in the Axios stream.
4. What the future holds for global natural gas
Here are a few other top-line findings from the IEA's new market outlook that looks out to 2023...
The big picture: Overall global demand will grow by about 10% in the forecast period and Asian economies — notably China as noted above — account for over half the increased consumption.
The U.S. role: Production and exports by the world's largest natural gas producer keep rising — the U.S. accounts for 45% of global output increases and almost three-quarters of LNG export growth, IEA said.
What's driving production growth: The report notes an interesting shift. It finds that industrial uses for natural gas have overtaken power generation as the main driver of growing demand. Per IEA:
"Emerging markets, primarily in Asia, account for the bulk of this increase with uses as a fuel for industrial processes as well as for feedstock for chemicals and fertilisers."
"Industrial gas demand also grows in major producing regions, such as North America and the Middle East, to support expansion of their petrochemicals sectors."
Industrial uses account for 40% of demand growth during the forecast period. Growth in gas demand for electric power slows down as the fuel is challenged by renewables, as well as "tough competition" from coal in Asian markets.
5. A few more Energy Department tidbits
Some odds and ends from Perry's sit-down with reporters yesterday...
Still waiting: The energy secretary offered no timeline for when the administration will move forward with brewing, controversial plans to aid economically struggling coal-fired and nuclear plants.
"We are looking at all the contingencies and different impacts and we are not ready to make a statement yet," Perry said at DOE headquarters, but added, "We are making progress."
Interested: Perry said the idea of moving primary regulation of natural gas pipeline security to the Energy Department from the Transportation Security Administration is a "conversation worth having," though noted it's a Capitol Hill decision.
Trade: Perry expressed some concerns about the effect of trade battles on the energy industry, which uses lots of steel for pipelines, even as he defended President Trump's unorthodox style.
"Energy Secretary Rick Perry said Monday that he's trying to 'raise some warning flags' about President Donald Trump's aggressive trade agenda to make sure 'we don't shoot a bullet that goes through the intended target and hits whoever is standing behind it,'" per the Dallas Morning News.
6. By the numbers: Big Oil's carbon footprint
Axios' Amy Harder reports ... The world's biggest publicly traded oil and natural gas companies account for less than 4% of the world's energy-related carbon emissions, according to Birol.
Why it matters: The datapoint underscores the large symbolic and political role companies like ExxonMobil, BP, and Shell fill in the world's climate debate, despite accounting for a relatively small piece of the global carbon-emitting pie.
Just as much attention should be paid to growth in coal electricity in Asia, Birol said in an interview Monday ahead of a big natural gas conference kicking off Tuesday.
On the record: Birol told Amy...
"I am all for putting a public eye, pressure to those companies for being much more responsible energy companies and reducing carbon and methane emissions, but we don't have this same attention for the 200 gigawatts of subcritical coal-fired power plants under construction in Asia, which will emit carbon emissions at least three to four times higher than all this oil production together."
"There is a need for understanding numbers when it comes to the climate change debate."
Our thought bubble: The importance of the major oil and natural gas companies when it comes to political and legal debates over climate change far exceed their objective contribution.
Their influence changing government positions around the world is significant, which could in turn have a big impact on policies cutting greenhouse gas emissions.
Read more: There's a bit more in the Axios stream.
7. On my screen: GE moves, coal, Congress
Business: Per the Wall Street Journal, GE is shedding its ownership of oilfield services giant Baker Hughes and also spinning off its health care arm, part of a major repositioning of the industrial giant that has faced market struggles.
"The final plan focuses GE around its power, aviation and renewable-energy businesses," the paper reports.
Coal: Reuters reports, "U.S. coal mining companies are worried President Donald Trump's intensifying trade dispute with China could hurt their booming export business, one of the ailing sector's most important lifelines."
Climate: Via The Houston Chronicle, "Leading U.S. energy companies Exxon Mobil, Chevron and more said Monday they've formed a new methane emissions consortium focused on reducing greenhouse gas pollution."
Congress: Greentech Media breaks down DOE's spending legislation that the Senate easily advanced, noting it boosts funding for the Office of Energy Efficiency and Renewable Energy and other areas.
"The Senate-approved numbers represent a rebuke of Trump administration efforts to roll back funds for energy programs," they report.
The bill includes $375 million for the Advanced Research Projects Agency-Energy, a DOE arm that the White House has proposed killing.
8. Quote of the day
"The U.S. administration tries to promote coal-fired plants, but frankly if you find an investor who wants to invest 25 years in coal-fired plants, I would not buy the shares of that company."
— Patrick Pouyanne, CEO of oil-and-gas giant Total
The context: He was speaking to reporters at a briefing alongside the huge World Gas Conference in Washington, D.C., this week.
The comments come as the Trump administration is weighing plans to aid the coal sector, which has been losing ground in electricity markets to gas and renewables.
More from Pouyanne: Per Reuters, "French oil and gas company Total SA expects the global natural gas market to grow far faster than that for crude oil over the next two decades thanks to booming demand for the cleaner-burning fuel in Asia, an outlook that underpinned Total's recent big investments in the space."