Axios Generate
May 27, 2020
Good morning! Today's Smart Brevity count: 1,240 words, < 5 minutes.
Heads up: Axios will be hosting a live virtual event on Thursday at 12:30pm ET on the impact of the coronavirus on seniors in long-term care facilities.
Join Axios co-founder Mike Allen for a discussion featuring Sen. Robert Casey, Jr. (D-Pa.) and Sen. Bill Cassidy (R-La.).
🎸And happy birthday to Siouxsie Sioux of the pioneering band Siouxsie and the Banshees, who opens today's edition with this terrific 1985 track...
1 big thing: EU makes its move on green recovery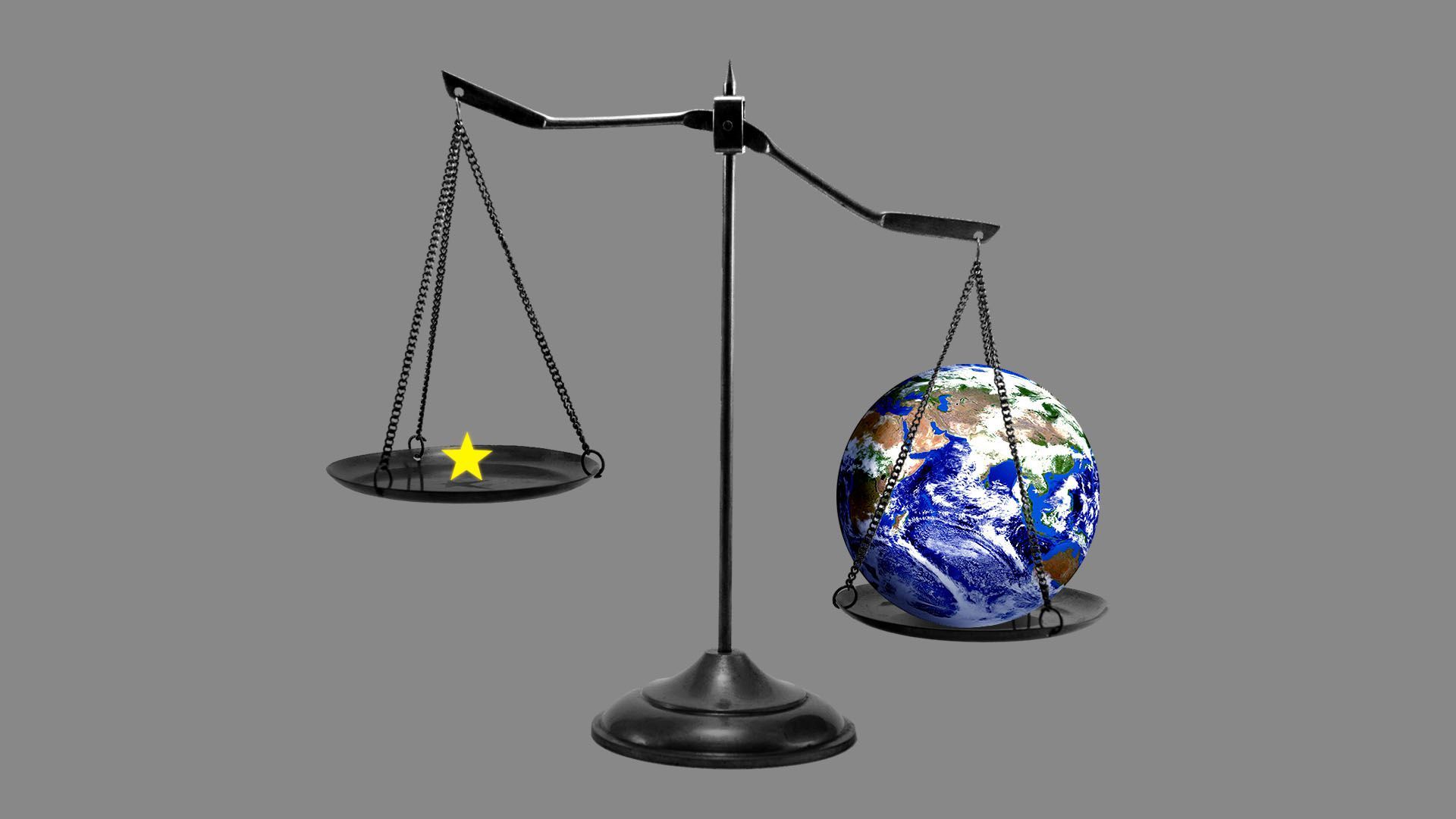 The European Commission this morning proposed a $825 billion package of economic responses to the COVID-19 pandemic that includes financing for renewables, EV charging and other emissions-friendly projects.
Why it matters: The energy components of the "Next Generation EU" plan, part of a wider multiyear budget proposal, appear to be the most substantial attempt yet to stitch low-carbon investments into economic recovery plans.
One level deeper: Supporting the European Green Deal — the bloc's long-term climate framework unveiled before the pandemic — is one of the "policy fundamentals" of the proposed package of grants and loans, per the summary posted this morning.
But, but, but: The plan will require backing from all EU member states and the European Parliament, per Reuters, which notes it will be discussed at a mid-June summit but "any final deal is likely to take longer."
Their item and AP both report that hurdles lie ahead, with AP noting that EU nations are "deeply divided" over how to structure the overall recovery plan and that it's "likely to set off weeks of wrangling."
The big picture: The shape of governments' massive stimulus plans could affect the long-term trajectory of carbon emissions after this year's unprecedented pandemic-fueled decline.
"Imminent fiscal recovery packages could entrench or partly displace the current fossil-fuel-intensive economic system," a paper earlier this month in the Oxford Review of Economic Policy said.
Where it stands: Beyond the EU proposal, individual governments are already beginning to roll out economic packages that affect energy technologies and fuel-intensive sectors.
The French government yesterday unveiled a roughly $9 billion plan to aid its domestic auto industry that includes major new incentives for buying electric cars.
When it comes to planes, Bloomberg reports individual countries are handling it differently.
"Germany's multibillion euro bailout of Deutsche Lufthansa AG may cost the airline some precious airport slots, but one thing it won't have to do is meet any new environmental rules."
This contrasts with airline rescue packages in France and Austria, which aim to address climate by cutting routes that compete with trains.
In the Netherlands, the "Dutch finance minister has said emissions cuts should be a condition of state support for national carrier KLM."
Meanwhile, in the U.S., the big airline aid package approved in March does not include the emissions provisions some Democrats had sought.
2. COVID-19 is causing huge energy investment drop
The COVID-19 pandemic is causing the "largest decline in energy investment on record," with capital spending worldwide slated to fall by roughly $400 billion this year, the International Energy Agency said in a new report.
Driving the news: The roughly 20% aggregate decline is affecting the oil industry, renewables and other power sectors, and energy efficiency-related investments (though IEA sees renewables proving more "resilient" than other fuels).
Why it matters: IEA executive director Fatih Birol, in a statement alongside the new estimates, called the data "deeply troubling," citing lost jobs and economic opportunity.
The big picture: The pandemic is slowing investment due to restrictions on movement of people and goods, supply chain problems and more.
The oil-and-gas sector is taking the biggest hit due to the collapse in prices in demand.
The chart above shows the forecast drops in the exploration and production side of the business. And the shale sector specifically is slated to see a 50% cut.
What they found: The report estimates that the electric power sector will see a 10% drop in year-over-year investment.
Elsewhere, "sharp reductions to auto sales and construction and industrial activity are set to stall progress in improving energy efficiency."
Threat level: "The slowdown in spending on key clean energy technologies also risks undermining the much-needed transition to more resilient and sustainable energy systems," said Birol, who also tweeted about the overall findings.
Go deeper:
3. Coal is battered but has staying power
The new IEA report also shows why, absent tougher climate policies, coal will remain a huge player in global power markets despite its much publicized declines in the U.S. and Europe.
What they found: Check out the two charts above. Project approvals for new coal-fired power plants have plummeted over the past half-decade.
But additions of new capacity are still outpacing plant closures, and IEA sees that continuing in the 2020–2023 period, driven largely by China and India.
The big picture: "Net additions of coal-fired plants in 2019 rose for the first time in five years, driven by an uptick in newly commissioned plants in China and, to a lesser extent, in India," IEA notes.
What's next: Despite ongoing plant closures, the "large existing construction pipeline" means the global coal-fired power fleet is slated to continue expanding.
IEA tallies 130 gigawatts worth of projects under construction slated to start operation between this year and 2023.
That means additions are happening faster than retirements, leading to estimated net growth of roughly 40 gigawatts, IEA said.
One level deeper: The report says the pandemic could also influence future investment by state-owned power companies in developing nations.
"There is a risk that some state actors fall back on familiar levers for economic development, pushing up coal use and emissions," IEA notes.
4. Climate advocates notch procedural win against Big Oil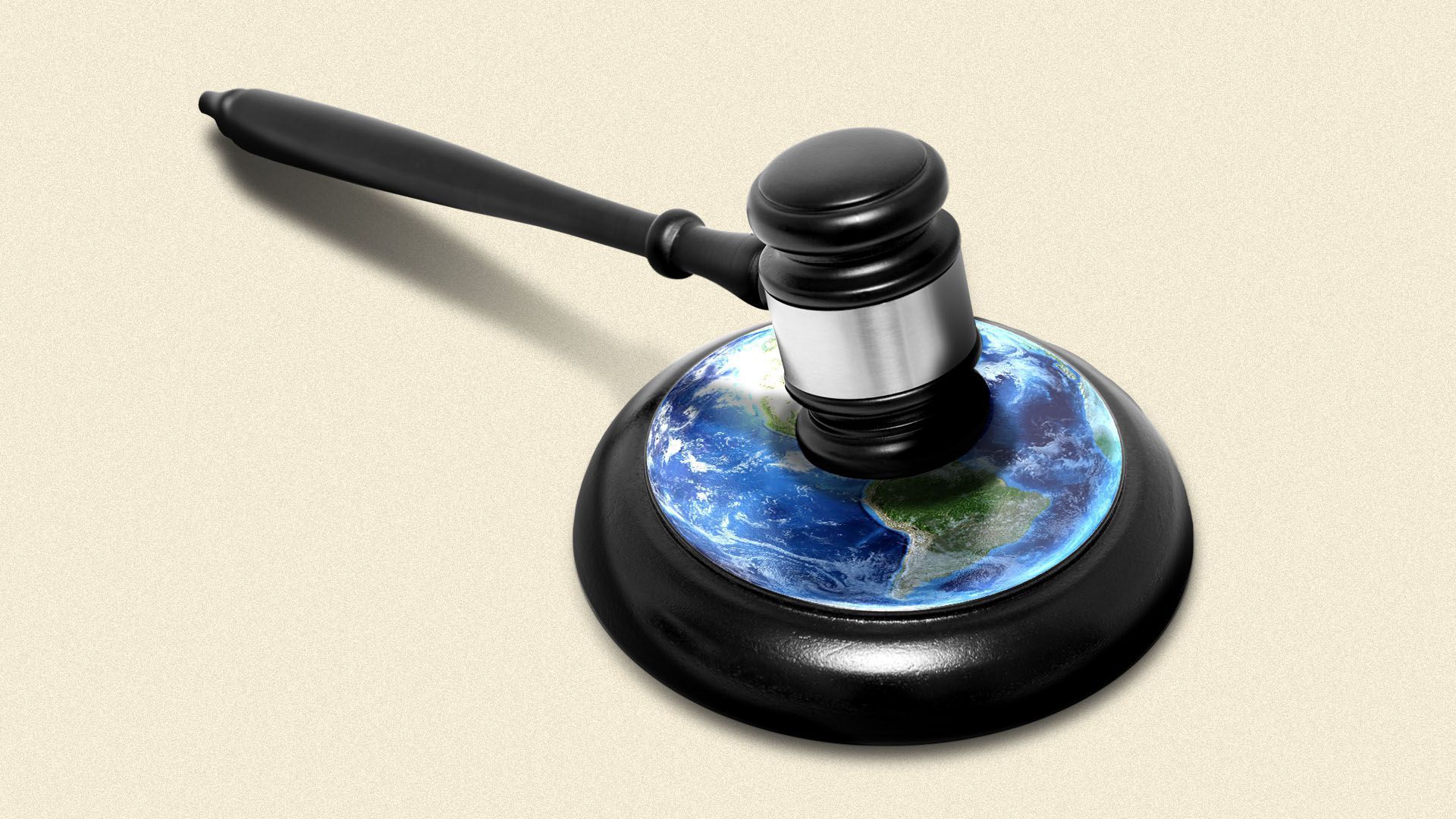 A federal appeals court is allowing California cities and counties' climate litigation against major oil companies to proceed in state court, rejecting industry efforts to move them to the federal bench.
Why it matters: Per Bloomberg Law, the federal court system is "thought to be more favorable to the energy industry."
"The decision doesn't guarantee the local governments will ultimately prevail, but it paves the way for a full airing of their arguments in state court," they report on the rulings by the U.S. Court of Appeals for the Ninth Circuit.
The big picture: Tuesday's procedural rulings are the latest twist in longshot climate litigation in various states against ExxonMobil, Chevron, BP and other big companies. None of the cases have yet succeeded.
Local governments in Oakland, San Francisco, San Mateo County and elsewhere say companies should be liable for global warming and help cover costs of dealing with it, such as building seawalls and other infrastructure.
Go deeper:
5. Why the new UN climate conference date matters
A pivotal but delayed UN climate conference slated for November is now likely to occur a full year late — and the long pause might have a silver lining for advocates.
Driving the news: The U.K., which is hosting the event that was put on ice weeks ago due to the pandemic, yesterday proposed holding the summit in November of 2021.
A UN body is likely to approve the request later this week.
Why it matters: The summit is meant to be a forum for countries to boost their emissions-cutting ambitions in recognition that, a half-decade after the Paris agreement, the world remains far off pace for meeting its goals.
Quick take: The new schedule, unknown when the event was postponed two months ago, means diplomats will have time to absorb how countries are — or aren't — folding low-carbon investments into pandemic response measures.
What they're saying: "While I hate to see a delay in the Paris timeline, rescheduling ... will allow countries to figure out how to achieve double wins of restarting their economies while enhancing emission reductions, as well as simultaneously increasing health and climate resilience," Andrew Light of the World Resources Institute tells me.
But, but, but: Costa Rican Environment Minister Carlos Manuel Rodríguez tells the New York Times the long delay could undercut efforts to create sustainable stimulus packages.
"We're losing time," he said. "Having a [Conference of the Parties] soon would help influence global recovery plans."