Good morning and happy Friday! I don't want to stall momentum toward the weekend, so let's just dive in . . .
Risky business: Climate disclosure battle heats up
Going on offense: A new report is attacking recommendations from a Michael Bloomberg-led initiative TCFD on how corporations — including fossil-fuel companies — should boost disclosure of climate-related risks to financial regulators worldwide.
The report from the prominent consulting firm IHS Markit breaks down draft recommendations from the Task Force on Climate-related Financial Disclosures (TCFD), which plans to finalize its proposals to the G20 this summer.
What they're saying: IHS calls TCFD's recommendations a "radical departure" from established financial reporting, and claims they could mislead investors and distort markets. Among the criticisms:
The scope of the recommended disclosure would prevent financial markets from "accurately assessing, comparing, and pricing risks and opportunities," states the report, which IHS conducted with funding from BP, Chevron, ConocoPhillips and Total.
It argues that much of the information the task force wants in financial disclosures should be conveyed and discussed in other channels. The report also criticizes the push to require so-called scenario planning for various climate outcomes, arguing it does not provide the "substantive, objective" info needed to assess financial risk.
Going on defense: The TCFD's aim is to "increase transparency by developing a framework for consistent climate-related disclosures, which helps industries and investors to better understand the risks posed by climate change," a TCFD spokesperson told Axios.
"It is unfortunate that IHS Markit's report obscures this fundamental point, in addition to missing or inaccurately reporting on several key facts about our work," the TCFD spokesperson said. The TCFD is pushing back against IHS claims that its proposals are a radical departure from established concepts of what's material risk in financial disclosures, among other criticisms.
"As disclosure demands get more real for companies, we are not surprised to see more opposition," Jim Coburn, senior manager of the pro-disclosure and sustainable investment advocacy group Ceres, told Axios.
What's next: The Chamber of Commerce will hold an event next Tuesday to highlight the findings of the IHS Markit report.
Facts matter: Trump follows Obama's lead on LNG exports
A piece in the Axios stream by Amy Harder provides some useful context to last night's news about an agreement aimed at expanding access to Chinese markets for U.S. natural gas exports.
From Amy's item...
Continuity: With the China move, Trump is mostly doubling down on what former President Barack Obama started. The Obama administration approved roughly two dozen natural gas export applications to countries with which the U.S. doesn't have free-trade agreements, according to Energy Department data. The Obama administration also rejiggered the federal review process in 2014 to make it go faster for most companies waiting for approval.
Why it matters: In these highly divisive times in Washington, it's a shock to find a policy area where President Donald Trump and his predecessor align. Trump will try to approve applications faster than Obama, but in this area Obama actually moved so swiftly he upset a lot of environmentalists, and Trump's latest move doesn't make any concrete changes that would indicate the process will move any faster.
Listening notes
Lots of good energy and climate news for your ears lately. A few new downloads of note...
Oil markets: Platts Commodities Spotlight podcast has an interview with Neil Atkinson, a top International Energy Agency oil analyst.
It quickly covers lots of ground, including Atkinson pushing back against claims that OPEC's production-level agreement has failed because prices have fallen back to levels present at the deal's early 2017 inception.
"You could argue that perhaps OPEC has succeeded in at least stabilizing the market, because the price is certainly not lower than it was when the cuts were implemented," he said.
Tesla, FERC: the latest recording of The Energy Gang by Greentech Media has a deep dive into the specifics and outlook for Tesla's new solar roof product, which opened for consumer orders this week, as well as Trump's FERC nominees and more.
One fun quote: "I can't imagine how much free press Tesla gets for itself. It's just awe-inspiring how all of us...just march in line when they have something to talk about," solar entrepreneur Jigar Shah says. Yup.
Paris battle: On Point with Tom Ashbrook provides a high-level look at the arguments on both sides of the stay-or-go debate that's raging inside the White House over the Paris climate accord. It's substantive but also feisty. On the feisty side...
Todd Stern, who was Obama's top climate diplomat, goes after Trump EPA chief Scott Pruitt's claims that China's doing nothing while the U.S. has vowed near-term action, noting China's pledge for a major build out of non-fossil fuel power. "The notion that they don't have to do anything until 2030 is just poppycock, it's a complete misunderstanding," he said.
Conservative activist Myron Ebell of the Competitive Enterprise Institute, who is strongly pushing for withdrawal, on the internal Trump administration struggle: "The fight within the White House is between the deplorables and the swamp. Between the promise-keepers and the promise-breakers."
Global carbon emissions in focus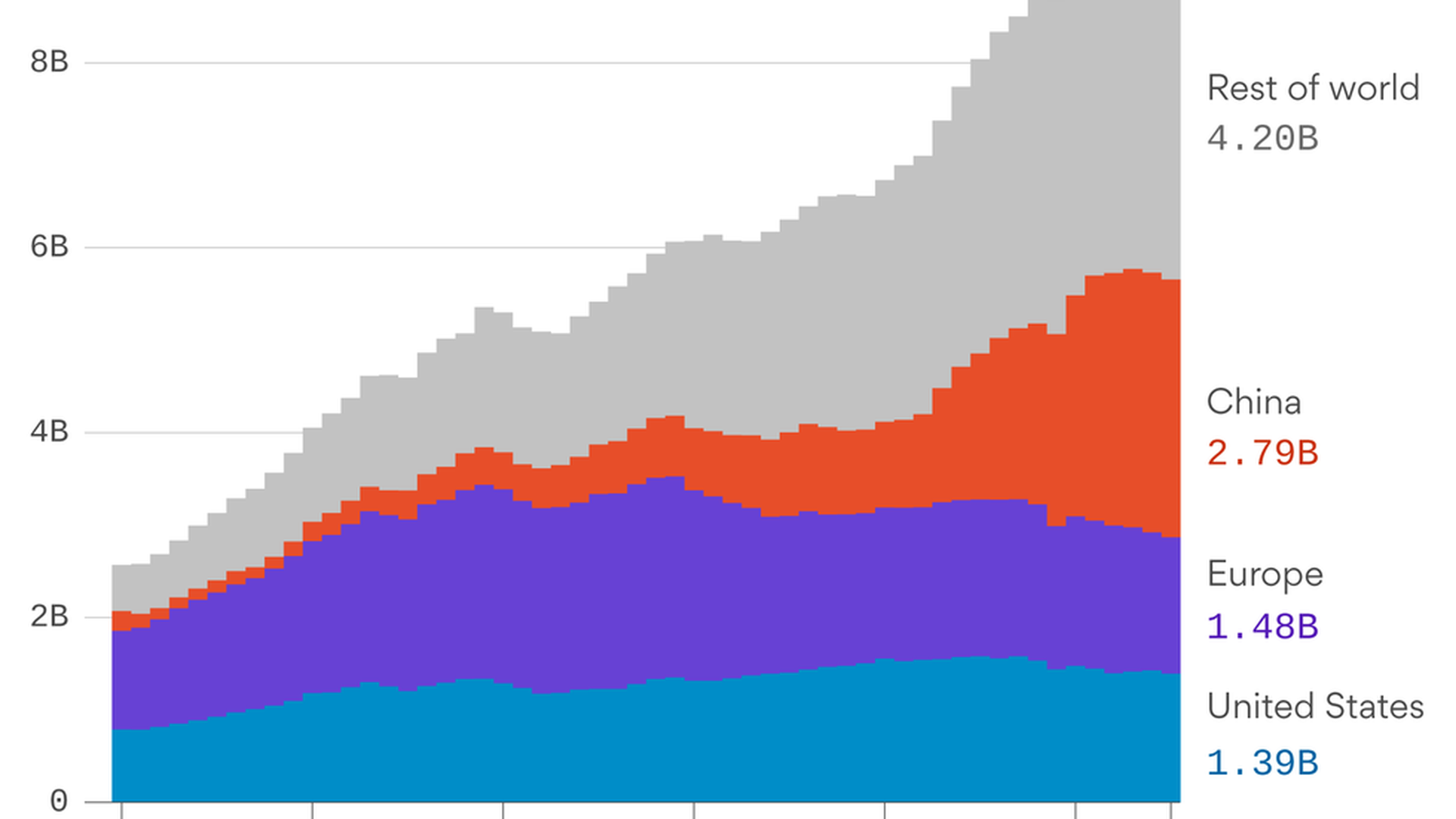 My colleague Shannon Vavra has a snapshot in the Axios stream of global carbon emissions as the U.S. weighs its stance on the Paris climate accord, nicely shown by colleague Lazaro Gamio's graphic above.
More news: polling on gas tax and Trump's climate moves
Gas taxes: The idea of raising the long-frozen gasoline tax gives lots of lawmakers strong stay-away vibes, but a new Quinnipiac University poll suggests it shouldn't be that third rail-ish.
Asked about raising the gas tax specifically to pay for infrastructure repairs, 51 percent think it's a good idea while 41 percent think it's a bad idea.
Unlike lots of other issues, there's not much of a partisan divide — 48 percent of Republicans think it's a good idea, and so do 52 percent of Democrats.
Climate regs: Trump's moves to unwind carbon-cutting mandates are unpopular with the overall sample of voters, but here the partisan gap runs deep in the Quinnipiac survey released Thursday .
Just 28 percent agree that Trump should "remove specific regulations intended to combat climate change."
53 percent of Republicans hold that view, compared to just 8 percent of Democrats.
On my screen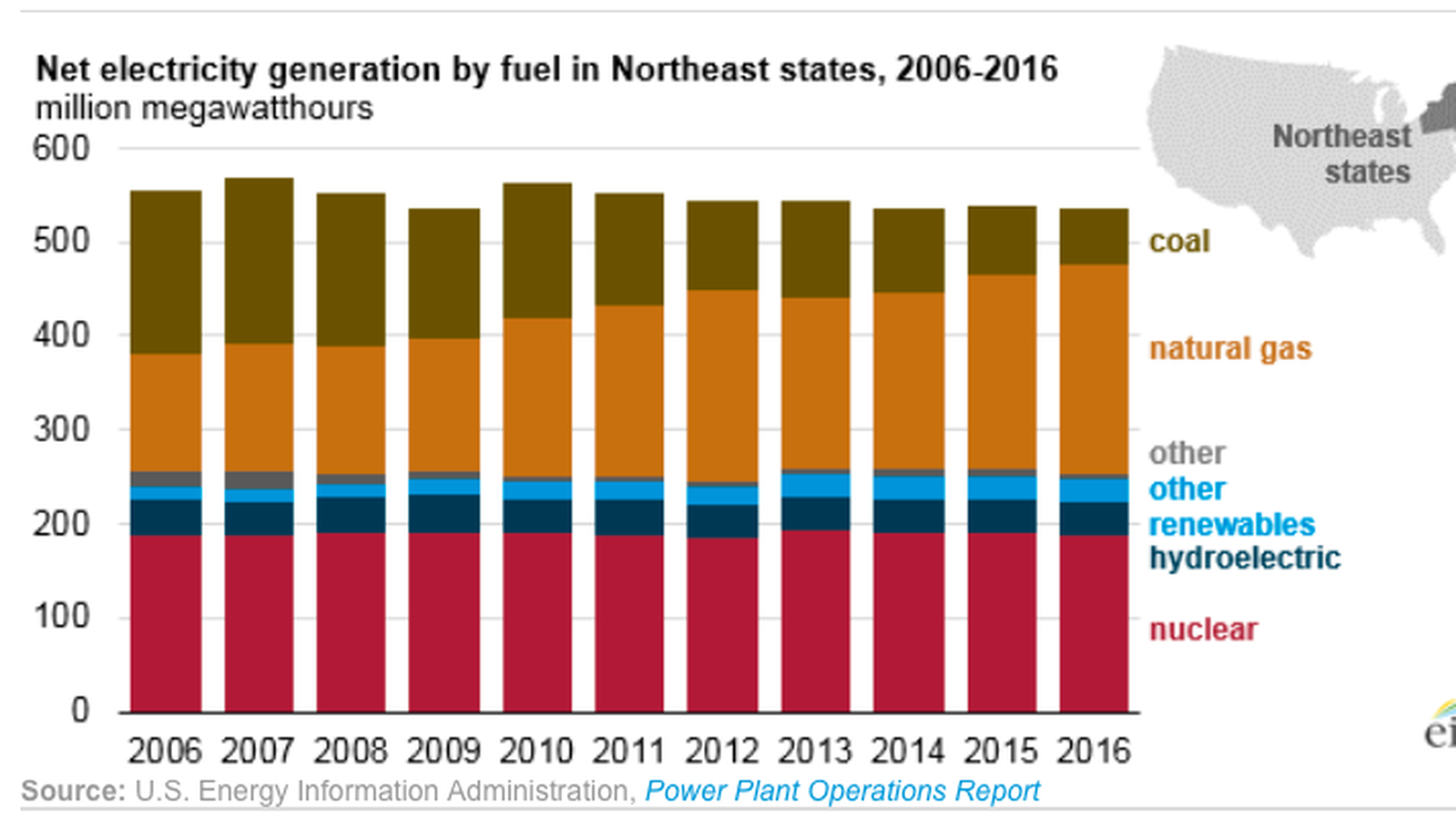 Coal: The Energy Information Administration has a look at how natural gas has displaced coal over the last decade in nine northeast states (one of the charts is above).
Key stats: Natural gas supplied 41 percent of the region's power last year, up from 23 percent a decade earlier, while coal went from 31 percent down to 11 percent over the same 2006-2016 period.
Permian Basin: The Dallas Fed is out with a handy snapshot of economic and energy data for the booming shale oil region.
Offshore wind: Utility Dive looks closely at the two offshore wind projects that Maryland regulators approved yesterday.
AP notes that they would jointly have over 10 times the power generation capacity of the nation's first (and right now only) offshore wind project near the Rhode Island coast.
Thanks for reading! Tips and feedback always welcome at ben@axios.com. Have a great weekend.