Axios Generate
August 22, 2017
Good morning and happy post-eclipse day! Please keep the tips and feedback coming to [email protected].
Let's dive in . . .
Grid passes eclipse test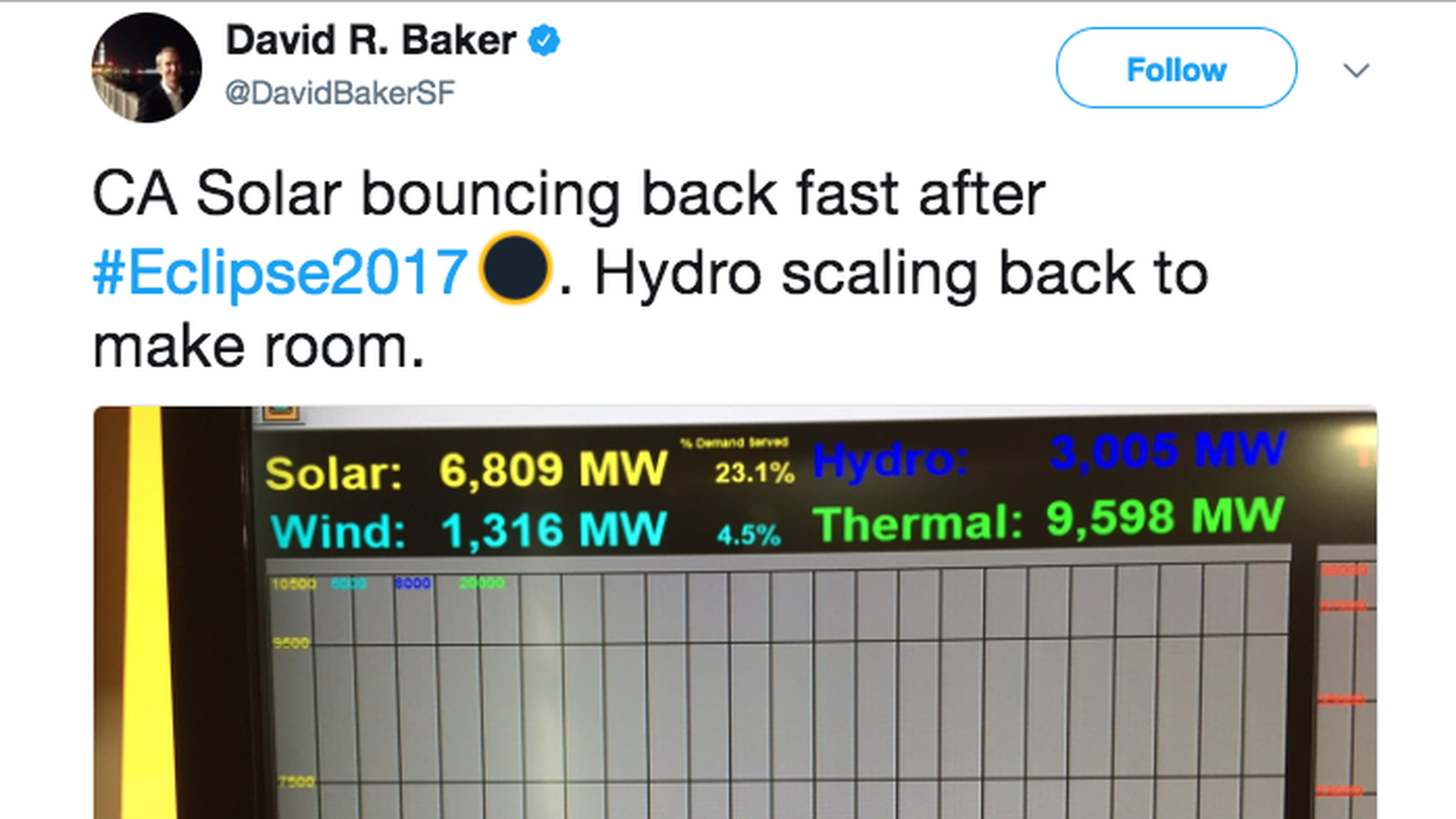 Check out this cool tweet (pictured above) from the San Francisco Chronicle's David Baker of the control room of California's grid operator.
The screen shows the state's solar electricity output plummeting by several thousand megawatts during yesterday's eclipse.
And then it sharply rose again, enabling the the hydro and gas-fired output that rose to pick up the slack to come back down again.
It all went pretty much fine in California and elsewhere.
"It was a testament to the ability of our operators to manage solar production drops and dramatic rises on the most solar-connected power grid in the country," Anne Gonzales, spokeswoman for the California Independent System Operator, tells Axios.
Why it matters: The effect of the eclipse on the power system in California, which has lots of solar power, and nationwide was something of a stress test for bringing growing amounts of variable renewables into the nation's energy supply.
"The celestial event provided an opportunity to test plants, software and markets refined in recent years in anticipation of the day when renewable energy becomes the dominant source of power," notes Bloomberg in a detailed piece on the topic.
Context, via Baker's story on the day: "California uses far more solar electricity than any other state. Enough large solar facilities have been installed so far to produce — at maximum — more than 10,000 megawatts of electricity, the output of 10 nuclear reactors. Each megawatt supplies 760 typical homes."
Earth and sky: I enjoyed this CNN photo gallery of the eclipse and people watching it nationwide.
Amy's notebook: Dems & enviros nearing total eclipse
Amy Harder reports . . .
Environmental groups are increasingly going outside their sandbox of policies and issuing statements backing other Democratic causes, such as opposing the repeal of former President Obama's healthcare law.
Why it matters: The trend shows how the polarization occurring in America under the leadership of President Trump is causing political alliances to polarize even more. Environmental groups have traditionally backed Democrats much more than Republicans, but now they're doing so on issues not core to their stated missions. All progressive interest groups want to resist Trump, even if the issue du jour is unrelated to their causes.
Between the lines: Environmental groups are looking more and more like an extension of the Democratic Party instead of their own political category.
What's next: One sign of whether this trend is lasting will be whether the League of Conservation Voters considers congressional votes on the healthcare law as part of its annual scorecard, which is released publicly toward the beginning of each year. LCV hasn't scored something like that before. In the past, it has considered votes on family planning, in an implicit nod to over-population's impact on the environment, and campaign finance reform, which has an impact on the energy and environment debate because money drives politics and policies of all stripes.
Lithuania challenges Russia with U.S. gas buy
Over in the Axios stream, my colleague Steve LeVine has this dispatch from the intersection of natural gas and geopolitics . . .
"Lithuania, among the bravest of the former Soviet states surrounding prickly Russia, has poked a finger directly in the Kremlin's eye by buying a shipment of American liquefied natural gas, defying Moscow's energy stranglehold on the region. The shipment Monday could not have been economically advantageous, given that Russian gas supplies are right next door, but Lithuania calculated that the political dividends made it a shrewd deal."
"Why it matters: The move suggests that, three years after the Russian invasion of Ukraine, the Baltic states remain resolved to putting up a strong front against Moscow."
Click here for the whole item.
Get smart on oil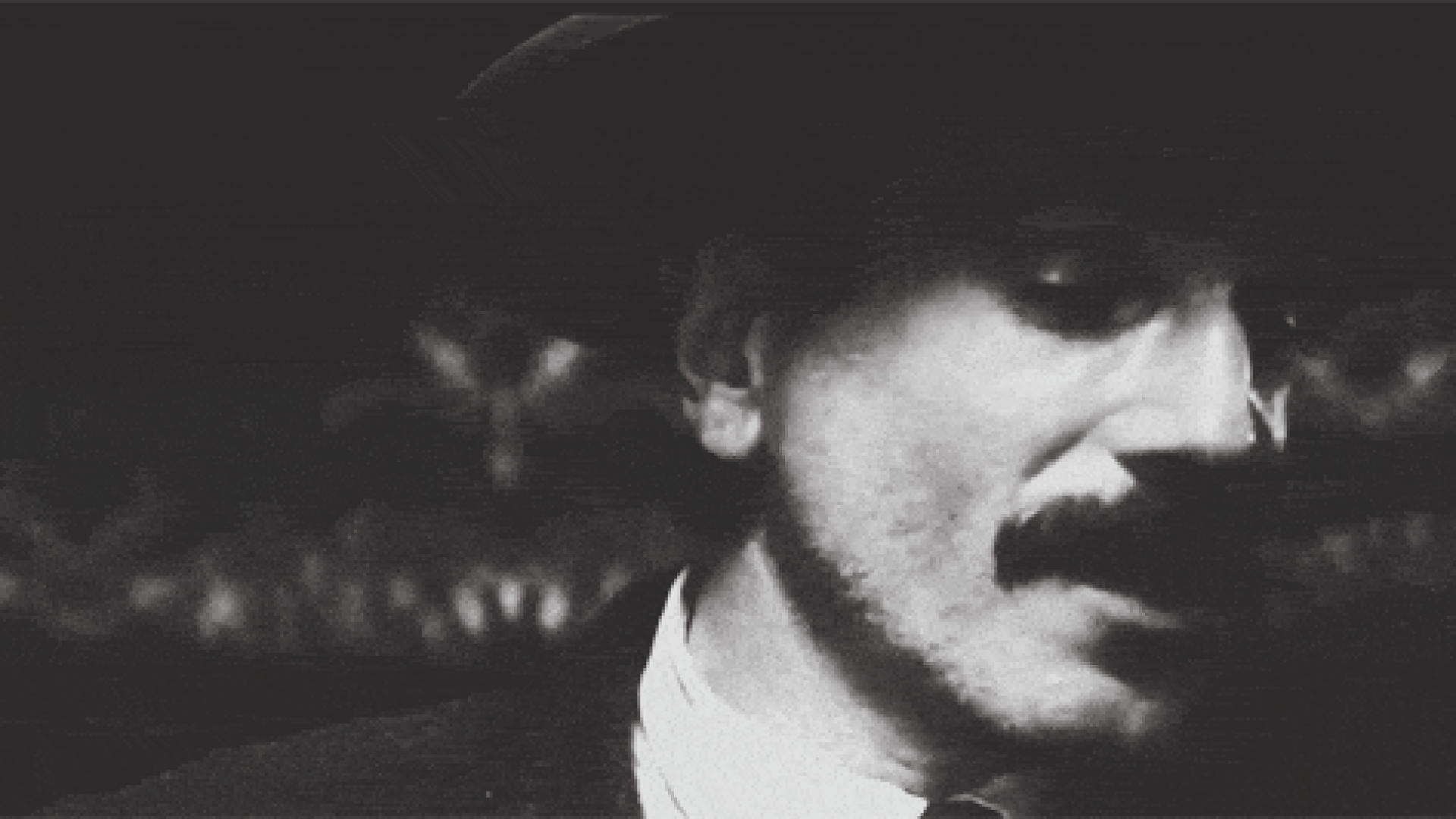 Ok I'm becoming a fanboy for the Columbia Energy Exchange podcast. The edition that dropped yesterday is an interesting interview with RBN Energy President Rusty Braziel. A few points from the veteran analyst in the wide-ranging chat, if you don't have 33 minutes to spare . . .
"U.S. producers are going to produce right into any hole that OPEC opens up." So oil will probably stay in the $50-per-barrel range for quite a while, despite OPEC efforts.
Below the radar: Braziel explains an interesting trend over the past year or so that's poised to bolster production in the shale patch even more. The checkerboard of lease ownership in the Permian and other basins has limited the length of some lateral wells (because one leaseholder is not supposed to drink another owners' milkshake). But lease patterns are changing:
"They have basically been trading properties, small transactions, generally below the radar screen of a lot of Wall Street, in order to be able to develop contiguous acreage positions."
Why this matters: Now more producers can drill longer lateral wells, in the 2-3 mile range, which enables more oil output per dollar of investment and lowers break-even costs.
"The implications of those much longer laterals that we see coming over the next year, we haven't even felt that yet," Braziel said.
Industry response to Trump: Elsewhere, Braziel is doubtful that the Trump administration's rollback of his predecessor's environmental regulations and access restrictions will have much effect on U.S. production for a couple reasons.
"The rule changes that are being contemplated are not, in my view, huge parts of the cost structure of these wells."
Another, he said, is that companies are preparing for regulations to resurface under a subsequent administration anyway, so they're not loosening their practices.
Don't look for companies to rush to the Arctic even as Trump seeks to reverse Obama's limits. "The economics aren't there. You can open up any land that you want, but if you get the socks beat off of you by the Permian, why would anybody go up there and drill."
On my screen: EVs, Paris, states
Electric cars: The Energy Institute at Haas (part of the University of California) has a concise new post about the potential benefits of widespread adoption of autonomous electric vehicles.
Climate: Foreign Affairs has an interesting piece that graphically plots expert opinions on the impact of Trump's decision to bail on the Paris agreement.
The Interior Department has halted an ongoing National Academies study of the health effects of mountaintop removal mining, Shannon Vavra reports in the Axios stream.
Oil prices are climbing Tuesday morning as "investors look ahead to U.S. supply data that are expected to confirm the market is tightening," MarketWatch reports.
Newly minted Federal Energy Regulatory Commission member Neil Chatterjee has tapped Anthony Pugliese to be his chief of staff. Since January he has been a White House adviser at the Transportation Department, according to FERC. Prior gigs include energy consultant, and serving as director of legislative affairs for former GOP Pennsylvania Gov. Tom Corbett.
Over at EPA, Administrator Scott Pruitt has tapped Trey Glenn, a former top Alabama environmental regulator, to head the agency's Region 4 office, which oversees the southeast.
A pair of reports take stock of low-carbon energy initiatives in California and New York: On the West Coast, the nonprofit group Next 10 has published its latest Green Innovation Index that finds that the state's ambitious efforts to cut carbon emissions have been a win for the economy. On the right, a new report from the conservative Manhattan Institute criticizes the New York State's green electricity mandate, arguing that it will force residents to collectively pay tens of billions of dollars in above-market power costs in coming decades.