Good morning and welcome back!
Today marks the 1969 release date of the Rolling Stones album Let It Bleed (possibly their third best), so one of its tracks is today's intro tune . . .
https://www.axios.com/newsletters/axios-generate-8ff6d3ee-b838-442a-91a8-3052b4ebc2fe.html?chunk=0#story0
Solar energy's perilous winter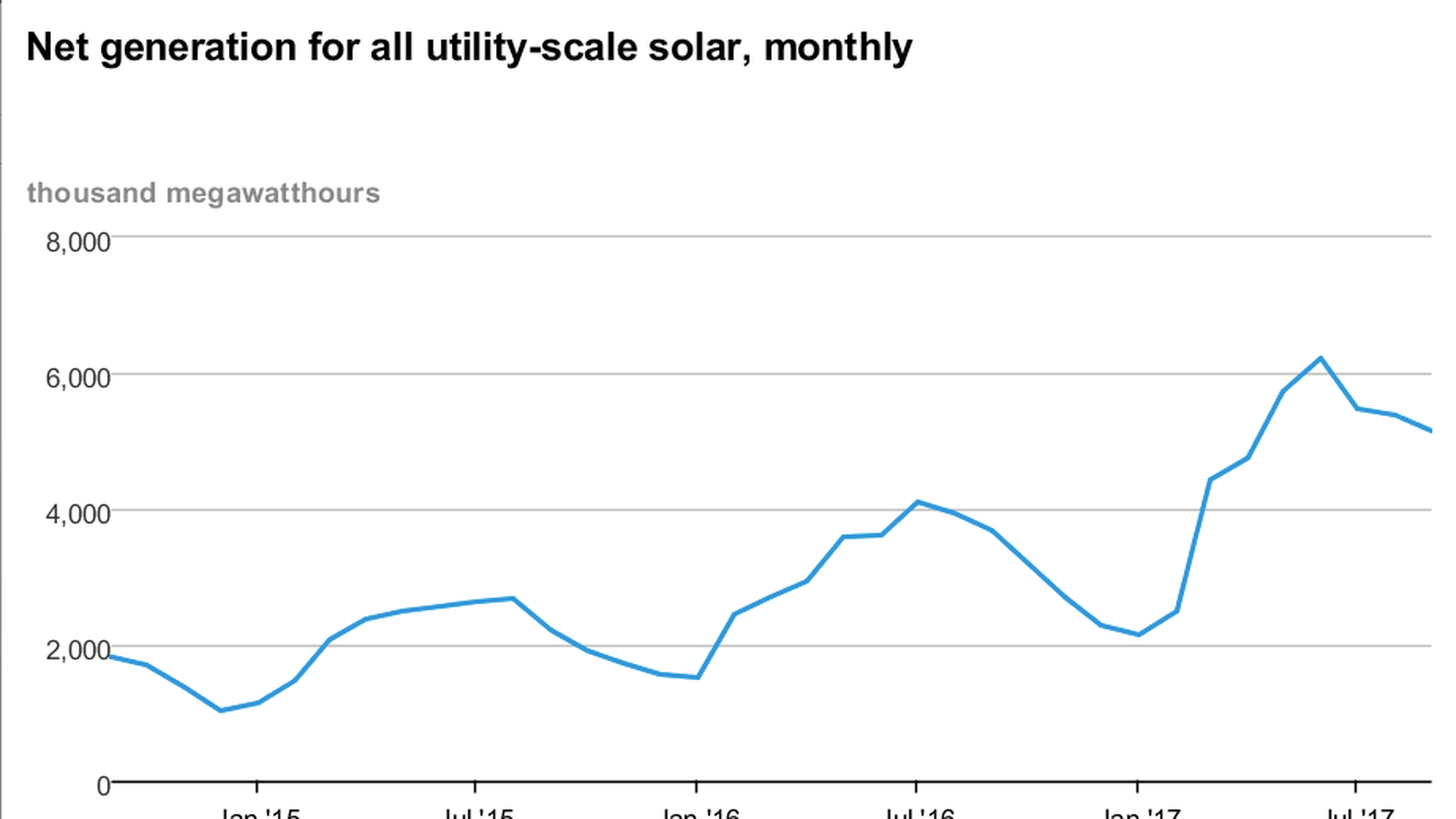 Forget EPA's climate rollbacks and the Paris brouhaha. The renewables industry – and solar energy in particular – is facing a series of overlapping policy battles that are probably more consequential, especially in the near-term.
The chart above is one example of the recent growth (it looks at just utility-scale solar) that the renewables advocates say is at risk going forward in decisions that loom in Congress and the White House.
Three fights that matter right now:
1. At the White House: The Solar Energy Industries Association and allies will roll out a proposal today that is soaked in Trump-friendly language and is designed to offer an alternative to tariffs on solar panel imports that the White House could impose soon.
The plan, partially shared with Axios ahead of the rollout, argues that avoiding the tariffs that the industry says would badly curtail growth is needed to help support U.S. "energy dominance" — a phrase Trump officials use mostly to describe their support for wider fossil fuel development and export.
The proposal – called "An America First Plan for Solar Energy" – arrives ahead of the public hearing tomorrow on potential tariffs and quotas hosted by the Office of the U.S. Trade Representative.
2. In Congress: The wider renewables industry is scrambling to fight portions of the Senate-approved tax plan that make changes to the corporate tax code in ways that wind and solar companies say would have a spillover effect of nullifying the value of separate tax credits.
3. At FERC: The opening phase of Energy secretary Rick Perry's plan to help keep at-risk coal and nuclear plants is coming to a head as soon as next week. The solar industry has joined with other critics in opposition to his proposal, currently being considered by the Federal Energy Regulatory Commission.
https://www.axios.com/newsletters/axios-generate-8ff6d3ee-b838-442a-91a8-3052b4ebc2fe.html?chunk=1#story1
API launches voluntary methane program
My Axios colleague Amy Harder has the goods on a new industry climate initiative...
The American Petroleum Institute today is announcing a new voluntary program to cut emissions of methane, a potent greenhouse gas, and other air pollution from oil and natural gas wells.
Why it matters: This is the first time in API's nearly 100-year history that it has launched a program to cut air pollution – a concrete sign climate change is becoming a significant mainstream concern within the disparate oil and gas industry. Moves like this by trade groups represent the lowest, not highest, common denominator for positions within any given sector.
Yes, but: Don't expect climate change per se to be a big part of the Tuesday rollout or its website. The talking points are centered broadly on "the environment." Such rhetoric is in line with most Republicans and the Trump administration when it comes to climate change.
The gritty details: The program includes three parts companies are expected to implement:
Monitoring and fixing of emissions of methane and volatile organic compounds, both of which are sometimes inadvertent or purposefully leaked during the production process.
Replacing and upgrading equipment called pneumatic controllers that are used at oil and natural-gas operations and often emit methane and other types of emissions.
Minimizing emissions associated with separating liquids, such as oil, from natural gas.
https://www.axios.com/newsletters/axios-generate-8ff6d3ee-b838-442a-91a8-3052b4ebc2fe.html?chunk=2#story2
Climate news: DOJ questions scientists, Obama to speak, weather impact
Behind the scenes: An interesting piece in E&E News reports that the Justice Department has been quietly meeting with climate scientists, including a researcher who questions the dominant scientific views on humans' contribution to warming.
Here's more from their story:
The Justice Department officials questioned the scientists about the level of certainty in climate science, possibly in an effort to help formulate a legal argument that would maintain that climate change is not enough of a dire threat to require immediate government action.
The case has the potential to be one of the first Trump administration legal showdowns over climate science. For now, the department is casting a wide net, consulting with climate scientists, environmental law experts and economists, according to the researchers.
In public: Via the Chicago Tribune, later today former President Obama will address an international conference of mayors called the North American Climate Summit.
Why it matters: It could the former president's most extensive remarks on the topic to date since leaving office, and it comes as the Trump administration is rolling back a suite of Obama's global warming policies.
Listen deeper: The new episode of the Columbia Energy Exchange podcast is an interview Antha Williams, the head of the environment program at Bloomberg Philanthropies, which focuses heavily on city-level efforts to address global warming.
Science, part 1: Via the Los Angeles Times, "California could be hit with significantly more dangerous and more frequent droughts in the near future as changes in weather patterns triggered by global warming block rainfall from reaching the state, according to new research led by scientists at Lawrence Livermore National Laboratory."
Science, part 2: MIT Technology Review looks at new research about how children's exposure to extreme heat can affect them later in life. "Specifically, heat waves during an individual's early childhood, including the period before birth, can affect his or her earnings three decades later, according to the paper, published on Monday in Proceedings of the National Academy of Sciences," the story states.
https://www.axios.com/newsletters/axios-generate-8ff6d3ee-b838-442a-91a8-3052b4ebc2fe.html?chunk=3#story3
Oil and gas: Statoil project, Russian LNG, Ecuador's settlement, U.S. security
Arctic: Bloomberg reports that Norwegian oil giant Statoil is moving ahead with a major multi-billion dollar Arctic offshore project in the Barents Sea after slashing costs, and hopes to start production from the Barents Sea field in 2022.
"Castberg is the world's biggest offshore oil project to get the go-ahead this year, with resources of 450 million to 650 million barrels, according to Statoil," the story notes.
Russia: More frigid news. "Russia's Novatek said on Tuesday its Yamal liquefied natural gas plant commenced LNG production with the aim of shipping the first cargo on Dec. 8 from the Arctic port of Sabetta," Reuters reports.
Yes, but: In a short note circulated to reporters Tuesday, Wood Mackenzie analyst Samuel Lussac cautioned that there are still risks associated with the project in the harsh Arctic environment.
"Also, the Northern Sea Route transportation is in its early stages of development, and its feasibility as a major LNG delivery route is unclear," he said.
ConocoPhillips: Via the Associated Press, "Ecuador has agreed to pay $337 million to ConocoPhillips-subsidiary Burlington Resources five years after a ruling that the South American nation illegally expropriated valuable oil assets."
Risks: A new essay by Jonathan Chanis of Securing America's Future Energy warns that the political shakeup in Saudi Arabia and tensions with Iran create new vulnerabilities for the U.S. despite our domestic production surge.
https://www.axios.com/newsletters/axios-generate-8ff6d3ee-b838-442a-91a8-3052b4ebc2fe.html?chunk=4#story4
Tracking the latest in lobbying
A few new energy related filings have popped up in the Lobbying Disclosure Act database...
Nuclear: Areva has tapped Chris Parandian Consulting for work on unspecified nuclear energy issues, a filing states.
Pipelines: Williams Companies has brought on Bracewell for work on "federal regulatory reform related to natural gas pipeline development," their registration notes.
Wind: EverPower Wind Holdings has retained Buchanan Ingersoll & Rooney for work on "federal strategy development and implementation relating to existing federal wind tax credits and the Department of Energy NOPR on grid resiliency," their filing states.
Utilities:
Madison Gas and Electric Company
has brought on
Michael Best Strategies for work on energy tax credits.