Good morning and welcome back to Generate! For some reason I buried the title of an early '80s pop hit in today's newsletter. Can you spot it? Ok let's dive in with a reminder that your (confidential) tips and feedback are always welcome at ben@axios.com.
https://www.axios.com/newsletters/axios-generate-7b2fc190-e959-415a-b6df-04f1d7961828.html?chunk=0#story0
On tap today: Trump order and solar trade
Get ready: Last night the White House said President Trump would sign an executive order today aimed at "establishing discipline and accountability in the environmental review and permitting process for infrastructure projects."
Why it (possibly) matters: Executive orders are typically a pretty fast and easy way to tell agencies to do things that wind up being hard and slow. But that aside, this is worth watching. While rollbacks of big-ticket regulations suck up lots of attention, a huge priority for various industries — including the energy sector — is faster approval of projects they want to undertake.
***
Solar showdown: The U.S. International Trade Commission will hold a public hearing today on a petition by two struggling solar panel manufacturers seeking major penalties on imported cells and modules.
Get smart: E&E News has a detailed breakdown of the case here. One big question before commissioners: "[W]hether SolarWorld and Suniva are in their predicament because of predatory foreigners or because of their own blunders."
https://www.axios.com/newsletters/axios-generate-7b2fc190-e959-415a-b6df-04f1d7961828.html?chunk=1#story1
One interesting number: 41
That's how many U.S. cities have now committed to obtaining 100% of their power from renewables, according to a new note on cities and climate from HSBC.
The target years range from now until 2050, with many looking at a 2030 timeframe.
Why it matters: Municipal low-carbon energy programs are getting more attention as the White House backs away from federal carbon emissions-cutting rules and programs.
"In our view, climate impacts such as record heat and other extreme weather events, as well as the falling costs of renewable energy, are driving cities to make such commitments," HSBC wrote.Yes, but: Energy expert Sam Brooks, who looked skeptically at cities' pledges a few weeks back in Greentech Media, offered Axios some thoughts on the pledges that HSBC had tallied. Among them...Many of the pledges (though not all) lack "actionable plans." They're "directionally encouraging — but they don't signal a breakthrough or foundational shift in action.""Urban buildings must become radically more efficient. Cities must reshape power distribution systems that have looked basically the same for a century. This is not going to be easy — and will require far more resources and political capital than most cities realize," notes Brooks, who heads the clean energy advisory firm ClearRock.
https://www.axios.com/newsletters/axios-generate-7b2fc190-e959-415a-b6df-04f1d7961828.html?chunk=2#story2
Oil-and-gas market and policy notes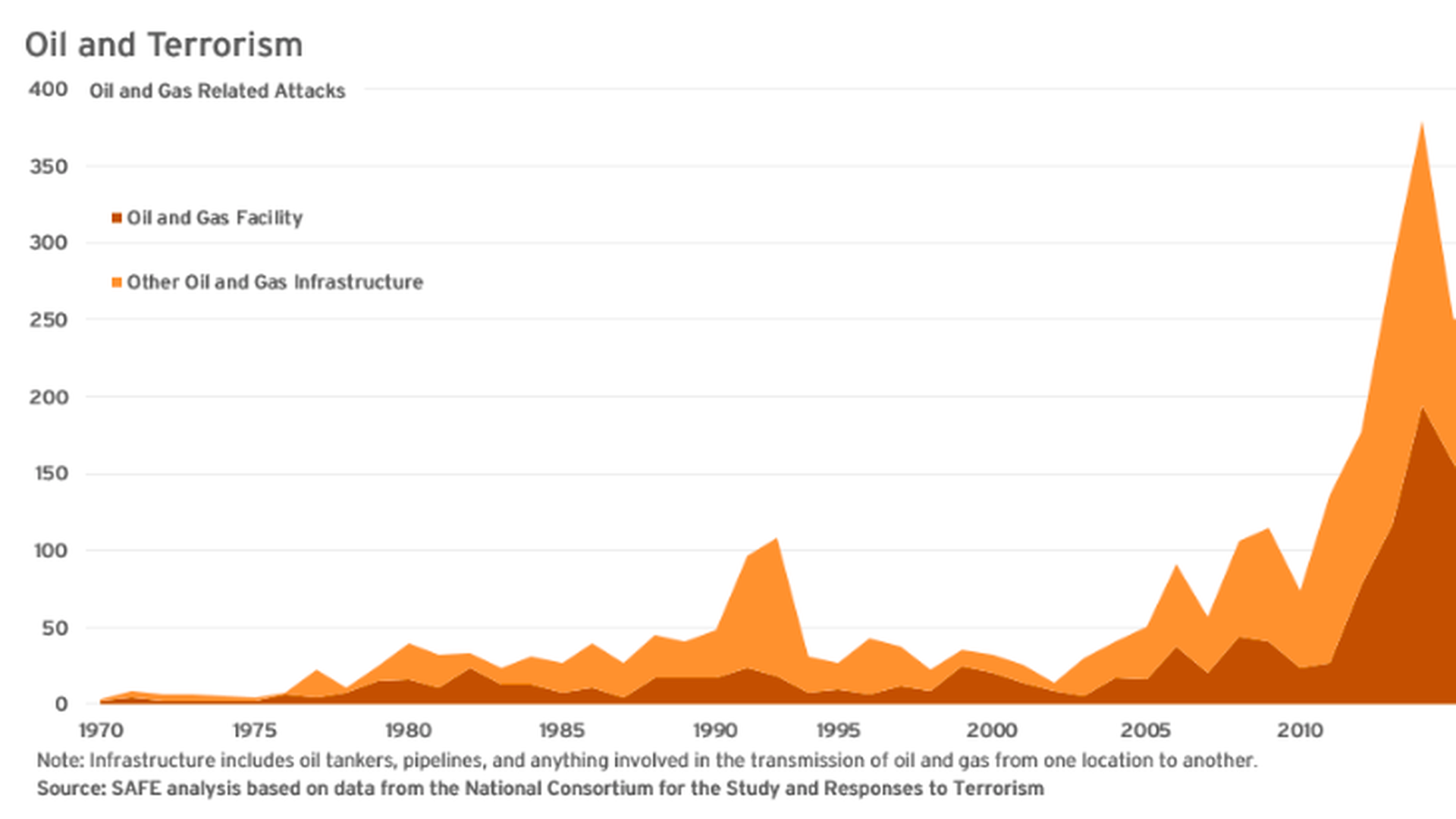 At risk: The folks at Securing America's Future Energy are out with a new primer on supply risks, which can be easy to forget when there's so much crude sloshing around the market and prices are moderate. Check out the chart above for a look at the trajectory of attacks against infrastructure.
Another vulnerability? Cyber. "In 2016, more than 44 [million barrels per day] was produced in countries that scored below 75 percent on a United Nations cyber-readiness index," according to SAFE.
Sanctions lobbying update: A subsidiary of Russian gas giant Gazprom seeking to build the Nord Stream 2 export pipeline to Europe, which the Trump administration opposes, has hired at least two U.S. lobbying firms.
Why it matters: The sanctions law that Trump recently signed gives the administration the option to act against companies in the consortium building the project, but the penalties are not required, so it's a live topic.
A new filing in the Lobbying Disclosure Act database shows that Nord Stream 2 AG has brought on Roberti Global to lobby on "issues related to the U.S. position toward the Nord Stream 2 pipeline, including potential financial sanctions affecting the project." Lobbyists include Lydia Strunk, who until recently was a high-level House GOP aide.
Nord Stream 2 AG has also brought on Capitol Counsel, according to a filing posted last week while Generate was on break.
Up, up and away: "Oil output from major U.S. shale plays is poised to reach a fresh record next month, further complicating OPEC's efforts to support prices," reports Bloomberg in a piece on the latest data from the Energy Information Administration.
Keystone XL: The latest edition of the Platts Capitol Crude podcast breaks down TransCanada Corp.'s nearly decade-old bid to construct a huge pipeline from the Canadian oil sands to Gulf Coast refineries.
The basic unresolved question: The Trump administration is fine with it (unlike his predecessor), but does the market still want it?
Climate: Via Reuters, the Vanguard Group, a very big investment firm, "has urged companies to disclose how climate change could affect their business and asset valuations."
Go deeper: My Axios colleague Amy Harder looked at Wall Street's evolution on climate disclosure here.
https://www.axios.com/newsletters/axios-generate-7b2fc190-e959-415a-b6df-04f1d7961828.html?chunk=3#story3
Moniz-led effort issues warning on nuclear security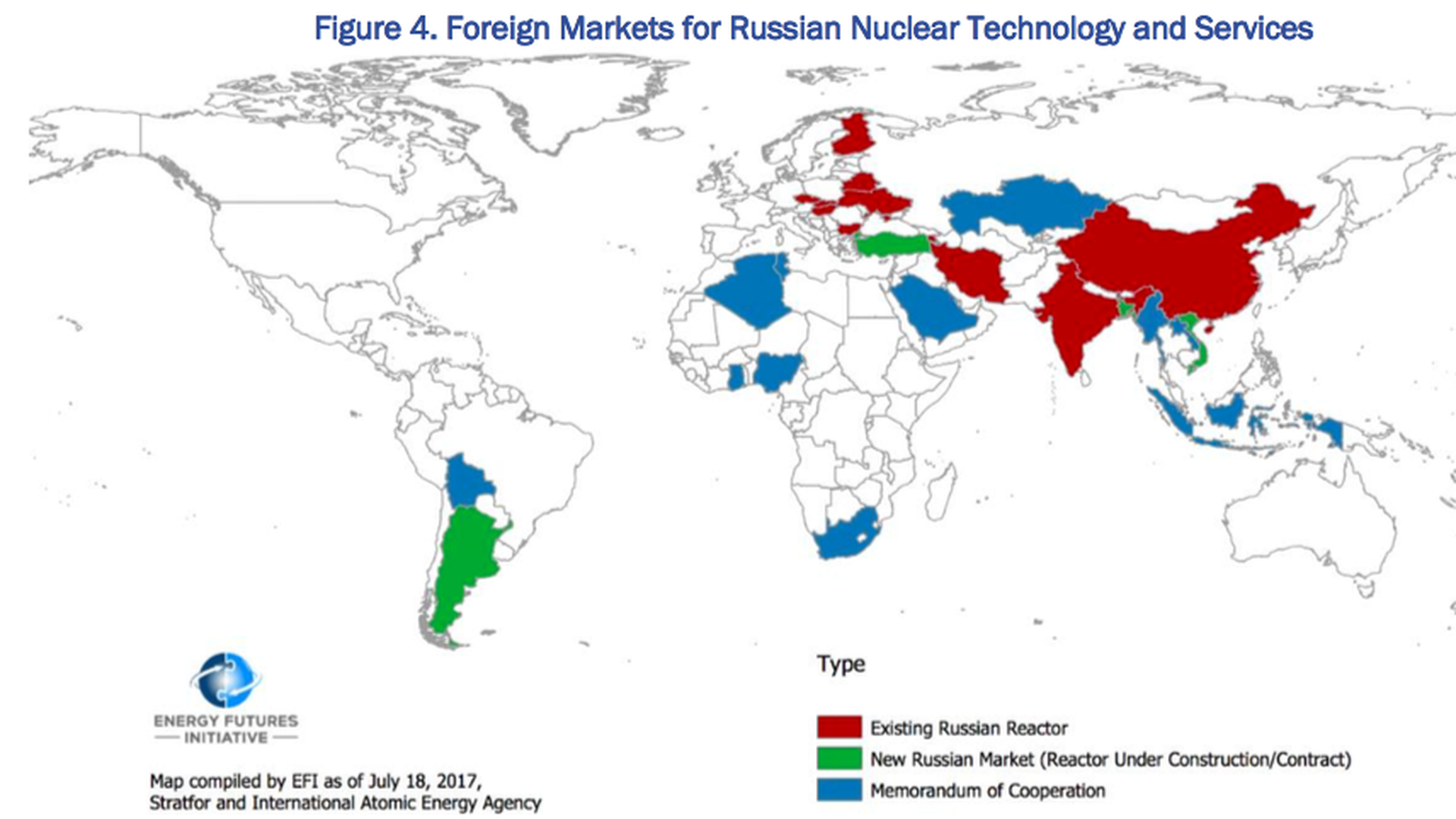 The slow decline of the U.S. nuclear energy industry is creating national security vulnerabilities that demand new federal action, according to the first report from a nonprofit group created by former Energy secretary Ernest Moniz.
The new Energy Futures Initiative analysis looks at how a supply chain weakened by the lack of new plants and the upcoming retirements of some existing commercial reactors can affect security.
Here's a few takeaways...
Russia fills the void: One concern is the failure to reach bilateral agreements with other countries, especially Middle East powers, for use of U.S. nuclear technology and services. Russia has been more successful (see the chart above).
Naval needs: The U.S. naval's nuclear-propulsion fleet relies on a "robust" domestic supply chain. In particular, the Navy will eventually need more highly enriched uranium.
"Because of the national security use and the sensitivity of HEU production, the entire supply chain from uranium feed to the enrichment technology must be U.S. origin. There is currently no such domestic capability in the supply chain," the report states.
Other problems: The report identifies other nuclear security concerns, noting the security imperative of a domestic supply chain for key elements of nuclear weapons stockpile maintenance; and also notes concern that the U.S. will not produce enough nuclear engineers.
How to fix it: The report makes over a half-dozen recommendations for federal policymakers to help bolster the domestic industry, such as extending tax credits and availability of the DOE's loan guarantee program and directing the Federal Energy Regulatory Commission to "place greater emphasis on the national security importance of nuclear power and its associated supply chain."
https://www.axios.com/newsletters/axios-generate-7b2fc190-e959-415a-b6df-04f1d7961828.html?chunk=4#story4
Amy's notebook: What's up with energy projections?
A few observations from Amy...
There's been a lot of articles lately about the projected use of fossil fuels into the future, particularly revolving around projected demand for electric cars, and so this online discussion by the nonprofit group Our Energy Policy caught my eye.
Led by former Sierra Club director Carl Pope but with expert input from all sides, the discussion looks at what goes into projections that the government and companies make about the future of fossil fuels.
Why it matters: People, including reporters, often take for granted assumptions that are built into projections about future energy use and related greenhouse gas emissions. It's important to at least know what those assumptions are, and how widely they can change depending on where you're getting your information.
My thought bubble:
The forum is offering a rare non-polarized discussion about a topic everyone in energy and climate industries should care about, no matter what side of the polarizing debate you fall on.
https://www.axios.com/newsletters/axios-generate-7b2fc190-e959-415a-b6df-04f1d7961828.html?chunk=5#story5
Big in business: the future of Westinghouse
On the record: Axios recently chatted with Mark Marano, the COO of the bankrupt Westinghouse Electric Company, which had been contracted to build nuclear projects for Southern Company in Georgia and Scana in South Carolina.
Industry background: The demise of a Scana's reactor project in South Carolina and uncertainty about the future of Southern Company's Vogtle project, which also faces major delays and cost overruns, are huge challenges. The future of the country's existing fleet, as several states seek to prevent reactors from shutting down, also affects Westinghouse.
Here's a snapshot of the state of the ship and a few reason's why Marano says the company can rebound...
Bad, not fatal: Marano is "cautiously optimistic" that Vogtle will move ahead. But the future of the two southern state projects using their AP1000 reactors is not make-or-break for Westinghouse to survive, even though the company would be "reshaped" if neither goes forward. He noted the company's operations in nearly 20 countries, including two plants slated to come online soon in China, and continued work in servicing existing plants.
"We have a solid baseline [nuclear] business outside of AP1000 projects," he said.
Steppin' out: Marano highlighted areas where Westinghouse is seeking to grow, saying the company recognizes it needs to "diversify."
One is expanding work, such as welding services, on non-nuclear projects. "We are looking at our skill sets...we are trying to grow that as part of our plan by taking what we traditionally do at a nuclear power plant and applying that to opportunities in oil and gas and other power generation sources," he said, while noting that nuclear will always be the main focus.
Another is to grow its government contracting arm, notably with the DOE's nuclear complex. "We are looking to expand our footprint back into the government business. We have been well-received. We see that as part of a growth opportunity within our plan," he said. Westinghouse is part of a team awarded a contract last year for work on depleted uranium conversation at DOE facilities in Kentucky and Ohio.