Good Monday morning, and welcome back to another edition of Generate. I'll give you a tease of my latest column — the left part of my two-parter on what politicians are getting wrong about climate change — before handing things back to Ben to get you up to speed on everything else. (Oh, and Ben tells me he's buried a snippet of a late 1970s Springsteen lyric in the newsletter and wonders if anyone will spot it.)
I welcome any comments, good or bad, you may have. Reporters have thick skins you know! Also, tips on newsy stuff. We love scoops! You can reach me at amy@axios.com, and I'm also on Signal if you want to have an encrypted conversation. Ask for my phone number to reach me that way.
https://www.axios.com/newsletters/axios-generate-72b00117-a634-49f3-8322-c1173c697d8e.html?chunk=0#story0
What liberals get wrong about climate change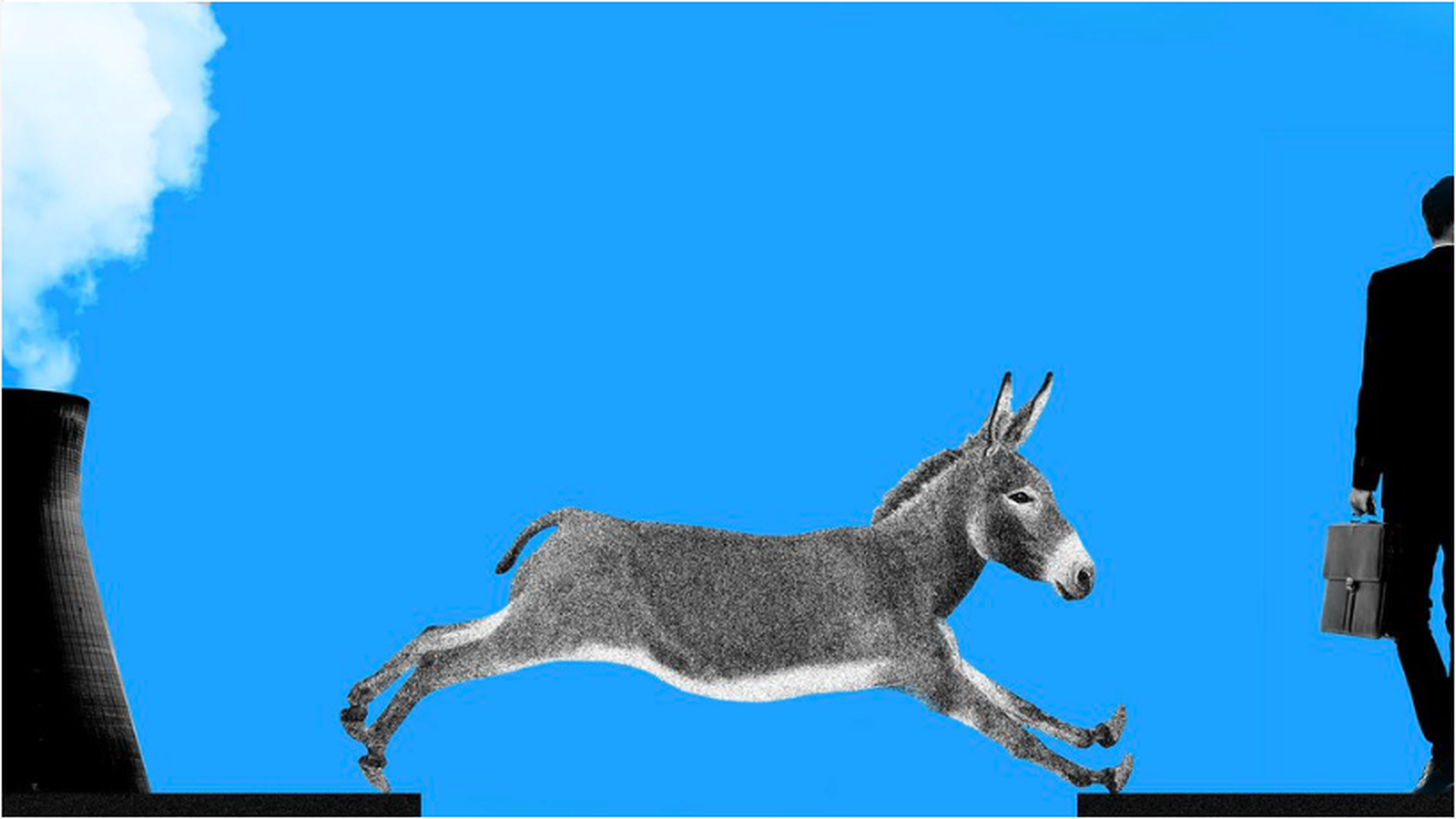 Democrats and environmental groups too often let their ideological agendas get in the way of addressing climate change.
My thought bubble: Republicans are the bigger sinners in this debate because most of them refuse to acknowledge that climate change and humans' role driving it is a real thing, as I wrote in my column last week. The left faces an inherently different and trickier problem than the right's rejection of the science: Their tactics and messaging are hobbling their push to address climate change.
To be sure, "the left" is broad and diverse, so much of what I say here can't apply to each and every elected Democrat or environmental group. Looking at the left broadly though, I see three big problems with their approach:
Renewables-only mindset
Messaging that alienates
Seeking perfection when good is enough
Go deeper: The rest of my column details each of those critiques.
https://www.axios.com/newsletters/axios-generate-72b00117-a634-49f3-8322-c1173c697d8e.html?chunk=1#story1
Breaking in business: Sempra wins the Oncor sweepstakes
Big deal: Gas and power giant Sempra Energy announced a deal to pay $9.45 billion for the bankrupt Energy Future Holdings, the parent of the big Texas transmission and distribution company Oncor.
The deal is worth $18.8 billion, including Sempra's assumption of Oncor's debt, according to Sempra's announcement of the transaction.
"For investors, this transaction is expected to enhance our earnings beginning in 2018 and further expand our regulated earnings base, while serving as a platform for future growth in the Texas energy market and U.S. Gulf Coast region," Sempra CEO Debra Reed said in a statement.
Loss for Buffett: Sempra bested Warren Buffett's Berkshire Hathaway in the battle to obtain Oncor.
Via Reuters: "The development represents a rare blow for Buffett, who avoids bidding wars for companies and had swooped in two months ago to buy Oncor after two previous attempts by Energy Future to sell it were blocked by Texas regulators."
https://www.axios.com/newsletters/axios-generate-72b00117-a634-49f3-8322-c1173c697d8e.html?chunk=2#story2
What Bannon's ouster means for solar trade case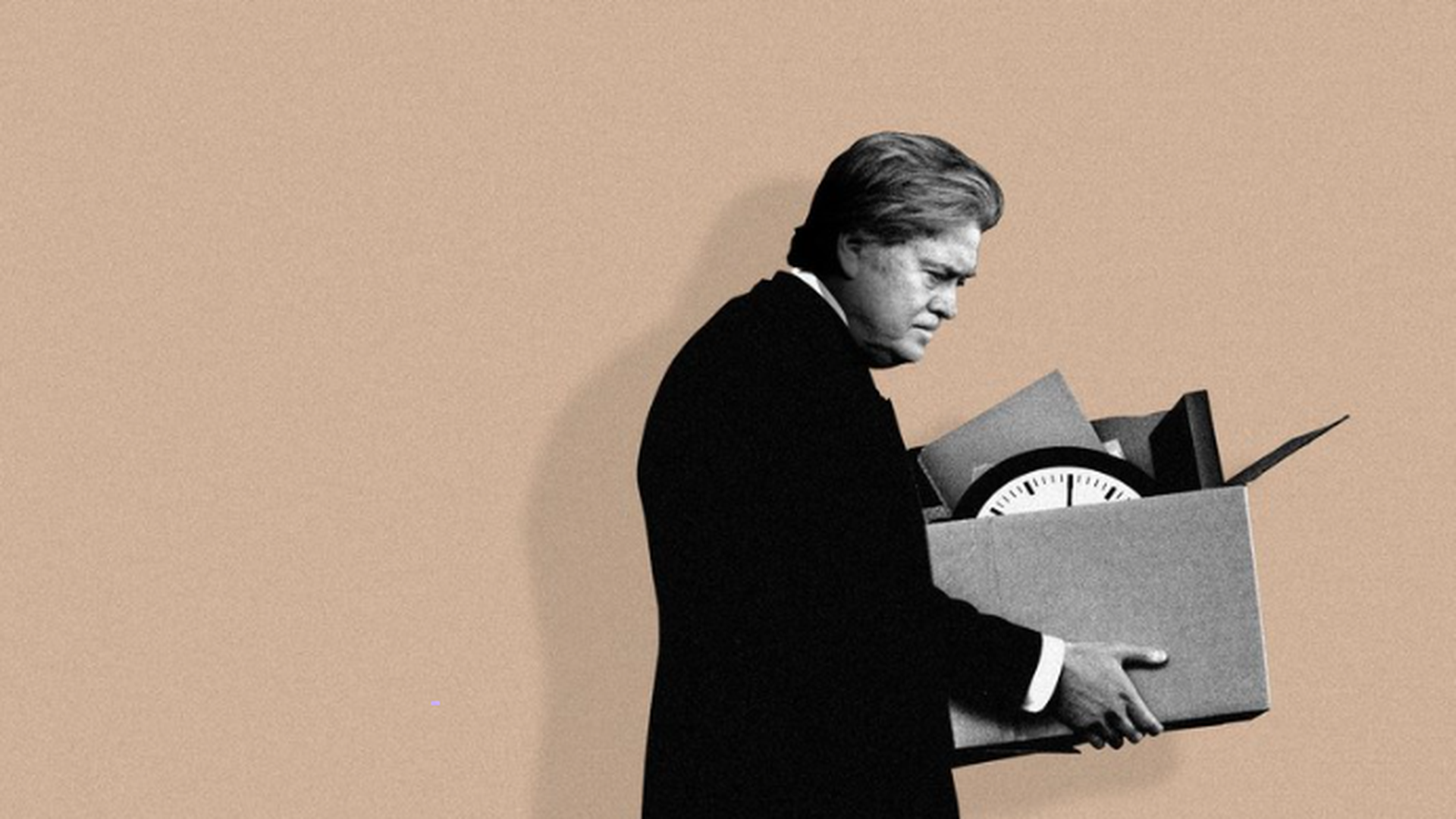 Wild card: Trade hawk Steve Bannon's exit comes ahead of a huge decision on solar trade policy that could be before the White House soon.
Quick context: Two struggling solar panel manufacturers have petitioned for steep penalties on imported solar equipment. The U.S. International Trade Commission will decide next month whether it agrees that imports are causing injury, and if they make such a finding (and many expect they will), the ITC will recommend remedies to the White House this fall.
State of play: Your Generate host touched base over the weekend with a number of people tracking the case. A couple thought Bannon's ouster could slightly bolster the wide industry coalition that's opposing the tariffs, others predicted little impact.
One renewables expert tells Axios: "I mean, at least in theory, Bannon's departure should mean that the White House might become more 'globalist' (or at least less 'anti-globalist'). But the rhetoric from Trump himself on White House has hardly been consistent from the campaign through to the White House. So ultimately, reading the tea leaves here remains very difficult."
"I doubt that Bannon's ouster is going to make an enormous difference one way or another," said R Street Institute president Eli Lehrer. "President Trump has few core beliefs but opposition to free trade is one of them." The R Street Institute is part of the coalition that opposes the tariffs.
"No way to know, Trump is unpredictable," said solar entrepreneur Jigar Shah, who also opposes the petition.
Why it matters: Petitioners Suniva and SolarWorld say the import penalties are needed to protect the struggling domestic solar panel manufacturing sector and its workers.
But a far broader group of business interests — including the solar industry's biggest trade group — is opposing the petition, arguing that the import penalties would wreak havoc on solar energy project economics, dealing a major blow to the sector's growth and killing jobs.
https://www.axios.com/newsletters/axios-generate-72b00117-a634-49f3-8322-c1173c697d8e.html?chunk=3#story3
One good listen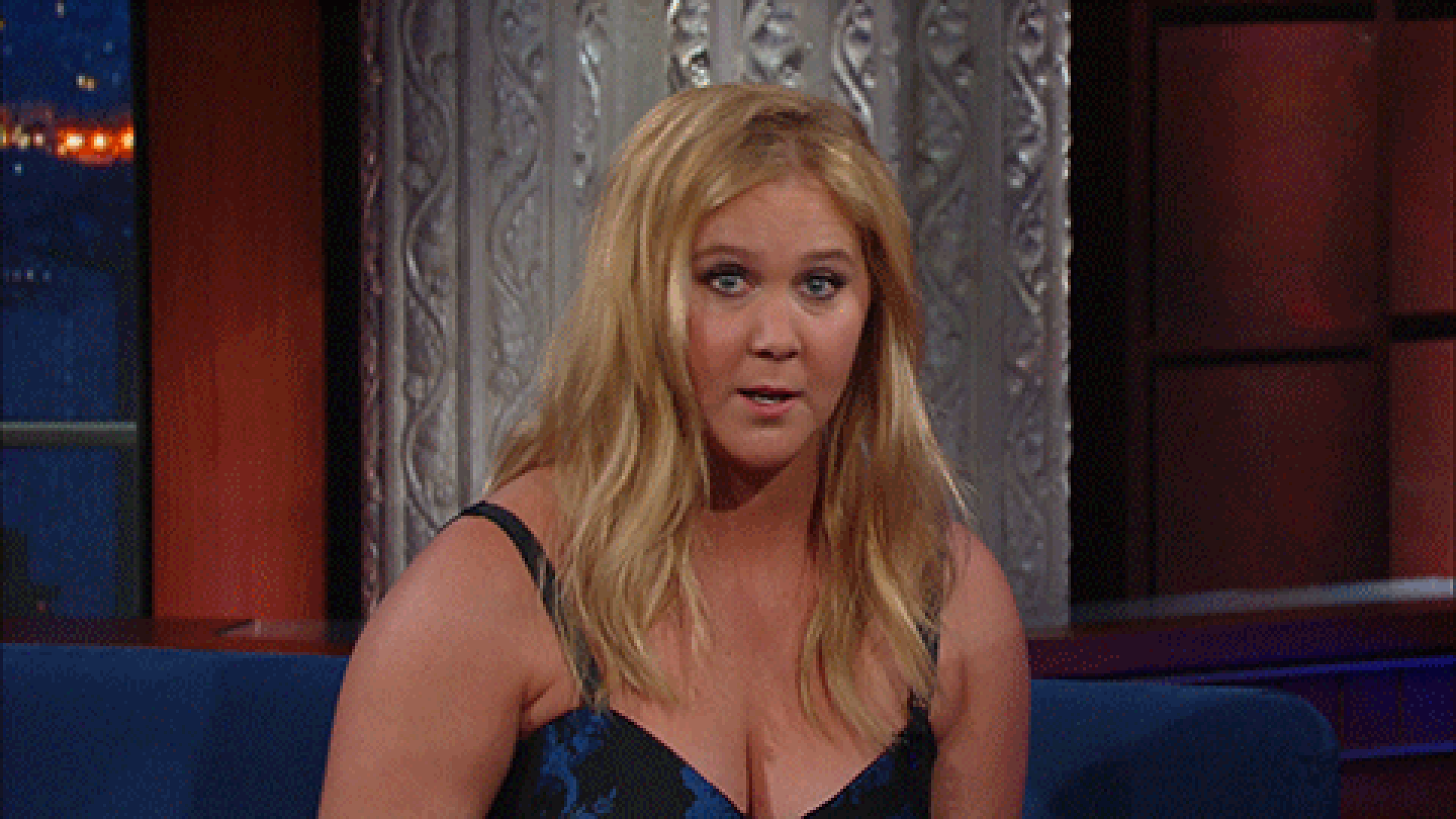 Get smart on renewables: The latest episode of Trump on Earth, a podcast I just discovered, is a long chat with Varun Sivaram, the acting head of the Council on Foreign Relations' energy program. A couple key points if you don't have 40 minutes to listen . . .
Don't sweat Trump's moves like bailing on the Paris deal and killing EPA rules—solar and wind have enough momentum and prices are coming down fast to avoid major harm from Trump's policy shifts.
Yes, but: There's one big threat to near-term solar deployment—the petition by two manufacturers for steep import penalties on foreign-made panels that's currently under review by the U.S. International Trade Commission.
"Barring that eventuality, the price of solar will continue to fall and its momentum is unstoppable," he said.
Long-term, the biggest problems are a lack of planning and action to prepare for a grid that can handle very high renewables penetration, and the federal spending picture that, at best, will keep funding for R&D and innovation flat rather than boosting it.
The next grid: Elsewhere, Sivaram looks at what changes are needed to enable very high penetration of renewables onto the grid.
"I caution against the myth that there's one silver bullet, that, oh we can put enough batteries on the grid, and with that storage we'd be able to smooth out the highly volatile profile of intermittent renewables."
Instead, it will require a portfolio of approaches that include batteries, but also larger transmission networks to transfer renewable power from areas of surplus to areas of deficit; backing up renewables with other zero-carbon resources including nuclear, and more.
https://www.axios.com/newsletters/axios-generate-72b00117-a634-49f3-8322-c1173c697d8e.html?chunk=4#story4
More climate politics
Talk about a dream: Over at New York Magazine, Jonathan Chait offers an audacious headline: "How Democrats can get Trump to enact a carbon tax."
Still reading? Chait acknowledges big obstacles and long odds, but argues there's a potential opening. Republicans need Democrats to enact corporate tax cuts that last more than a decade, while Democrats would be willing to swallow tax cuts that benefit the rich if it helps stop the planet from cooking. And Trump just wants wins.
"It is the rare issue where bipartisan agreement makes sense because, while the two parties don't agree, they do care about different things, and each side could get a win on the thing it cares about most," he writes.
Thought bubble: Chait is a reliably interesting read. But your Generate host nonetheless believes it's a fantasy—not just a long shot—until he sees any evidence whatsoever of this gaining traction among Republicans who actually wield power.
Speaking of Republicans: Over the weekend Politico posted a story on the growing, bipartisan House Climate Solutions Caucus, which is now up to 52 members divided evenly between the parties. This is an interesting observation:
"The willingness of some Republicans to buck their party on climate change could help burnish their moderate credentials ahead of the 2018 elections. Of the 26 Republican caucus members, all but five represent districts targeted by the Democratic Congressional Campaign Committee next year."
https://www.axios.com/newsletters/axios-generate-72b00117-a634-49f3-8322-c1173c697d8e.html?chunk=5#story5
​On my screen: Eclipse, oil deal, and climate change
Moon and sun: Blomberg explains why today's eclipse is an extremely important moment for the U.S electricity grid and green power.
"In a few hours, the first total eclipse of its kind in 99 years will plunge broad swaths of the U.S. into darkness, sending solar supplies sliding and testing the resilience of the power grid for the first time since the rapid rise of renewable energy," their piece notes.
Cars: Over in the Axios stream, my colleague Steve LeVine sizes up the news that China's Great Wall Motor says it wants to buy all or part of Fiat Chrysler.
"China has already made explicit that it intends to win the fierce global race to dominate electric and self-driving cars. In Fiat Chrysler, Great Wall is showing interest in a company run by CEO Sergio Marchionne, an Italian dealmaker who has floated a partial or full sale of the company to help finance its way into the electric and autonomous car competition," he writes.
Business: Total, the global energy giant based in France, announced Monday that it's buying Denmark-based AP Moeller-Maersk's oil-and-gas division in a $7.45 billion transaction.
Context, via the Financial Times: "The deal highlights the impetus to consolidation in the European oil and gas industry, with companies managing the effects of lower oil prices by reducing their portfolios or seeking economies of scale."
Climate:
"The Trump administration has decided to disband the federal advisory panel for the National Climate Assessment, a group aimed at helping policymakers and private-sector officials incorporate the government's climate analysis into long-term planning,"
the Washington Post reports
.
https://www.axios.com/newsletters/axios-generate-72b00117-a634-49f3-8322-c1173c697d8e.html?chunk=6#story6
ICYMI: Joe Manchin isn't going to DOE
Not happening: Axio's Jonathan Swan reported Friday:
"Sen. Joe Manchin has ended the speculation that the Trump administration would appoint him Energy Secretary as a possible way of securing the elusive 50th vote needed to repeal the Affordable Care Act."
"Jonathan Kott, spokesman for the West Virginia Democrat, tells me Manchin opened a town hall today at the state fair in Lewisburg, WV, by saying he wouldn't be Energy Secretary."