Good morning and welcome back! A note to Chicago readers: You're invited to join Mike Allen on Monday for a conversation with Mayor Rahm Emanuel on how he's preparing Chicago for a season of unprecedented innovation and automation. This event is free and open to the public — please register here!
Today marks the 1971 release date of The Doors' "L.A. Woman" so they've got today's intro tune . . .
https://www.axios.com/newsletters/axios-generate-6bdfc4d1-ae5d-422c-9310-1f90d6f5ad08.html?chunk=0#story0
1 big thing: Global crude markets soar
Oil prices are on the march again Thursday after climbing sharply yesterday, with WTI prices this morning at $69.43 per barrel and Brent crude, the global benchmark, reaching $74.61.
The frenzy, visualized: Yesterday, prices soared to their highest levels in well over 3 years (see chart above), with WTI closing at $68.47 and Brent crude settling at $73.48.
What's happening: Signs of declining stockpiles, OPEC and Russia's apparent determination to stay the course on their current supply-limiting deal, and geopolitical tensions are all fueling the upward moves, which come despite the ongoing U.S output surge.
Why it matters: As we noted yesterday in the Axios stream, the price jump suggests that oil may no longer be stuck in the $60 to $70-a-barrel range, but may have room to rise much higher. That would put a lot more money in the coffers of the petro-states, and could bring inflation to oil-consuming states.
Yes, but: That said, OCBC analyst Barnabas Gan predicts in Reuters that the "risk premiums" from geopolitical tensions in the Middle East will be short-lived and that "investors will likely be normalizing prices lower again as the tensions ease."
Looking forward: This morning, the Wall Street Journal sets the table for tomorrow's meeting of oil officials from Saudi Arabia and Russia as analysts wonder what happens after the current deal expires at year's end.
"A strong show of support for a continuation of the pact could further underpin prices, when geopolitics and the threat of supply disruptions have been pressuring them higher," the paper reports.
Eyes on Iran: Markets are also watching the U.S. posture toward the Iran nuclear deal and especially next month's decision on whether to continue waiving energy sanctions.
A new piece in Bloomberg surveyed analysts and found, "The 17 respondents saw on average a 50-50 chance of sanctions 'snap-back,' which could halt anywhere between zero and 800 thousand barrels a day of exports from OPEC's third-largest producer within the next six months."
https://www.axios.com/newsletters/axios-generate-6bdfc4d1-ae5d-422c-9310-1f90d6f5ad08.html?chunk=1#story1
2. Unpacking EPA's climate data comments
New data: Yesterday's EPA annual report on U.S. greenhouse gas output shows that emissions from the electric power sector were roughly 25% lower in 2016 than they were in 2005.
More broadly, total U.S. greenhouse gas emissions dropped another 2% in 2016 from the prior year, and were 11% below 2005 levels.
The politics: EPA Administrator Scott Pruitt said on Twitter that the report's findings aren't a result of the Obama administration's "top-down" regulations, like a rule that cuts carbon emissions from power plants or the "misguided" 2015 Paris climate deal.
Instead, Pruitt said "American ingenuity and tech breakthroughs have made US the world leader in energy dominance while reducing emissions."
Yes, but: Per Axios' Amy Harder, Pruitt's comments omit a couple of points...
Gas displacing coal contradicts President Trump's broader goal of reviving coal.
Increasing wind and solar electricity is also helping cut emissions.
As for taking a shot at Obama's carbon rule and the Paris climate deal, that's beside the point, Amy notes.
Power companies are increasingly moving toward natural gas and renewables because the economics make sense, less so because of the carbon rule (which never took effect and Pruitt is working to repeal).
And the global thrust of the Paris climate deal still exists, and it's helping solidify an already economically compelling case to shift away from coal in the U.S.
* * *
Speaking of EPA: Politico has the latest on the ethics inquiries into Pruitt, including White House budget director Mick Mulvaney telling lawmakers he's looking into the $43,000 privacy phone booth.
https://www.axios.com/newsletters/axios-generate-6bdfc4d1-ae5d-422c-9310-1f90d6f5ad08.html?chunk=2#story2
3. Solar tariffs spur a major business deal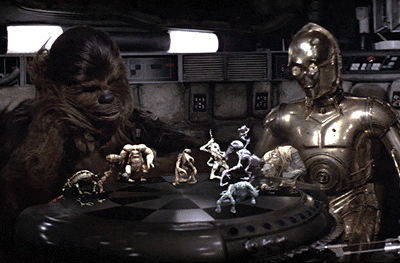 Moves and countermoves: ICYMI, SunPower yesterday announced that it's buying panel-maker SolarWorld Americas, one of the companies that petitioned the White House to impose import tariffs on foreign-made panel equipment (which Trump ultimately did, albeit less aggressively than they wanted).
If you can't beat 'em: SunPower, which imports equipment, strongly opposed the trade restrictions. But with that battle lost...
"Our position pre-tariff is unchanged, but it's also irrelevant. So we're dealing with today's reality," SunPower CEO Tom Werner told Amy in an interview.
Why it matters: SunPower said that if the deal clears regulatory approvals here and in Germany, where SolarWorld's parent is based, SunPower will become the country's largest panel manufacturer.
Victory lap: Per Reuters, White House spokeswoman Lindsay Walters said, "This is great news for the hundreds of Americans working at SolarWorld's factory in Oregon and is further proof that the president's trade policies are bringing investment back to the United States."
Markets respond: SunPower's share price climbed by nearly 12% in trading yesterday.
Go deeper: Greentech Media breaks down the deal and the backstory here.
https://www.axios.com/newsletters/axios-generate-6bdfc4d1-ae5d-422c-9310-1f90d6f5ad08.html?chunk=3#story3
4. EVs: Walmart chargers and Tesla investigation
Infrastructure: Electrify America, a division of Volkswagen, is planning to install electric vehicle chargers at over 100 Walmart stores in 34 states by June of 2019.
Why it matters: Charging convenience and access, including at popular shopping centers, is part of the puzzle of spurring wider EV adoption.
"The Electrify America charging systems located at Walmart stores will offer the first-ever certified cooled-cable 150 to 350 kilowatt (kW) DC Fast Chargers. Electric vehicle chargers that offer this kind of power deliver energy for up to 20 miles of range per minute, which is seven times faster than today's 50kW DC chargers," they said in yesterday's announcement.
It's part of Electrify America's broader spending on EV infrastructure that stems from settlement of VW's "diesel-gate" emissions cheating scandal.
Tesla: Via the Los Angeles Times, "California's Division of Occupational Safety and Health said Wednesday it has opened an investigation of working conditions at Tesla's factory in Fremont, Calif., where the company is struggling to boost production of its troubled Model 3 electric sedan before it starts running out of cash."
https://www.axios.com/newsletters/axios-generate-6bdfc4d1-ae5d-422c-9310-1f90d6f5ad08.html?chunk=4#story4
5. Most of Puerto Rico still in the dark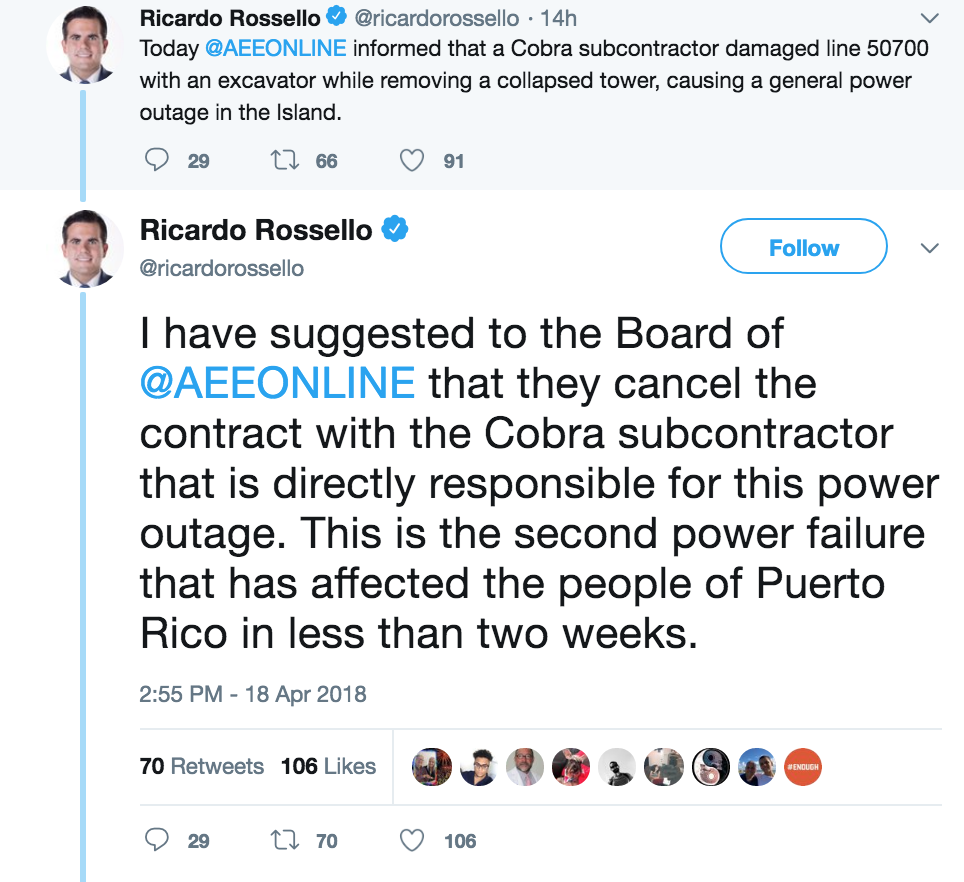 Puerto Rico, which suffered an island-wide power outage yesterday, was able to restore power to only a fraction of its residents Wednesday night, according to CNN. The Puerto Rico Electric Power Authority says 1.1 million customers had power as of 7am ET.
What's happening: Puerto Rico's power grid has continued to be unstable after Hurricane Maria devastated the island last year. This latest setback was due to a Cobra subcontractor that damaged a main line, according to Gov. Ricardo Rossello, who said on Twitter that he's called for the subcontractor contract to be canceled.
https://www.axios.com/newsletters/axios-generate-6bdfc4d1-ae5d-422c-9310-1f90d6f5ad08.html?chunk=5#story5
6. Kind of hot right now: 2018
The global average temperature for the first quarter of 2018 was cooler than in recent years but still warm by historical standards, new federal data shows.
New data: Temperatures were 1.33°F above the 20th century average, and it was the sixth-warmest January–March in modern temperature records that date back to 1880.
"The 2018 year-to-date value was 0.77°F lower than the record high set in 2016 and was the coolest such period since 2014. The years 2015-2017 rank among the three warmest January–March on record," the National Oceanic and Atmospheric Administration said in its latest monthly climate snapshot.
Up north: The data also highlights the ongoing reduction in sea ice in the Arctic.
"On March 17, the Arctic sea ice extent reached its annual maximum extent at 5.6 million square miles. This was the second lowest maximum extent on record, behind 2017. The four smallest Arctic sea ice maximum extents have occurred in the last four years," NOAA said.
Why this matters: From a separate NASA primer on the topic last month:
"The decline of the Arctic sea ice cover has myriad effects, from changes in climate and weather patterns to impacts on the plants and animals dependent on the ice, and to the indigenous human communities that rely on them. The disappearing ice is also altering shipping routes, increasing coastal erosion and affecting ocean circulation."