Axios Generate
November 20, 2019
Good morning! Today's Smart Brevity count: 1,216 words, ~ 4.5 minutes.
And Monday marked the 1991 release date of U2's "Achtung Baby," which provides today's beautiful intro tune...
1 big thing: America's war over gas hits home in New York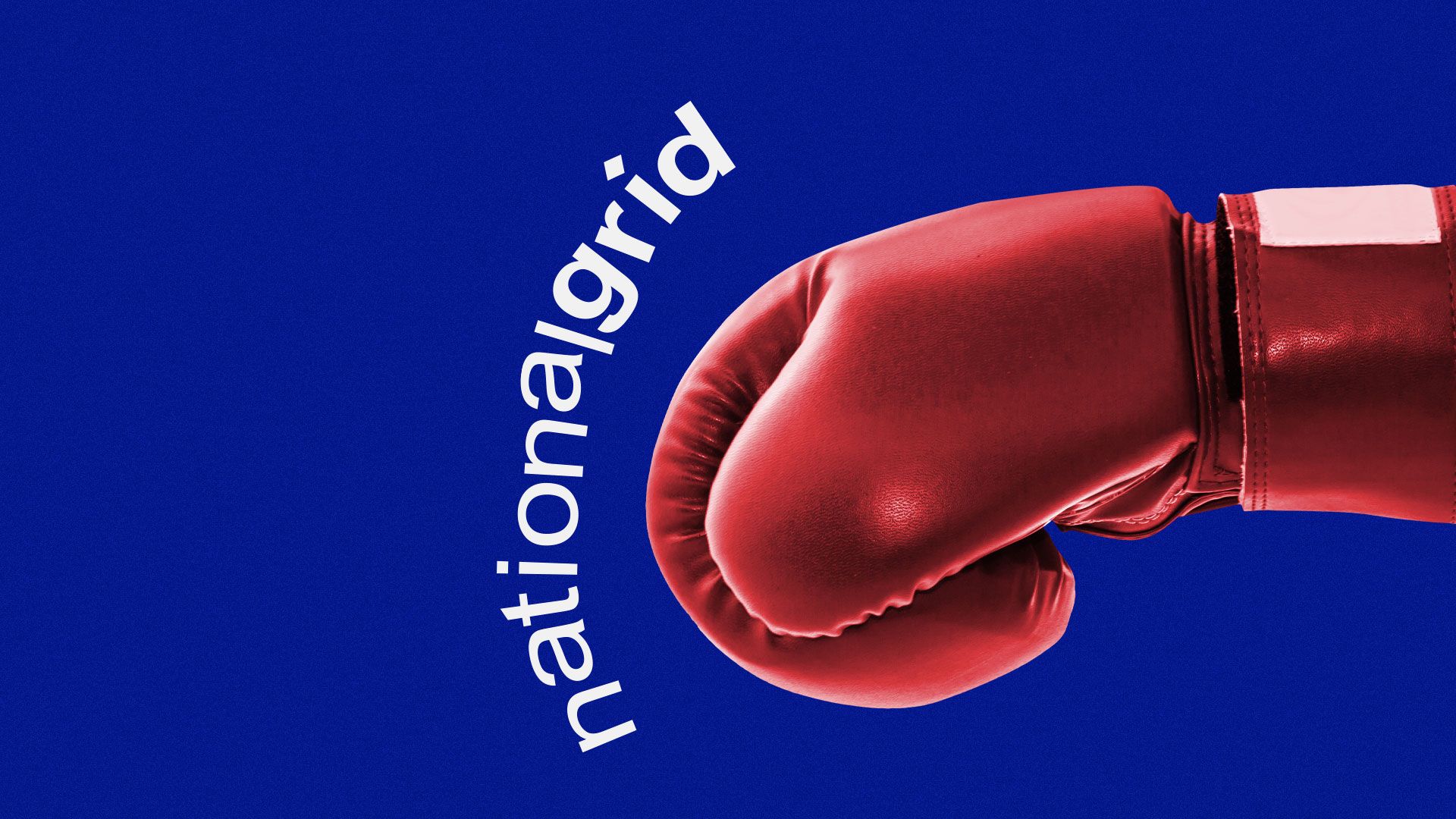 New York Gov. Andrew Cuomo and a major utility are locked in a standoff over natural gas that's been years in the making and has national implications, Axios' Amy Harder reports.
Why it matters: The battle, which is leaving thousands of New Yorkers without access to the fuel, is the starkest repercussion yet of fights brewing for years nationwide over oil and gas pipelines and their role in fueling climate change.
The big picture: On one side, environmentalists and sympathetic liberal politicians are working to stop projects as a way to slow oil and gas production. On the other, energy companies are struggling to handle permitting processes that have become unpredictable after decades of presumptive approvals.
Caught in the middle: Anyone who uses natural gas and oil. Up until now, the broad repercussions were moot because you could still pump your gasoline or use your gas stove. But now...
Driving the news: National Grid faces a Nov. 26 deadline to respond to Cuomo's threat to revoke the utility's license if it doesn't propose ways to restore natural-gas services cut off since the state rejected a pipeline project in May.
Nearly 4,000 customers, including restaurants and homes, across Long Island, Brooklyn and Queens have seen their natural-gas services — for things like heating and cooking — cut off.
That was when National Grid issued a moratorium after state regulators rejected a 37-mile pipeline connecting natural gas from Pennsylvania to New York and New Jersey.
Where it stands: In two important categories, both of which apply beyond New York:
On climate: Blocking fossil-fuel infrastructure doesn't (yet) appear to be an effective strategy to combat climate change.
On business: This uncertain situation is hanging over companies. Moody's Investor's Service said Monday that Cuomo's threat could negatively impact the credit profiles of several investor-owned utilities in New York.
What I'm watching: Beyond the Nov. 26 deadline, I'm watching to see how this fight over natural gas hits home in other, mostly liberal parts of the country, where several cities have passed laws banning natural gas in new buildings beginning as soon as January.
Bonus: Where New York gets its natural gas
New York is getting more and more natural gas from fracked wells in Pennsylvania, Amy reports.
The big picture: New York banned fracking, a controversial oil and gas extraction technique, in 2014, and state regulators have stalled or rejected seven natural-gas infrastructure projects in recent years, according to the nonpartisan firm Washington Analysis.
Why it matters: This chart shows that curtailing production and transport of a certain fuel doesn't stop its use in a society where energy is freely moved across state lines (and sometimes national borders).
2. PG&E and the rise of "resilience culture"
PG&E will start cutting power Wednesday to about 150,000 customers in 18 California counties in the latest wave of preemptive blackouts to curb wildfire risks.
Why you'll hear about this again: The embattled utility will probably need to keep doing this for a long time.
But the blackouts are just one force speeding the rise of what Shayle Kann of the VC firm Energy Impact Partners calls "resilience culture."
It's how Kann, in a new Medium post, describes the wider move among people, local officials and companies to prepare assets for severe weather and disasters.
"I think we're on the cusp of a cultural transformation, one in which the idea of investing in resilience gains mainstream status for anyone who owns something worth protecting." — Shayle Kann
Where is stands: He explores how the PG&E shutoffs have accelerated the trend of companies marketing backup power like generators and solar-plus-storage systems.
But that's just one part of the picture.
The post covers a spike in backup power interest after 2017's Hurricane Harvey hit Texas; the benefits of fire-resistant buildings; widening recognition of the need for utilities to invest in infrastructure hardening and more.
The bottom line: Kann cites analyses showing that retrofitting homes to harden against disasters is a slam-dunk from a cost-benefit standpoint, and that utility investments in resilient equipment will yield ratepayer savings.
What's next: Kann, whose post is adapted from his wider presentation at Energy Impact Partners' annual meeting and touts their portfolio companies, acknowledges that resilience investments have "historically been a tough sell."
But he adds: "[M]y bet is that every year that we break records for new threats, we'll inch toward this resilience mindset."
3. How Democrats want to change the energy tax code
Democrats on the House tax-writing committee yesterday unveiled draft legislation that would extend and/or expand a suite of tax credits for climate-friendly energy sources.
Why it matters: The tax code has historically been a driver of solar and wind power deployment, as well as electric vehicle sales, and much more.
Provisions in the sweeping bill include new tax credits for energy storage projects, and tripling the number of EV sales per manufacturer that qualify for consumer purchase credits.
Where it stands: I don't know how much of this is conceivably in play in this Congress (and the White House is on the record opposing EV tax credits).
Ways and Means Chairman Richard Neal has signaled that some provisions could be part of year-end negotiations with the Senate on various tax break extensions, according to E&E News.
Quick take: Beyond its near-term prospects, the bill could be a template for how Democrats want to tackle energy tax policy if they gain more power in Washington in the 2020 elections.
Go deeper: House Democrats float sweeping green energy bill (E&E News)
4. New studies paint sobering climate picture
Two new analyses signal how the world is far, far, far off-track from even preparing for steep emissions cuts, let alone making them happen.
Driving the news, part 1: A report Wednesday from the UN Environment Programme and several partners explores the "production gap."
"Governments are planning to produce about 50% more fossil fuels by 2030 than would be consistent with a 2°C pathway and 120% more than would be consistent with a 1.5°C pathway," states the report.
It notes that the "production gap" is largest for coal, but that oil and natural gas use are "also on track to exceed carbon budgets" as countries invest in infrastructure that "locks in" these fuels.
The report is from groups including the Stockholm Environment Institute and the CICERO Center for International Climate Research. Reuters has more.
Driving the news, part 2: Bloomberg sums up a separate new report from the group Global Energy Monitor...
"China has enough coal-fired power plants in the pipeline to match the entire capacity of the European Union, driving the expansion in global coal power and confounding the movement against the polluting fossil fuel."
Where it stands: The reports follow last week's big International Energy Agency analysis which shows that existing and announced policies worldwide won't be nearly enough to rein in CO2 emissions.
It showed emissions growth slowing but still rising through 2040 absent stronger steps.
5. Catch up fast: Fracking, offshore wind, solar tech
Oil-and-gas: Via The Los Angeles Times, "In a victory for critics of California's oil drilling industry, Gov. Gavin Newsom on Tuesday stopped the approval of new hydraulic fracturing in the state until the permits for those projects can be reviewed by an independent panel of scientists."
Wind power: Per Greentech Media, "New Jersey Governor Phil Murphy on Tuesday signed an executive order backing a goal of 7.5 gigawatts of offshore wind by 2035, more than doubling the state's existing 3.5-gigawatt target for 2030."
Solar energy: CNN explores new claims of a breakthrough by the Bill Gates-backed startup Heliogen, reporting that the company says it has "has discovered a way to use artificial intelligence and a field of mirrors to reflect so much sunlight that it generates extreme heat above 1,000 degrees Celsius."
Why it matters: "The breakthrough means that, for the first time, concentrated solar energy can be used to create the extreme heat required to make cement, steel, glass and other industrial processes," the story notes.