Axios Generate
September 07, 2017
Good morning and welcome back! Quick programming note: My Axios colleague Amy Harder will moderate a debate about energy and trade at the Atlantic Council this morning. You can catch the live webcast at this link. Things will get started at 8:30am Eastern.
The panel, which includes Obama-era State Department official David Goldwyn, will explore how energy plays into the NAFTA renegotiations underway, and other trade topics, like pending tariff cases on solar, steel and aluminum.
Ok, let's dive in . . .
Hurricane energy updates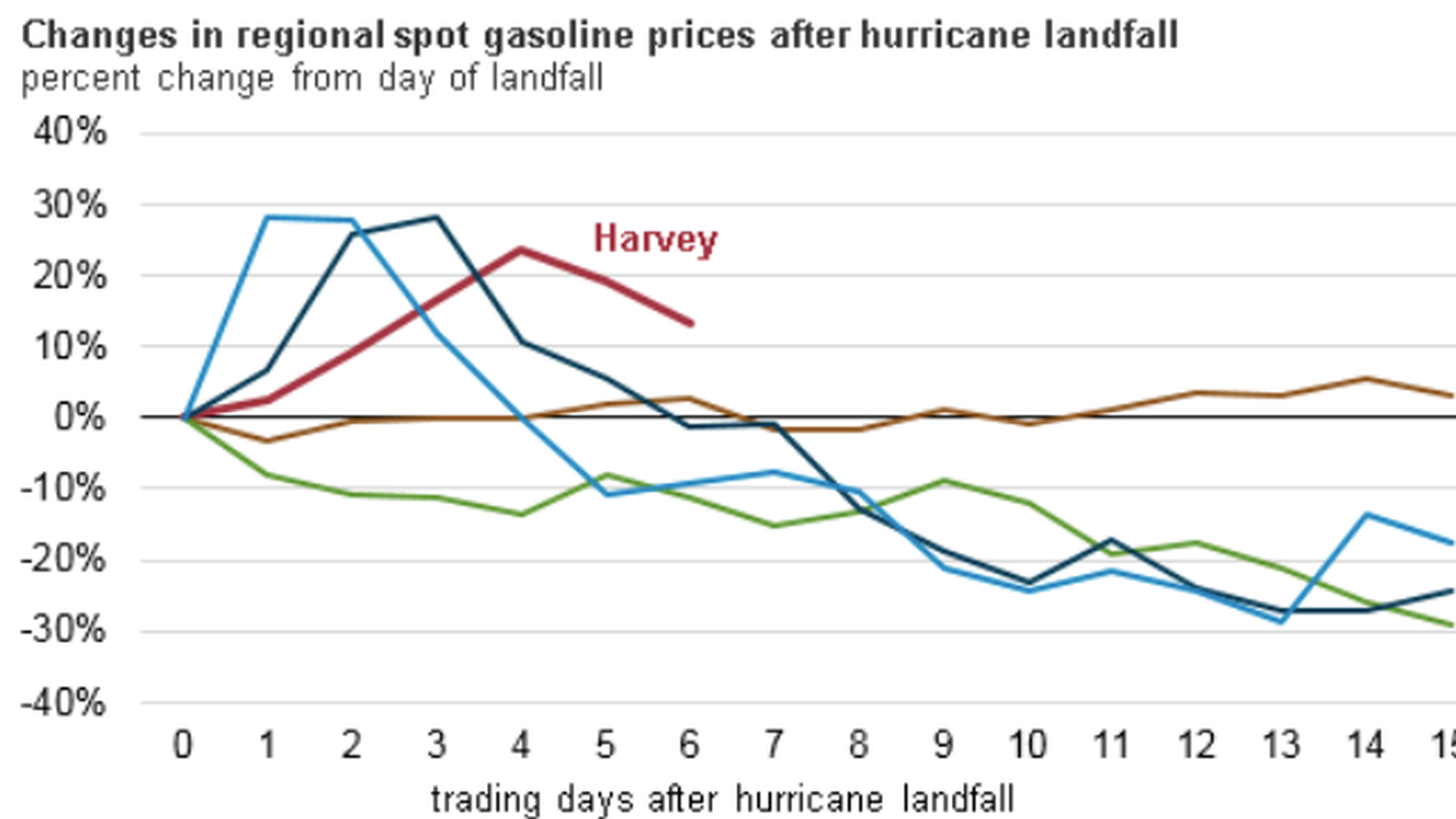 Gas prices up again: Via AAA, the average nationwide retail price is now $2.67 per gallon for regular gasoline, which is 22 cents higher than it was a week ago.
However, gasoline futures prices have been trending generally downward over the last few days. GasBuddy analyst Patrick DeHaan predicted via Twitter that the national average is close to cresting, probably next week, especially as Hurricane Irma is expected to cut demand, not production.
Context: The federal Energy Information Administration is out with a short report that looks at Harvey's impact on gasoline prices compared with some prior storms that affected refineries. One of their charts is above.
"Hurricane Harvey's impact on gasoline prices was more gradual than the impact following Hurricanes Katrina and Rita had because refineries in Houston, Texas, and Port Arthur, Texas, began going offline in the days after the hurricane's landfall near Corpus Christi. As a result, gasoline prices rose steadily for four trading days before starting to decline," EIA notes.
Refineries return: Bloomberg reports that crude oil is trading at its highest level in four weeks as refineries affected by Harvey come back online. An Energy Department summary states that as of mid-day Wednesday, five refineries in the Gulf Coast region remain shut down, while six are in the process of re-starting.
Irma's impact: "Gasoline stations in Florida are running out of fuel as drivers there scramble to fill their tanks and get out of town as Hurricane Irma barrels toward the state," the Wall Street Journal reports.
What's going on: "While panic buying precedes just about every storm that makes landfall in Florida, the uncertain path of Hurricane Irma, a rare Category 5 storm, and its severity are the key variables this time around," notes a CNBC piece on the fuel situation in Florida.
Irma's power toll: "Hurricane Irma plunged more than 1 million residents of Puerto Rico into darkness but the Category 5 storm stayed just out to sea before heading toward the Dominican Republic early Thursday," NBC News reported Thursday morning.
Atlantic hurricanes through the years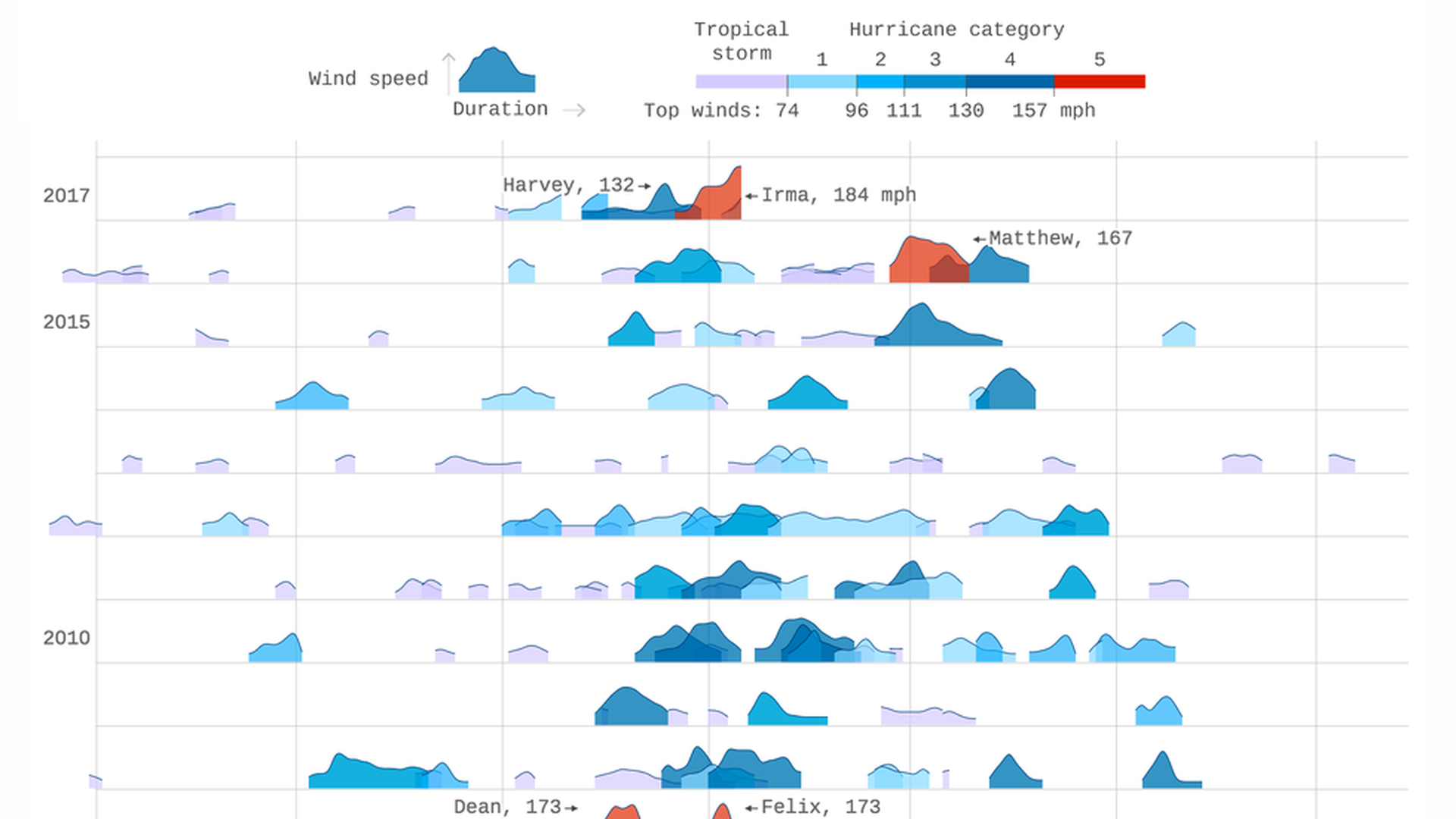 As Irma arrives: My Axios colleague Chris Canipe has put together a fascinating chart that looks at hurricanes tracked by the National Oceanic and Atmospheric Administration since 1987.
A portion of the graphic is above but I recommend looking at the interactive chart in part because it allows you to get details on each storm by scrolling over them.
How to read this chart: Each line represents the life of a storm as recorded by NOAA. The higher the line within each year, the higher the recorded wind speed. Storms that reached Category 5, the strongest of the strong, are highlighted in red.
On tap: climate and energy fights in the House
Late last night the House Rules Committee revealed which amendments will be included when the full House debates spending measures for the Environmental Protection Agency, the Interior Department, and other agencies in coming days. You can read the whole thing here.
Why it matters: The few climate-related amendments, while largely symbolic, are a window onto how many House Republicans are willing to push back against aggressive steps to pare back and nullify a suite of Obama-era policies. The climate amendments made in order are:
A measure blocking funds for enforcement of EPA methane emissions regulations
A measure blocking use of Obama-era estimates of the social cost of carbon
Yes, but: Several climate-related amendments were left on the cutting room floor. For instance, the panel did not include an amendment on use of federal funds for the National Climate Assessment.
Other energy issues: The Rules Committee also teed up debates on several energy topics, including an amendment that would prevent the Interior Department from offering oil-and-gas drilling leases off the Atlantic Coast.
The Obama administration kept that region off-limits but the Trump administration is likely to make some regions available when it rewrites the Obama policies.
***
Senate action: A Senate Appropriations subcommittee approved State Department spending legislation yesterday that does not include any funding for the Green Climate Fund, a multilateral initiative to help developing economies tackle global warming.
It also contains no funding for "several other" climate-related funds and programs, according to a summary circulated by committee Democrats. "However, the bill continues funding for USAID environment programs (e.g. to protect forests, ecosystems, and wildlife) at fiscal year 2017 levels," they said.
The full Appropriations Committee takes up the bill today.
A few good listens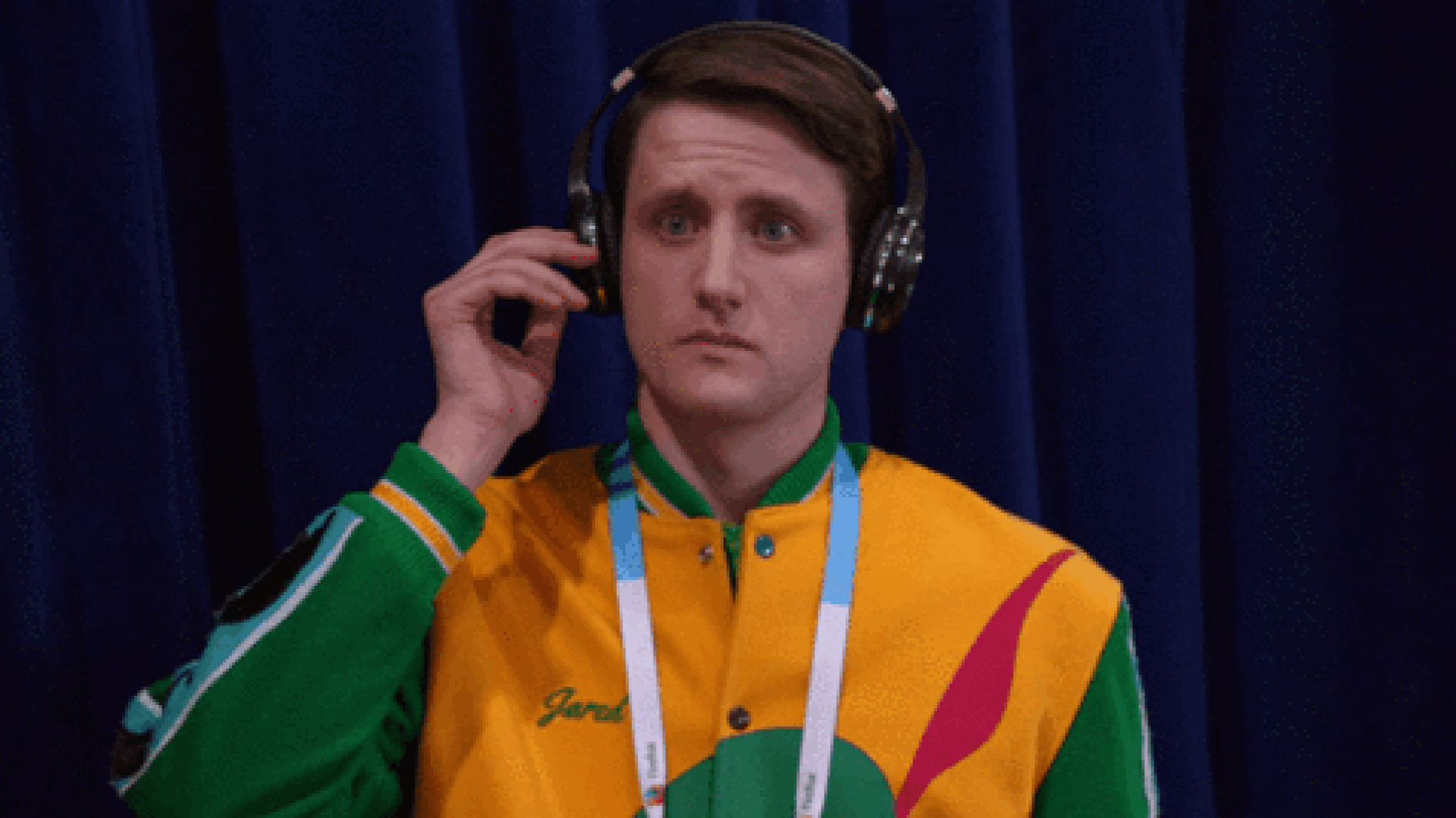 Here are some good podcasts to check out while you do whatever you do with headphones on...
Unwrapping climate models: Chris Nelder's latest Energy Transition Show (which is worth paying for) is a deep dive with scientist Bastiaan J. van Ruijven on emissions and socioeconomic modeling undertaken by the Intergovernmental Panel on Climate Change (IPCC).
If you're among the people freaked out by the recent New York Magazine piece on worst case scenarios, this discussion could be rather comforting.
For instance, at one point, Van Ruijven notes that the IPCC's RCP 4.5 scenario should be achievable. In oversimplified terms, it's a future greenhouse gas scenario that, yes, would bring harmful impacts and probably won't hold the global temperature rise below 2 degrees Celsius. But it avoids the catastrophic amounts of warming projected by 2100 under scenarios with high amounts of emissions growth.
"That level of mitigation, it is not too expensive to do, you can do it without immediate global cooperation, not everybody needs to join the bandwagon immediately, if some countries say well we want to emit for somewhat longer," he said.
Global gas markets: The new edition of Energy 360, a podcast from the Center for Strategic and International Studies, is an interesting chat about Qatar's standoff with its Middle East neighbors and global gas markets and geopolitics more broadly.
Interesting point by longtime CSIS analyst Frank Verrastro: European nations are freaked out by the combination of White House rhetoric on U.S. energy "dominance" and the prospect of sanctions against companies helping Gazprom build new pipelines to Europe — it has a whiff of the U.S. employing the "energy weapon."
Big picture on EVs: The latest edition of Energy Policy Now, a cool podcast from the Kleinman Center for Energy Policy at the University of Pennsylvania, has a nice overview of electric vehicle markets and policies in the U.S. and other nations.
Trump's base supporters on the environment: The new episode of Trump on Earth, a podcast from The Allegheny Front radio show and Point Park University, chats with the sociologist Arlie Russell Hochschild, who spent years living among Tea Party voters in Louisiana for her book "Strangers in their Own Land".
Tesla's new semi-truck may ignite a commercial war
My Axios colleague Steve LeVine has an interesting item in the Axios stream on the future of electrified trucking. Here's a piece . . .
Tesla's truck play: Wall Street's most prominent Tesla bull says an electric semi-truck that the company plans to unveil later this month might be 70% cheaper to operate than conventional diesel-powered vehicles, and ignite a fierce contest to dominate a nascent market in "intelligent trucks".
In a Sept. 6 note to clients, Morgan Stanley's auto team said it expects Tesla CEO Elon Musk to start taking $5,000 refundable deposits on the truck right after the unveiling, using the same method that in 2016 created outsized buzz around his Model 3 mainstream electric sedan. If the truck attracts thousands of orders — which the note's lead author, Ravi Shanker, said he considers a likelihood — Musk will create pressure on rivals to compete, and fleet owners to order even more trucks.
The bottom line: Shanker thinks semi-trucks will turn into a several-billion-dollar-a-year business for Tesla. "If the order book fills up quickly," Shanker wrote, "any carrier that holds back placing its order could potentially have to wait several years to get its hands on a Tesla truck, years during which its competitors could be running with up to a 70% cost advantage."
On my screen: Paris, polling, solar trade
Paris prognosis: Moody's is out with a new look at falling costs for renewable power projects worldwide, and what that means for the Paris climate agreement. A summary of the report is here. A few takeaways...
They conclude that falling costs for solar, offshore wind, battery storage (down 75% since '09) and other tech means that countries are increasingly well-positioned to meet their Paris emissions pledges.
"Renewables have gone from being a subsidized 'supplement' to the central focus of national energy policies of many countries, reaching parity with conventional sources in many parts of the world."
Moody's predicts that U.S. greenhouse gas emissions will continue to decline despite the White House move to abandon the Paris climate deal and scuttle domestic carbon emissions rules. "This will be driven by trends in the economics of renewable energy and gas-fired power generation, as well as efforts by private and sub-national entities to step in to compensate for any lack of federal carbon regulations."
Yes, but: They do see President Trump's moves substantially slowing the decline rate of U.S. emissions after 2022. Globally, however, the U.S. moves will not "materially affect" the global emissions trajectory.
Quick take: While the report lays out why market trends are slowly driving decarbonization in power systems, it's worth remembering that even nations' adherence to their current Paris emissions goals is not forecast to cut worldwide emissions enough to avoid highly dangerous levels of warming.
Polling: A new Wall Street Journal/NBC News poll shows that eight times as many Democrats as Republicans self-describe themselves as supporters of taking immediate action to address climate change.
Solar: The Steel Manufacturers Association, an industry trade group, is out with a new letter supporting a bid by financially distressed solar panel makers for new federal penalties on imported cells and modules. Check out their letter here.
It's the first trade group to back the petition from Suniva and SolarWorld, a representative of the petitioners said.