Good morning from D.C. after a whirlwind week in Houston. 
Before the craziness of CERAWeek set in, I toured the big Petra Nova power plant outside town, which informs my Harder Line column today. My column also has an early look at new data from the International Energy Agency about the recently passed tax credit for carbon-capture tech.
I'll share that, and then Ben will get you up to speed on the rest of the news. Let's dive in. 
https://www.axios.com/newsletters/axios-generate-65cbd651-bdd7-4ad0-ab6e-fe94201bb5b3.html?chunk=0#story0
The oily path to tackling climate change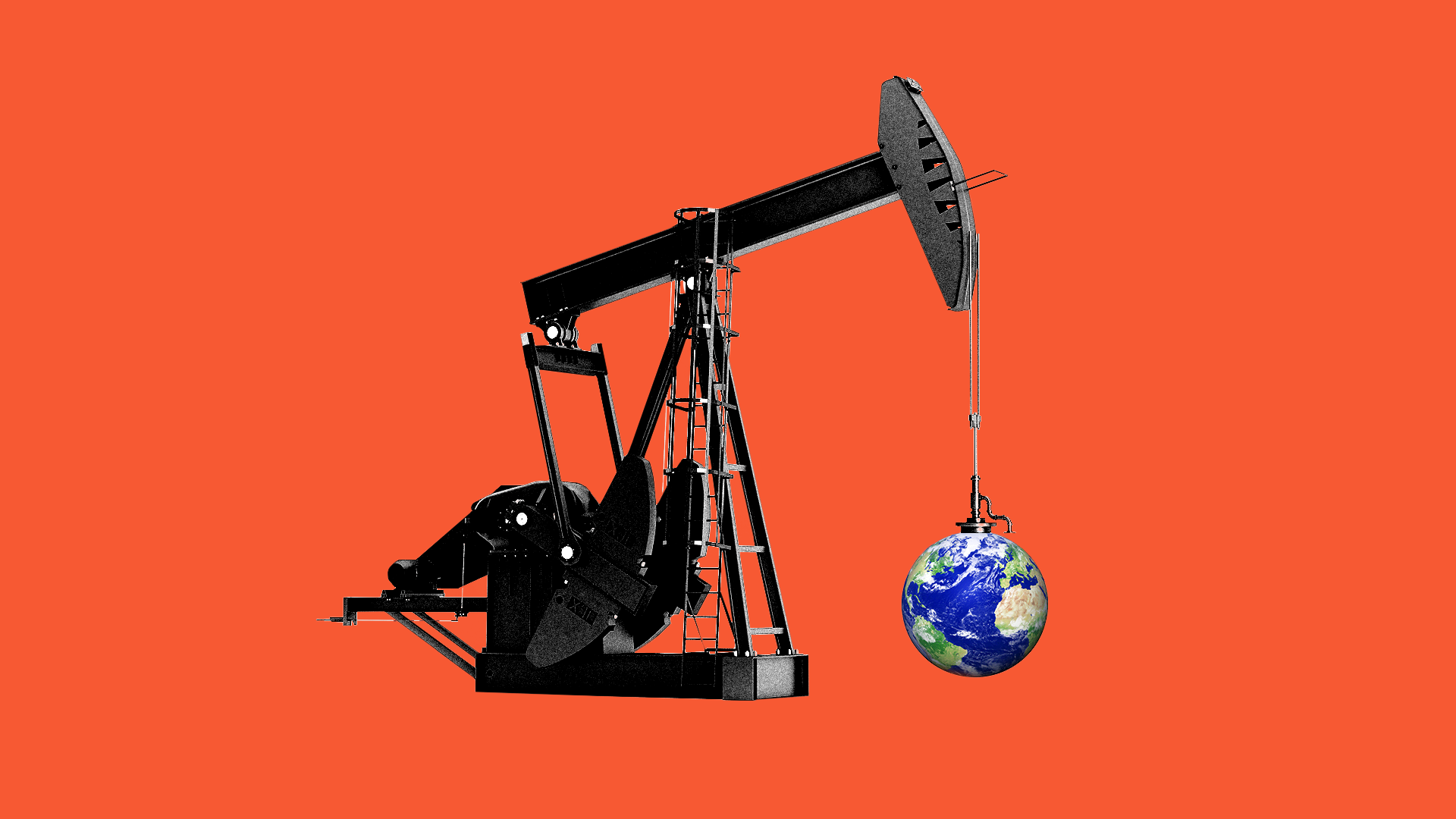 Illustration: Rebecca Zisser/Axios
HOUSTON — On the outskirts of America's oil capital is a carbon capture project poised to reap hundreds of millions of dollars in new federal tax credits. There's a catch, though: it uses the carbon to extract oil.
Why it matters: Capturing carbon to extract oil seems counterintuitive to addressing climate change, but experts who have crunched the numbers say this technology is a necessary, if controversial, step that's helped along by these kinds of projects.
Early peek: A new report by the International Energy Agency shared early with Axios that is being released today finds a provision in the recently passed budget bill is poised to drive a record amount of investment to carbon capture.
The twin incentives of extracting oil and the new federal subsidies provide a foundation for commercializing carbon capture. That's important because the United Nations (among others) calls the technology essential to cutting emissions to the level scientists say is necessary.
The provision championed by Sen. Heidi Heitkamp, a Democrat from North Dakota, greatly expands an existing credit. It puts two different prices on captured and stored emissions, for either direct storage underground ($50 a ton) or for re-use, mostly oil extraction ($35 a ton).
Bottom line: "The tax credit is a stepping stone to a bigger [carbon capture] industry in the U.S.," said Tristan Stanley, an IEA analyst who wrote the report. "It helps bring down the cost and normalizes it."
https://www.axios.com/newsletters/axios-generate-65cbd651-bdd7-4ad0-ab6e-fe94201bb5b3.html?chunk=1#story1
Big this week: Oil execs to huddle with Trump
Lots to discuss: Top oil-and-gas industry executives will meet Thursday with President Trump at the White House, according to sources familiar with the plan.
Why it matters: The meeting arrives amid a rough patch in the industry's relationship with the White House. While executives have cheered steps like the tax bill and the push to streamline permitting, there's friction over tariffs, the way some regulatory rollbacks are being implemented, and more.
Go deeper: Amy wrote about the friction here.
Of note: President Trump is having lunch with Energy secretary Rick Perry today.
State of the markets: The International Energy Agency will release its closely watched monthly oil market report on Thursday.
Lots to discuss, part 2: Interior secretary Ryan Zinke will testify before the Senate Energy and Natural Resources Committee on Tuesday, and then he'll appear before the House Natural Resources Committee on Thursday.
Both hearings are ostensibly about Interior's budget proposal, but look for a wide range of policy questions.
State of shale: Later today the Energy Information Administration will release its latest report on drilling productivity, tracking output from U.S. shale basins.
Focus on renewables: The American Council on Renewable Energy holds a policy forum Wednesday with a number of political and industry heavyweights.
Lots to discuss, part 3: Perry will appear Thursday before a House Appropriations subcommittee to discuss his agency's fiscal year 2019 budget plan.
https://www.axios.com/newsletters/axios-generate-65cbd651-bdd7-4ad0-ab6e-fe94201bb5b3.html?chunk=2#story2
Petro-notes: Aramco, OPEC, offshore regs
IP-no: The last few days have brought increasingly firm signs that Saudi Aramco's massive international IPO won't happen in 2018.
"Saudi Aramco's listing is unlikely to go ahead this year, according to British officials who have been warned by their Saudi counterparts that the world's biggest flotation was expected to be delayed," the Financial Times reported Sunday.
That report comes on the heels of Saudi oil minister Khalid Al-Falih dropping hints in a Bloomberg interview that 2018 won't be the year.
Why it matters: The IPO is designed to raise tens of billions of dollars to help support the kingdom's economic diversification plans. The selection of the main listing venue is also high-stakes, given the massive fees and action it will bring.
Exchanges in New York, London, and Hong Kong are believed to be leading candidates if the IPO goes forward, and Trump has openly urged the Saudis to choose New York.
OPEC's challenge: Via The Wall Street Journal, "OPEC is breaking down into two camps after more than a year of unity. On one side is Saudi Arabia, which wants oil prices at $70 a barrel or higher, and on the other is Iran, which wants them around $60."
Deep dive: A detailed New York Times report that dropped over the weekend takes stock of Interior Department efforts to scale back regulations on oil-and-gas companies operating in the Gulf of Mexico.
https://www.axios.com/newsletters/axios-generate-65cbd651-bdd7-4ad0-ab6e-fe94201bb5b3.html?chunk=3#story3
Wall Street messaging on climate activism
Out today: A new analysis finds that in 2017 the world's largest asset managers often declined to support shareholder resolutions that pushed large power and oil companies to respond more aggressively to climate change risks.
The details: Click here to read the full report from the 50/50 Climate Project, a nonprofit group that urges institutional investors to use their leverage on the topic.
It tallies the frequency with which 24 of the largest asset managers supported what the 50/50 Climate Project selected as "key" resolutions during the 2017 proxy season.
Why it matters: The report arrives as activist investors and their allies are increasingly pushing large energy companies to disclose more about their plans to address climate change.
There's a particular focus on pushing companies to model how their business will fare in a hypothetical carbon-constrained world in which emissions are on a trajectory to hold the global temperature increase to two degrees Celsius above preindustrial levels.
One big finding: The behavior of big institutional funds matters a lot, as only a few of the biggest asset managers would have been able to affect key climate-reporting proposals at energy and utility companies last year.
"If either of the top two asset managers, BlackRock and Vanguard, had voted yes on any of ten or eight key climate proposals, respectively, those proposals would have received a majority of support," it states.
One big question: Whether BlackRock, the world's largest asset manager, will take a more activist stance going forward in light of CEO Larry Fink's recent open letter to companies urging a greater focus on "social purpose."
https://www.axios.com/newsletters/axios-generate-65cbd651-bdd7-4ad0-ab6e-fe94201bb5b3.html?chunk=4#story4
FERC: McIntyre's health, rates, grid
Chairman's health: Federal Energy Regulatory Commission chairman Kevin McIntyre disclosed Sunday night that that he was diagnosed with a "relatively small" and asymptomatic brain tumor last summer that was discovered incidentally but was treated successfully via surgery.
"I was advised at the time that, with the surgery and subsequent treatment behind me, I should expect to be able to maintain my usual active lifestyle, including working full time, and that expectation has proven to be accurate," he said.
On the agenda: This month's regular FERC meeting is on Thursday and it will explore how utilities and natural gas pipeline companies should alter rates in light of the tax cuts enacted late last year.
S&P Global Platts reports that the new tax law has "triggered calls by states and others for FERC intervention to ensure utility customers do not end up overpaying for electric and gas service as a result of the tax reforms."
Resilience rulemaking: Utility Dive explores how regional power market operators responded to FERC's call for input as part of its recently launched proceeding on grid resilience.
https://www.axios.com/newsletters/axios-generate-65cbd651-bdd7-4ad0-ab6e-fe94201bb5b3.html?chunk=5#story5
Big idea: Don't worry so much about Paris
A new paper released via the Brookings Institution warns against overstating the role of the multilateral diplomacy — and the Paris deal specifically — in driving the transition to low-carbon energy.
Why it matters: The authors oppose Trump's decision to abandon Paris, but they're also concerned that his action will "drive too much emphasis on rescuing or propping up diplomacy after the Trump assault."
Instead, they argue that other forces, such as technology advancement and more regional and localized actions, are more relevant right now.
On the record: I recently caught up with one of the authors, UC-San Diego political scientist David Victor. He told me:
"Paris has a role to play in managing the climate problem, but what is really going to drive big reductions in emissions is change in technology and change in the political support for the policies needed to deploy those technologies."
"At the end of the day, [leaving Paris] doesn't change the facts on the ground that many states are going ahead and doing something in this area...that the electric power industry is grappling with the need for more renewables and more gas, and lower emissions, and those are the facts that actually matter."
One level deeper: On the policy side, Victor said he's most concerned about efforts to scuttle Energy Department tech innovation programs and funding, while arguing there's too much emphasis on EPA policy. "The rollback of the Clean Power Plan will have a minimal impact on the power industry," he said.