June 19, 2018
Good morning and welcome back!
Tomorrow marks the 1975 release of Neil Young's sad and harrowing masterpiece "Tonight's The Night," so it provides today's intro tune ...
1 big thing: What to watch as OPEC meets
With OPEC heading into a pivotal meeting in Vienna this week, I'll share part of an interview I did with a smart cartel-watcher, including her thoughts on a pivotal dynamic to watch — Russia and Saudi Arabia.
What the Saudis want: Ellen Wald, president of Transversal Consulting, says the meeting's outcome is "pivotal" for the future of the Saudi-Russian alliance — and by extension the broader OPEC/non-OPEC group — on market cooperation.
Recent discussions between Russian President Vladimir Putin and Saudi Crown Prince Mohammed bin Salman on a long-term relationship will look less important if the meeting breaks down, she says.
Of note: Russia and the Saudis are reportedly in agreement on an output increase but facing pushback from some members.
"It doesn't mean nearly as much if they can't get a deal done this week. Otherwise it's just talk between two authoritarian rulers," Wald tells Axios.
It's a top priority heading for Saudi Energy Minister Khalid al-Falih. "If he can get the group to agree to an increase, however small, that will strengthen this alliance between Russia and Saudi Arabia," she says.
On Aramco: Wald does not believe the meeting will offer much insight into Saudi Arabia's hazy plans for the IPO of state oil giant Aramco.
That's despite frequent speculation that the kingdom is looking to achieve a certain oil price to support the listing.
"His (al-Falih's) real concern right now is maintaining this alliance. He sees the IPO as separate from oil policy," according to Wald, author of the recent book "Saudi, Inc."
On U.S. influence: Wald says an agreement to boost output will not reflect the influence of the White House, despite President Trump's public pressure on the cartel to boost production, but rather calculations about the market for additional barrels.
"Saudi Arabia is not going to do it for the U.S.," she says.
Crystal ball: Wald predicts the meeting will yield plans for a production boost in the 300,000 to 600,000 barrel per day range.
But it's not clear whether that will come from a firm agreement or relaxed compliance among producers — notably the Saudis, Russia, UAE and some others — with spare capacity.
2. More on OPEC: NOPEC, production, U.S. CEOs
Back in Washington: Bloomberg takes stock of efforts to dust off legislation that would go after OPEC with U.S. anti-trust laws — a bill rattling around Congress for almost two decades commonly called "NOPEC."
"For OPEC, which meets later this week in Vienna to discuss oil production, the bill is a fat-tail risk. The chances that it passes are small, but if it happened the consequences would be enormous," their story notes.
Behind the scenes in Vienna, part 1: The Wall Street Journal cautions that despite outward signs of discord, the meeting will yield a successful Saudi-Russian push to boost output despite dissent from Iran and some others.
"OPEC is back to its squabbling ways after an unusual period of near harmony. But investors who are bidding up oil prices in the expectation of a split are misunderstanding both the history of the cartel and the current state of the oil market," the paper reports.
The underlying politics: Here's an interesting observation from yesterday's note by Hedgeye's Joe McMonigle (who by the way expects the meeting to yield a 300,000–500,000 barrel per day increase). He argues that the Saudis are teaching a "master class on managing competing political objectives."
"They are responding to Russia/Trump calls for more production but at a level that won't lower prices with the looming Aramco IPO around the corner."
"At the same time, they have set up Iran to look like the bad guy if they veto any OPEC increase and prices go higher. Look for a new Trump tweet soon focusing on Iran's blame for higher prices," the note says.
Behind the scenes in Vienna, part 2: Per Reuters, Harold Hamm, CEO of U.S. shale powerhouse Continental Resources, has scuttled his planned appearance at an OPEC event.
The intrigue: "Hamm is the third of five U.S. shale executives to withdraw from a scheduled speaking slot at the OPEC meeting in Vienna," they report.
3. Self-driving startup lands Uber and Tesla vet
Scoop: Voyage, the autonomous vehicles startup, is bringing on Drew Gray — an industry vet who was a senior self-driving engineer at Tesla, Uber and elsewhere — as chief technology officer.
The company is focusing on providing taxi and fleet services by grafting its self-driving technologies onto existing vehicles.
Voyage's system equips Chrysler Pacifica Hybrids, which drive on electric power for about 30 miles, to be autonomous, and later it plans to move into pure electrics, Oliver Cameron, Voyage's CEO, tells Axios.
The context: Cameron says he first collaborated with Gray at Udacity, the online learning provider — Cameron was head of the self-driving program there, and Gray agreed to teach a course.
"Looking back at some of our earliest emails in 2016, it's easy to see why we wanted to work with Drew at Voyage. He embodies the mentality of a teacher, something so crucial as a CTO. Not only did Drew lead by example while moving so fast, but he made sure everyone learned something along the way," Cameron says.
One reason it matters: The rise of driverless cars and ride-sharing are important drivers of vehicle electrification, as most car companies currently plan to merge the technologies in their new vehicles.
Go deeper: Read the full story in the Axios stream.
4. Quote of the day
"The Department of Energy is uniquely situated in that it is part of the intelligence community. And as part of the intelligence community we make classified intelligence decisions. We utilize information that we have to secure, from a national security perspective, the United States."
— Bruce Walker, DOE's assistant secretary for Office of Electricity
The context: That's Walker speaking on the new episode of the Columbia Energy Exchange podcast. He's responding to criticism of brewing administration plans to aid economically struggling coal-fired and nuclear power plants — facilities the administration claims are vital to the resilience of the power grid in the face of cyberattacks and other potential threats.
Why it matters: The comment shows how DOE is positioning itself at a time when many critics from various quarters say the potential aid is unneeded and accuse the administration of grafting a new post-facto rationale onto their longstanding goal of saving coal plants.
But, Walker and other officials are arguing, in essence, that they have classified material that strengthens their case, and other parties are not as well equipped to understand.
Flashback: Axios' Amy Harder looked at the national security debate around the grid here.
Dig deeper: Walker discusses his office's work on security and assessing vulnerabilities more broadly.
"We're not only looking at coal, nuclear generation, we're looking at all generation and we're looking at how the grid comes together which is why my team has been focused on developing the North American resiliency model which is focused on understanding and highlighting the interdependencies of the different systems," he said.
5. Renewable energy investors look ahead
Axios intern Henrietta Reily reports ... The U.S. took a back seat in pursuing renewable energy goals through federal policy after announcing plans to pull out of the Paris Climate Agreement last year, but a survey published by the nonprofit American Council on Renewable Energy (ACORE) found that confidence in the sector remains high among investors.
Where it stands: Surveying financial firms that make up a third of annual renewable energy investments nationwide, ACORE found that two-thirds plan to increase their investments in U.S. renewables by 5% or more in 2018 when compared to 2017.
Yes, but: The same survey shows that various policy and market changes — such as expanded state-based renewables standards, easing siting and permitting procedures, carbon pricing and tax credits for energy storage — could drive much more growth.
What's next: ACORE is using the survey's results to launch a new campaign to spur investment in renewable energy and grid modernization technologies — with a target of $1 trillion in private sector investments by 2030.
"The evidence is (and we see this in our membership growth) that more financial institutions see renewables as a good asset class because they have been shown to provide steady and predictable returns."
— Greg Wetstone, CEO and president, ACORE
The details: The group's members include major banks, tech companies, renewable energy developers and trade groups.
6. So hot right now: 2018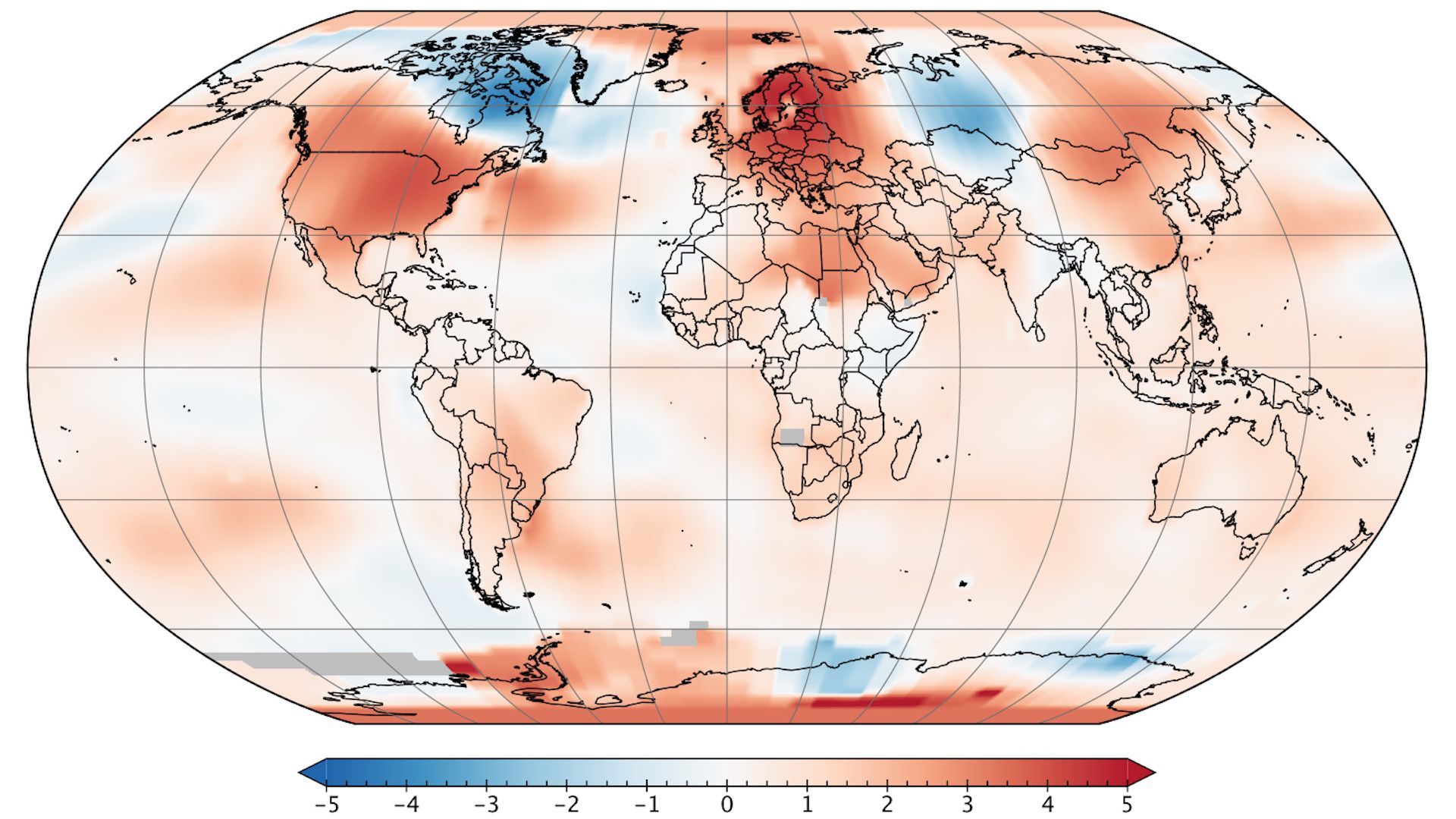 Axios' Andrew Freedman reports ... May was the fourth-warmest such month on record, according to NASA, NOAA and the Japan Meteorological Agency. In addition, NASA found that spring in the Northern Hemisphere was the third-warmest such period on record, since instrument records began in 1880.
Why this matters: The monthly temperature data is another piece in the broader picture of a changing climate, with month after month, and year after year, showing an increasing trend. Using NOAA's data, May was the 401st straight month to be warmer-than-average globally.
The most recent month with temperatures ranking below average for the globe was December of 1984.
Particular hotspots during May 2018 were the U.S., which had its warmest May on record, and Europe, which was also record warm for the month.
7. Two electric vehicle things
Stepping back: Per the Financial Times, U.K. officials appear to be softening plans to ban sales of fossil fuel-powered vehicles in 2040 by phrasing it as a more aspirational target.
"The new, weaker language being considered by ministers suggests that the government's 'mission' is to put the UK at the forefront of design and manufacturing of zero-emission vehicles and to ensure the elimination of polluting cars from the streets by 2040," they report.
Why it matters: The 2040 ban attracted lots of attention last year as an example of governments making increasingly aggressive move on the deployment of electric cars.
Joining forces: Over in our Expert Voices section, Maggie Teliska of Caldwell Intellectual Property explores an initiative by GM and Honda to co-develop next-generation battery systems.
Why it matters: "While there have been other joint ventures to deliver cost-effective EV battery systems in the past, they've primarily occurred between automaker and supplier, and in China and Europe," she writes.
"The two automakers' decision to share resources, technology and intellectual property could lead the way to faster development and deployment of cost-attractive options for EV battery systems," Teliska adds.
8. Petro-number of the day: 3.35 million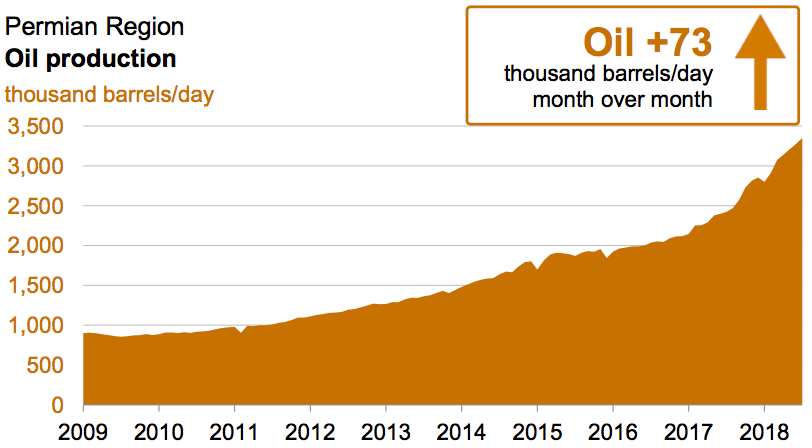 3.35 million: That's the number of barrels per day that the Energy Information Administration expects will be produced in the Permian basin region next month, according to their latest monthly estimate.
Why it matters: The 73,000 bpd rise over this month and the overall figure serve as an important barometer of the region's ongoing boom.
The big picture: The Permian is the fastest-growing shale formation but not the only one where production is rising. Overall, EIA estimates that major shale basins will be producing over 7.3 million bpd next month.
Yes, but: Here's an esoteric but relevant detail (h/t to Paul Dial). Starting with yesterday's monthly shale snapshot, EIA is putting this on the landing page for the data: "Productivity estimates may overstate actual production which could be limited by logistical constraints."
The caveat is a nod to the infrastructure limits — of late focused on Permian pipeline capacity — that present hurdles in some regions.
Speaking of the Permian: A note from the consultancy IHS Markit says ExxonMobil, Chevron and Shell will together need to spend almost $30 billion through 2020 to hit their production growth targets.
The fallout: That spending will feed cost inflation and force more consolidation in the region, IHS said.
"The supermajors will further stress the Permian service sector, and as costs escalate, the increased execution risk may be too great for these smaller companies to overcome, possibly forcing them into mergers or sales," said IHS analyst Sven del Pozzo in a statement.
Go deeper: The Houston Chronicle explores the report.