Axios Generate
April 01, 2019
Good morning, and happy Friday! (Get it?) 
My latest column looks at an important but below-the-radar issue that's about to come to a head. I'll share that, and then Ben Geman will get you up to speed on the rest of the news.
1 big thing: Exxon faces investor pressure on climate
NEW YORK — Investors on both sides of the Atlantic are pushing ExxonMobil to disclose targets that would drastically reduce its greenhouse gas emissions in line with the Paris Climate Agreement.
Driving the news: The New York public pension fund and Church of England's endowment have filed a resolution for consideration at Exxon's annual meeting in May calling for the company to disclose such targets.
The oil giant has asked the U.S. Securities and Exchange Commission, which governs the process, to throw it out. A decision is expected imminently.
Why it matters: The investment community is becoming an alternative battleground between publicly traded companies and climate change as U.S. government policy on the matter retreats under President Trump.
While resolutions pushed by shareholders are non-binding, they're symbolically significant. Companies usually comply with proposals if they get more than 50% support from investors during votes at annual meetings, most of which occur during the springtime.
Where it stands: The SEC is more likely than not to grant Exxon's request, because the federal agency said last month that another oil and gas company — Devon Energy — could exclude a nearly identical resolution. The stakes are higher with the Exxon resolution, its backers say, with an unusual amount of support from investors around the world.
A group of investors representing $9.5 trillion in assets under management — roughly 10% of the entire world's investment dollars — sent a letter last month to the SEC supporting the resolution.
Such a letter is unusual, New York Comptroller Thomas DiNapoli, who manages the New York fund, told me in an interview last week. "I hope that gives our position greater standing on the part of the SEC," he said.
A spokesperson for the SEC declined to comment for this article.
Flashback: These two players have been successful in the past. DiNapoli and the Church of England were behind a 2017 resolution urging Exxon to write a report disclosing the risks climate regulations pose to its bottom line.
Go deeper: Click here for the rest of the column. 
2. Energy CEO's strongly prefer GOP
A new analysis underscores how the political giving of fossil fuel industry CEOs tilts more toward Republicans than a number of other large sectors, Axios' Harry Stevens reports.
Driving the news: That's one takeaway from a first of its kind study tracking the political leanings of CEOs by examining 18 years of political contributions by more than 3,800 CEOs of S&P 1500 companies.
In the chart above, "energy" refers to oil, gas and coal extraction, while "utilities" includes power producers, natural gas transmission and distribution companies and other services.
The big picture: The chief executives of America's largest public companies are more than twice as likely to lean Republican in their campaign contributions than to favor Democrats.
Among big energy companies, Republican leanings by CEOs are even stronger: More than 9 in 10 energy CEOs side with Republicans, and none with Democrats.
The study, by professors from Harvard Law School and Tel Aviv University, classifies a CEO as a Republican or a Democrat if they gave at least two-thirds of their campaign contributions to one party or the other. CEOs that distributed their contributions more evenly were classified as neutral.
Go deeper: Check out the interactive graphic and the rest of the story.
3. Fresh signs of trouble for U.S. coal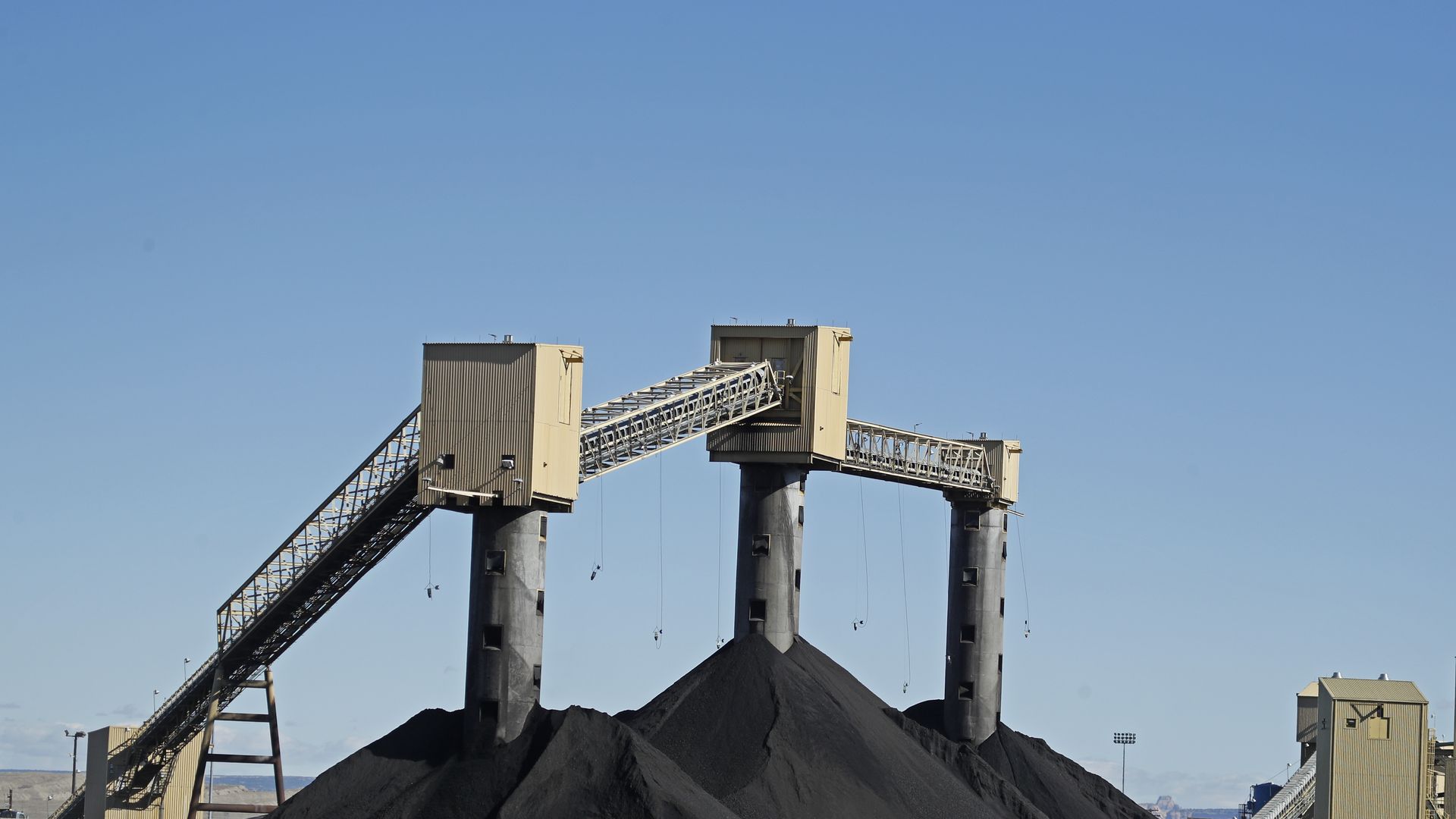 The default of Ohio-based coal company Murray Energy brought the total number of global corporate failures to 27 this year, 19 of which have come from the U.S., with 4 in the metals and mining space, according to S&P Global, Axios' Dion Rabouin reports.
Why it matters: "The metals, mining, and steel sector is off to a rocky start this year with four defaults, already surpassing last year's full-year tally of three," Diane Vazza, head of S&P Global Fixed Income Research, said in a note last week. "Two of the four defaulters in the sector are U.S. coal producers."
The U.S. expects dozens more coal plant closures this year, including the Navajo Generating Station, the largest coal-fired plant in the western U.S., which provides power to Arizona, Nevada and California.
The big picture: This is a long-running theme in the coal industry.
In 2010, coal-fired power plants provided 45% of U.S. electricity generation, according to a report from The Week.
In September, there were almost 200 fewer coal plants and they provided 30% of the country's electricity. Many more plants are set to be shuttered in the next 5 years.
The EIA said in December it expects total U.S. coal consumption in 2018 to fall to the lowest level since 1979. U.S. coal consumption has been falling since 2007, mainly driven by declines in coal use in the electric power sector.
4. Quote of the day
"Based on what we are seeing out of Arizona, Florida, Puerto Rico and Hawaii, you can draw a line across the sunniest parts of the U.S. and find where solar-plus-storage has begun to outcompete natural-gas peakers."
Who said it: Dan Finn-Foley, a Wood Mackenzie storage analyst, quoted in this Greentech Media piece.
Context: Late last week Florida Power & Light announced plans to build a 409 megawatt capacity project they're calling the world's largest solar-powered battery storage system.
Why it matters: Pairing solar with batteries — which can discharge power when needed — helps enable integration of more intermittent renewables onto the grid.
That lowers the need to bring more fossil generation online during a period of high demand.
5. Aramco's big numbers and more biz notes
Saudi Aramco: Via Bloomberg, "The first official glimpse of Saudi Aramco's financial performance confirms the state-run oil giant can generate profit like no other company on Earth: net income last year was $111.1 billion, easily outstripping U.S. behemoths including Apple Inc. and Exxon Mobil Corp."
PG&E's dividends: A federal judge has warned the company, which is under probation for safety-related violations, that he may prevent PG&E Corp. from resuming dividend payments until it takes steps to reduce its role in sparking California wildfires, according to the Wall Street Journal.
Electric cars: "Volkswagen is leaning on its entry-level Spanish brand Seat to spearhead its attack on the growing market for cheaper electric cars, in a bid to undercut established rivals such as Nissan and Renault," the Financial Times reports.
The goal is to produce an EV that sells for under €20,000 (or roughly $22,475), which would be the cheapest on the market, per FT.
LNG: Per Reuters, "Spot trades and other short-term deals are making up more of the transactions in the global liquefied natural gas (LNG) market as producers in the United States and Russia offer more flexible volumes and traders increasingly handle cargoes."
6. Catch up fast, part 1: Keystone XL
Trump issued a presidential permit Friday aimed at allowing construction of the long-delayed Keystone XL pipeline that would bring hundreds of thousands of barrels per day of crude from Alberta's oil sands into the U.S.
Why it matters: The move appears aimed at overcoming a federal district court ruling in Montana last year that said more environmental analysis is needed before the project could proceed.
What they're saying: ClearView Energy Partners, in a note, said the move could end delays stemming from that case.
But, but, but: Per the Associated Press, a lawyer for environmentalists opposing the project vowed to seek court action blocking the new move.
And project developer TransCanada Corp. has not made a final decision about whether to build Keystone XL.
7. Catch up fast, part 2: Arctic drilling
Late Friday a federal judge knocked down Trump's executive order that reversed Obama-era bans on offshore drilling in vast swaths of Arctic waters and a portion of the Atlantic Coast.
Quick take: This ruling adds to the uncertainties already clouding the potential for Arctic offshore drilling, despite what are thought to be huge hydrocarbon deposits in the region.
Projects in the harsh seas are expensive and companies have a wealth of other opportunities to pursue in the lower 48 states and elsewhere. 
What they're saying: "The wording of President Obama's 2015 and 2016 withdrawals indicates that he intended them to extend indefinitely, and therefore be revocable only by an act of Congress," wrote U.S. District Court Judge Sharon Gleason, who was nominated under Obama.
But, but, but: GOP Sen. Lisa Murkowski of Alaska, an advocate for offshore production, criticized Gleason's interpretation of the Outer Continental Shelf Lands Act and predicted the decision would be overturned on appeal, perhaps by the Supreme Court.
Go deeper: Federal judge declares Trump's push to open up Arctic and Atlantic oceans to oil and gas drilling illegal (The Washington Post)