Axios Generate
July 10, 2018
Good morning and welcome back!
This is cool: Pick out your next summer beach read with help from Axios' Ina Fried's NYT cheat sheet: "Three Books Consider What Happens When the Robots Take Over."
Happy birthday to Neil Tennant of the Pet Shop Boys, who bring us today's very good intro tune...
1 big thing: Centrist Dems' new climate advice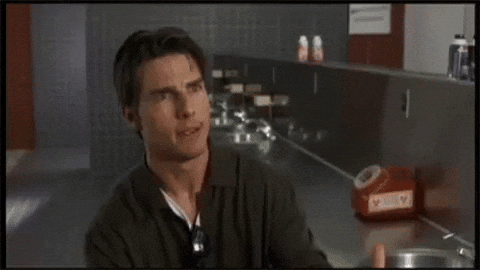 Ahead of the midterms: A centrist Democratic group says the party has botched its climate and energy strategy for many years — with dire political consequences — and should offer vision that embraces the nation's fracking boom alongside renewables and efficiency.
New manifesto: The group, New Democracy, has a new paper today that says President Trump and Republicans have overplayed their hands with "nihilistic" stances on climate and coal, creating an opening that Democrats can exploit — if they learn from the past.
"Legitimately concerned about climate change, many top Democrats have simply lost a realistic perspective on domestic energy politics, and especially the major economic and environmental value of the shale oil and gas boom," writes Paul Bledsoe, an adviser to the group who worked on climate in the Bill Clinton White House.
Why it matters now: The paper is a window into the larger positioning tensions — which were on display in the 2016 cycle and well before — that Democrats face crafting climate positions.
Opinion within their ranks ranges from pro-gas views to advocates who oppose fossil fuel extraction and pipelines.
Quoted: "All Democrats have serious approaches to climate change, but shale gas is key to decarbonization and economic growth in most places, so supporting its critical for Democrats to take purple districts. We must be a big tent party to win," Bledsoe tells Axios.
Go deeper: Read the full story in the Axios stream.
2. The stakes of Kavanaugh on SCOTUS...
Trump's selection of Brett Kavanaugh would push the Supreme Court rightward by adding another justice who won't be inclined to give federal agencies wide latitude on imposing climate and environmental regulations.
Why it matters: The Trump administration is seeking to kill and/or weaken a suite of Obama-era rules, and litigation over those moves could eventually put climate policy back before the high court.
The record: Longtime environmental lawyer David Bookbinder tells Axios that, by his count, Kavanaugh has been involved with six climate change cases, and in five of those he took a "narrow" view of EPA's regulatory authority.
The elephant in the room: As we wrote about when Justice Kennedy announced his retirement, several lawyers told me they don't think the court will revisit the landmark 5-4 ruling in 2007 that ensured EPA's underlying authority to regulate heat-trapping gases. But it can't be ruled out.
Be smart: Last night I touched base with Harvard Law School's Jody Freeman, who worked in former President Obama's first-term White House.
Here's some of what she told me in an email exchange...
"Above all, he is skeptical of new regulations that significantly expand an agency's regulatory reach or impose substantial  new costs without clear congressional authorization."
"But I am not sure he is so different from Justice Kennedy on this score. He might not have voted with the majority, had he been on the Court for Mass v EPA as Justice Kennedy did, but  I don't imagine the Court will overturn Mass v EPA anytime soon."
"Can we expect decisions that cabin EPA somewhat? I think yes. I would expect a Justice Kavanaugh to make sure EPA and other agencies 'stay in their lane' so to speak."
3. ...and more on his views on climate
On the bench, part 1: This New York Times piece looks at Kavanaugh's comments during 2016 oral arguments over power plant carbon emissions rules before the U.S. Court of Appeals for the D.C. Circuit, where he endorsed the view that climate policy should be decided by Congress. From NYT:
"The policy is laudable," he said. "The earth is warming. Humans are contributing. I understand the international impact and the problem of the commons. The pope's involved. And I understand the frustration with Congress."
But he added: "If Congress does this, they can account for the people who lose their jobs. If we do this, we can't."
On the bench, part 2: Via Climatewire, a look at Kavanaugh's view on checking agencies' running room in another climate-related case...
"That posture was on display in August, when Kavanaugh ruled against an Obama-era EPA regulation aiming to phase out hydrofluorocarbons — greenhouse gases better known as HFCs."
"However much we might sympathize or agree with EPA's policy objectives, EPA may act only within the boundaries of its statutory authority," he wrote. "Here, EPA exceeded that authority."
4. Trade war hits Tesla in China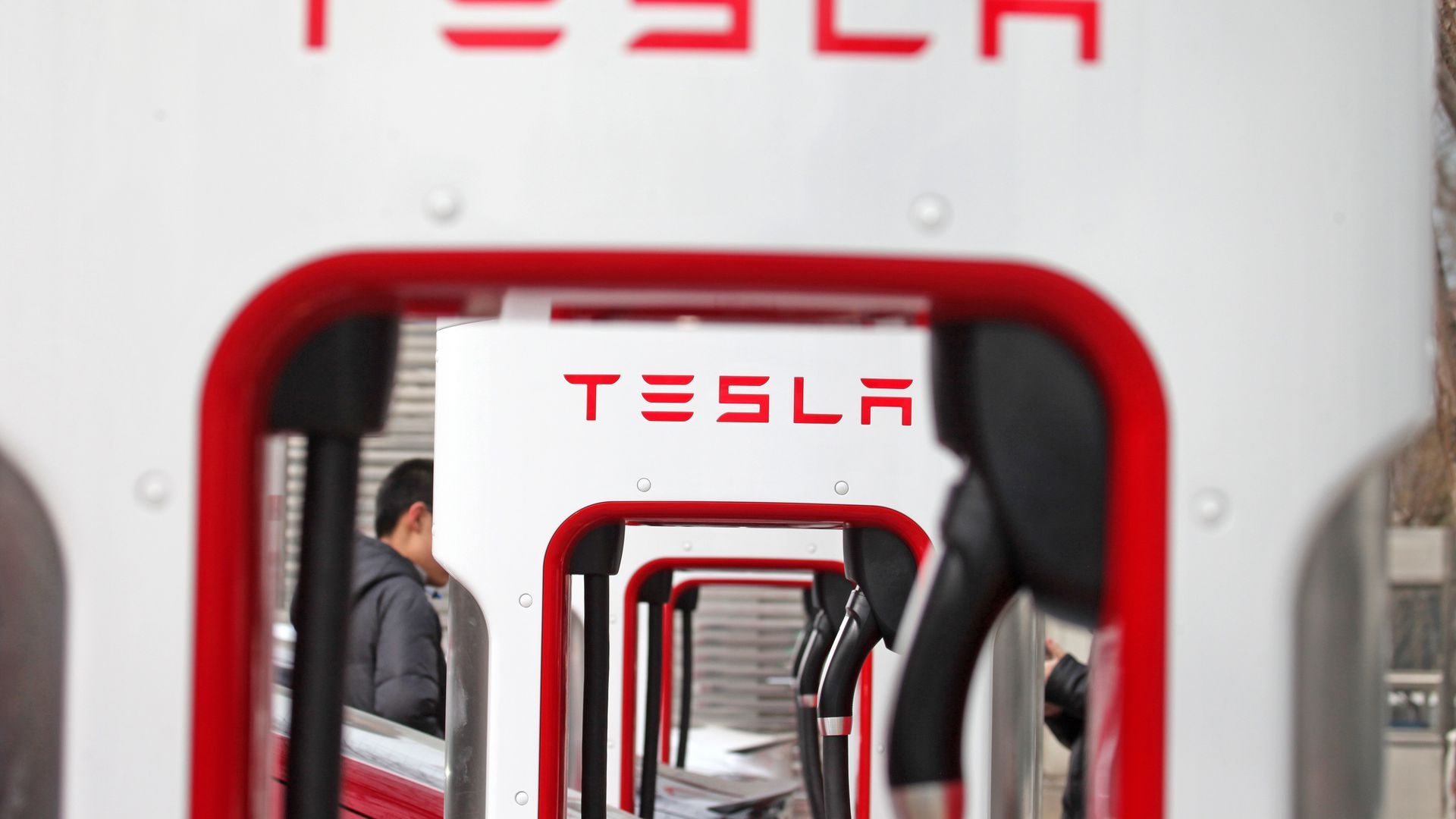 Tesla and trade: Via CNN, "Tesla has hiked the prices of its cars in China by about 20% after getting caught in the crossfire of the trade clash between Washington and Beijing."
The big picture: Tesla is the latest company to take a hit in Trump's trade war, which economists say could hurt American farmers and other automakers around the world.
And some more battery-relevant news..
Cobalt: Greentech Media is out with an informative piece on 11 battery companies with technologies useful for vehicles or storage that don't rely on cobalt.
Why it matters: It's a material with a fraught and expensive supply chain that's also associated with human rights abuses.
Flashback: Last month we wrote about the latest funding round of one of those companies, New York-based Conamix.
Manufacturing: Bloomberg takes stock of a newly announced plan for a lithium-ion battery plant in Germany.
"Chinese battery maker Contemporary Amperex Technology Ltd.'s opening of a factory in Germany may mean a faster roll out of electric vehicles on the nation's roads," they report.
5. Petro news and notes: OPEC, Russia, prices
State of the market: Via The Wall Street Journal, "Oil prices climbed toward a 3½-year high Tuesday, supported by supply issues across several major producing countries and continued uncertainty on the extent U.S. sanctions on Iran will curb the Middle Eastern country's exports."
OPEC responds to Trump: Via Reuters, "The president of OPEC defended the oil producer group on Monday against U.S. President Donald Trump's recent demands for higher oil output, saying OPEC does not shoulder the blame."
Russia: Over at the Council on Foreign Relations, veteran analyst Amy Myers Jaffe looks deeply at how energy could factor into Trump's July 16 summit with Russian President Vladimir Putin. From Jaffe...
The United States should also be cautious about trying to orchestrate future participation of American oil and gas companies in Russia as a possible diplomatic carrot.
The history of such initiatives is spotty at best, and it only takes one reckless unexpected action by Moscow to force Washington to press companies yet again to cut back on any progress on energy cooperation that could be made in the short run.
6. Quote of the day
"There would have to be a major, compelling reason to try to ever reopen that. I don't think that's an open question at this point."
— Acting EPA Administrator Andrew Wheeler
The context: That's Wheeler telling the Washington Post that he's interested in cracking open EPA's "endangerment finding" — the Obama-era conclusion that greenhouse gases threaten human welfare (h/t to Politico for catching).
Why it matters: It signals that Wheeler, while bashing process behind the 2009 finding, is not interested in a head-on collision with mainstream climate science, even as he continues rolling back Obama-era regulations.
The ousted Pruitt, in contrast, hadn't ruled out trying to revisit the finding, and more broadly weighed efforts to publicly challenge established science.
7. Chart of the day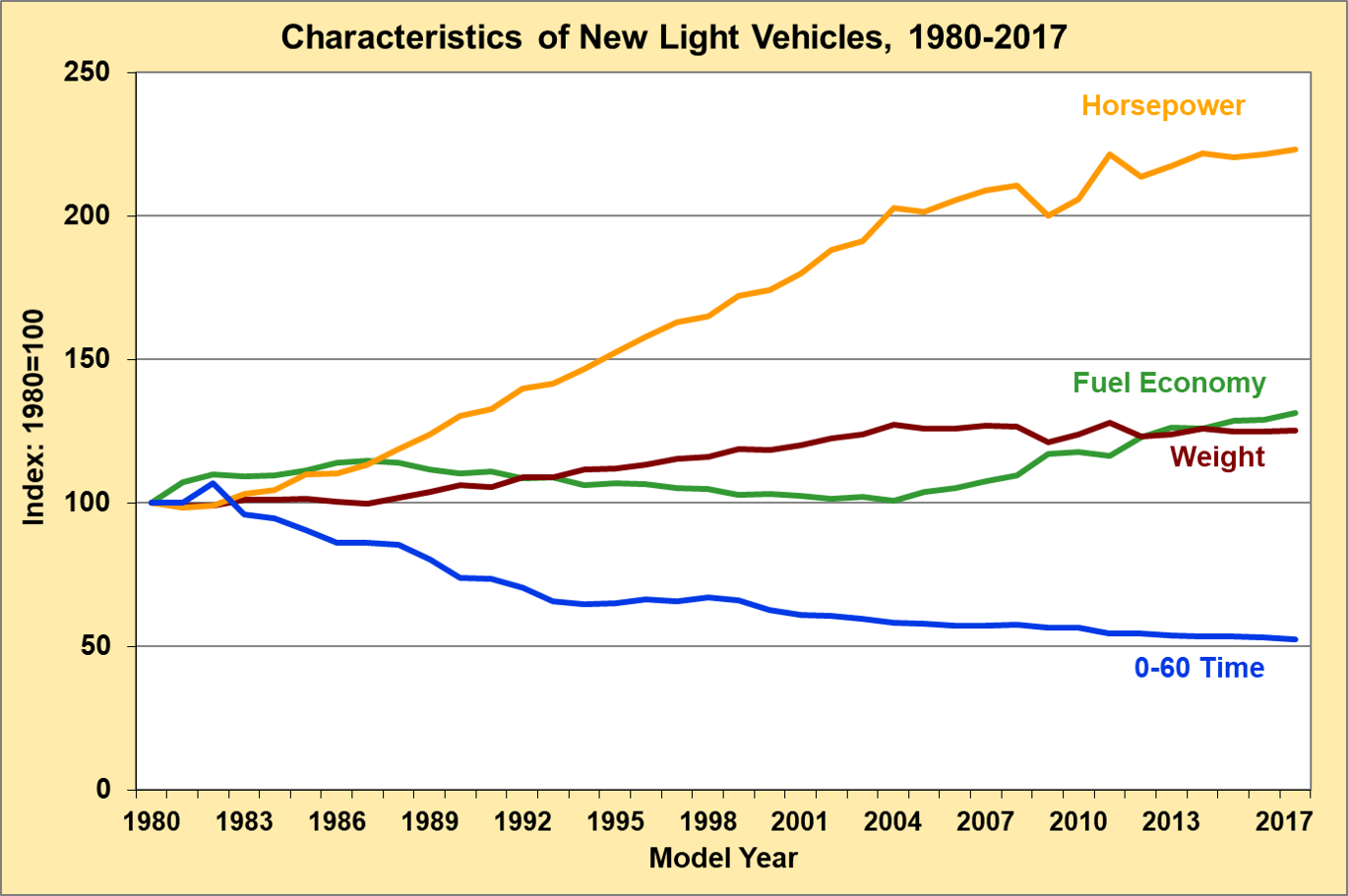 State of the fleet: The DOE's Vehicle Technology Office is out with a timely look at trends in auto mileage and performance.
"Generally, increased performance comes as a trade-off with fuel economy. But light vehicle manufacturers have been able to employ advanced technologies to improve both performance and fuel economy," it states.
What the chart shows: "Despite a 123% increase in horsepower and 48% improvement in acceleration (measured by time to accelerate from 0 to 60 miles per hour) from model year 1980 to 2017, the fuel economy of vehicles improved 31%," the brief report states.
Why it matters now: At a time when the White House is preparing to scale-back Obama-era mandates on increasing fuel efficiency, the chart could give ammunition to advocates who argue there's no need to freeze the standards, which is among the options reportedly under consideration.
8. One hot thing: California and power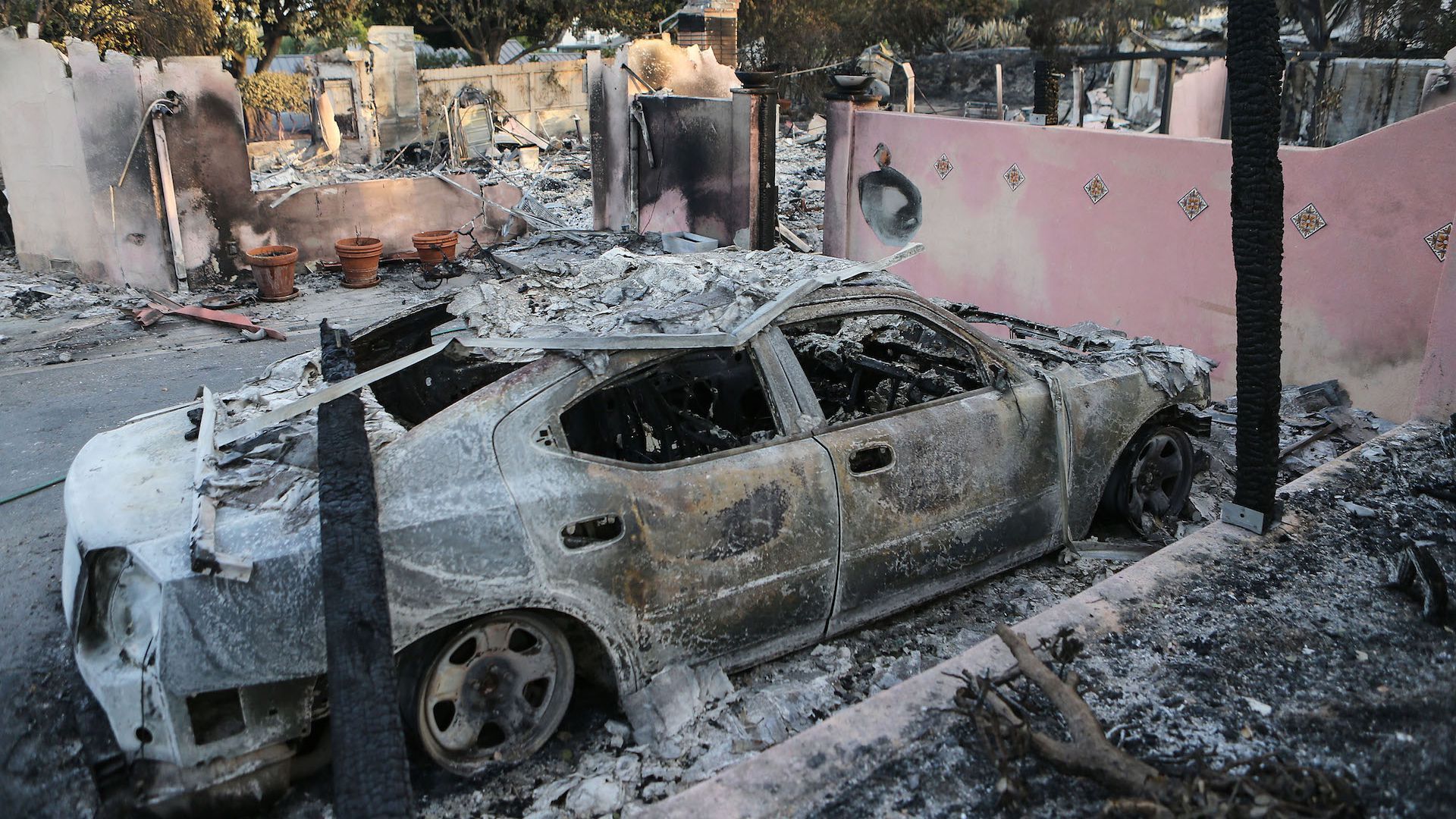 Axios' Andrew Freedman reports ... Southern California's intense heat wave, which has shattered dozens of temperature milestones, including all-time records, is exactly the kind of event that is becoming more likely and severe due to global warming, scientists tell Axios.
Why this matters: The heat wave has sparked destructive wildfires and threatened public health for millions of Californians, and is a stark reminder that even a small amount of global warming can push climate extremes into new and far more dangerous territory.
What this means for energy: This kind of heat wave puts major strains on the power grid and has triggered outages in California.
By the numbers: Consider some of the records that have been set so far during what now ranks as one of Southern California's all-time hottest heat waves.
82° Fahrenheit: Hottest all-time overnight low temperature on record for any month in Burbank, California.
79°F: Hottest overnight low temperature on record for the month of July in L.A. on July 7.
111° F: Hottest daytime high temperature ever recorded at the UCLA weather station in Los Angeles, set on July 6. This beat the old record of 109°F, set in 1939.
114°F: Hottest all-time temperature on record at Burbank Airport, recorded on July 6.
Go deeper: Read the full story here.