Axios Generate
April 10, 2019
Happy Wednesday!
Today marks 29 years since Public Enemy released "Fear of a Black Planet," so that pioneering act brings us into the news...
1 big thing: Companies are finding lots of oil again
The oil industry is finding lots of hydrocarbons thus far in 2019, putting discoveries on pace to grow by 30% this year if they keep it up, the consultancy Rystad Energy said this week.
Why it matters: The finds by big players like ExxonMobil and Total are a sign of ample new supplies that could come online in coming years, which is likely to further ease concerns about a crude supply crunch down the road.
It also signals why OPEC will face ongoing challenges in the years ahead in their quest to keep markets tight and prop up prices.
By the numbers: First-quarter discoveries of conventional oil and gas, which excludes shale, were 3.2 billion barrels oil-equivalent.
Much of that came in February, when the 2.2 billion barrels of discoveries marked the highest monthly total since mid-2015, Rystad said in a short note.
What's next: "[T]he push for substantial new discoveries shows no signs of slowing down, with another 35 high impact exploration wells expected to be drilled this year, both onshore and offshore," Rystad wrote.
Quick take: The big finds are another sign that fears of a crude supply crunch opening up by the early 2020s likely won't come to pass.
Some analysts feared a precarious situation emerging because spending on finding and developing new supplies cratered around 2014.
But 2019 is set to be the third straight year of upstream investment increases, per the International Energy Agency.
Bigger-than-expected U.S. shale growth has also eased concerns.
But, but, but: "Forecasts of a supply gap persist, but they're being pushed further out into the future," Bloomberg reported in late January, and IEA has warned against complacency.
2. Trump's latest energy plan lands today
President Trump plans to issue executive orders today aimed at easing domestic natural gas transport and avoiding the kind of lengthy battles over cross-border infrastructure that ensnared the Keystone XL oil pipeline.
Why it matters: The 2 orders show how the White House is trying to make fuller use of executive powers to speed up permitting and approvals of various projects, including gas pipelines facing state-level opposition.
How it works: Senior officials said yesterday that one of the provisions in the wide-ranging orders will be to make clear that decisions to approve or deny permits for projects that cross international borders rest solely with the president.
Another portion instructs the Transportation Department to write rules allowing shipment of LNG by rail.
One major provision aims to alter how the EPA carries out a Clean Water Act provision — Section 401 — that now gives states considerable power over domestic projects that could affect waterways.
"Right now there are a lot of problems with the way the Clean Water Act is being interpreted," a senior administration official told reporters.
The state of New York has used its Section 401 powers to prevent construction of the long-proposed Constitution Pipeline, which would bring natural gas from Pennsylvania into New York.
And Washington State has used its Clean Water Act powers to block a proposed coal export project.
But, but, but: "Trump's action is unlikely to jump-start widespread construction, since it's up to Crongress — not the president — to restrict states' authority under the Clean Water Act," Bloomberg reports.
What's next: Trump plans to announce the orders at a Houston-area event.
3. Why EV profits are elusive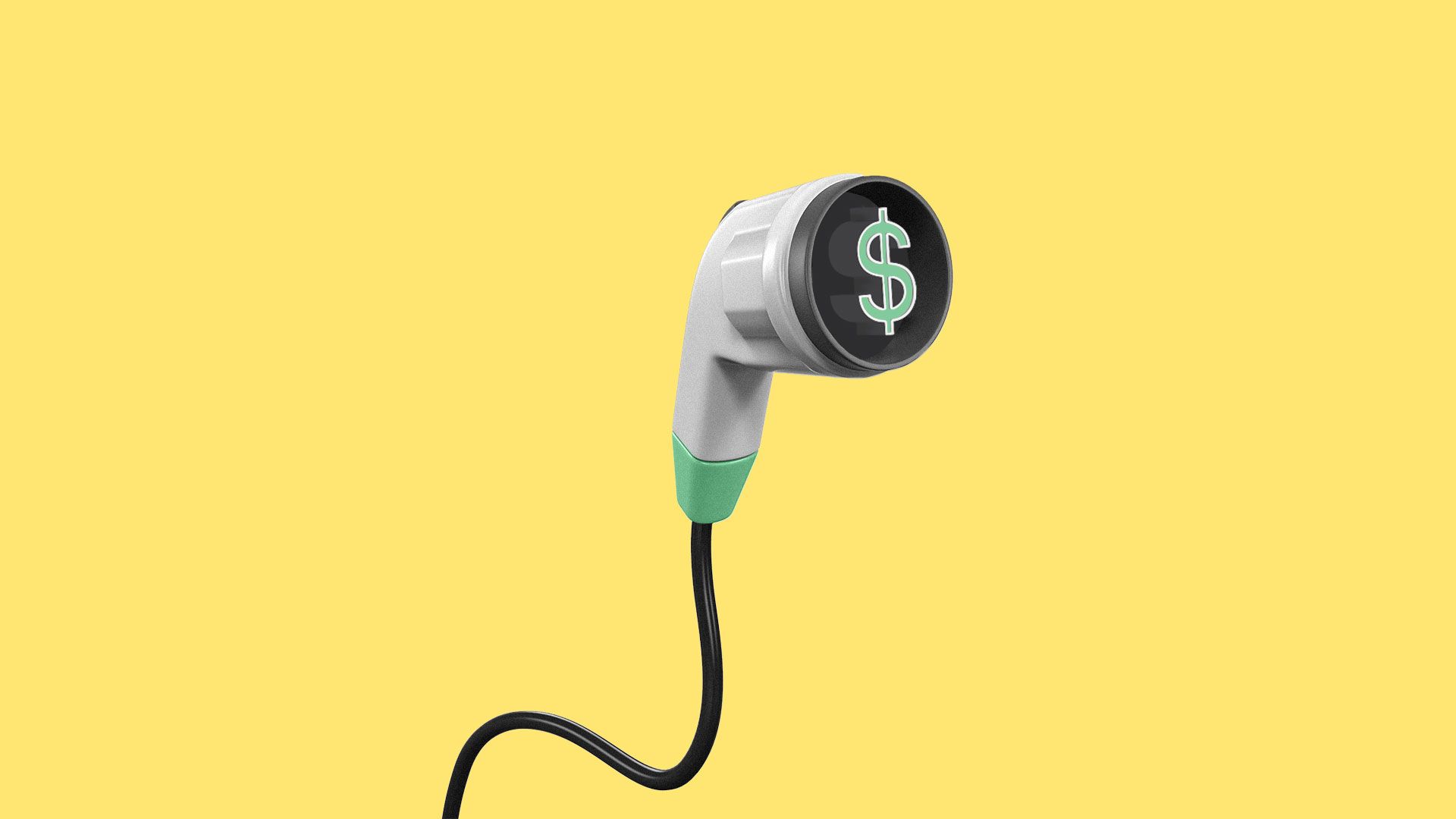 Axios' Joann Muller writes that if carmakers want to make money on electric vehicles, they'll need to rethink how they design and sell them, according to a new McKinsey study.
Why it matters: Automakers will pour $255 billion into EVs by 2023 but are resigned to losing money on them for the foreseeable future — an expected outcome of a market dictated by regulators and lawmakers, rather than consumers, per AlixPartners.
But because they're key to future self-driving cars, they'll keep investing in them.
The big picture: Right now, EVs are an expensive black hole for carmakers.
AlixPartners says the industry won't make a dime on most of the 200-plus electric models set to hit the global market in the next few years.
By 2030, Deloitte says the industry could produce 14 million more electric cars than there are customers.
Yet driven by regulatory requirements, some companies, like GM and Volkswagen, are staking their future on mass production of EVs and say they'll do so profitably.
By the numbers: The high cost of rechargeable, typically lithium, batteries is the root of the problem.
EVs cost $12,000 more to build than comparable gasoline-powered models, McKinsey says.
The "payback period" for a $30,000 EV — how long it takes to recoup the higher price through savings on fuel and maintenance — is 5 to 6 years for a typical owner who drives 13,000 miles per year.
Yes, but: Most consumers aren't willing to pay more for an EV, so carmakers need to either swallow the extra cost or make them simpler — and cheaper — to build.
Instead of designing cars that can accommodate either an electric or gasoline powertrain, carmakers could save money in the long run by investing in a new, simpler EV platform with fewer parts.
But it's a big bet: A dedicated EV platform costs about $1 billion to develop. (Both GM and VW are doing so.)
Another problem is that today's EVs have either too little range (100 miles or less) or too much (300 miles) based on actual driving patterns. McKinsey suggests a 40 kWh battery with a 160-mile range would suit most drivers and shave $2,000 in cost.
What to watch: Consumer attitudes are shifting, with more people indicating they would consider buying an EV. If so, that black hole might not be as deep as feared.
Read more on this and other topics in Joann's Axios Autonomous Vehicles newsletter. Subscribe here
4. On climate, it's bills, bills, bills
A Democratic Senate duo is introducing legislation today taxing carbon emissions, in the shadow of the largely symbolic but far higher profile debate about the Green New Deal, Axios' Amy Harder reports.
The big picture: The bill, sponsored by Sens. Sheldon Whitehouse and Brian Schatz, is the latest in a series of broad bills springing up in Congress.
The moves signal lawmakers' hopes that Congress will take up big climate legislation within a few years after a decade of inaction.
Driving the news: Several bills are in the mix. Some of these were introduced for the first time last Congress.
The Whitehouse and Schatz bill is similar to the one they introduced last Congress, which divided the money raised to the public and to other purposes. This bill would achieve more reductions in carbon emissions than the last version.
Republican Rep. Brian Fitzpatrick is going to re-introduce his own version of a carbon tax bill that he proposed last Congress alongside then-Rep. Carlos Curbelo, who lost his re-election bid in Florida.
Democratic Sen. Tina Smith is crafting a clean energy standard bill, per her office.
A bipartisan group of House members re-introduced another version of a carbon tax bill in January. This bill returns the money raised from the tax to the public.
But, but, but: None of these bills are likely to become law anytime soon given Republican political leaders, including Trump, dismiss the issue, and they're controlling much of Washington right now.
5. Fed nominee Moore: Climate isn't our thing
E&E News briefly caught up with Stephen Moore, Trump's pick for the Federal Reserve Board, to ask about what the Fed's climate role should be. His basic view? There isn't one.
Why it matters: Moore's comments come as Democrats are pressing the Fed to weave climate risks into its oversight. But Moore, if indeed confirmed, could present more hurdles.
What he said: "The Fed's job is to keep prices stable; that's all it is. It's not to get involved in political and policy issues," Moore told E&E's Scott Waldman.
The intrigue: Moore's view isn't unanimous within the Fed. Glenn Rudebusch, an EVP at the San Francisco Fed, argued in a paper last month that climate is becoming increasingly relevant for monetary policy.
It was the first clear indication in an official Fed release that the central bank is watching and preparing for the potential of major financial disruptions from climate change, Axios' Dion Rabouin wrote at the time.
But Rudebusch doesn't make policy. And Fed Chairman Jerome Powell didn't go nearly that far in testimony before the Senate Banking Committee in late February.
"We don't formally take climate change into account in our risks, but I think that the consequences are things that we do supervise for," he said, citing financial institutions' exposure to natural disasters.
What's next: I'm waiting for the Fed response to a January letter from Democratic senators seeking details about how it assesses the topic. They asked for information by mid-February, but it hasn't arrived yet, according to an aide to Schatz, who led the effort.