Happy Friday! So this is cool: Axios is launching the Future of Work newsletter on Sunday. Steve LeVine is writing about robotics, artificial intelligence, and the ricochet in jobs, blight of cities, the anti-establishment political wave, and more. You can sign up here. And our Future of Work stream went live this morning.
Needless to say there's a lot going on, so let's dive right in . . .
https://www.axios.com/newsletters/axios-generate-5a246f4d-75be-4553-a1c1-e3d686b03517.html?chunk=0#story0
The new push to make climate matter in elections
What's next: Several Democrats and climate activists furious with President Trump's Paris decision quickly said they'll use the topic to make their party's case in future elections.
Brian Deese, a top White House climate aide under Obama, noted the multi-year timeline for bailing on Paris means the earliest Trump can complete the exit is almost exactly when the 2020 election occurs.
"Paris will be on the ballot," Deese said on Twitter. Veteran political analyst Stuart Rothenberg tweets: "Trump has just elevated 'the environment' as a political issue in 2018 and 2020. And that definitely is not to his or the GOP's advantage."
Reality check: Climate change has not historically been close to a top-tier issue in national elections, and annual surveys by the highly regarded Pew Research Center consistently show that it's not high on the list of concerns for the overall electorate.
However, polling generally shows support for emissions-restricting policies and a recent survey found strong support for staying the Paris deal specifically (albeit with a question asked on pretty favorable terms).
Quick take: It's worth noting that a suite of popular, high-profile consumer brands like Apple and Nike have bashed Trump's decision. If these companies stay noisy, and that's a big if, it could help keep the topic at the forefront.
https://www.axios.com/newsletters/axios-generate-5a246f4d-75be-4553-a1c1-e3d686b03517.html?chunk=1#story1
Paris takeaways, part 1
Here's a mix of links and thoughts about Trump's Paris decision from my Axios colleagues and elsewhere...
Behind the scenes: Mike Allen and Jonathan Swan have an inside look at the White House decision-making, including that, in retrospect, the "debate" was mostly a charade.
Ricochet: Trump's announcement brought a suite of pledges by states (including a new alliance of governors from California, New York, and Washington) and others to move ahead with climate policies.
"Representatives of American cities, states and companies are preparing to submit a plan to the United Nations pledging to meet the United States' greenhouse gas emissions targets under the Paris climate accord," the New York Times
says
.
Tech's dismay: Ina Fried reports on Apple CEO Tim Cook's disappointment, while David McCabe writes that the Paris exit widens the overall split between the White House and Silicon Valley. Oh, and Elon Musk is indeed dumping Trump.
Yeah, no: Heads of state from Germany, France, and Italy rebuffed Trump's call to "renegotiate" the Paris deal, calling the existing pact a "vital instrument for our planet, societies, and economies."
But White House officials insist there's indeed an appetite for talks about changing the agreement.
https://www.axios.com/newsletters/axios-generate-5a246f4d-75be-4553-a1c1-e3d686b03517.html?chunk=2#story2
Paris takeaways, part 2
Trade and energy: A wide-ranging note from the consulting firm ClearView Energy Partners makes several key points about the repercussions (or lack thereof) of Trump's decision.
While the decision could "potentially rekindle E.U. enthusiasm to externalize its price on carbon," ClearView doesn't see much appetite over the next few years for other countries imposing carbon "border taxes" that some have argued could emerge.
That said, the decision "further intensifies intermediate-term trade risk to the energy sector" in areas like steel and biofuels, partly due to the "nationalist" tenor of the overall White House event announcing the decision.
The void: The Brookings Institution's Samantha Gross, as part of a collection of expert opinions on the fallout, notes that the U.S. had previously been a major force in pushing for transparency and verification of nations' emissions pledges.Now U.S. leadership will be "sorely missed," she said, as the measurement and reporting portions of the Paris deal are crafted and put into place between now and 2020.Asia: Wood Mackenzie analyst Frank Yu sees a big opportunity for China to up its role in global climate policy and markets. He sees not only a boost in cooperation between Europe and China but also the prospect of:
U.S. companies relocating renewable tech R&D centers to Asia.
"With less renewable investment opportunities in America, Asia could get more attention from green capital funds."
https://www.axios.com/newsletters/axios-generate-5a246f4d-75be-4553-a1c1-e3d686b03517.html?chunk=3#story3
From Amy's notebook: what Paris means to Trump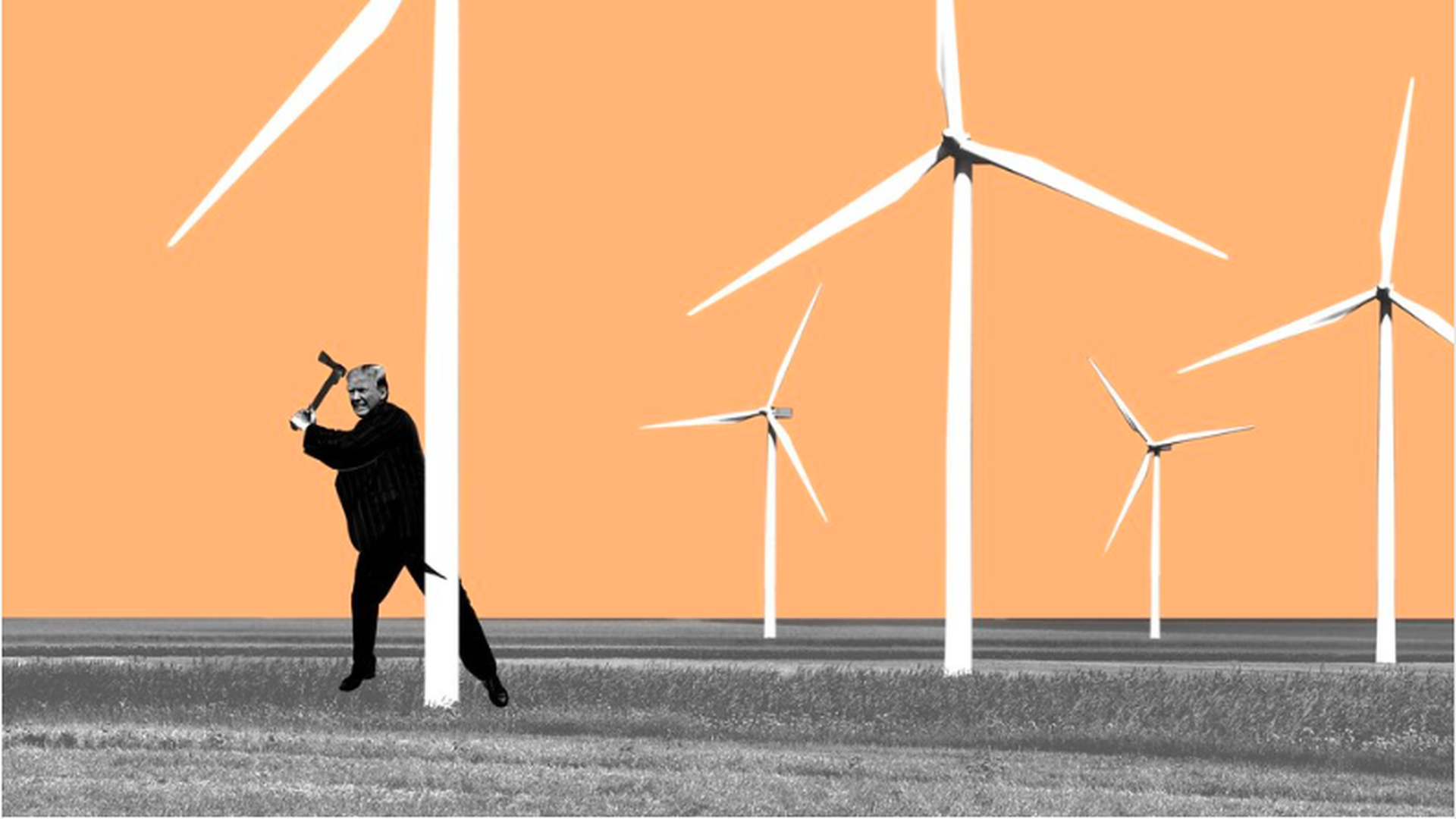 My Axios colleague Amy Harder has this dispatch from the White House moves yesterday...
The most revealing moment of Trump's announcement that he is withdrawing from the Paris climate deal came in an off-hand response of a White House official after Trump's speech. Asked whether Trump thinks climate change is real, the official said: "Can we stay on topic?"
Why this matters: To the Trump administration, the Paris climate deal has nothing to do with climate change. It's an economic issue. To Trump, withdrawing from the accord represents a triumph of populist America over greedy globalism.
https://www.axios.com/newsletters/axios-generate-5a246f4d-75be-4553-a1c1-e3d686b03517.html?chunk=4#story4
State Dept. sidelined in Trump's climate show
Out of sight: You'd never know from yesterday's White House events that it's the State Department on the front lines of global climate diplomacy. At least historically.
Secretary of State Rex Tillerson and his department offered no comment — nothing — in response to the decision to pull out of Paris or on Trump's claim that the U.S. hopes to negotiate an altered deal.
It's a sharp contrast to John Kerry's highly public role as President Obama's top global climate diplomat when he was secretary of State.
Why it matters: The State Department's silence in contrast to EPA administrator Scott Pruitt's high-profile role in the Paris decision suggest a fundamental realignment of internal power centers when it comes to the (now declining) U.S. role on the global climate stage.
Tillerson was in the "remain" camp in the internal administration debate on the Paris accord. Pruitt, meanwhile, was a vocal proponent of exiting. Pruitt spoke after Trump in the Rose Garden, and, as Jonathan Swan has reported, he worked directly with the White House on the withdrawal effort.
Good soldier: Another advocate of remaining in the agreement, Energy secretary Rick Perry, nonetheless praised Trump's move in a prepared statement, saying he "fully" backs it. To be sure, Perry's canned statement offered a more full-throated endorsement of low-carbon energy than the Rose Garden speeches by Trump or Pruitt.
https://www.axios.com/newsletters/axios-generate-5a246f4d-75be-4553-a1c1-e3d686b03517.html?chunk=5#story5
Solar notes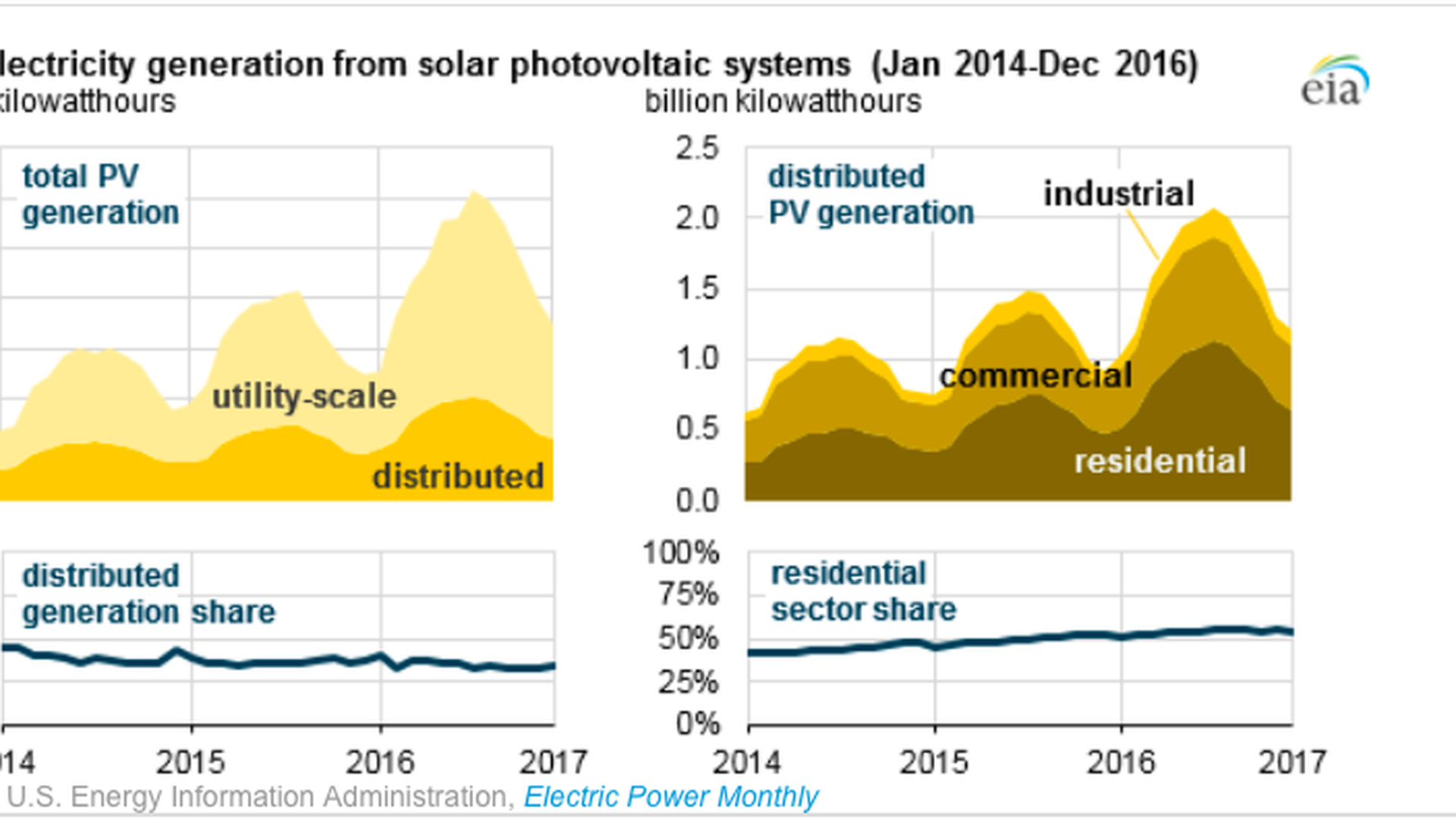 Big picture: The Energy Information Administration published a useful summary and graphical breakdown (above) of the types of solar power systems in the U.S.
Markets: Bloomberg New Energy Finance is out with a forecast that the growth of the U.S. residential market is slated to contract slightly this year after at least 16 straight years of growth. Reasons for the slowdown include:
A consumer shift toward purchasing rooftop systems from no-money-down leases that have been a "significant" growth driver.
The multi-year extension of tax credits in late 2015 means consumers face less "urgency."
Trade:
The Interchange, one of Greentech Media's podcasts, has a
deep dive
into Suniva's controversial petition to the Trump administration for major new tariffs on solar cells and floor prices under imported solar modules.
https://www.axios.com/newsletters/axios-generate-5a246f4d-75be-4553-a1c1-e3d686b03517.html?chunk=6#story6
Ethanol pressure on EPA
Some more news from Amy, this time on biofuels. Take it away...
Delaware's Democratic governor is urging the Trump administration to make changes to a contentious ethanol mandate that a handful of refineries in the region are struggling to comply with.
Why it matters: The letter, dated May 25 and first reported on by Axios, is the latest sign of how a wonky debate about the federal government's ethanol policy is getting into more mainstream politics.
The details: In his letter, Gov. John Carney writes that the status quo requiring only refineries to comply with the mandate is hurting the industry in his state and could cause job losses. Right now, the EPA, which administers the mandate, requires refineries to show compliance with the mandate, but some companies — and now at least one Democratic governor — want EPA to broaden the category of companies across the oil transportation supply chain facing compliance.
Click here for the rest of the story.