Good morning, I hope to see many of you at our energy event happening this morning in D.C. What should our next event be about — and where should we hold it? Share your ideas with me at amy@axios.com.
In my latest Harder Line column, I connect the dots on one of the under-reported trends that accelerated this year. I'll share that, and then hand things back to Ben to get you up to speed on the rest of the news.
https://www.axios.com/newsletters/axios-generate-5973ad3c-9e60-4aca-b63a-83bcc66bdcf1.html?chunk=0#story0
Why big oil is slowly turning green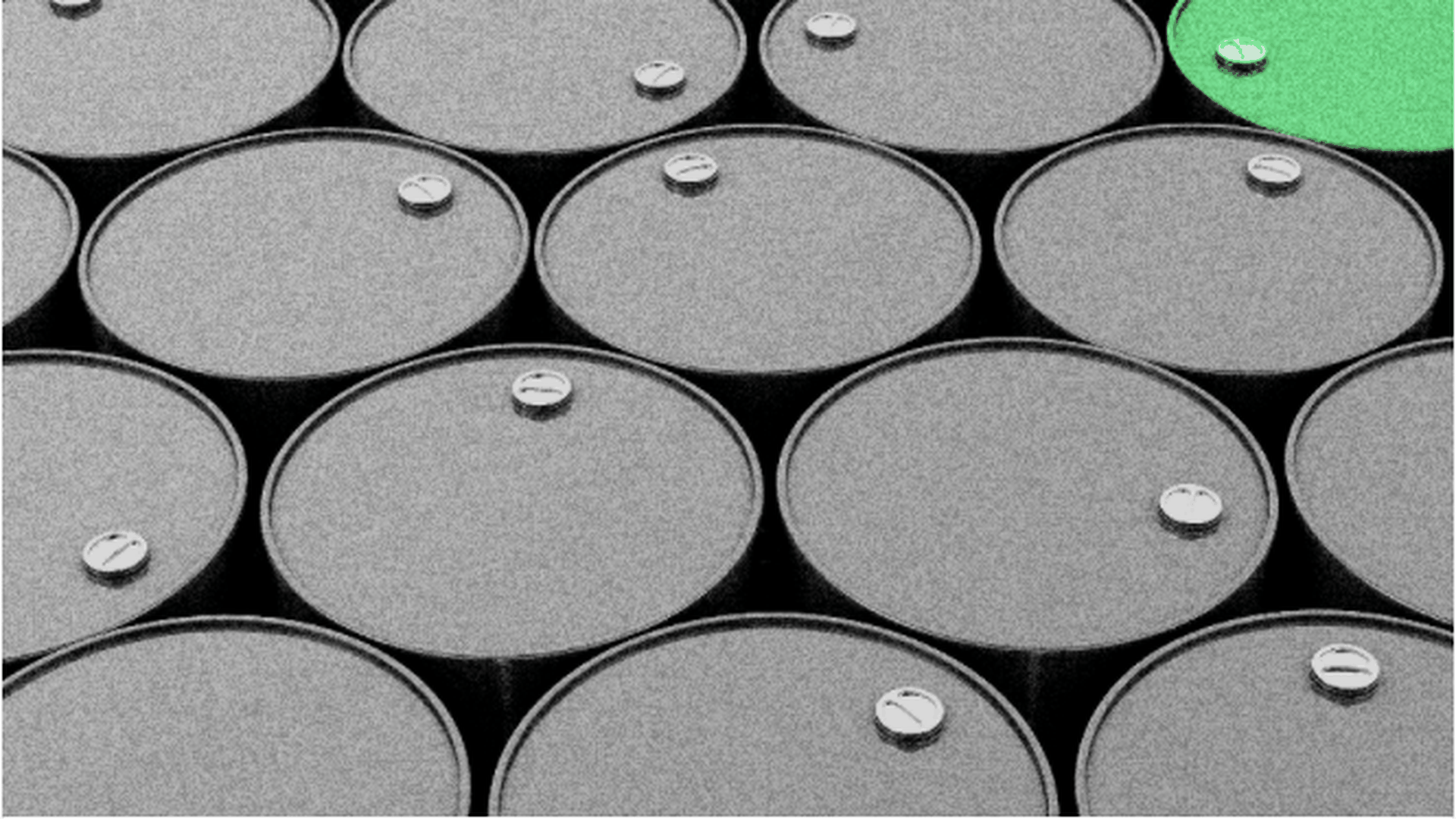 The world's biggest oil and natural gas companies are inching toward greener businesses, driven by a handful of market and policy trends.
Why it matters: The shift shows that global oil companies see cleaner energy technologies as sound investments, not merely greenwashing and public relation stunts. The changes, underway at most international oil producers and particularly pronounced among European firms, are happening even as President Trump's policies are heading in the other direction.
Read the rest in the Axios stream here.
https://www.axios.com/newsletters/axios-generate-5973ad3c-9e60-4aca-b63a-83bcc66bdcf1.html?chunk=1#story1
On my screen: Aramco, EV impact on commodities, Bears Ears
Good weekend read: The Financial Times has an in-depth feature about how Saudi Arabia and state oil giant Aramco are positioning themselves for the future — and some of the contradictions inherent in their approach.
The piece explores...
The growing investment in using oil for making high-value petrochemicals and Aramco's view that overall global crude oil consumption won't peak until at least 2040.
Plans for a massive IPO of 5% of the company's value as soon as next year, with revenues helping to fund the country's economic modernization and diversification away from reliance on crude revenues.
The tension inherent in using Aramco as the engine to support the transformation of the kingdom's crude oil-based economy.
One key line: Aramco CEO Amin Nasser's "portrayal of Saudi Aramco as an ally of economic diversification, rather than an obstacle, is critical to avoiding the impression that the company's planned stock market listing amounts to a fire-sale by a government desperate to reduce exposure to oil," the story states.
* * *
Not just lithium: This Wall Street Journal feature looks at what electric vehicles mean for demand for lithium — a key battery component — but also analyzes how their rise will alter the market for a wide range of commodities.
"As sales of electric vehicles ramp up, so will the need for a spectrum of metals that are used to make everything from batteries to wiring, some investors said," the paper reports, looking at materials including copper, nickel, manganese, vanadium and other materials.
Uranium: ICYMI, The Washington Post reported Friday that "A uranium company launched a concerted lobbying campaign to scale back Bears Ears National Monument, saying such action would give it easier access to the area's uranium deposits and help it operate a nearby processing mill."
https://www.axios.com/newsletters/axios-generate-5973ad3c-9e60-4aca-b63a-83bcc66bdcf1.html?chunk=2#story2
On our radar this week, part 1: oil markets and climate change
Oil markets: On Thursday the International Energy Agency will release its closely watched monthly oil report. It will be the Paris-based agency's first detailed comment on how it views the extension of the production-limiting agreement between OPEC and Russia.
Climate change, part 1: This week brings the fall meeting of the American Geophysical Union, a huge gathering of scientists and others that will be chock full of research presentations and discussions of climate change.
Climate change, part 2: Tomorrow in Paris, two years after the Paris climate deal, comes the One Planet Summit hosted by French President Emmanuel Macron, the UN and the World Bank.
It's designed to spur more public and private-sector climate finance support.
Go deeper: Via AFP, around 50 world leaders are slated to attend. President Trump, who is pulling the U.S. out of the Paris deal, was not invited. Elsewhere, World Bank President Jim Yong Kim chatted with reporters over the weekend about goals for the event, which The Washington Examiner summarizes here.
Focus on shipping: The publication Climate Home reported Friday afternoon that the summit declaration is expected to put new pressure on the shipping industry to curb its emissions.
Setting the table: Macron will be interviewed about the summit on "CBS Evening News" tonight.
Response to Trump: The Associated Press reports Monday that Macron is set to announce which U.S.-based climate scientists will receive multi-year grants to relocate to France. The French leader announced a competition for the grants shortly after Trump said the U.S. would leave the 2015 Paris agreement, AP notes.
https://www.axios.com/newsletters/axios-generate-5973ad3c-9e60-4aca-b63a-83bcc66bdcf1.html?chunk=3#story3
On our radar this week, part 2: Congress
Crunch time in tax battle: The formal House-Senate conference committee holds its first meeting Wednesday and the energy stakes are high. As my Axios colleague Mike Allen writes:
"This isn't where the actual decisions will be made — look for mostly just statements. But if there are major issues Republicans haven't solved by this point, this is where they could spill out into the open."
A few key battles to watch...
Renewables: The wind industry fears House provisions that cut the value of tax credits for wind energy projects. The broader renewables industry, meanwhile, is battling a Senate provision that seeks to prevent companies from avoiding taxes via payments to cross-border affiliates.
Renewables supporters say the provision would badly hinder financing for new wind and solar projects by effectively preventing multinational companies from monetizing the value of tax credits.
Arctic drilling: Provisions to open the Arctic National Wildlife Refuge to drilling appear to have enough support to become law.
Be smart: A weekend piece by veteran NYT's Carl Hulse unpacks why the ANWR push that fell short a decade ago is poised to succeed now.
Key reason: "[T]he ranks of Republicans willing to side with the conservation groups have been depleted in the years since drilling was last seriously considered. Most of those crucial to the 2005 victory have departed."
Electric cars: EV backers hope to beat back a House provision that would end consumer tax credits for electric vehicles purchases.
* * *
A few more of the many things on the busy congressional calendar...
Vehicle standards: On Tuesday a pair of House Energy and Commerce subcommittees will explore federal vehicle mileage and greenhouse gas standards, a hearing that arrives as EPA is weighing whether to weaken Obama-era rules for model years 2022–2025.
Nominees: Also Tuesday, the Senate Energy and Natural Resources Committee will vote on Linda Capuano to head the Energy Information Administration and Timothy Petty to be assistant secretary of the Interior for water and science.
NAFTA: On Wednesday a House Energy and Commerce subcommittee will look at North American energy trade. Look for lots of discussion of how gutting the North American Free Trade Agreement could harm cross-border energy networks and deliveries.
https://www.axios.com/newsletters/axios-generate-5973ad3c-9e60-4aca-b63a-83bcc66bdcf1.html?chunk=4#story4
One interesting thing: bike-sharing and global warming
Not all bad: A new paper uses a big, multi-year dataset from bike-sharing programs in North America to conclude that climate change could boost the wider outdoor recreation economy for warm-weather activities.
The study is by Resources For the Future fellow Casey Wichman and University of Massachusetts resource economics expert Nathan Chan. It's available via the RFF website here.
Bottom line for North America: The authors see economic gains of $900 million annually for cycling alone and $20.7 billion per year for outdoor recreation more broadly by 2060.
Why study bike-sharing? "[C]ycling shares common attributes with other forms of outdoor recreation, such as running, hiking, and swimming, which are all low-fixed-cost, everyday activities with benefits that depend on the pleasantness of weather conditions," the study notes.
Why it matters: "Despite extensive research detailing the effects of climate change on economic production, human health, and natural capital, we have relatively few causal estimates of climate change effects in other realms, especially nonmarket activities. In this paper, we help fill this gap by quantifying impacts for leisure," the paper states.
Yes, but: They're not saying global warming is a good thing. The authors note in a blog post that climate change will impose huge net costs on the U.S. and elsewhere, but add that their research can help with providing a full accounting for its many impacts.