October 24, 2018
Good morning!
D.C. readers: Tomorrow morning, Axios' Mike Allen will be discussing the state of election security leading up to midterm elections with Rep. Eric Swalwell, Sec. Jay Ashcroft and former Homeland Security Advisor Lisa Monaco. RSVP here.
Onto music. I really enjoyed this episode of the Heat Rocks podcast. It features the singer-songwriter Sidibe's insights about Joni Mitchell's 1974 album "Court and Spark," which provides today's intro tune...
1 big thing: Y Combinator's carbon-removal push...
The startup accelerator Y Combinator is looking to fund entrepreneurs and non-profit researchers working on "frontier technologies" for removing carbon dioxide from the atmosphere.
Why it matters: Y Combinator is among the most influential organizations in the startup world and has helped launch Dropbox, Airbnb and others.
Its new request for applications comes 2 weeks after a major UN science report concluded that carbon removal — not just a huge expansion of zero-carbon energy — will be needed to prevent the dire consequences of allowing warming beyond 1.5°C above pre-industrial levels.
Per YC's website:
"While these approaches are not our Plan A, we think it's time to get Plan B ready."
What they're doing: Among other approaches, YC is looking at 4 broad areas that they say deserve more attention and potential funding:
The use of genetically engineered ocean phytoplankton that sequesters CO2.
Electro-geochemistry, which would use renewable energy to power an electrochemical process that speeds up the earth's natural CO2 absorption in rock formations while also creating hydrogen.
Cell-free enzyme systems that "could fix carbon in perpetuity."
"Desert flooding" to create shallow reservoirs that could be used to grow carbon-absorbing phytoplankton while providing irrigation and freshwater nearby areas.
What's next: YC president Sam Altman tells me that ideally they would fund a "small handful" of companies next year.
He guesses the number will eventually be between 5 and 20 in order to have a "reasonable chance of success."
Under YC's model, they initially provide $150,000 to startups in return for a 7% equity stake, with additional financing possible.
The odds: Altman acknowledges that the chances of success are low, but while the ideas identified are very difficult, they do not seem "prevented by the laws of physics."
"These are very challenging ideas," Altman says. "But I do believe it is possible."
The request for startups on YC's site yesterday echoes that sentiment:
"It's time to invest and avidly pursue a new wave of technological solutions to this problem — including those that are risky, unproven, even unlikely to work."
2. ... and what they're saying about YC's move
The 4 approaches identified by YC have generally not gotten as much prior attention as other CO2 removal technologies, such as direct air capture and bio-energy with carbon capture and storage.
What they're saying: Noah Deich, executive director of the group Carbon180 (formerly the Center for Carbon Removal), offers a mix of praise and caution.
"This is very much outside of the mainstream of what carbon removal technologies are currently being developed," says Deich, whose group has focused on direct air capture, forest restoration and planting, and other methods.
He adds that diversity is good when it comes to exploring CO2 removal technologies.
But, but, but: Deich tells Axios that applying the venture capital model to large-scale strategies like those that YC is exploring bring risks of "externalities" — harms and costs that aren't borne by investors.
This means engagement with a wide group of researchers, communities and other stakeholders is key, he says. "It's important to have their voices heard from the beginning."
A piece in MIT Technology Review last night makes a similar point.
James Temple notes that support for CO2 removal research is important but wonders whether it "makes sense to create a for-profit venture that could face commercial pressures to deploy solutions before their environmental risks and benefits have been adequately explored."
I asked Altman about whether the venture model is appropriate here. "I don't think any private company should make the decision about what to deploy," he answers.
Instead, Altman says, the effort is about seeing whether private industry and researchers can find workable solutions, which would be followed by a wider "global debate" about whether to try and implement them.
While there are risks, he notes that "the path of doing nothing is high risk."
Between the lines: In a blog post yesterday, Altman notes that YC has funded clean energy companies and will continue doing so, but cites the UN report to argue that emissions-cutting is not enough.
Go deeper:
3. Tesla is under the microscope today
Tesla Motors will report its third-quarter financials this evening and CEO Elon Musk will speak with analysts.
Why it matters: Even by Tesla standards, this will be a closely watched set of numbers. Musk has pledged that the Silicon Valley automaker would become profitable and cash-flow positive in the second half of the year.
The company has only had 2 profitable quarters in its history.
The intrigue: Tesla surprisingly announced the Oct. 24 date for the quarterly earnings report just 2 days ago. Typically Tesla waits a full month after a quarter ends to report. Per LA Times...
"Speculation on social media ran wild, from bulls saying Tesla doesn't want stellar results to be drowned out by the midterm election, to bears saying the company has bad news and wants the earnings call over and done."
What they're saying: According to the Wall Street Journal, veteran Tesla analyst Michael Jonas of Morgan Stanley said in a note that the early reporting date is likely a good sign for the company. WSJ says Jones wrote...
"Game theory suggests the early/surprise reporting is good news."
"Tesla is at the most critical point in the ramp of its most important product (Model 3) and is arguably at the most critical point of its liquidity/access to capital since it has been a public company."
"Why would Tesla pull forward the introduction of adverse news into the market now?"
The impact: Tesla's share price climbed almost 13% yesterday and rose around 2% in pre-market trading.
4. Chart of the day: Iran sanctions effects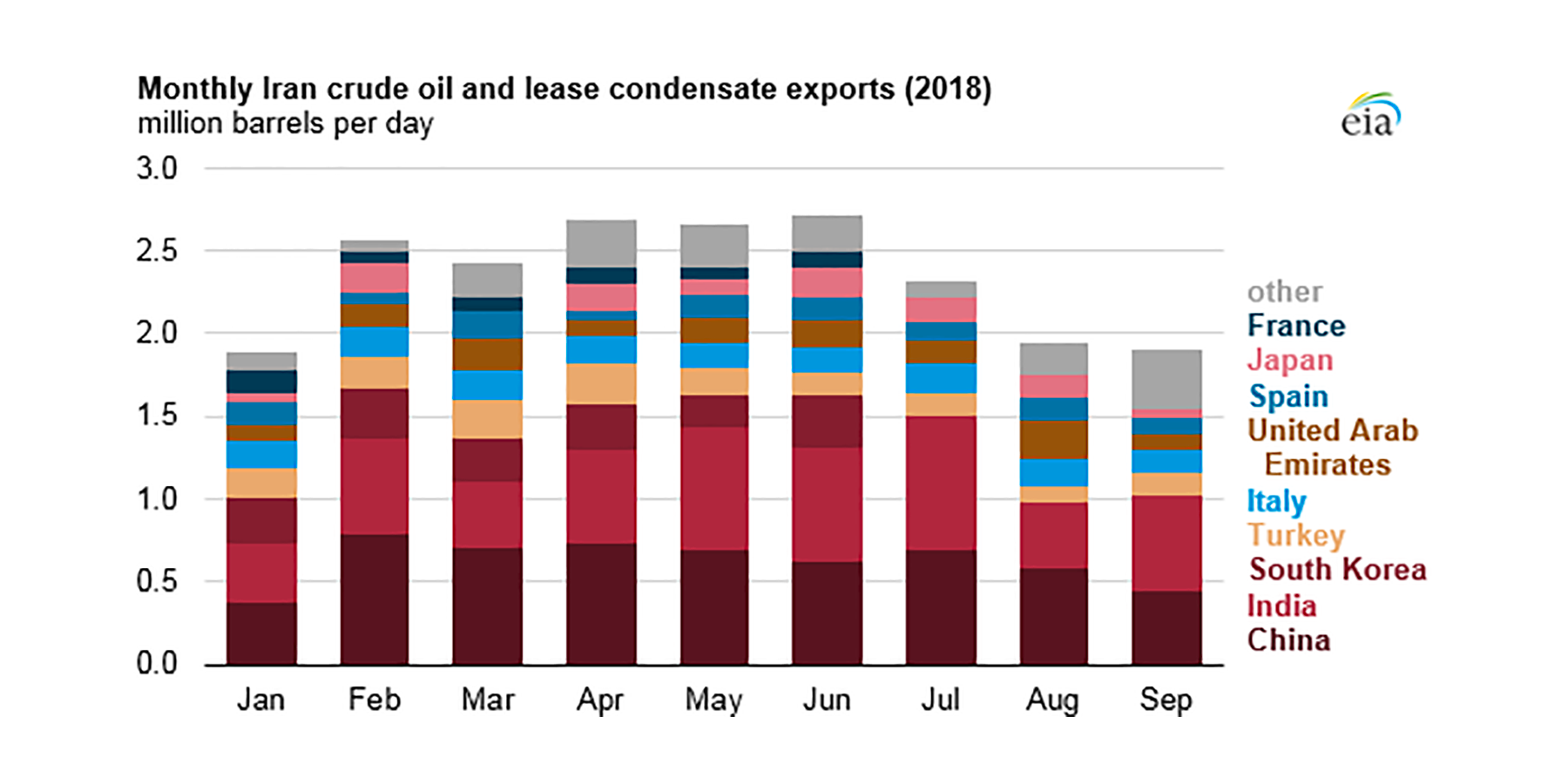 The chart above shows that Iran's oil exports fell from roughly 2.7 million barrels per day in June to roughly 1.9 million bpd last month.
Why it matters: The graphic via this brief Energy Information Administration report shows how some countries have been cutting purchases of Iranian crude ahead of formal reimposition of U.S. sanctions in early November.
Buyers in countries including France and South Korea have wound down their imports, while volumes flowing to India and to a lesser extent China have remained robust.
By the numbers: The report says...
"ClipperData indicates that China and India collectively received nearly half of Iran's crude oil and condensate exports in the first half of 2018."
"During this period, China's imports from Iran averaged 644,000 b/d and India's imports from Iran averaged 554,000 b/d. In September, China's imports from Iran dropped to 441,000 b/d, the second lowest level since December 2015, while India's imports from Iran were 576,000 b/d."
5. Petro news and notes
State of the market: Crude oil prices plummeted Tuesday after the Saudi oil minister offered reassurances on supplies, vowing to raise production as needed to "meet any demand that materializes."
Per MarketWatch, the global benchmark Brent crude tumbled by $3.39 per barrel in trading yesterday on the ICE Futures Europe Exchange for its lowest close since late August.
The latest: Brent crude was trading around $76 this morning.
The future: A short Wood Mackenzie note in my inbox this morning says the "global oil and gas development spend needs to increase by around 20% to meet future demand growth and ensure companies sustain production next decade."
By the numbers: The consultancy estimates that global industry investment to develop new supplies will grow 5% this year and reach slightly over $500 billion annually in the early 2020s.
But that's far below the levels in 2014 before the price crash, and about $100 billion shy of what's needed to met future demand through the next decade, they said.
LNG: Via Reuters, "Russia's Rosneft (ROSN.MM) and U.S. ExxonMobil (XOM.N) plan to build a liquefied natural gas (LNG) plant in a consortium with Indian and Japanese partners, spreading the estimated $15 billion cost, two sources familiar with the talks said."
6. Canada's carbon tax move
Canadian Prime Minister Justin Trudeau is vowing to implement a federal carbon tax in 4 provinces that haven't imposed their own CO2 pricing system: Ontario, New Brunswick, Manitoba and Saskatchewan.
Why it matters: The move is part of the expansion of carbon pricing worldwide, which the World Bank documents in this report showing that existing or planned trading or tax systems cover about a fifth of global greenhouse gas (GHG) emissions.
But, but, but: Despite that growing coverage, recent analyses by the OECD and the consultancy IHS Markit show that prices are generally too low to spur substantial emissions cuts — a dynamic we looked at here.
Heading back to Canada's plan, the pricing system for large industrial emitters begins in January, while a fuel charge will begin in April, according to the announcement.
By the numbers: The charge on gasoline and other fuels will begin at $20 Canadian dollars per ton and rise annually to reach $50 in 2022. Bloomberg breaks it down...
"The fuel surcharge alone will raise about C$2.3 billion ($1.8 billion) in revenue next year, rising to C$5.6 billion by 2022-2023," they report, adding "Much of the revenue will be sent out as benefits to individuals."
"The average household cost of the plan will range from C$202 to C$403 annually starting in 2019, depending on the province, while the average household rebate will range from C$248 to C$598," their piece states.
Go deeper: Most families will get rebates from new carbon tax, Trudeau says (The Globe and Mail)
7. 1 fun thing: A greener world series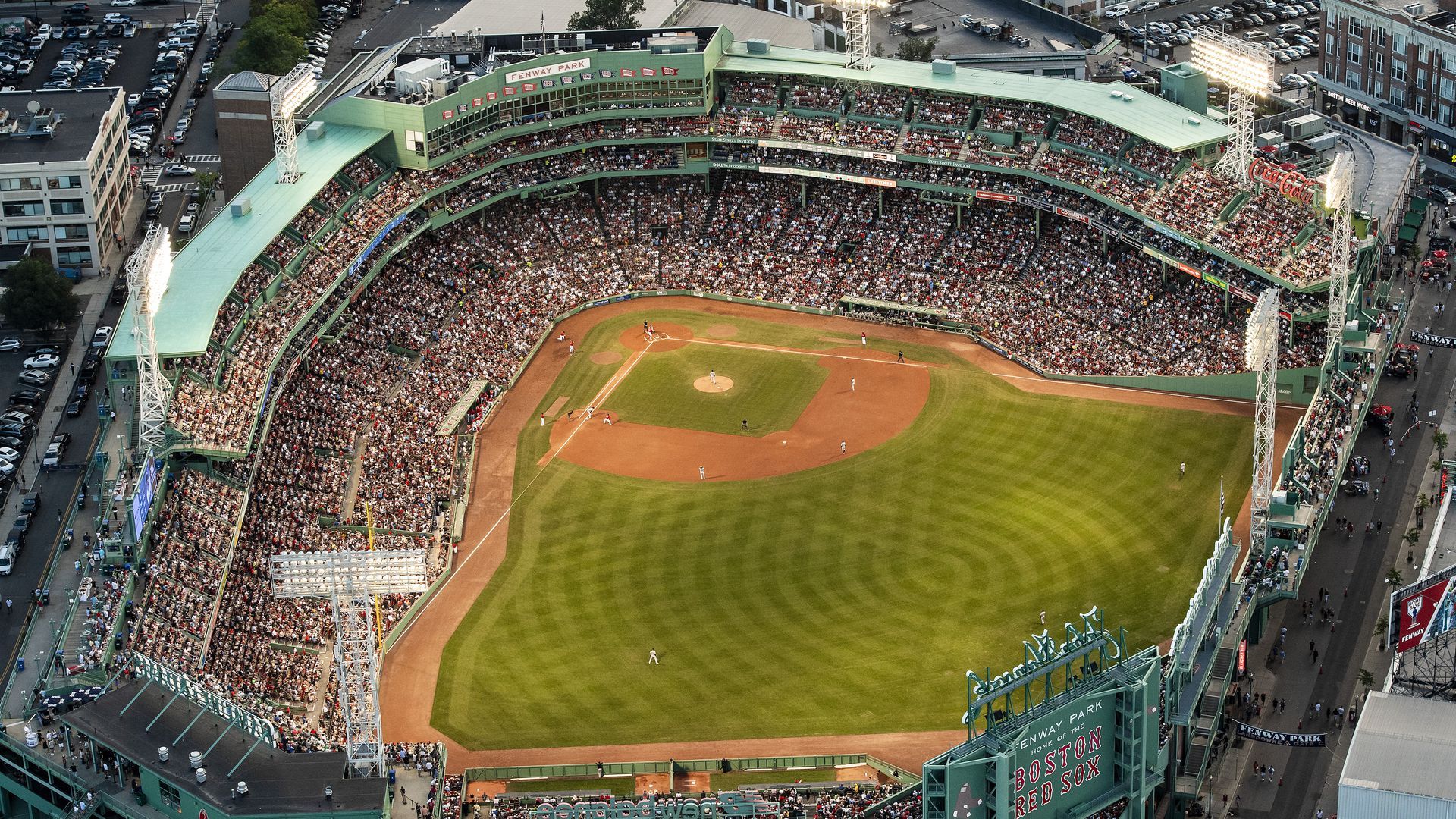 Axios Expert Voices contributor Maggie Teliska looks at the energy usage of Boston's Fenway Park — where the Red Sox last night beat the Dodgers in game 1 of the World Series.
Despite the age of the park, which was opened in 1912, Fenway ranks among the top 10 energy-efficient baseball stadiums in the U.S.
Why it matters: In 2008, Fenway became the first major league sports arena in the U.S. to install and use thermal solar panels, which replaced gas to heat the stadium's water. Combined with over 20 other initiatives, including LED retrofits, Fenway's efforts have resulted in a 12% reduction in total energy consumption since 2014.  
The background: Major League Baseball stadiums can use up to 30 million kilowatt hours in one season, enough to power over 3,000 U.S. homes in a year. The MLB actively encourages the clubs to commit to renewable practices, and was the first professional sports league to enroll all of its members in the Green Sports Alliance, an organization that promotes sustainability in sports. 
What's new: Last year the Red Sox announced that they would offset 100% of Fenway's electricity use for the next 2 years by purchasing renewable energy certificates (RECs). 
How it works: For every 1 megawatt hour of stadium energy use, Fenway purchases one REC, which represents 1 megawatt hour of renewable energy, such as solar or wind, generated and sent to the power grid. According to the announcement on MLB, 2 years of Fenway's electricity use amounts to displacing the GHG emissions of over 4,749 vehicles driven for 2 years.
What to watch: Expect more MLB stadiums to follow suit in buying RECs to offset their electricity usage.