November 13, 2019
Good morning. Today's Smart Brevity count: 1,301 words, 5 minutes.
And at this moment in 1973, Gladys Knight and The Pips had just ended a run atop the Billboard charts with today's classic intro tune...
1 big thing: A world off track on climate change
The holidays arrived early if you're looking for something to read that's very sobering and over 800 pages long: the International Energy Agency's new World Energy Outlook 2019.
Why it matters: It finds that existing and announced policies worldwide won't come close to reining in carbon emissions, despite the strong growth of climate-friendly energy sources.
What they did: The annual report models three scenarios for the long-term future of energy demand and the fuels and technologies used to meet it. They are...
Existing policies.
The combination of current policies and announced plans.
A "sustainable" pathway consistent with the Paris Agreement goal of holding temperature rise well under 2°C.
What they found: Even under nations' announced policy ambitions, energy demand is projected to rise by roughly 1% annually until 2040 (the end of the modeled period).
Under that pathway, emissions growth slows but does not peak, instead rising roughly 100 million tonnes annually from 2018 and 2040.
That's a far cry from the deep cuts needed to meet the Paris goals, a benchmark for avoiding some of the most damaging climatic changes.
The big picture: Under the "announced and current policies" scenario, low-carbon sources — notably solar and wind — are surging. Renewables are the biggest electricity source by 2030.
Use of natural gas rises significantly too, while coal demand in 2040 is slightly below today's levels.
Global oil demand grows but "flattens out" in the 2030s. In 2040, demand is roughly 106 million barrels per day.
Oil use in passenger cars peaks in the late 2020s, but that's offset by rising demand for oil in the petrochemical and other sectors.
Overall, fossil fuels would still have a 74% share of the global energy mix in 2040.
The bottom line: IEA boss Fatih Birol urges emphasis on deploying new technologies and bringing about efficiency gains consistent with the Paris-aligned scenario.
"The world urgently needs to put a laser-like focus on bringing down global emissions," he said.
"This calls for a grand coalition encompassing governments, investors, companies and everyone else who is committed to tackling climate change."
Meanwhile, as these big reports are kind of a choose-your-own-adventure, there's also plenty to write about on its oil-and-gas market findings.
IEA notes that while the U.S. shale surge is slowing, they see the U.S. accounting for a whopping 85% of the increase in global oil production between now and 2030, and 30% of the gas output increase.
This all bolsters the U.S. export stature, IEA said, while noting: "By 2025, total U.S. shale output ... overtakes total oil and gas production from Russia."
Go deeper:
Bonus 1: Comparing subsidies to carbon pricing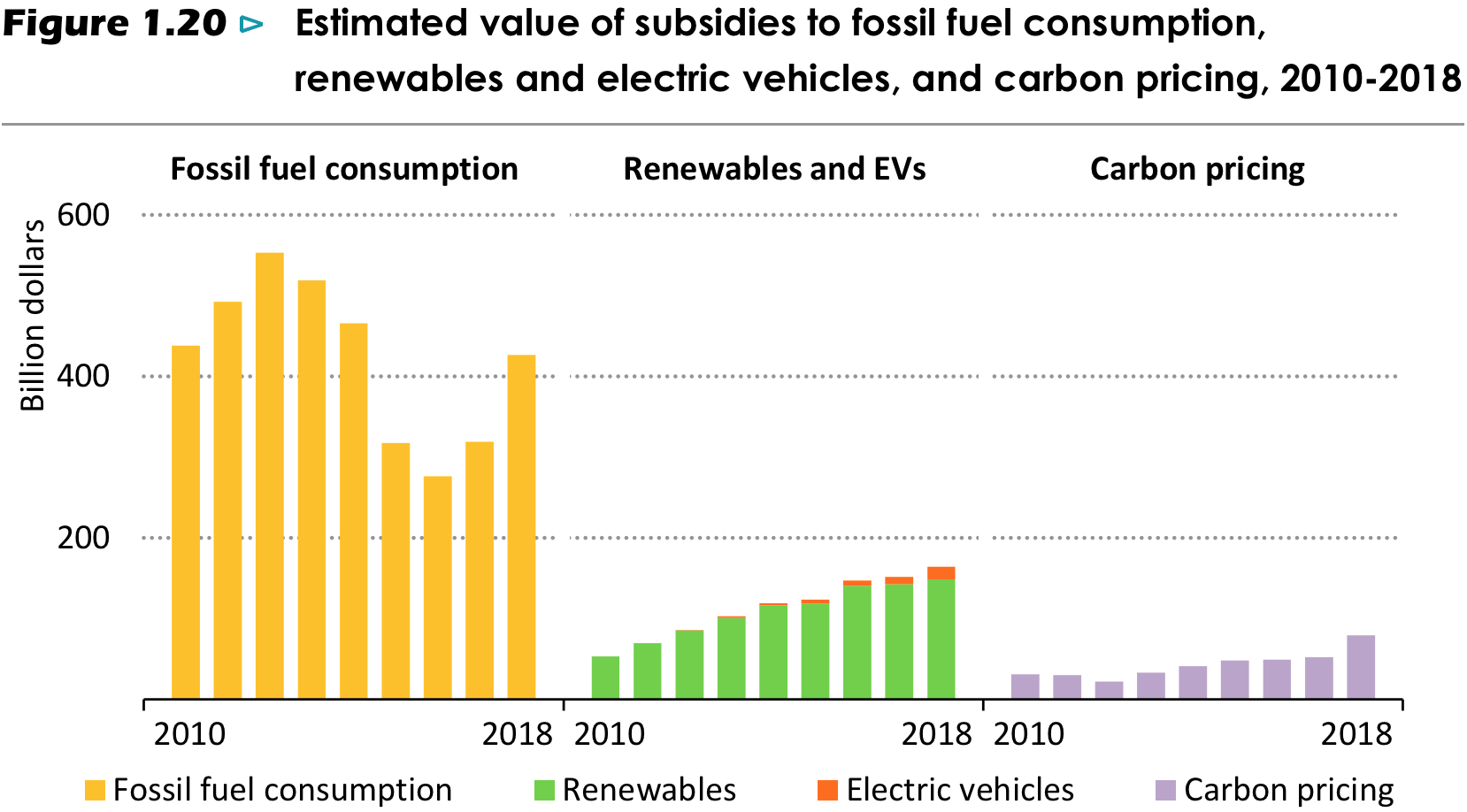 Here's another part of the IEA report that jumped out at me...
What they found: The amount paid in fossil fuel consumption subsidies worldwide is far above subsidies for renewables, and is massive compared to revenues from carbon pricing systems.
Why it matters: "This imbalance greatly complicates the task of achieving an early peak in emissions," the report states.
Bonus 2: Why young coal plants matter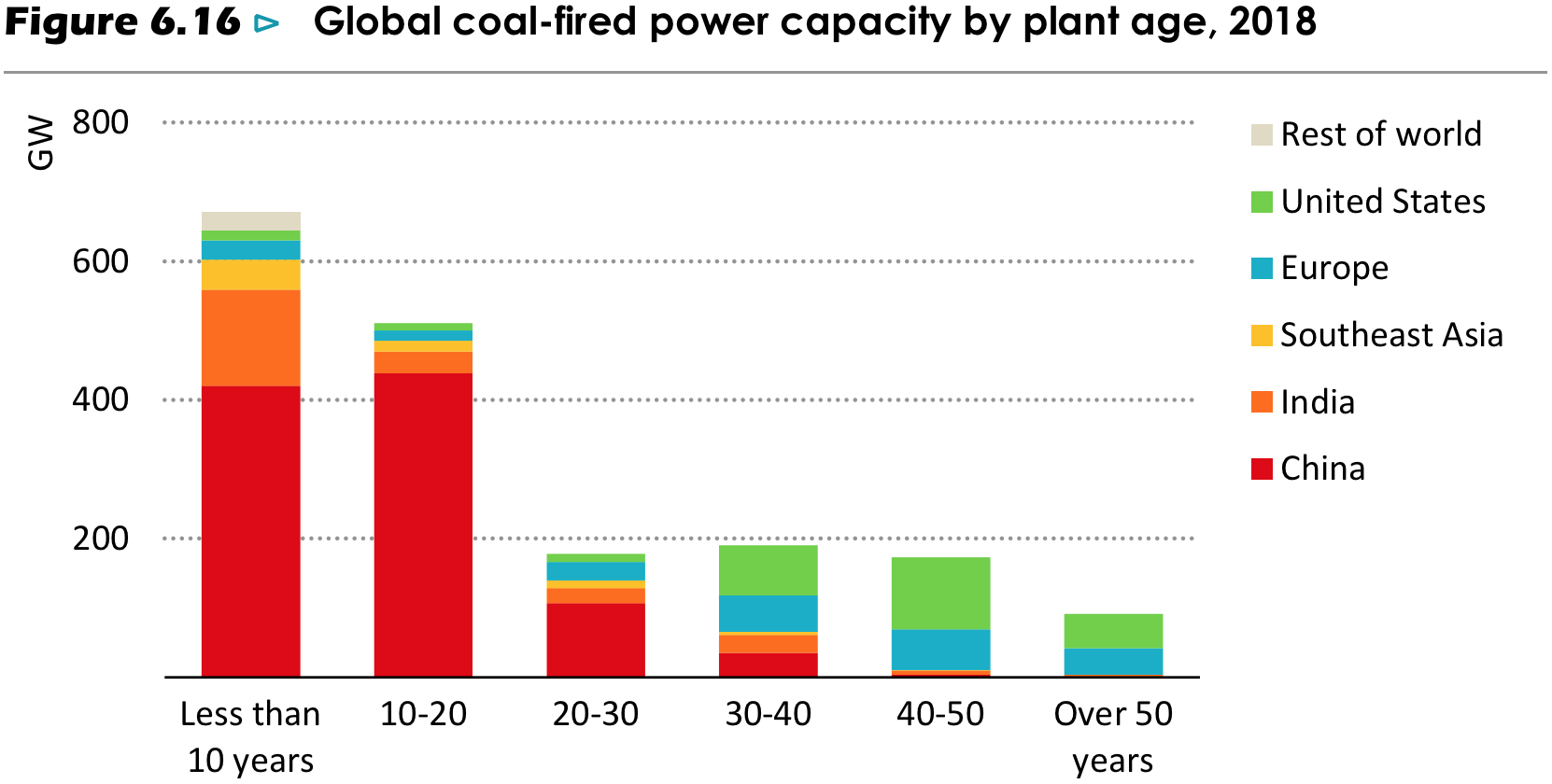 Another challenge on the climate front via IEA: Almost 60% of the world's fleet of coal-fired power plants is 20 years old or less.
Why it matters: The report notes that coal plants typically are designed to run for around 50 years, and coal is the most carbon-intensive fuel to burn.
It's a sticky problem because IEA notes that simply imposing strict limits on plants' lifespans "would not be practical for reasons of cost and energy security."
They propose a basket of approaches that combines early retirements, retrofitting with carbon-capture, reducing operations and more.
2. What's new in carbon tax advocacy
In separate but similar efforts this week, a corporate lobbying campaign and a grassroots interest group are both calling on Washington to pass a carbon tax, Axios' Amy Harder reports.
Driving the news: Americans for Carbon Dividends, an industry-backed lobbying group, is launching a six-figure advertising campaign Wednesday promoting a carbon tax whose proceeds are returned to consumers.
Separately, nearly 1,000 advocates with Citizens' Climate Lobby were on Capitol Hill yesterday pushing a similar policy.
Reality check: Congress is unlikely to pass such a proposal anytime soon. Nearly all Republicans, both on Capitol Hill and in the White House, are opposed to a carbon tax — at least publicly. Meanwhile, the most vocal Democrats, including those running for president, want more aggressive policies than a tax.
Where it stands: Americans for Carbon Dividends, which has funding from big corporations including ExxonMobil and ConocoPhillips, is launching the first part of what it says will be a long-running advertising campaign.
It's starting as a digital-media advertising campaign in Washington, D.C., according to spokesman Ted Halstead, but will eventually spread outside the beltway.
Outlets include Fox News, the Wall Street Journal, the Washington Post and social media platforms like Facebook and Twitter.
The group also launched a new website.
What I'm watching: Halstead expects bipartisan legislation on his group's proposal in both chambers by sometime next year (a similar policy has already been introduced in the House).
3. Tesla's European adventure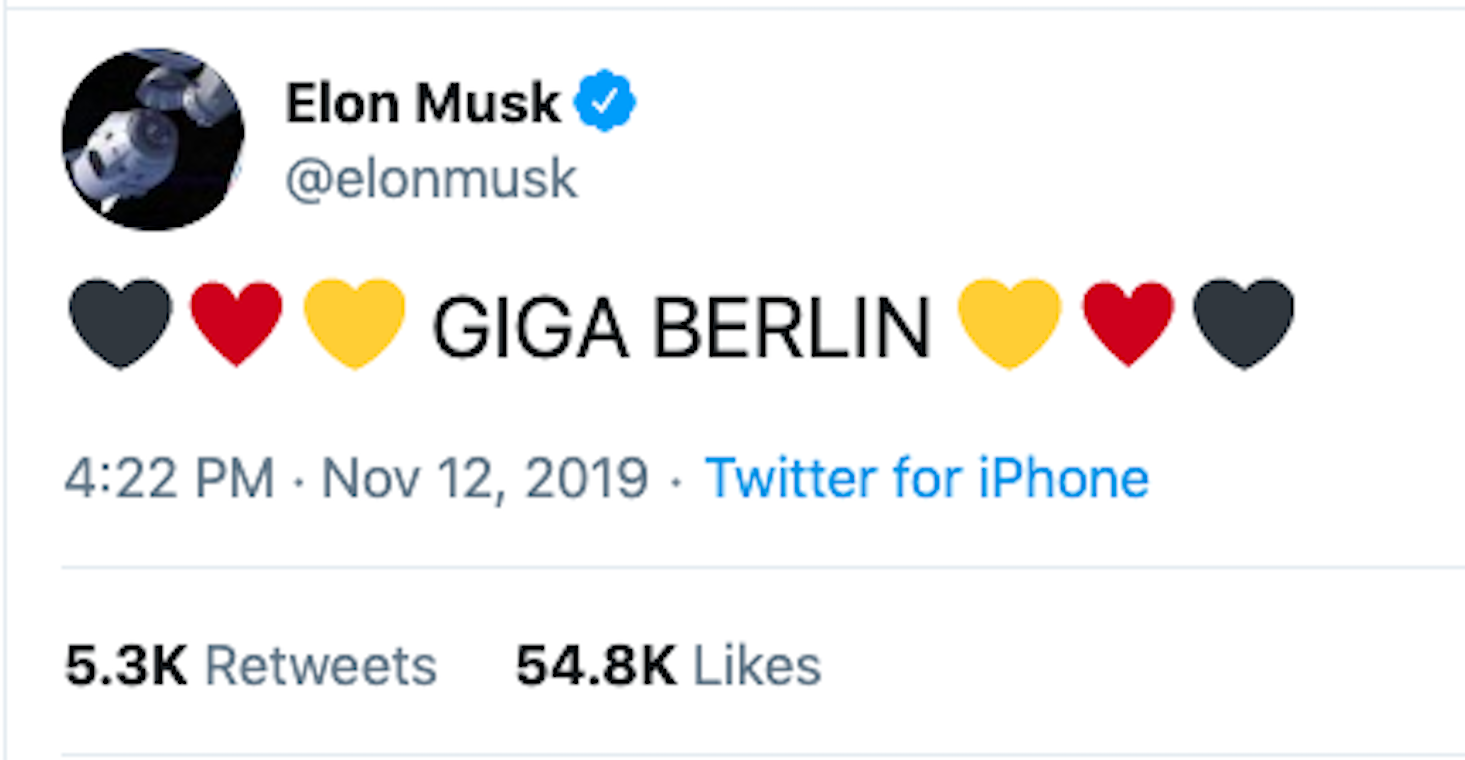 Tesla CEO Elon Musk announced yesterday that the electric automaker's planned European factory will be located near Berlin, Germany.
Driving the news: It marks the Silicon Valley electric automaker's second international plant, joining a recently launched facility in China.
Musk said the plant would build batteries, powertrains and cars, starting with the planned Model Y, a small SUV.
The company hopes to have the plant running in 2021, according to multiple reports.
Why it matters: Tesla will "compete with some of the world's biggest auto makers on their home turf," the WSJ notes.
"The move takes the great electric car race to Volkswagen's backyard," CNN writes, noting VW's heavy investments in EVs.
What they're saying: "It's strategic to lure German automotive talent to Tesla, and it's a statement that Elon wants to one-up auto companies from that region," Gene Munster of the VC firm Loup Ventures tells Bloomberg.
4. The trouble with big power's net-zero pledges
S&P Global Market Intelligence has a great look at big power companies' pledges to reach net-zero emissions or 100% zero-carbon generation by 2050.
Why it matters: Electricity giants like Duke Energy, Xcel Energy, PSEG and others have made high-profile climate pledges.
But, but, but: As the story notes, the companies don't really know how they'll get all the way there.
The big picture: "Instead, they say crossing the finish line will require significant future advances in, and a massive scaling up of, technologies such as carbon capture and sequestration, advanced nuclear reactors and battery storage — primarily with the help of the federal government — plus yet-to-be-defined emissions offsets for any remaining natural gas plants."
5. PG&E notes: ownership, microgrids, beer
A few things caught my eye about the embattled, bankrupt utility at the center of California's power and wildfire crisis...
The big picture: UC Berkeley professor Severin Borenstein looks at the pros and cons of recent calls to radically transform PG&E's ownership structure.
"What's clear to me is that converting PG&E to a public or cooperatively-owned utility would not be the silver bullet that creates a more efficient, reliable and safety-oriented electricity provider for Northern California," he concludes in the blog post for the school's Energy Institute at Haas.
"It would at best be just the beginning of a long road to re-invent the utility," he adds.
Where it stands: Via Bloomberg, PG&E is "trying to offer $13.5 billion in compensation to the victims of wildfires sparked by its power lines as part of a restructuring plan, according to people with knowledge of the situation."
The story notes that it's the same amount that a group of creditors has agreed to pay in a rival reorganization proposal.
The beer angle: Via San Francisco's KCBS Radio, "A Santa Rosa brewery has apologized after launching a beer with a name that used an obscenity to criticize Pacific Gas & Electric."
"Shady Oak Barrel House faced a cavalcade of criticism after announcing the debut of  its "F*** PG&E" pale ale on Nov. 6," they report.