Axios Generate
January 17, 2020
Happy Friday! Today's Smart Brevity count: 1,225 words, < 5 minutes.
We'll be off Monday in honor of Martin Luther King Jr. Day, so look for Generate again on Tuesday.
🎵 And Monday will mark 45 years since Bob Dylan released "Blood On The Tracks," so a track from that masterpiece is today's intro tune...
1 big thing: Microsoft's split screen on climate policy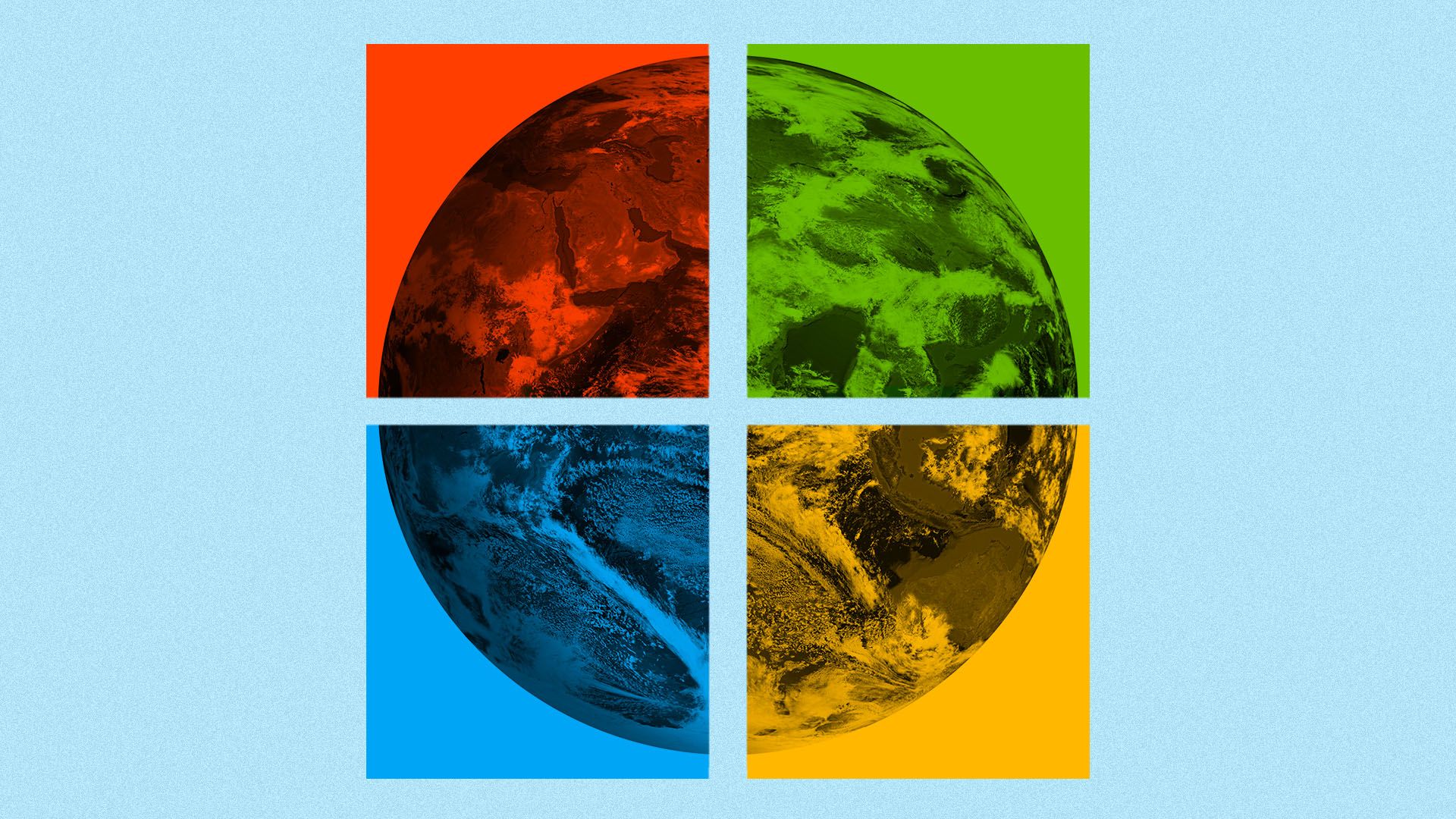 Microsoft is pushing aggressive goals to tackle climate change while simultaneously supporting House Republicans' more modest efforts on the matter, Axios' Amy Harder reports.
Driving the news: On Thursday, Microsoft announced its new pledge to become carbon negative in 10 years, while earlier in the week its president, Brad Smith, expressed support for House Republicans' far narrower efforts on climate.
Why it matters: These two developments reflect a common split-screen dynamic playing out across America.
Many corporate leaders are promising aggressive action on climate change within their own firms while taking far more conciliatory tones when it comes to what, if anything, they want lawmakers on Capitol Hill to do.
The intrigue: House Minority Leader Kevin McCarthy (R-Calif.) hosted a meeting Thursday where more than a hundred Republican members discussed policies the party could present as a way to address climate change.
This focus, which marks a shift away from denying or ignoring the problem over the last decade, comes as voters — especially younger ones — are more concerned about the matter.
Policies Republicans are discussing include expediting small modular nuclear power and expanding tax credits for carbon capture technology — but no comprehensive proposals, such as a price on carbon dioxide emissions.
McCarthy said he shared some of the ideas with Smith in a phone call earlier this week.
A Microsoft spokesperson confirmed the call and the overall sentiment of it.
What they're saying: "[Microsoft] said, 'We want to help you with that. We want to be a part of that,'" McCarthy told Axios Thursday in an interview. "The basis was, they said, 'We like your approach because you're basing it on science, technology and it's really looking at the problem and solving it.'"
Between the lines: Microsoft has been vocal about its support for aggressive action on climate change. This includes recently doubling its internal price on CO2 and joining a group that supports a carbon price in Congress.
However, it's not funding a related campaign, American for Carbon Dividends, which is directly lobbying Congress on the policy.
McCarthy reiterated his long-standing opposition to a carbon tax in the interview Thursday.
What's next: House Republicans are looking to unveil a package of related legislation in the spring.
Bonus: Details of Microsoft's big pledge
Microsoft's promise to remove more carbon from the atmosphere than it produces by 2030 — the strongest among tech giants — is particularly interesting because it won't just apply to its direct operations and energy supplies.
It also covers the far larger carbon output from the use of its products in the economy and other indirect emissions.
Catch up fast: Microsoft also said that by 2050, it will remove from the atmosphere all the CO2 it has spewed directly or via power consumption since its 1975 founding.
It's creating a $1 billion fund to "accelerate the global development of carbon reduction, capture, and removal technologies."
Microsoft is expanding its internal carbon tax to apply to its supply and value chains, not just emissions from its direct operations.
The big picture: It's the latest and biggest example of companies' climate plans expanding to invest directly in carbon removal, or negative emissions, technologies.
A few other companies, including e-commerce platform Shopify and the payment tech company Stripe announced plans last year.
Carbon removal methods include nascent "direct air capture" technologies, large-scale forest planting and restoration, and more.
What they're saying: "How catalytic this commitment ends up being towards economy-wide progress on negative emissions will depend on the details of Microsoft's actions," Noah Deich, executive director of the group Carbon180, said in this wider Twitter thread.
Quick take: Microsoft's climate pledges are now the most aggressive among big tech companies.
But I'd guess the company will keep facing activists' pressure over its work with the oil industry, including a deal with Exxon that provides cloud tech and data to help boost shale production.
Go deeper: Microsoft vows to become "carbon negative" by 2030
2. How Bloomberg would decarbonize transportation
Mike Bloomberg's presidential campaign unveiled plans this morning to cut carbon from transportation, the nation's biggest source of greenhouse gas emissions.
Driving the news: Here are a few pillars of the wide-ranging plan...
Add a national zero-emissions vehicle standard — "so that, by 2035, 100% of new vehicles are pollution-free."
Expand availability of EV tax credits and a launch a "Clean Cars for All" program that provides rebates for low and moderate-income families to trade in older vehicles.
Develop new mileage and emissions requirements for heavy-duty vehicles so that 15% of new trucks and buses are "pollution free" by 2030. Create a voucher program to incentivize fleet owners to trade in old trucks and buses.
Make new federal investments in EV charging infrastructure, mass transit, high-speed rail, and make areas more bike- and walking-friendly. Plus, add new incentives for moving freight from highways onto electric railways.
Overhaul the current national ethanol mandate to become a low-carbon fuels standard, "requiring reductions in the carbon content and giving credit to both electric charging and biofuels."
Quick take: The plan is ambitious (though so are his rivals'), but major portions of it would require new action from Congress, notably tax code changes and big new investments.
Where it stands: It's the latest of several climate and energy plans from Bloomberg, including proposals this week around wildfires, climate resilience, and emissions from buildings.
Go deeper: Mike Bloomberg releases his first domestic climate plan
3. Ranking metros' climate performance
Transportation is a top contributor to greenhouse gas emissions, but the worst offenders aren't congested cities like New York and San Francisco, Axios' Joann Muller writes.
Instead, it's worse in sprawling, car-dependent metros like Dallas and Houston, a new analysis finds.
Why it matters: Even dense, traffic-choked cities can offset their carbon output with better urban planning and other, cleaner forms of transportation, says StreetLight Data, which studied mobility behavior in 100 cities to create its new U.S. Transportation Climate Impact Index.
What they did: Using location-based data from mobile phones, StreetLight Data scored each metropolitan area, per capita, by six transportation factors to gain a fuller picture.
They looked at vehicle miles traveled (VMT), transit ridership, bike commuting, pedestrian commuting, population density and circuity (the difference between an actual route taken and a straight line between A and B).
What they found: The New York metro area has the lowest climate impact.
Although commuters drive long distances, the widespread use of public transit in Manhattan — and lots of good old-fashioned walking — offset most of those vehicle miles traveled.
Dallas ranked worst because people there mostly drive to get where they're going. Houston didn't fare much better.
4. What's new with China and EVs
A pair of items provide fresh reminders that China is the center of the action on electric cars...
Volkswagen: Via Reuters, "Volkswagen AG is set to take a 20% stake in Chinese electric vehicle battery maker Guoxuan High-tech Co Ltd, two sources told Reuters, as the German firm accelerates its electric push into the world's largest auto market."
Fiat Chrysler: Per TechCrunch, "Foxconn Technology Group, the Taiwanese electronics giant best known for its iPhone manufacturing contract, is forming a joint venture with Fiat Chrysler Automobiles to build electric vehicles in China."
5. Toyota boosts funding for electric flight startup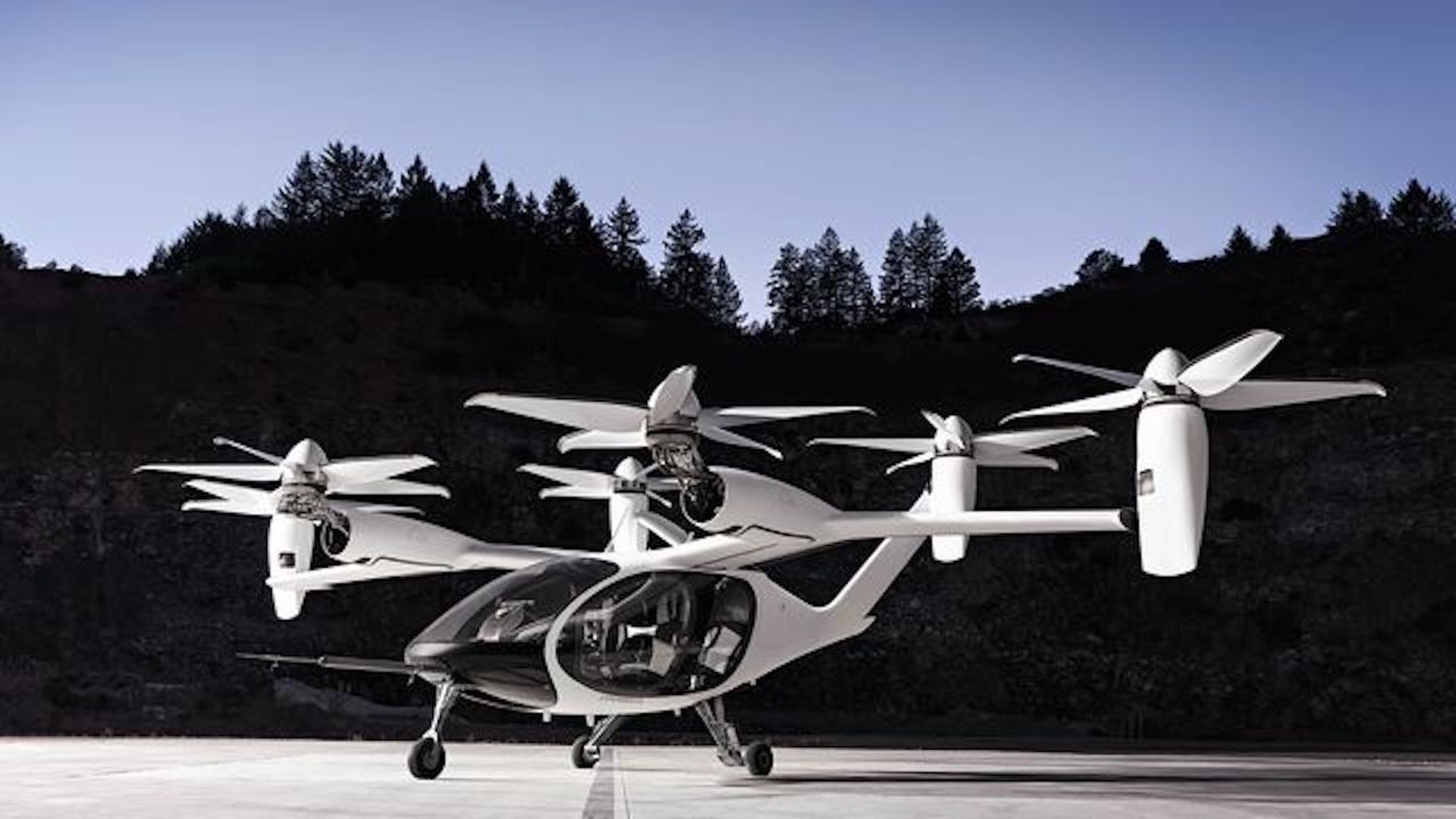 Joby Aviation, a California-based developer of electric air taxis, raised $590 million in Series C funding led by existing backer Toyota, Axios' Dan Primack reports.
Why it matters: It's by far the largest-ever investment for an air taxi company, and already makes 2020 the record year for such deals.
Other investors include Baillie Gifford, Global Oryx, SPARX Group, Intel Capital, Capricorn Investment Group, JetBlue Technology Ventures, and AME Cloud Ventures.
The bottom line, via Joann: "Automakers are confronting serious challenges to their core business — congestion and climate change mean there's a limit to how many cars and trucks they can sell. As they experiment with new forms of future mobility, they might as well look to the skies."
Go deeper: Hyundai unveils flying taxi for Uber