Axios Generate
November 19, 2020
Welcome back. Today's Smart Brevity: 1,318 words, 5 minutes.
🗓️Join Axios' Alison Snyder and Bryan Walsh tomorrow at 12:30pm ET for a virtual event on the future of STEM education featuring "Mission Unstoppable" host Miranda Cosgrove, Girls Who Code CEO Reshma Saujani and Lyda Hill Philanthropies CEO Nicole Small.
🎤And at this moment in 1978, the remarkable voice of Chaka Khan was atop the Billboard R&B charts with today's intro tune...
1 big thing: How running helps explain climate change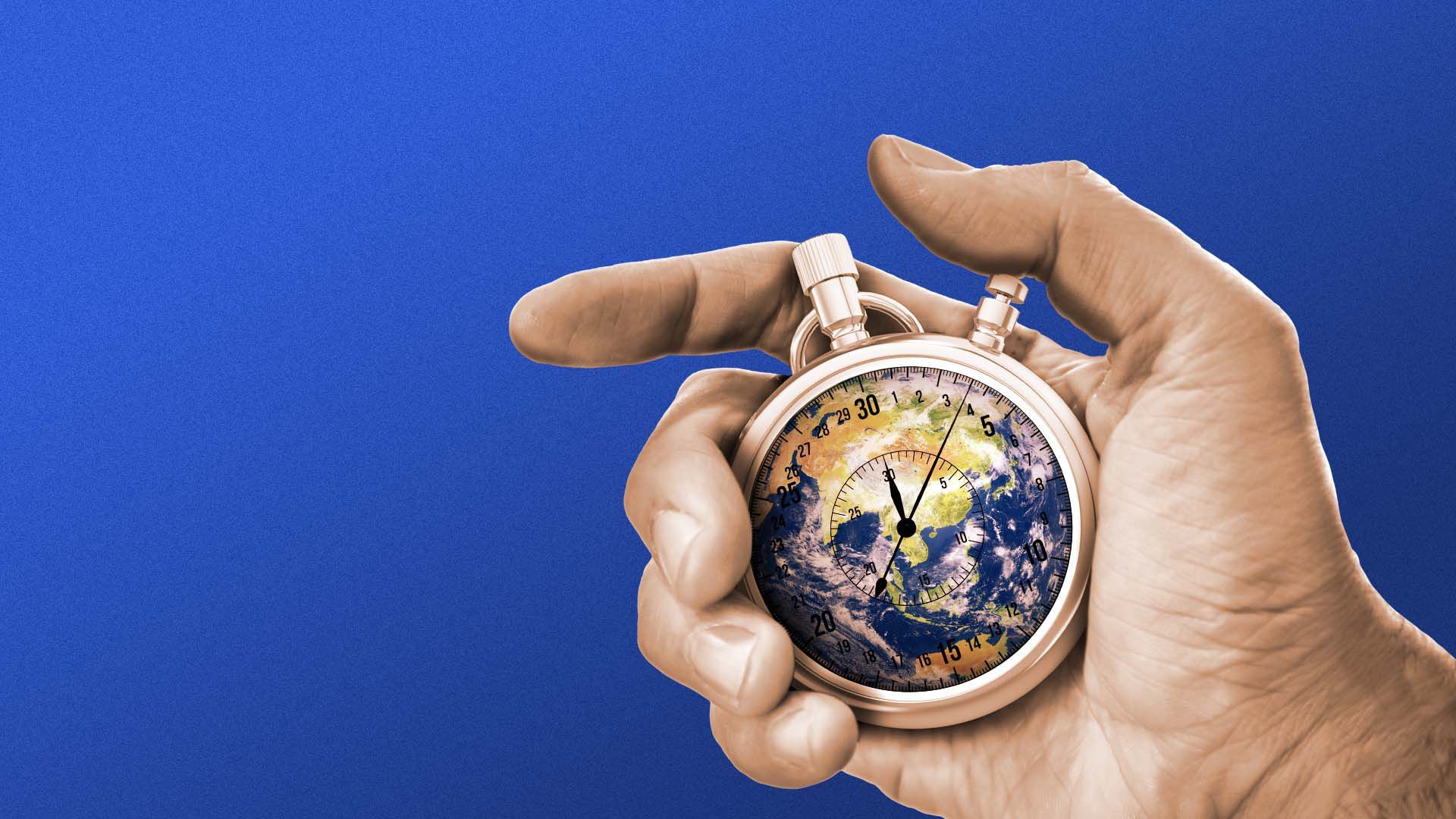 Axios' Amy Harder reports...Running a race can help illustrate how efforts on climate change should change over time.
The big picture: Climate change, unlike most other public policy challenges, is cumulative. The longer we wait, the bigger the problem it becomes, and the larger the measures needed to address it.
Where it stands: I'm going deeper on something I briefly covered in my Monday column. Four years of the Trump administration slowed action on climate change in two ways:
Repealing federal regulations curbing greenhouse gas emissions.
Spending four years without enacting more federal policy to keep addressing the problem.
The intrigue: It's the lost time that's actually more critical to the equation than the regulatory rollbacks. Let's imagine a grand race to address climate change.
I presented that basic analogy to Trevor Houser, partner at consulting and research firm Rhodium Group, who then extrapolated the concept more with actual numbers.
Any distance race works — cycling, swimming, etc. — but running is the simplest (and my favorite).
"Let's say the Obama administration was running at 5 miles an hour, in terms of policy action. A Clinton administration would have continued running at 5 miles an hour or faster, but instead the Trump administration ran backward at 1 mile an hour. The repealing regulations are the 1 mile an hour, but the real gap is 6 miles an hour." —Trevor Houser, Rhodium Group
How it works: Now, a Biden administration would have to run between 9 and 11 miles an hour — roughly twice as fast — to be on track to the president-elect's goal to have a net-zero carbon economy by 2050, Houser says.
"A lot of why the Biden administration has to run so much faster is not because Trump was moving backward as much as they just weren't running for four years," Houser said.
By the numbers: Under the Obama administration, U.S. net greenhouse gas emissions fell by 1.5% a year. So 1.5% equals 5 miles an hour, per Houser.
The average annual reduction in emissions between 2020 and 2030 must be between 2.7% and 3.3% to reach Biden's goal of a net zero-carbon economy by 2050, per Houser's calculations.
2. Clean transport startup snags new VC money
The VC firm Brown Venture Group has agreed to invest seed funding in Ecolution kWh, a startup looking to commercialize tech that stores and dispatches kinetic energy from vehicle motion, the companies said Wednesday.
Driving the news: The amount of Brown Venture Group's financing was not disclosed, but the firm will be the lead investor in a seed round that's targeting at least $3 million, according to Ecolution.
How it works: Ecolution says it can help reduce emissions in a couple of ways: ending the need for diesel-fueled refrigeration on trucks and trains, and also cutting hauling weight, which burns less fuel.
The energy storage system creates a "rolling micro-grid" that can dispatch power for mobile or stationary uses, the company said.
Why it matters: Transportation is the nation's biggest source of carbon emissions.
It's also the first investment from Brown Venture Group, which formed in 2018 to fund startups led by Black, Latino and Native American executives.
"This is an exciting way for Brown Venture Group to launch our fund with transformational technology that will benefit our environment by significantly reducing carbon emissions," said Brown Venture Group CEO Paul Campbell.
Ecolution was "founded by Latin American technology entrepreneurs," the funding announcement states.
The big picture: There's a lack of Black and Latino people both within startups and the VC world.
Axios' Dan Primack reported earlier this year that Black men are woefully underrepresented within VC firms at just 2%. Black women don't even rank a percentage point.
And only 1% of VC-backed founders between 2013 and 2018 were Black people.
What's next: Ecolution, which says it's focusing on cutting CO2 from food and medicine distribution, tells Axios it is having conversations with other potential funders.
The company also says it's in discussions with electric truck companies to partner with in the U.S., Japan, China and Germany.
Editor's note: This story has been corrected to note that the amount of seed funding Brown Venture Group will provide to Ecolution has not been disclosed.
3. Oil's stable state of chaos
These are wild times for the oil industry.
The big picture: COVID-19 is still hurting demand but there's optimism around vaccines; the incoming Biden administration is vowing new U.S. drilling restrictions, and there are big question marks about the future of global consumption.
Yes, but: For all the disruption, prices have been remarkably stable since June following their recovery from the depths of April's collapse — stalled at a level that's nonetheless still causing financial pain and jeopardy for producers.
Why it matters: The out of control pandemic and related restrictions are still the most powerful forces in the market, limiting current prices even as analysts see a price rebound next year.
Prices for WTI and Brent have slipped back a bit this morning after gains earlier in the week.
What they're saying: Via Bloomberg...
"Crude seems to have gone as high as it can, said Hans van Cleef, senior energy economist at ABN Amro Bank. 'Oil demand will not fully recover before 2022,' he said. 'Markets may have been a bit too optimistic' about a vaccine rollout."
4. Imagining FERC under Biden
Via Greentech Media, the Federal Energy Regulatory Commission's sole current Democrat thinks the GOP-led body has "done a disservice to state clean energy programs" with orders that critics say create barriers for zero-carbon power in key regional markets.
Why it matters: Richard Glick could be named the powerful commission's chairman under Joe Biden. Comments at an American Council on Renewable Energy conference yesterday — reported by Greentech and Utility Dive — signal his priorities.
The big picture: His comments get to the controversy over FERC orders on regional power regulators' market construction.
Clean energy advocates blasted the "minimum offer price rule" for the regional power market that includes huge states like Ohio and Pennsylvania.
"A similar concept has informed FERC's decisions to deny [New York Independent System Operator's] proposals to exempt state-preferred renewables and energy storage resources from buyer-side mitigation rules," Greentech reports.
He also wants FERC to make better use of existing authorities to spur the transmission build-out needed to help integrate renewables, per Greentech.
Where it stands: Two nominees for the five-member commission, Republican Mark Christie and Democrat Allison Clements, cleared the Senate's energy panel yesterday.
5. An unusual oil-and-gas lease sale
Yesterday's Interior Department auction of Gulf of Mexico drilling leases was noteworthy because it's the last before the arrival of President-elect Joe Biden, who has pledged to thwart new fossil fuel development in federal lands and waters.
Driving the news: The sale drew $121 million worth of winning bids, which is more than the $93 million netted in the prior sale last March.
Sami Yahya of S&P Global Platts Analytics said the sale produced slightly better-than-expected results in part because of "looming regulatory uncertainty that will come along a change of a U.S. administration."
"The Biden administration discussed plans to ban drilling on federal lands, which may have led some operators to jump at the chance of securing more blocks before the window becomes limited in the future," Yahya said in a note.
Yes, but: Wood Mackenzie analyst Mfon Usoro said despite the looming restrictions, it wasn't a "massive land grab." Companies are still constrained by low prices and capital spending cutbacks.
Also...
"Companies in the region have existing drilling inventory to sustain them in the near term," Usoro said in a note.
"The best blocks with the highest potential reserves are likely already leased. As a result, we do not expect a potential ban on leasing to materially impact production in the region until the end of the decade." 
The big picture: Even pre-COVID, the onshore boom, modest prices and other forces had changed companies' spending on Gulf tracts.
As I noted in 2018, we're far from the salad days of Gulf lease sales, which have seen several billion dollars in total bids on some occasions over the years.
The last billion-dollar sale was in 2013 — when high bids totaled $1.2 billion — while a 2008 sale brought $3.7 billion in high offers.
6. Catch up fast: PG&E and Saudi Aramco
People: "PG&E Corp. has chosen the head of a Michigan utility as its next chief executive as it works to improve the safety of its electric system and strengthen its business after sparking a series of deadly wildfires that pushed the company into bankruptcy." (Wall Street Journal)
Advocacy: "One of the world's leading investor groups pushing for more corporate action on climate change said it has added Saudi Aramco, the world's largest oil producer, to its list of target companies." (Reuters)