Axios Generate
October 13, 2020
Good morning, I'm back in your inboxes fresh off my interview with BP's Bernard Looney that aired last night on "Axios on HBO," where I pressed the newly minted CEO on climate change, politics and its big pivot to renewable energy.
I'll share a glimpse of a special Tuesday Harder Line column that delves deeper into our interview, and then Ben Geman will get you up to speed on the rest of today's news. 
Today's Smart Brevity count: 1,547 words, about 6 minutes.
1 big thing: BP's climate reinvention dodges politics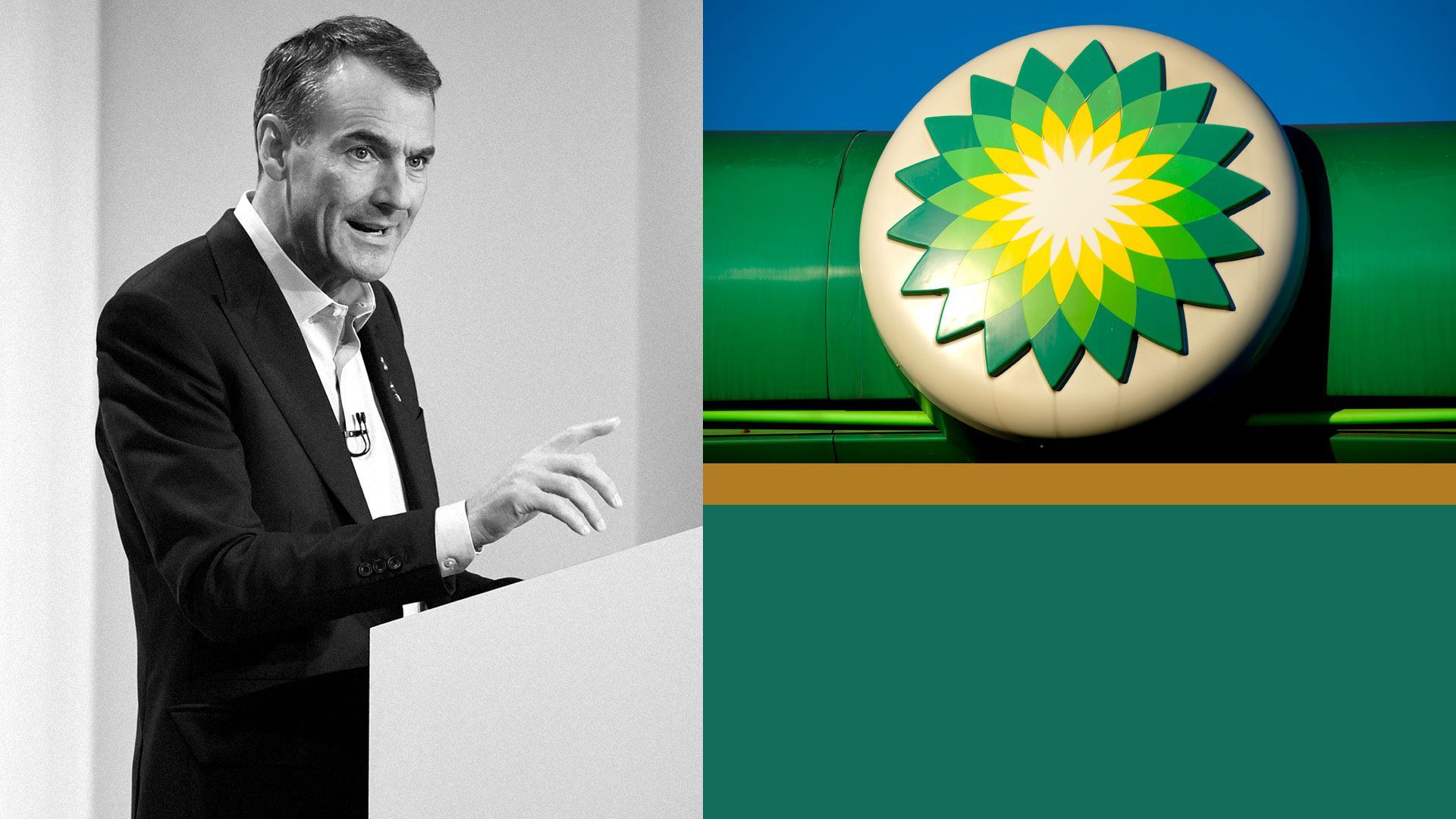 BP CEO Bernard Looney is leading the biggest transformation in the oil industry's 160-year history, but he's staying quiet on the thorniest part: the politics.
Driving the news: In our recent interview for "Axios on HBO," Looney made a scripted case for BP's plan to pivot to — and profit from — renewable energy.
Over the course of an hour, he deflected questions about President Trump and Joe Biden, BP's Beltway lobbying and mistrust from the public and environmentalists over the oil industry's responsibility.
"I get the sort of suspicion. But we are serious about this. This is in the interests of our company. It's not like we're trying to protect our existing business and get by. We are pivoting BP from being an international oil company that we've been for 111 years to becoming an integrated energy company." — Looney to "Axios on HBO"
How it works: BP unveiled in September what many consider the oil industry's most aggressive plan to move away from fossil fuels toward renewable energy.
Click here to get details in my full column.
The intrigue: Looney had little to say about either a president who encourages climate denial or a candidate who would pursue an aggressive climate plan that's in line with BP's goal.
On Trump: "My response is what we're doing. … [Climate change is] a huge issue and we're in action. … I'm not going to comment on what other people's views are."
On Biden: "I didn't study [Biden's] plan in detail. … BP is supportive of any sound, sensible policy which accelerates the world on a path to net-zero."
The backstory: Looney has given conflicting messages on policy's role.
"We need policymakers to incentivize lower carbon choices," Looney told investors at a September meeting on the new plan. In our interview, he said, "While policy is helpful to our strategy, our strategy is not predicated on policy."
Where it stands: BP said it would end its $100 million annual corporate reputation campaign and redirect at least part of that toward supporting climate policies around the world.
For this year and next, BP has budgeted $6.5 million toward climate policies throughout the country and in Washington, D.C., per Geoff Morrell, a BP executive vice president responsible for global advocacy and spending.
"We are spending millions and would gladly spend tens of millions more if there were viable net-zero policies to actively advocate for," Morrell said.
The bottom line: "If they're earnest about what they're trying to do, that will show up in their lobbying," said Andrew Logan, senior director at the sustainable investment nonprofit Ceres. "It can't be an ancillary effort — it has to be a core part of the strategy."
2. COVID speeds up oil's long goodbye
The COVID-19 pandemic is altering the long-term future of oil, but global thirst for the fuel will nonetheless remain large for decades, the International Energy Agency said a new report.
Why it matters: The sprawling World Energy Outlook is IEA's deepest effort yet to game out how COVID-19 is changing the future of oil, and energy systems overall in the years ahead.
Driving the news: Check out the chart above, which looks far beyond the current pandemic-fueled consumption downturn.
It compares their demand outlook under current and announced policies and a "delayed recovery" that assumes more enduring economic damage.
Both are well below the central "pre-crisis" projection from last year's outlook.
What they're saying: "The era of global oil demand growth will come to an end in the next decade," said IEA head Fatih Birol.
"But without a large shift in government policies, there is no sign of a rapid decline. Based on today's policy settings, a global economic rebound would soon push oil demand back to pre-crisis levels," he said.
The intrigue: Aggressive climate policies would alter the outlook significantly.
In IEA's climate-friendly "sustainable development scenario," oil demand falls to 66 million barrels per day by 2040, compared to 104 million in its "stated policies" model.
3. IEA warns of CO2 "lock in" from current infrastructure
The big IEA report has their first analysis of what happens if current and planned fossil fuel infrastructure worldwide is operated through its estimated lifespan.
Why it matters: That alone, it finds, could easily blow past the goal of holding warming to 1.5°C above preindustrial levels. That's the most ambitious and longshot goal of the Paris agreement to lessen harm from climate change.
How it works: The report models the effect if all of today's power plants, vehicles, industrial plants and buildings "continue to rely on unabated combustion of fossil fuels." IEA then includes power plants currently under construction.
The big picture: "Our bottom-up country-by-country analysis of energy infrastructure both in operation today and under construction shows that, if these assets were operated in line with past practice until the end of their lifetimes, they would generate a level of CO2 emissions that would lead to a long-term temperature increase of 1.65 °C (with a 50% probability)," it states.
Go deeper: Key global warming target slipping out of reach, UN scientists warn
4. Solar rises but emissions don't fall enough
Here are a few more takeaways from IEA's big annual outlook, which grapples with how COVID-19 is and isn't altering underlying trends.
Demand: Overall, the authors don't see global energy use returning to pre-COVID levels until 2023, or 2025 if the economic slump is more enduring.
Renewables: Their core model of existing and announced policies ("STEPS") shows renewables meeting 80% of power demand growth through 2030. Solar is now "consistently cheaper than new coal- or gas-fired power plants in most countries" and sets deployment records every year after 2022.
Coal: COVID-19 has "catalyzed a structural fall" in global coal demand, which never again reaches pre-crisis levels even in STEPS and "its share in the 2040 energy mix falls below 20% for the first time since the Industrial Revolution."
It falls more precipitously in scenarios with far more aggressive climate efforts.
Threat level: Neither this year's CO2 emissions drop occurring for tragic reasons nor the pandemic's long-term effects on energy demand will put the world on a climate-friendly path.
"Global emissions are set to bounce back more slowly than after the financial crisis of 2008-2009, but the world is still a long way from a sustainable recovery," IEA notes here.
What's next: IEA's pushing for governments to use economic recovery packages to widen clean energy investment and deployment.
The report also models an aggressive "net-zero by 2050" scenario that envisions total emissions falling by 45% by 2030 from 2010 levels on the path to that midcentury target.
Under this model, the biggest near-term changes come to the power sector, with emissions dropping 60% by 2030, no coal plants without CO2 capture still operating then, and sector investment tripling.
5. Trump to sign "trillion trees" order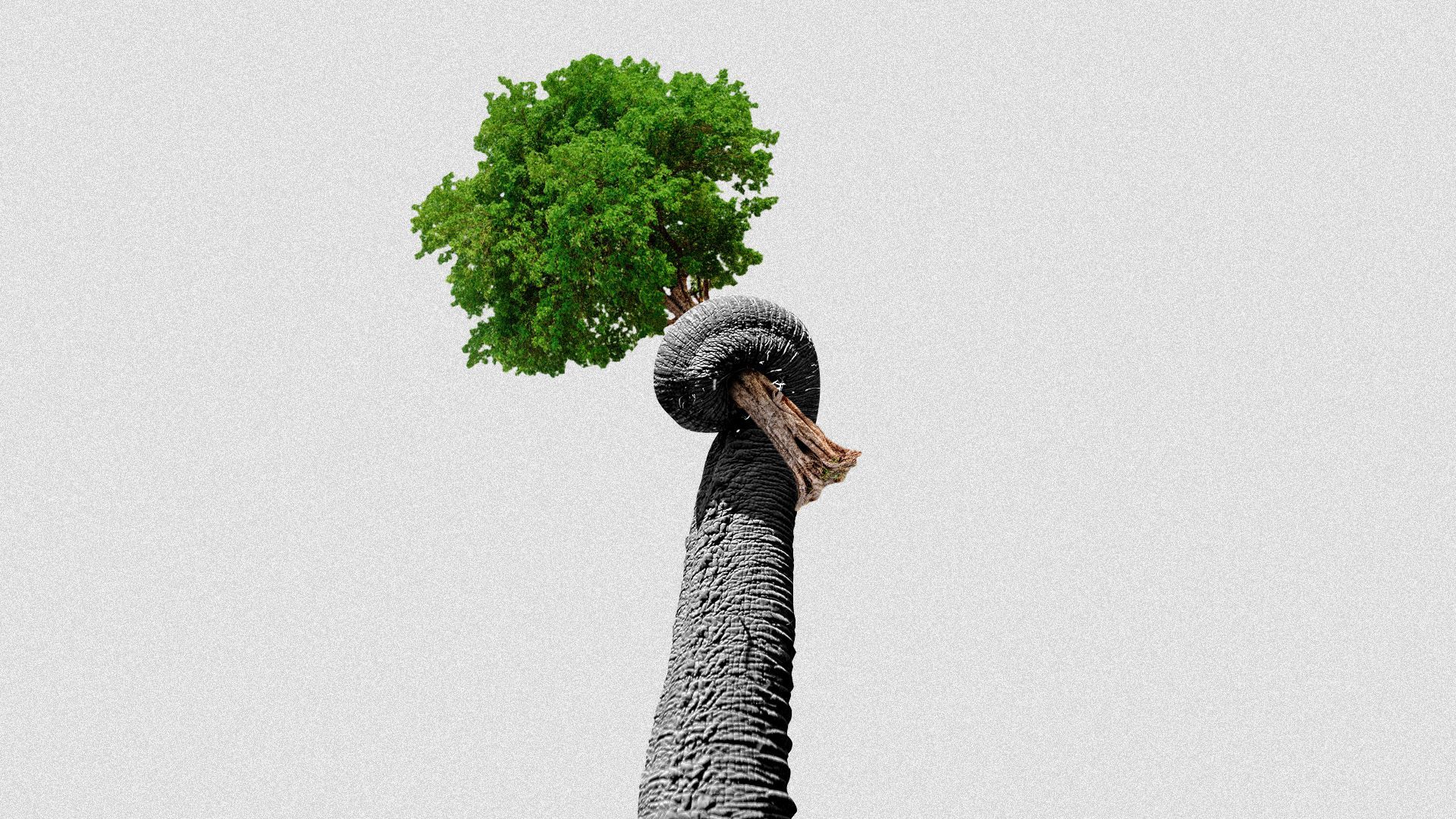 President Trump will sign an executive order Tuesday designed to put more weight behind the administration's role in the international One Trillion Trees Initiative, a White House official said.
Driving the news: It creates an interagency council tasked with "developing, coordinating, and promoting" U.S. work on tree growth and conservation.
It includes creating a methodology to track the efforts, and addressing "potential statutory and regulatory limitations."
It's led by the secretaries of the Interior and Agriculture and contains 12 other agencies, as well as Ivanka Trump, Jared Kushner and other White House officials.
Why it matters: White House support for the initiative contrasts with Trump's overall climate posture.
He rejects consensus science on human-induced warming and is scuttling Obama-era emissions rules.
Supporting trees, however, has been one narrow way Trump and other Republicans have cautiously backed action.
Catch up fast: In January Trump announced U.S. participation in the initiative launched at the World Economic Forum early this year.
The global push to plant or conserve a trillion trees by 2030 is about climate but also biodiversity and other ecological needs.
The intrigue: White House information on the order briefly notes trees' role in removing CO2, but doesn't mention climate change or warming.
It's touting the need for healthy forests that protect watersheds and also promoting national forests' role in the tourism economy.
The order's text wasn't yet available this morning.
Between the lines: Joe Biden has been attacking Trump's environmental positions. The order could be aimed at softening Trump's image.
Reality check: Keeping warming in check will require vastly more than forest growth and protection, though it's one important tool.
Trees are no substitute for steeply cutting emissions from the very fossil fuels Trump aggressively promotes.
6. The politics of climate stimulus
Newly released polling reveals a stark partisan split over whether to include climate and low-carbon energy spending in pandemic economic recovery packages.
Why it matters: The survey comes as Joe Biden is pledging, if he wins, to include clean energy and resilient infrastructure investments in a broad stimulus bill he hopes to quickly move through Congress.
Driving the news: The chart above is one of the findings from this new polling released by the nonpartisan think tank Resources for the Future and Stanford University experts.
The big picture: Overall, the wide-ranging survey of 999 adults finds a mix of partisan gaps and areas for agreement. A few examples...
60% of Republicans and 97% of Democrats agree that unchecked warming will be a "very or somewhat serious" global problem.
63% of Republicans and 98% of Democrats agree government should do "at least a moderate amount" to address the problem.
There's some directional agreement on policy, for instance on tax incentives to reduce power plant emissions and have utilities produce more renewable power.
But elsewhere, 81% of Democrats favor a carbon fee compared to 41% of Republicans.