Good morning and welcome back to Generate! Let's get moving toward the weekend . . .
https://www.axios.com/newsletters/axios-generate-430c7d40-ba20-489f-a97a-6fe82004cd60.html?chunk=0#story0
Nuclear scramble on tax credits
My Axios colleague Amy Harder has a story on the latest Capitol Hill maneuvers on nuclear power...
America's nuclear industry is urging Congress to pass legislation within the next couple of weeks that would allow two pairs of financially struggling nuclear reactors to cash in on expiring tax credits.
Why it matters: The future of America's nuclear power industry — and a whole bunch of carbon-free electricity — rests on whether these four reactors come through (as reported in an earlier Harder Line column). Officials at both power companies involved, Southern Company and SCANA, say the tax credits, which under current law would expire before they could take advantage of them, are essential in finishing construction.
Driving the news: A House panel approved the legislation at issue on Thursday, according to E&E Daily. It will be tough to pass both the House and Senate at all, let alone by the end of this month.
What's next: A decision on whether to keep building the South Carolina reactors is expected by June 26, making the legislation an urgent matter in a congressional body not known for its swift moves.
Click here to read the whole post.
https://www.axios.com/newsletters/axios-generate-430c7d40-ba20-489f-a97a-6fe82004cd60.html?chunk=1#story1
Sobering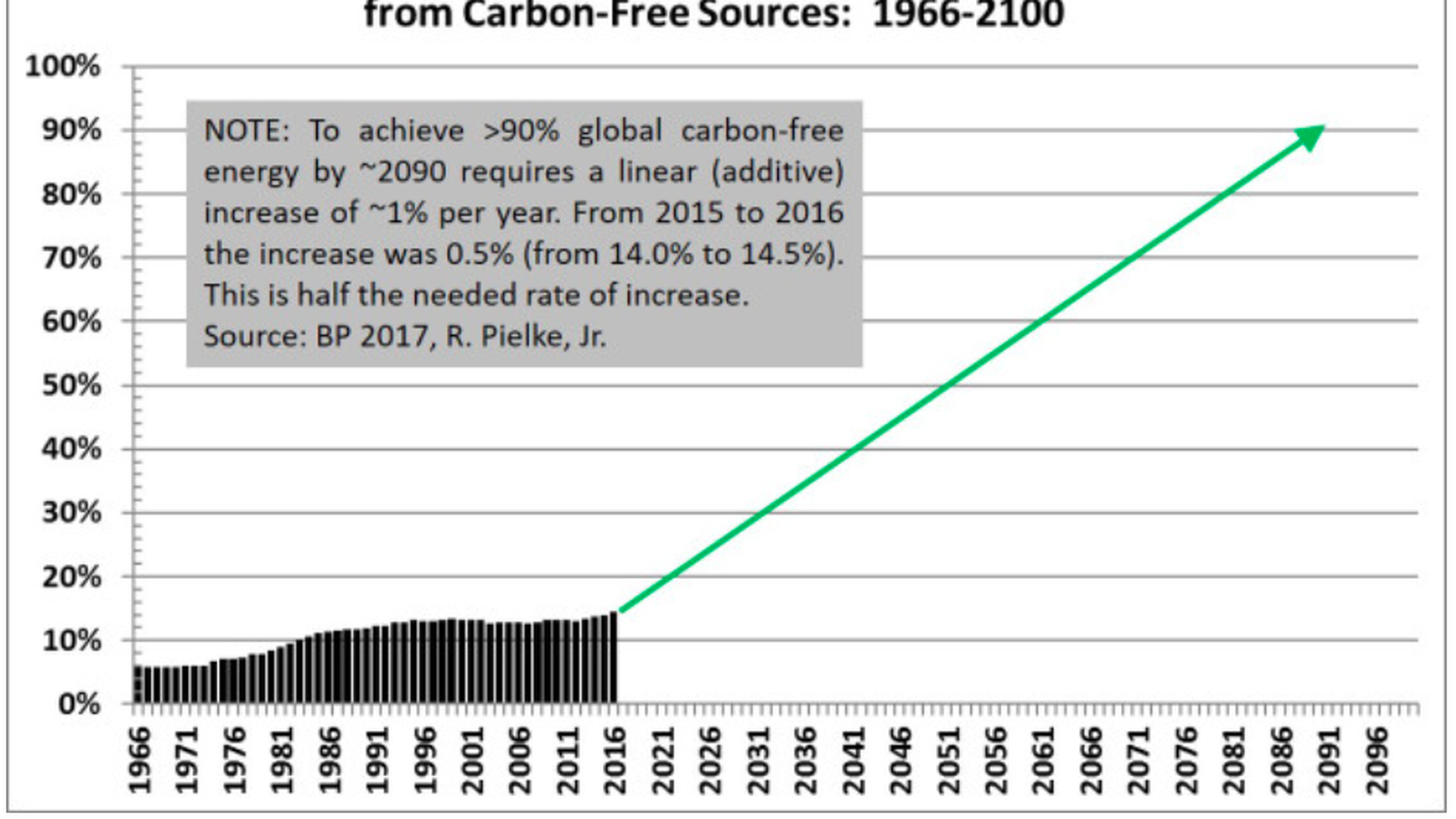 Climate: Roger Pielke, Jr. has an interesting post that analyzes some numbers from BP's latest statistical report against the backdrop of what would be needed to stabilize atmospheric CO2 at 450 parts-per-million. Here's some of his analysis:
Achieving over 90% carbon-free global energy use by century's end from the 2016 level of 14.5% requires an increase of around 1% annually (check out the chart above).
The good news, he notes, is that the 14.5% share of global energy from carbon-free sources is at its highest level in the last 50 years. The bad news is that the growth rate hasn't been nearly fast enough to reach the stabilization target. It was only a half-percent between 2015 and 2016.
"The linear increase of 1% gets harder each year because global energy supply is growing, and thus to achieve 1% increase in the deployment of carbon-free energy means a bigger lift every year," Pielke, a University of Colorado professor, says in an email to your Generate host.
https://www.axios.com/newsletters/axios-generate-430c7d40-ba20-489f-a97a-6fe82004cd60.html?chunk=2#story2
Oil patch notes
Data: The Federal Reserve Bank of Dallas is out with a new snapshot of the economy of the Permian Basin, where shale oil production is booming. "Most oilfield service firms and about half of the E&P firms increased their expectations of 2018 capital spending," they note.
Finance: Reuters looks at a spillover effect from the U.S. shale boom, reporting that eight hedge funds have cut the size of their positions in 10 top shale firms by over $400 million.
The hedge funds are "concerned producers are pumping oil so fast they will undo the nascent recovery in the industry after OPEC and some non-OPEC producers agreed to cut supply in November," Reuters reports.
OPEC vs. shale: The New York Times has a big-picture look at the competition between the shale patch and the cartel that has left both sides "wobbly and scarred."
Quotable: "The shale producers continue to cut costs, and that gives them the hope to survive. But if oil prices don't rise significantly from the current level, 50 percent of the shale producers will go out of business," Fadel Gheit, a senior Oppenheimer & Company analyst, tells the paper.
https://www.axios.com/newsletters/axios-generate-430c7d40-ba20-489f-a97a-6fe82004cd60.html?chunk=3#story3
What's next for DOE's international climate work
A couple follow-ups yesterday's New York Times' scoop that the Energy Department is shuttering its Office of International Climate and Technology...
What's next: Damian Bednarz, who worked on these international issues for the Obama administration, tells Axios there's now concern that other aspects of the department's global green energy work will also be cut — such as in the Office of International Science & Tech Collaboration.
And a "big question," Bednarz says in an email, is the future of direct partnerships with foreign governments among various national laboratories like the National Renewable Energy Laboratory and Argonne National Laboratory.
"If the labs see funding/research opportunities overseas, will they be able to partner directly with a foreign government or have it all be reviewed through DOE?" Bednarz asked. His work at DOE included a stint as chief of staff in the Office of International Affairs, which houses the Office of International Climate and Technology.
DOE's rationale: Spokeswoman Shaylyn Hynes defended the move to close the Office of International Climate and Technology, saying that in preparation for a smaller budget in fiscal year 2018, DOE is looking to consolidate the "many duplicative programs" within the agency (full statement here).
"For instance, The Office of Energy Efficiency and Renewable Energy (EERE) has an International Affairs team, while the International Affairs Office has a renewables team," she said.
Hynes also said DOE is not "retreating" on promotion of clean energy sources. She said Energy secretary Rick Perry introduced initiatives on carbon capture and nuclear at the recent Clean Energy.
In addition, the DOE material said that when it comes to the overall Office of International Affairs, "we will organize and conduct our all of our work through the regional offices rather than the current structure."
https://www.axios.com/newsletters/axios-generate-430c7d40-ba20-489f-a97a-6fe82004cd60.html?chunk=4#story4
Cars, cars, cars
A few items on cars caught my attention...
EPA and states: EPA administrator Scott Pruitt told House lawmakers Thursday that California's Clean Air Act waiver — which gives California and by extension some other states the power to impose tougher emissions rules than federal standards — is "not currently being reviewed by the EPA."
Why it matters: Depends how much emphasis you put on "currently." If the Trump administration relaxes Obama-era mileage rules as many expect, California is ready to use its waiver to maintain tougher rules, prompting speculation that the administration could seek to revoke it. That brings us to...
EPA and states, part 2: This piece in the Los Angeles Times interpreted Pruitt's comments to lawmakers as "backing off" a fight with the state over their waiver. Their story highlights his comments about California's record of "leadership" on air quality.
Lyft: The ride-sharing service says it's upping its climate game. It's pledging that the electric, autonomous vehicles it plans to deploy in the future will be charged only with renewable electricity.
The company, which tied its decision to support for the Paris agreement, says that by 2025, their platform will provide one billion rides per year using electric driverless cars.
EVs: Quartz looks at a new report that finds there are now 16,000 public charging stations in the country, and "13% are high-voltage, fast chargers using DC current to refill a battery in about 20 to 30 minutes."
Efficiency: A new Resources For the Future paper concludes that vehicle buyers undervalue the monetary benefits of increased efficiency while placing "high valuation" on performance, which matters because horsepower growth of new vehicles has slowed as efficiency standards have tightened.
"The value of the fuel savings roughly equals the cost of forgone performance improvements to consumers, suggesting roughly zero net private benefits to consumers," a summary of the research notes.
Looking forward: "Future research could attempt to determine the cause of undervaluation and identify appropriate policies to correct market failures," the paper states.
https://www.axios.com/newsletters/axios-generate-430c7d40-ba20-489f-a97a-6fe82004cd60.html?chunk=5#story5
May was very warm on planet Earth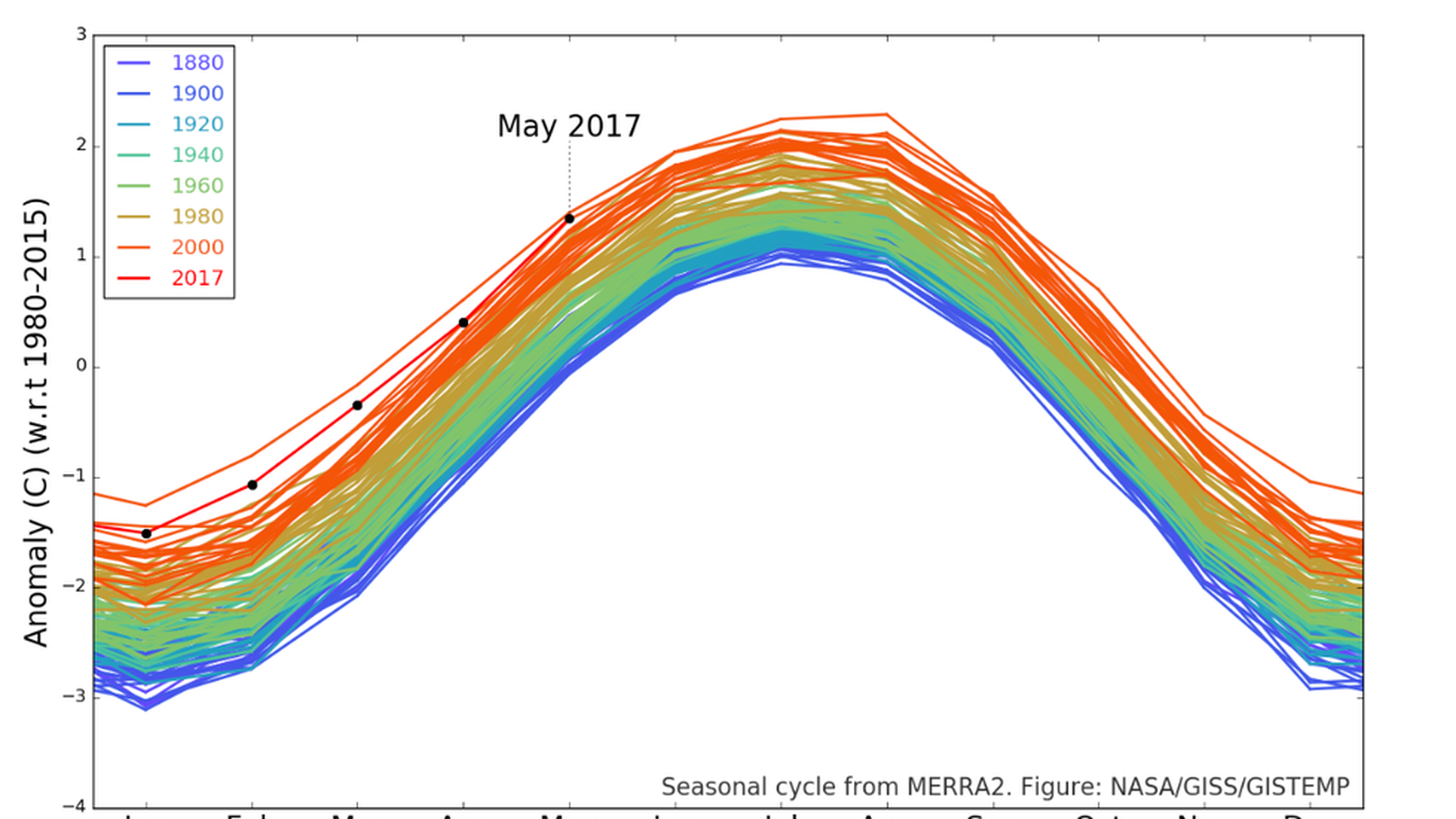 Gonna make you sweat: Last month was the second-hottest May since modern recordkeeping began in 1880, according to NASA data released this week, trailing only May of last year. It was 0.88 degrees Celsius above the May average from 1951-1980, the agency's Goddard Institute for Space Studies said.
What's next: Gavin Schmidt, the scientist who directs the Goddard Institute, predicts that 2017 will be the second-warmest year on record behind last year and almost certain to be in the top three.