Good morning and welcome back to Generate, where your tips and feedback have been great. Please keep it coming to ben@axios.com. Let's dive in . . .
https://www.axios.com/newsletters/axios-generate-3bf43b02-c122-4605-a83a-176c8d8b6ba0.html?chunk=0#story0
Why climate won't be on the Trump-Xi menu
The White House and the State Department have signaled climate change will not be a major agenda item when President Trump and Chinese President Xi Jinping hold their meeting, starting today.
Evidence: "I don't think it will come up in detail," Susan Thornton, State's acting assistant secretary for East Asian and Pacific Affairs, said at a briefing Wednesday. A White House official signaled earlier this week that Trump's not interested in talking about it.
Why it matters: China and the U.S. are the world's two largest greenhouse gas emitters, but both have their reasons to steer clear of a topic that played a prominent role in U.S.-China talks under Obama.
The Trump administration is not prioritizing the topic, but even beyond that, the White House hasn't reached a decision on its posture toward the Paris climate change accord.
But what about China's motives? I reached out to Varun Sivaram, a climate expert with the Council on Foreign Relations, and he offered some perspective on China's public stance and internal motives.
Don't look for China to go there if Trump doesn't. "China is perfectly happy for President Xi to make sweeping speeches at Davos about Chinese leadership on climate but jettison the issue in private, bilateral talks with the United States," he said in an email, noting China will "gladly ignore" the topic if Trump doesn't want to discuss it.
Sivaram thinks China can easily meet its target submitted under the Paris accord (which allows its emissions to peak as late as 2030), so it's now content to avoid some of the related, thornier topics in talks with the U.S., such as the transparency of its reported emissions and whether its emissions targets should be toughened.
"That's not to say China won't lead by example — it is the world's foremost clean energy powerhouse, and its emissions are going to smash its stated target (which is weak). But I don't expect China to push the envelope on what the Paris framework could enable if the implementing details come out strong — which is an escalating set of targets with strong monitoring, verification, and enforcement," he added.
https://www.axios.com/newsletters/axios-generate-3bf43b02-c122-4605-a83a-176c8d8b6ba0.html?chunk=1#story1
Bankers look into crystal ball on oil prices
The Wall Street Journal tapped into the hive mind of 14 investment banks, and they're all expecting oil prices to stay below $60 for the third straight year.
These expectations reflect the fact that U.S. shale oil drillers have ramped up their production, which makes OPEC's upcoming decision about whether to continue limiting output a little more tenuous.
What's next: OPEC meets May 25 to decide whether it will extend its production-cutting deal reached late last year. It has sort of worked so far: Since the member countries decided to cut 2 percent from global production in the first half of this year, oil prices have risen roughly 20 percent. But inventories remain high.
The balance:
If the cartel extends the agreement, prices could rise quickly and U.S. shale drillers would boost output even more. But if OPEC ends the deal, it "risks refueling the global crude glut," the WSJ piece notes.
https://www.axios.com/newsletters/axios-generate-3bf43b02-c122-4605-a83a-176c8d8b6ba0.html?chunk=2#story2
People and influence
Energy secretary Rick Perry: On Wednesday he met with Fred Upton, one of the top Republicans on the House Energy and Commerce Committee.
Agenda: Per a GOP aide, they chatted about cybersecurity, infrastructure, energy affordability and reliability, the Strategic Petroleum Reserve, and nuclear waste.
Carbon recycling tech: Ellen Williams, who headed DOE's Advanced Research Projects Agency-Energy under Obama, is joining the board of CO2 Sciences.
It's the non-profit arm of the Global CO2 Initiative, which seeks to commercialize the recycling of carbon dioxide into cement, carbon fiber, polymers and other products. Williams also is former chief scientist at BP.
Green lobby: The Wilderness Society has hired Drew McConville, a senior White House Council on Environmental Quality aide under Obama, as its senior managing director for government relations.
Wind power:
The American Wind Energy Association, the industry's main trade group, has
brought on
Bracewell LLP as outside lobbyists.
https://www.axios.com/newsletters/axios-generate-3bf43b02-c122-4605-a83a-176c8d8b6ba0.html?chunk=3#story3
What fuels us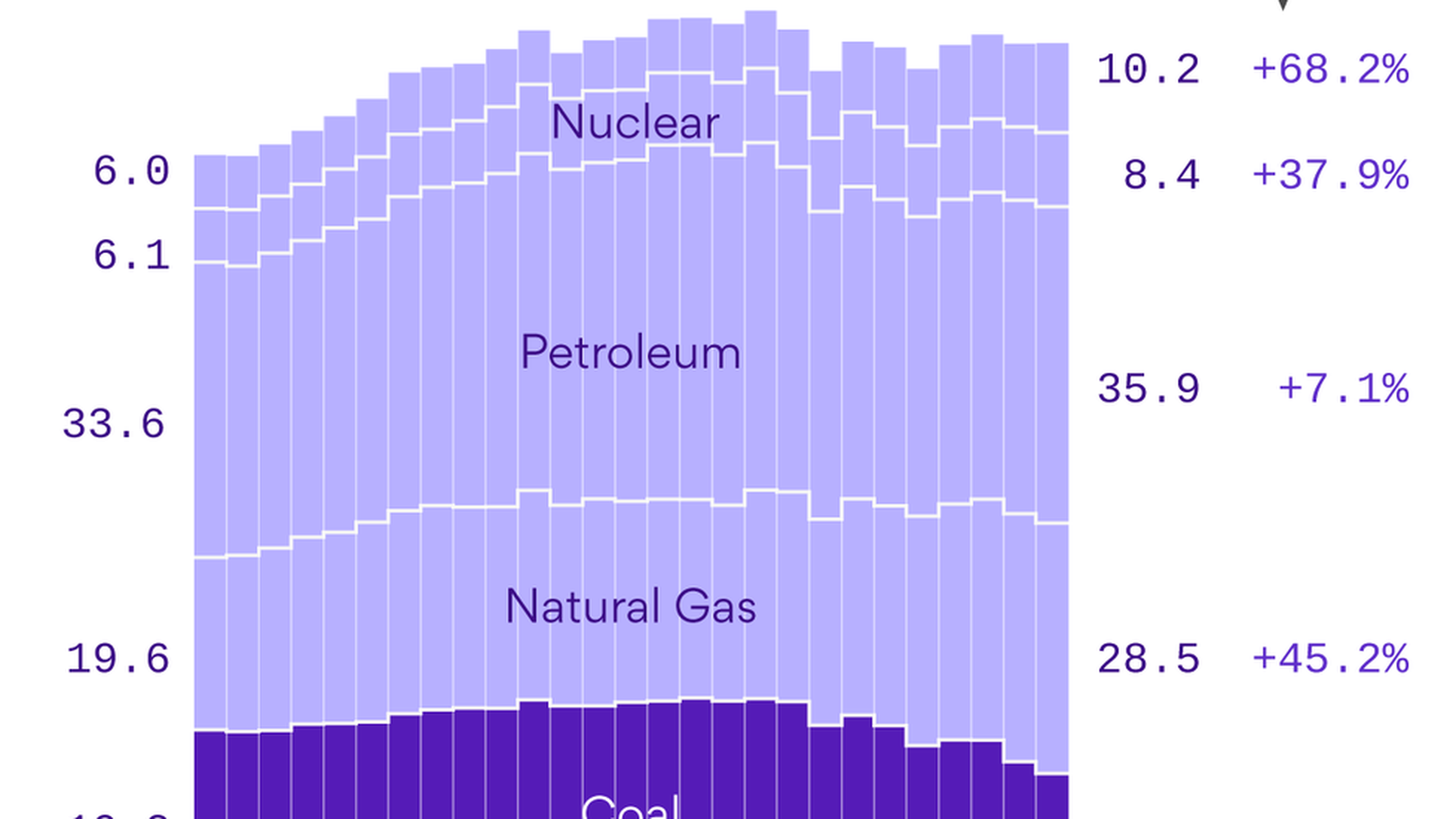 Want the high-level view on U.S. energy consumption? The U.S. Energy Information Administration has you covered. It's out with data showing total consumption ticked up slightly last year.
Fossil fuels: They still rule the roost, accounting for 81 percent of total consumption in 2016, which is slightly less than 2015 and down from 86 percent in 2005. Petroleum and natural gas consumption both climbed last year, but that was more than offset by coal's decline.
Renewables: They saw the largest boost in consumption last year as wind power generation rose by nearly 20 percent and solar output climbed a lot as well.
Nuclear: Consumption of nuclear energy rose 1 percent last year.
Want a really, really high-level view?
Axios pulled years worth of EIA data into the chart above on U.S. energy consumption going back a quarter century. That downward staircase at the bottom illustrates how coal has lost market share at the expense of gas and renewables.
https://www.axios.com/newsletters/axios-generate-3bf43b02-c122-4605-a83a-176c8d8b6ba0.html?chunk=4#story4
Lightning round
Electric planes: MIT Technology review has a look at the prospects for battery-powered airline travel, pegged to a new announcement by the startup backed by Boeing and JetBlue that's planning a fleet of planes (10-50 passengers) for regional travel. (Hat tip to Vox's Brad Plumer for flagging this on Twitter.)
Carbon regs: Reuters contacted 32 utilities that operate in states that have sued to overturn EPA's power plant carbon emissions rule, which Trump's EPA is moving to unwind.
Facts on the ground: "The bulk of them have no plans to alter their multi-billion dollar, years-long shift away from coal, suggesting demand for the fuel will keep falling despite Trump's efforts."
Climate polling: A new Quinnipiac University poll finds that 62 percent of people surveyed do not believe that Trump should "remove" climate change regulations. Seventy-two percent say big cuts to scientific research on the environment and climate is a bad idea.
Our thought bubble: Most polling shows support for regulating carbon emissions, but there's not much evidence that the topic is a top priority for voters.
Court battle: Green groups and 17 states are urging a federal appeals court to deny EPA's request to freeze litigation over the Clean Power Plan, the big carbon emissions rule that Trump's EPA plans to rescind (as noted above).One level deeper: The filings are available here, here, and here.