Axios Generate
July 02, 2018
Good morning and welcome back! The Harder Line, my colleague Amy Harder's weekly column, will be back next Monday.
Ok let's get going. A previously unreleased, piano-only studio demo of Guns N' Roses' "November Rain" is out in the world and it's really cool. So that's today's intro tune ...
1 big thing: Trump's wild OPEC weekend
A series of weekend statements about OPEC and Saudi Arabia from the Trump administration are helping to put downward pressure on oil prices.
The latest: Oil prices dropped slightly Monday, and MarketWatch notes one reason is that investors were "rattled" by President Trump's weekend tweet suggesting Saudi Arabia may sharply boost output.
The big picture: More broadly, the comments signal White House unease about the election-year state of oil markets and the limits to what they can do about it, despite the surge in U.S. shale production.
Trump's statements also highlight the tricky dynamic he faces of trying to force sharp cuts in Iranian exports, while also ensuring enough supplies in global markets to avoid price spikes.
Head-spinning: To recap the weekend action...
Early Saturday morning, Trump tweeted that Saudi Arabia's king pledged to boost production by up to 2 million barrels per day. That's a level that would go beyond the recent OPEC-Russia agreement in late June.
Late Saturday night, the White House softened the comment, noting King Salman reaffirmed the Saudi's readiness to use some of its 2 mbd spare capacity to help balance the market.
Sunday morning on Fox News, Trump took a critical posture, claiming OPEC is "manipulating" the market; "has to" pump more; and that the 1 million bpd increase OPEC and Russia agreed to last month is too low.
Thought bubble: As Axios' Steve LeVine noted yesterday, Trump's talk with Salman put the U.S. back in the pre-shale age, when presidents routinely went to the Saudis asking and sometimes pleading for boosts or cuts in production for U.S. economic purposes.
Yes, but: The White House may have yielded some benefit from the busy weekend. The Wall Street Journal reported Sunday afternoon that White House aides saw the call as helpful...
"One measure of the call's value is that it provoked a hostile reaction from Iran, which sees the president's intervention on global oil production as a threat to their interests, administration aides say. On Saturday, Iran accused Riyadh of doing Washington's bidding."
But the WSJ piece warns, "a boost in Middle East production may not be enough to stem the price rallies that have hit consumers."
2. Tesla hits a Model 3 milestone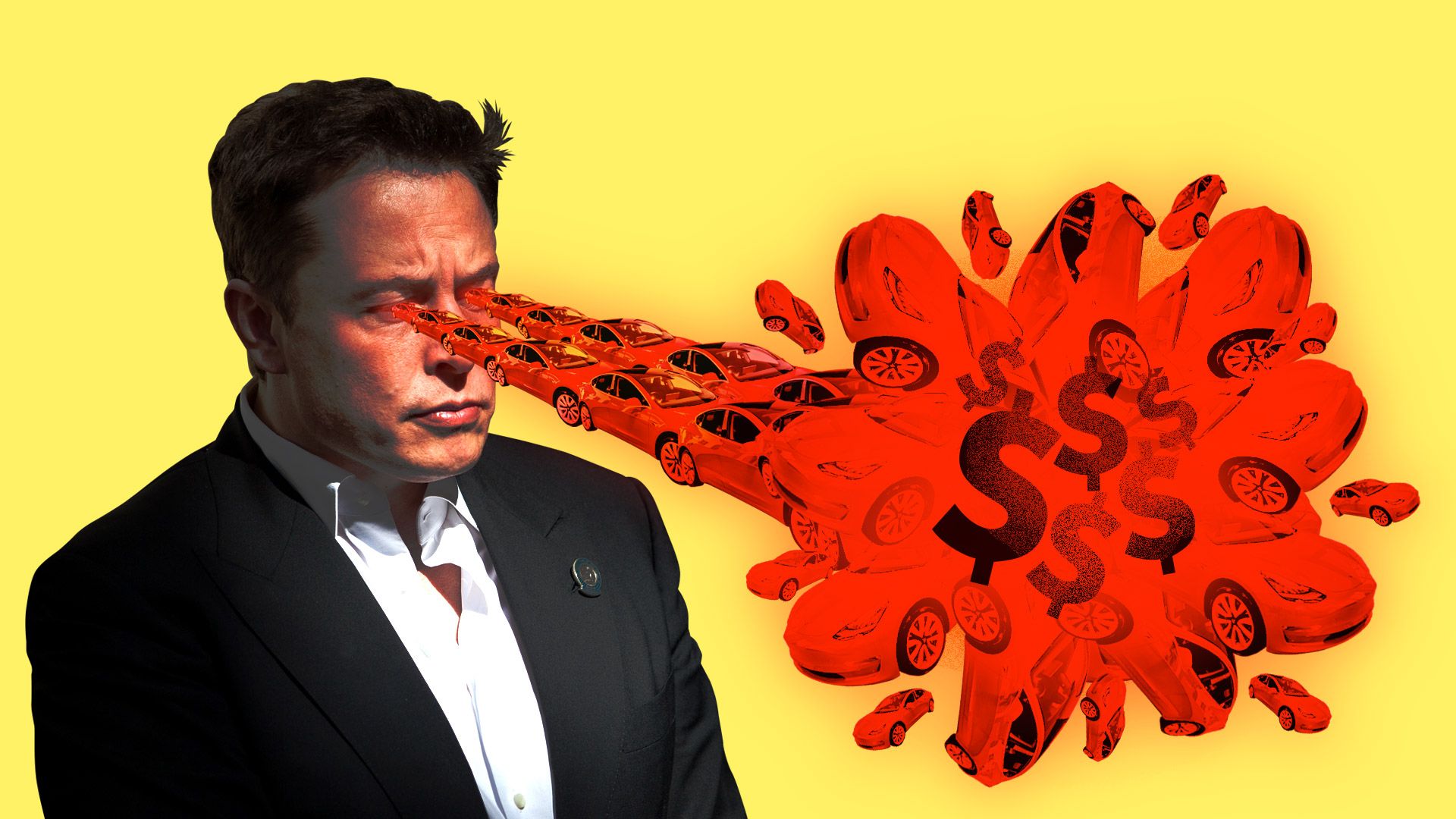 Made it: Tesla CEO Elon Musk said the company reached its target of making 5,000 Model 3s per week at the end of June, according to an email obtained by the tech site Electrek and verified by Axios with Tesla.
Why it matters: Achieving the 5000-per-week production level for the Model 3 during the second quarter was vital for Tesla, even if it came a few hours late. The company has previously fallen short of production targets during the slower-than-expected ramp-up.
Market reaction: The company's stock is up by almost 6% in pre-market trading on Monday.
Yes, but: Longer term, it remains to be seen how much confidence among investors and analysts that the success in hitting the deadline will create.
As Reuters notes, a key question is how long Tesla can sustain that production level, which reportedly took a Herculean, frenzied effort at its California factory.
And Autotrader analyst Michelle Krebs tells Bloomberg, "Now that Tesla has achieved the 5,000 mark, it needs to do so on a steady, routine basis and with excellent quality."
What's next: Per Bloomberg, Musk's email says Model 3 production may rise to 6,000 per week next month.
3. The energy stakes of Mexico's political change
Mexico's makeover: Over at the Atlantic Council, David Goldwyn looks at what Andrés Manuel López Obrador's (AMLO's) election means for the 2013 overhaul of Mexico's energy sector that enabled new private investment and other changes.
Why it matters: The election is a seismic political shift in a country that has deep two-way energy ties with the U.S., including major U.S. gas exports to Mexico, as well as imports of heavy crude.
A few takeaways from Goldwyn, who is chairman of the Atlantic's Global Energy Center Advisory Group...
1. The Trump effect: Goldwyn notes that Trump's threat to withdraw from NAFTA, aggressive immigration posture, and insulting comments about Mexicans could influence AMLO.
"AMLO's desire for greater energy self-sufficiency is partially rooted in concern over the reliability of US energy supplies," he writes.
"As a long-time ally of national labor unions and a supporter of a strong Petróleos Mexicanos (Pemex), AMLO may seek to maximize national investment and employment in the sector, hedging Mexico's political risk, even at the cost of economic efficiency."
2. AMLO's limits: The 2013 reforms included constitutional and statutory changes that can't be undone unilaterally, and AMLO intends to honor existing contracts.
So look for steps like ongoing build-out of the gas pipeline system, new oil-and-gas production coming online and opening of new gasoline stations by private operators to continue.
Yes, but: AMLO can make a number of major moves. Goldwyn says the new regime might pause offering new areas for oil-and-gas development. AMLO may also weigh whether to push Pemex into projects like new refineries, deepwater drilling and others were designers of the 2013 overhaul felt the state company lacked money or expertise to undertake.
What's next: The piece offers some advice for the White House and the new Mexican regime. Click here for more.
4. The split over amending the Montreal Protocol
Amy reports ... More than 20 conservative groups are urging the Trump administration to oppose an Obama-era climate policy that has backing from major chemical companies, some Republican lawmakers and even a few other conservative groups.
Why it matters: It's among first public efforts to oppose the policy, which phases down refrigerants in appliances that emit powerful greenhouse gas (GHG) emissions. It also exposes a rift among conservative interest groups, corporations and congressional Republicans, which more often than not take the same side on environmental issues.
The details: A new letter, organized by the Competitive Enterprise Institute with support from other national and state-based groups, says the policy would make air conditioning prohibitively expensive and not make a big difference in combating climate change. 
Flashback: The Obama administration helped broker the policy in October 2016 as an amendment to the Montreal Protocol, an environmental treaty created more than 30 years ago to mend the hole in the Earth's ozone layer. 
Between the lines: Most conservative groups oppose government policies mandating changes in the market, while some companies making replacement refrigerants see a competitive advantage, so they're supporting it. Republicans in Congress, influenced by both the interest groups and companies, are caught in the middle. 
What's next: The administration would need to send the amendment to the Senate for its review and ultimate vote for approval. There's no deadline to do this, but backers of the policy hope it happens by year-end.
5. On my screen: solar, efficiency, batteries
Solar: Via Bloomberg, a new forecast Monday from Bloomberg New Energy Finance suggests the global solar power growth might be lower this year.
"The potential decline is a testament to just how much sway China's solar demand still has in the global market. The country decided in June to put the brakes on new installations this year," they report.
Yes, but: The story adds that even if there's contraction this year, BNEF sees a return to growth in 2019.
Efficiency tech: Per Greentech Media, "Researchers at Lawrence Berkeley National Laboratory are working with manufacturers to commercialize a triple-glazed 'super window' that's at least twice as insulating as the most common window sold in the United States today."
Batteries: Reuters reports that auto giant BMW awarded a roughly $1.6 billion contract to Chinese lithium battery maker Contemporary Amperex Technology.
Climate: Via the Financial Times, "Countries that are vulnerable to climate change are paying significantly more to borrow from the financial markets, according to new research, as investors price in the risks."
6. Conservative group: carbon taxes > regulations
A conservative think tank is out with new research concluding that carbon taxes bring fewer economic burdens and more carbon cuts than "command and control" regulations.
Why it matters: The American Action Forum (AAF) doesn't advocate for specific policies. But the findings come as some former GOP officials aligned with other organizations — notably the Climate Leadership Council and a new lobbying offshoot — are trying to create political momentum for a tax.
What they found: AAF analysts modeled the long-term effects of a hypothetical carbon tax that starts at $25 per ton and increases 5% annually, and conclude — based on their assumptions about the effect of Obama-era regulations — that it would be "more than twice as cost-effective."
And that's even before provisions to offset the economic impact.
The intrigue: Their analysis, like several others, favors an approach that offsets the impact of a carbon tax with reductions in other taxes.
However, while the Climate Leadership Council calls for direct rebates to the public, the AAF paper argues it would be more economically efficient to use carbon taxes as a chance to cut corporate taxes, though they acknowledge this has even higher political hurdles.
In their words: "Simply put, a directly imposed, purely additive carbon tax could have harsh economic consequences, but a revenue-neutral carbon tax designed to minimize such consequences (i.e. via a corporate tax swap) could result in GDP changes that are only marginally detrimental, if not beneficial," states AAF analysts Philip Rossetti, Dan Bosch and Dan Goldbeck.
The big picture: Carbon taxes have no political traction in Washington right now and the White House is moving to unwind Obama-era rules. But the new paper adds to growing policy design options that could guide future administrations.