Axios Generate
May 19, 2017
Happy Friday! Quick note: The inaugural issue of the Axios Science newsletter dropped yesterday. It's great. You can sign up here to get Axios Science in your inbox every Thursday. Ok, let's head for the weekend . . .
Rise of the machines
The analysts at Wolfe Research are out with the first installment of their "Journey to the End of the Oil Age" series.
The big idea: One part of Wolfe's lengthy report is a thought-provoking analysis of when and how electric vehicles might really, really take off. The conclusion? By becoming more like iPhones and less like cars.
Crystal ball: Basically, they forecast no medium-term collapse in U.S. gasoline demand (which accounts for nearly half of all U.S. oil use).
But after 2025, things could get really interesting. They see autonomous cars, electrification, and digital connection converging into such a new system that it will be like the ultimate "killer app"— one that transforms the business and consumer equations that have thus far held EVs to a tiny market share.
In their words: "Like other Killer Apps, such as the smartphone, consumers will feel a strong desire to upgrade from old to new, regardless of price relative to the old tech. This will be a step-change in consumer experience."
"Automakers...will be highly motivated to sell (unlike current EVs), because the digitally-connected ecosystem and data collection of each unit could hold more revenue opportunity than the initial vehicle sale itself — some estimates are as high as 10x the revenue over the vehicle life."
Bottom line: The report models several adoption scenarios for this "new travel ecosystem." The fastest adoption scenario cuts U.S. gasoline demand in half by around 2033.
My conversation with Rep. Shimkus
GOP Rep. John Shimkus is chairman of the environment subcommittee under the powerful Energy and Commerce Committee. He chatted with me at his Capitol Hill office earlier this week. Some takeaways...
Yucca Mountain: He wants to get legislation to revive the long-stalled nuclear waste repository through the House before the August break, and said there's "no reticence" among leadership.
Shimkus knows Yucca faces big hurdles amid opposition in Nevada, but says that "you can pick up bits and pieces of some interest" in the state too.
Ethanol: Shimkus still wants to convene bipartisan talks to seek agreement on changes to the controversial Renewable Fuel Standard. But actual negotiations "have not begun."
Superfund: EPA administrator Scott Pruitt has signaled that he wants to prioritize waste cleanup and Shimkus is hopeful it will happen (though President Donald Trump's proposed budget would cut funding).
"I think a lot of Democrats — if [Pruitt] focuses on getting the job done — will appreciate his streamlining the process and really getting to the point of the problem, and trying to fix the problem. Because you can't defend these delays," Shimkus said.
Shimkus is interested in working with EPA on potential legislative changes to aid cleanups.
Paris: Amid the internal White House debate, he's leaning toward the side that favors withdrawing from the climate deal, saying he's not a fan of joining international pacts using executive authority.
"The majority of members of the House Republicans would not cry if we left the Paris accords. I think it would be a large majority of our conference," he said.
The Permian engine roars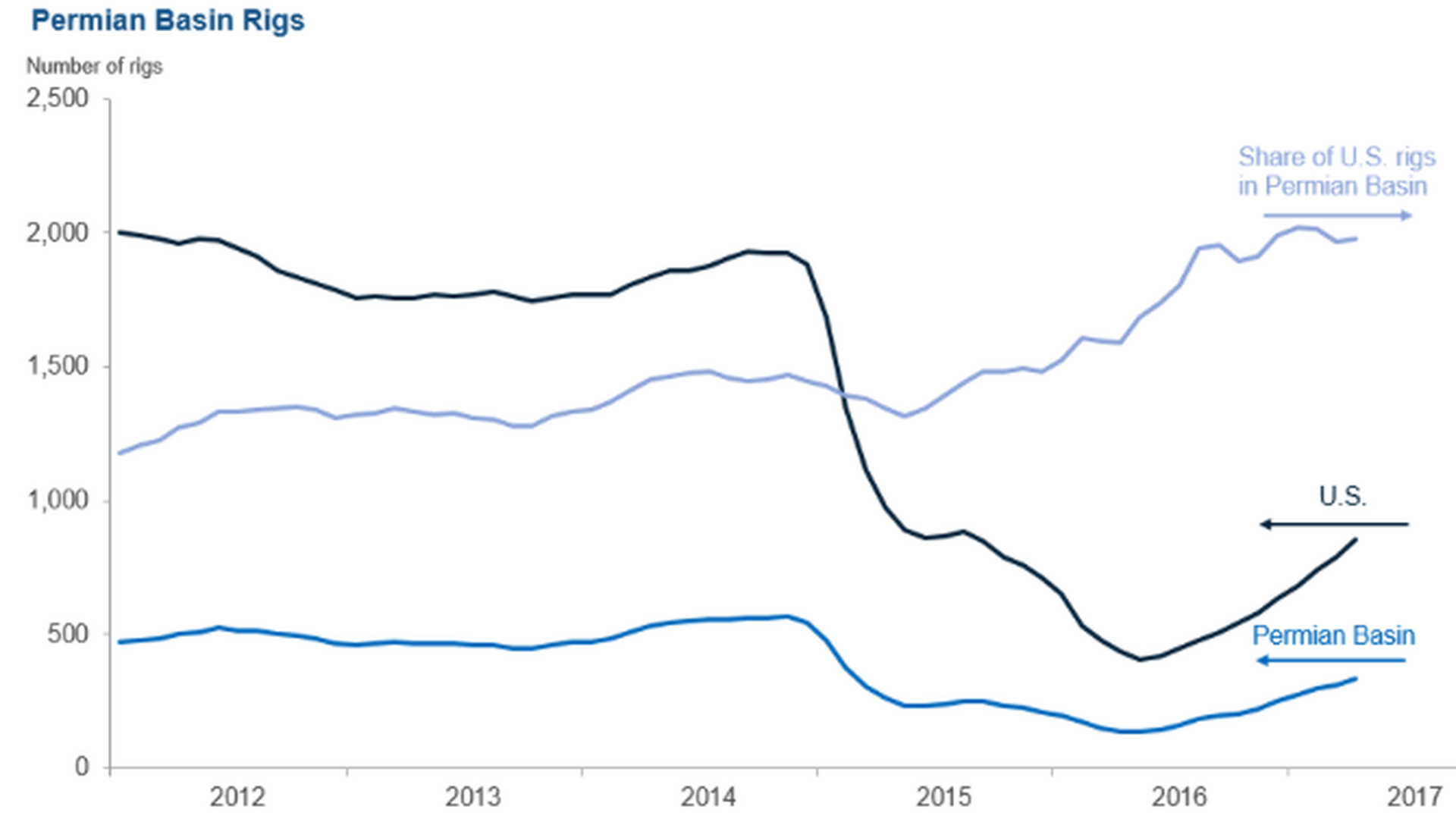 The Federal Reserve Bank of Dallas is out with a helpful, reader-friendly snapshot of oil-and-gas data and trends in the region, including the red-hot Permian Basin region of Texas and New Mexico.
Why it matters: The Permian's beehive of activity is a big reason why U.S. production didn't sink further during the price doldrums and why it's moving steadily up toward record levels.
Go deeper: The report notes that the Permian now accounts for nearly 40 percent of the active U.S. drilling rigs.
In their words:
"Better economics and higher interest due to the region's favorable geology have likely contributed to the rise; many shale formations in the Permian are stacked, making it efficient to drill into different reservoirs from the same location."
Earth is very warm again in 2017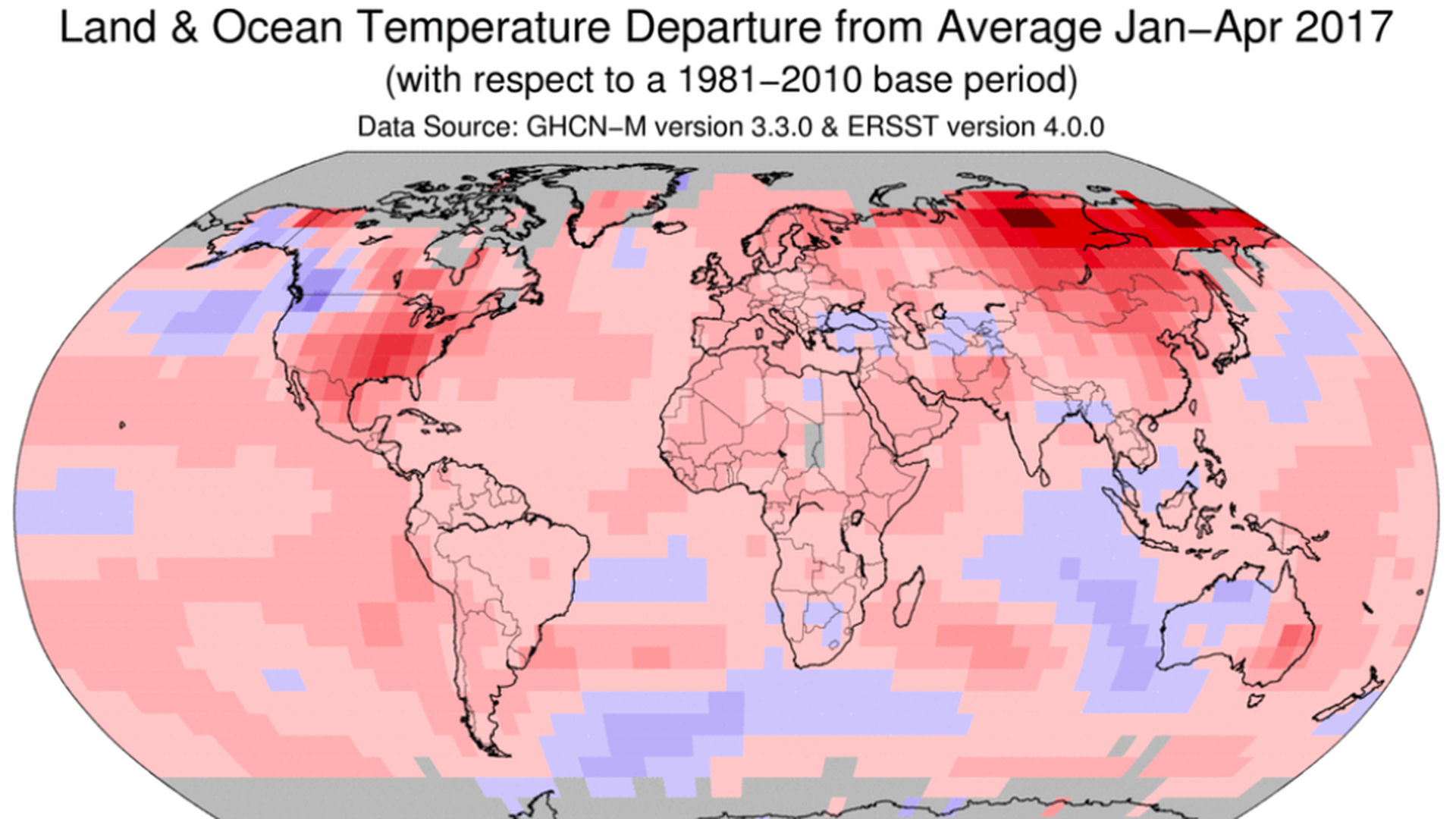 Newly released federal data suggests the planet is on track for another extremely warm year.
The findings: The National Oceanic and Atmospheric Administration reported that the global land and ocean surface temps from January-April was the second highest such period since records began in 1880, trailing only 2016, and was 0.95°C above the 20th century average.
Why it matters: because global warming.
Let's turn it over to Mashable's science expert Andrew Freedman, who looked at the new NOAA data alongside new NASA data on Arctic warmth fueling high temperatures in April.
"The new findings illustrate how the planet is still setting climate milestones even in the absence of other factors that tend to elevate global air and sea temperatures, such as an El Niño event," Freedman writes.
From Amy's notebook: conservative climate hires
My Axios colleague Amy Harder reports...
A conservative group, which is pushing a long-shot bid at getting Washington to back a carbon tax, keeps beefing up its ranks.
Exclusive: After launching in February with elder GOP statesmen like James Baker, Henry Paulson, and George Schultz, the Climate Leadership Council has quickly hired several people, including two more this week: Jill Sigal, a top official in President George W. Bush's Energy Department; and, Taiya Smith, who worked with Paulson at the Treasury Department under Bush.
Liberal TED? Speaking of the CLC, its president and founder Ted Halstead gave a TED Talk that posted online this week, which apparently is popular among liberals only.
After Halstead gave his 10-minute pitch (tax carbon emissions, return the money to the public, and scuttle climate regulations), TED curator Chris Anderson returned to the stage during the applause and said: "I'm actually not sure I've seen a conservative getting a standing O at TED before, that's pretty cool."
Reality check:
Most of the support for climate policy rests within the Democratic Party, but Halstead and his group are nonetheless confident in their uphill battle.
Roundup: BP personnel moves, OPEC, Paris, and Russia
People: Geoff Morrell, a familiar name in journalism and energy circles, has been promoted to BP's group head of communications and external affairs, based in London.
Morrell is currently the energy giant's senior VP for U.S. communications and external affairs. The former Pentagon spokesman and journalist has been with BP since 2011, and said he's "honored and excited" about the new role that starts in August.
Stepping into Morrell's shoes in the top U.S. role will be Mary Streett, who is currently the company's head of U.S. government affairs.
Paris: Shell CEO Ben van Beurden is pretty outspoken as far as big oil CEOs go, and he's back at it with this NPR interview, where he makes the case for the U.S. staying in the Paris climate accord.
"Van Beurden argues CEOs have a responsibility to speak out against industry organizations that support politicians who deny the existence of climate change," NPR reports.
OPEC: Reuters looks at the cartel's behind-the-scenes planning for next week's meeting, where hotly anticipated decisions about extending the production-cutting agreement are expected.
Russia: The Wall Street Journal reports that U.S. officials are looking into Russia's influence over Citgo Petroleum Corp., a move that arrives "amid heightened concern that the Kremlin is seeking to use energy as a political weapon against the U.S."
Thanks for reading! Next week should bring some interesting moments on Capitol Hill. President Trump's two nominees for the Federal Energy Regulatory Commission, as well as his pick for the number two Energy Department position, appear before the Senate Energy and Natural Resources Committee on Thursday.
Confidential tips and feedback are always welcome at [email protected] Have a great weekend.