Axios Generate
May 30, 2017
Good morning, it's already Tuesday! I hope everyone had a happy Memorial Day weekend.
We have a busy week on hand: Trump might finally decide about the Paris climate deal (unless he doesn't), Energy secretary Rick Perry jets off to Asia, and my latest Harder Line column takes you behind the scenes with exclusive details about how the Trump administration and renewable industry are getting along better than you might expect.
One shameless plug before we dig into the news: the venerable Mike Allen's afternoon newsletter launches today. Click here to sign up and not miss a beat of our Smart Brevity!
OK, onward.
Trump vs. renewable energy: It's not as bad as it looks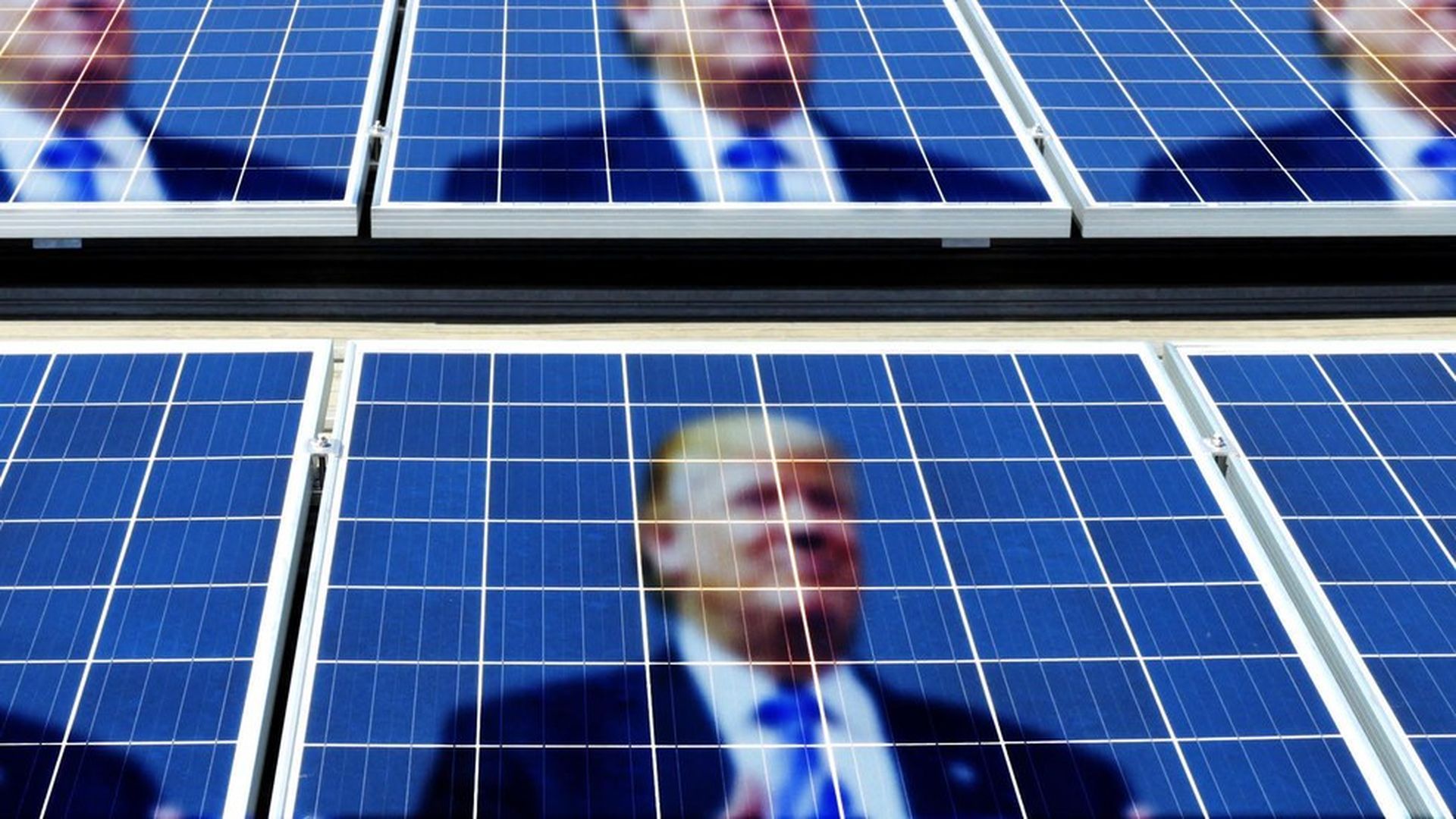 Behind President Donald Trump's dismissive rhetoric of renewable energy is a muddled picture. Executives in the industry are seeing signs the administration won't actually be as bad for them as feared.
Why it matters: Wind and solar power use skyrocketed across the U.S. over the past decade thanks in part to tax incentives and friendly policies by former President Obama. Growth in the industries led to job creation and political clout, and now renewable power is cost-competitive with other sources of electricity in some parts of the U.S., though fossil fuels remain America's dominant sources of electricity. To what extent the Trump administration seeks to undermine these trends could slow, but not reverse, renewable growth.
Read the rest of my Harder Line column by clicking here.
Climate deal fight reaches home stretch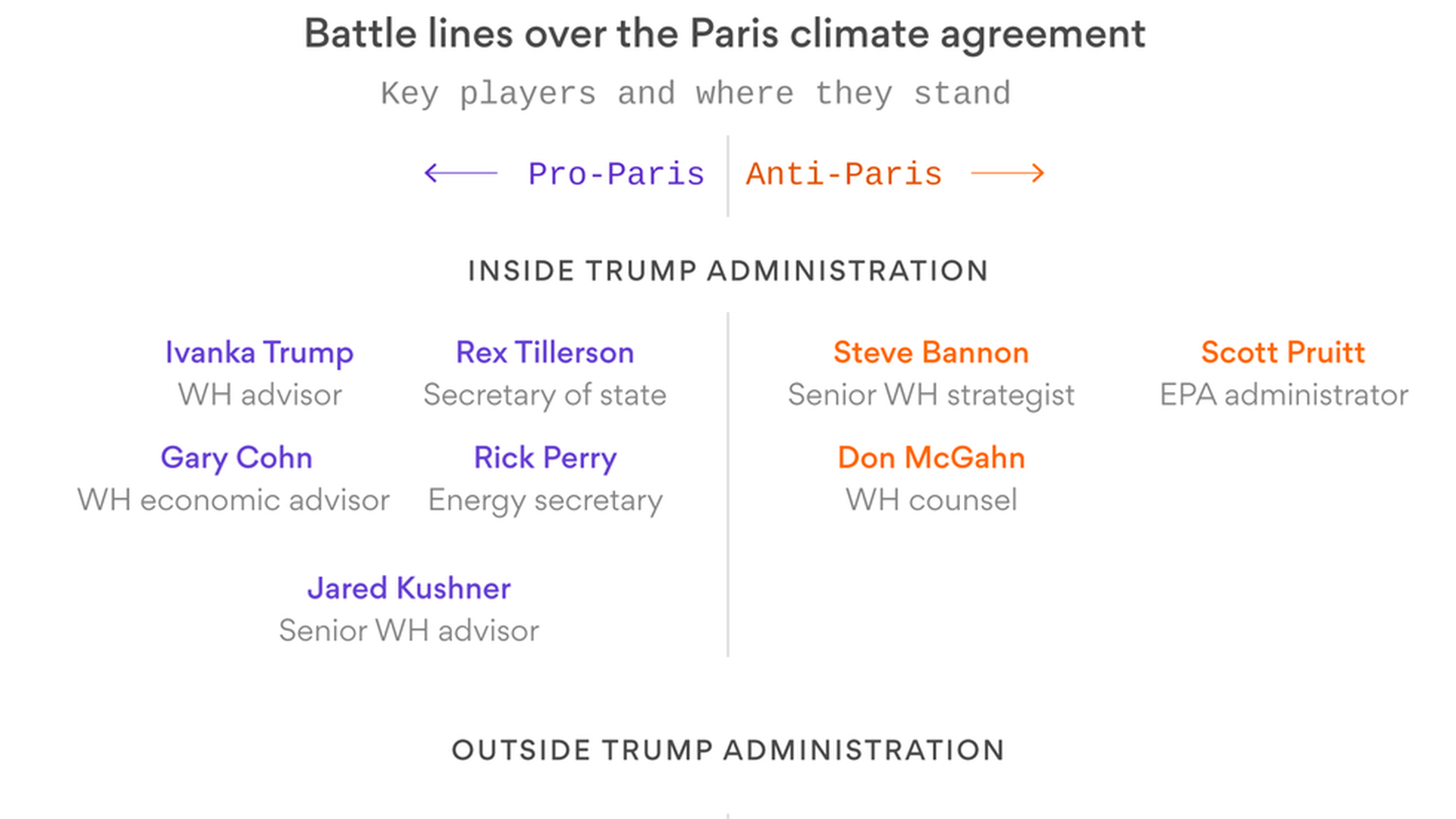 Trump tweeted Saturday morning that he's going to make a final decision on the Paris deal this week.
Between the lines: If he follows through on what he's told close confidants — that he's withdrawing from the deal, according to an Axios scoop Saturday — this will indicate that pressure from other nations before and during his G7 trip did not succeed. The administration views the pact via one lens: What's best for America, according to White House economic adviser Gary Cohn.
Sound smarter: While Trump emphasized he likes the environment, to him this decision isn't about the environment — it's about ensuring the deal doesn't hurt U.S. companies, Cohn said. Obama's pledge was to cut U.S. greenhouse gas emissions between 26% and 28% by 2025 from 2005 levels. No matter what you think about whether that pledge would actually hurt U.S. companies (a lot of independent experts don't think it would), ratcheting it down may provide enough of a concrete change for Trump's business focus.
Stay informed: We'll be updating the above graphic if/when new key players emerge in the Paris climate battle.
Energy secretary jets to Japan and China
Energy secretary Rick Perry is scheduled to travel later this week to Asia to attend a clean energy meeting and visit Fukushima, the site of a nuclear power plant accident in 2011 following a tsunami, according to a department official. Perry will be in Japan on June 2-5, then in China June 6-8 for the second Mission Innovation Ministerial.
The department is announcing his travel today, but you're hearing it here first!
The context: The meeting in Beijing is the second of its kind with high-level government officials like Perry since the MI Ministerial was first established last year.
Outdated narrative? The U.S. joined under the leadership of then-President Obama, and details of the Obama administration's efforts, including ramping up its budget for clean energy and its commitment to the Paris climate deal, are still posted on the MI website.
Why his trip matters: It's a timely opportunity for Perry to get an earful from other energy ministers similar to how President Trump faced pressure from fellow world leaders at the G7 meeting last week. Expect pressure on investing in renewable energy and staying in the Paris agreement, two things that have so far not been priorities for this administration.
America's solar trade conundrums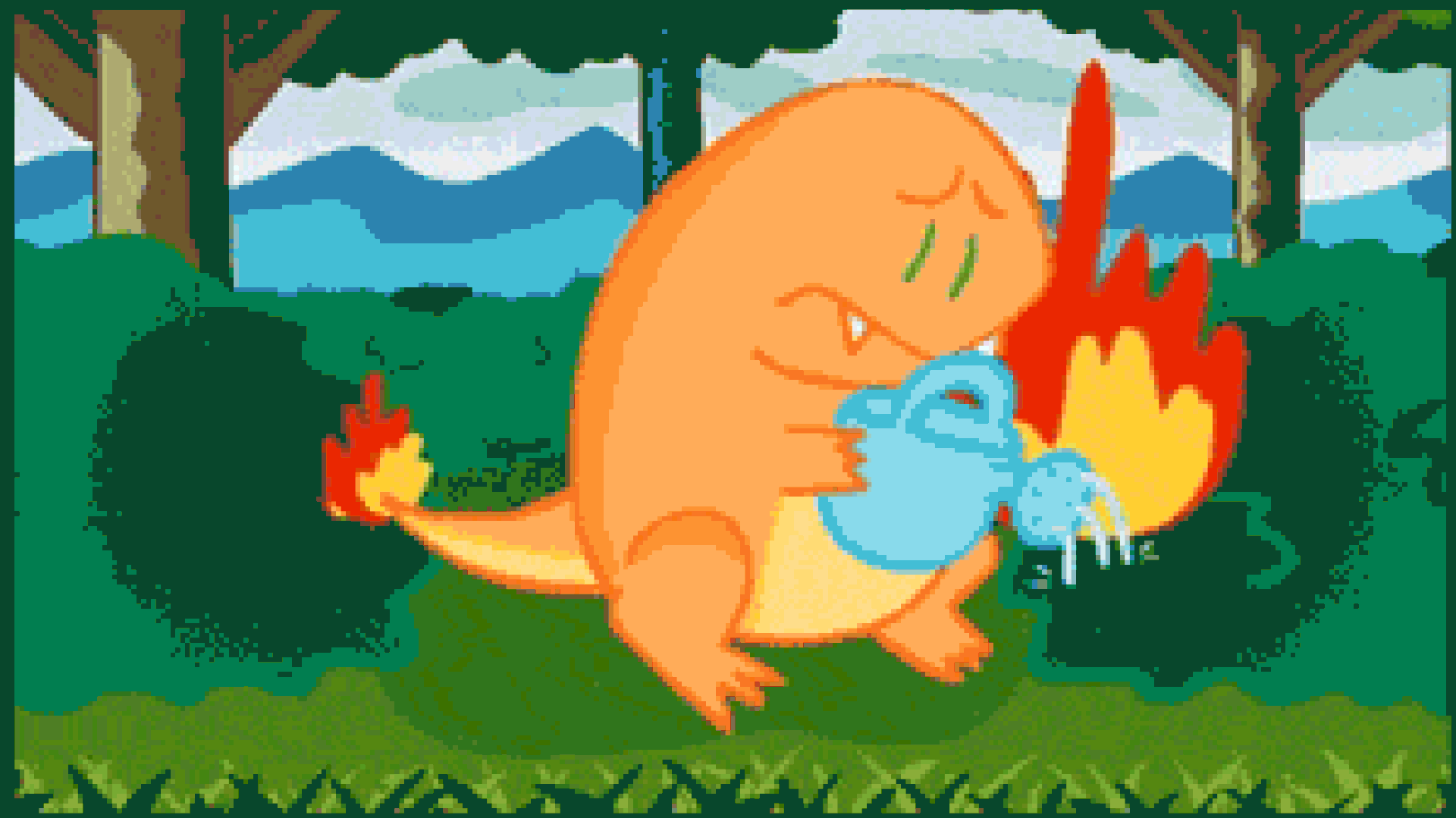 The solar trade war between China and the U.S. is heating up, presenting Trump with a sticky trade issue his predecessor wasn't able to solve.
The U.S. may impose emergency tariffs on imported solar cells, Reuters reports, according to a filing the U.S. published Monday at the World Trade Organization.
Get smart: This is just the latest salvo in a years-long battle between top solar manufacturing countries around the world, especially China, India, and the U.S. It's a tricky balance, according to Michael Froman, former U.S. trade representative for Obama.
Froman said on Columbia University's Center on Global Energy regular podcast that cheaper solar panel imports help boost the amount of clean energy in the U.S. and create jobs installing those panels, which are both good objectives.
"On the other hand, you'd also like to see a U.S. domestic manufacturing capability in solar panels, and we are capable of producing world-class solar panels."
What's next: The U.S. filing comes on the heels of the bankrupt U.S. solar manufacturer Suniva petitioning the U.S. International Trade Commission for global safeguards. The ITC will decide by Sept. 22 whether the U.S. solar manufacturing industry has suffered "serious injury," and if that's the case, it will submit a report to Trump by Nov. 13, Reuters reported.
Trump's moment? "We worked very hard over three years to try to resolve it, but the stars were not aligned," Froman said on the podcast. Your turn, Trump!
What renewables the Energy Department is funding
The DOE's Office of Energy Efficiency and Renewable Energy is downgrading and shifting its focus for research and development funds, according to its acting director, Dan Simmons.
What I'm told: Under Trump's budget proposal sent to Congress last week, this office would see its funding slashed by 70%, and while Congress is unlikely to approve it, the department is operating under this mindset.
"We believe we can do more with less," Simmons said. The office is shifting focus to early-stage technologies instead of late-stage development, which Simmons described as looking at the barriers of deploying solar panels on homes or businesses.
Here are some examples of what Simmons describes as early stage that the department is looking to support:
Modeling wind flows between turbines.
Examining wide band gap technologies, which aim to improve power inverters for solar power as well as other applications with the power grid.
Understanding primary basics of solar cells.
Lightning round: UN climate speech, Exxon warning + more
Here are some stories and upcoming events you shouldn't miss:
One fun thing: Did you know rainbows are circles?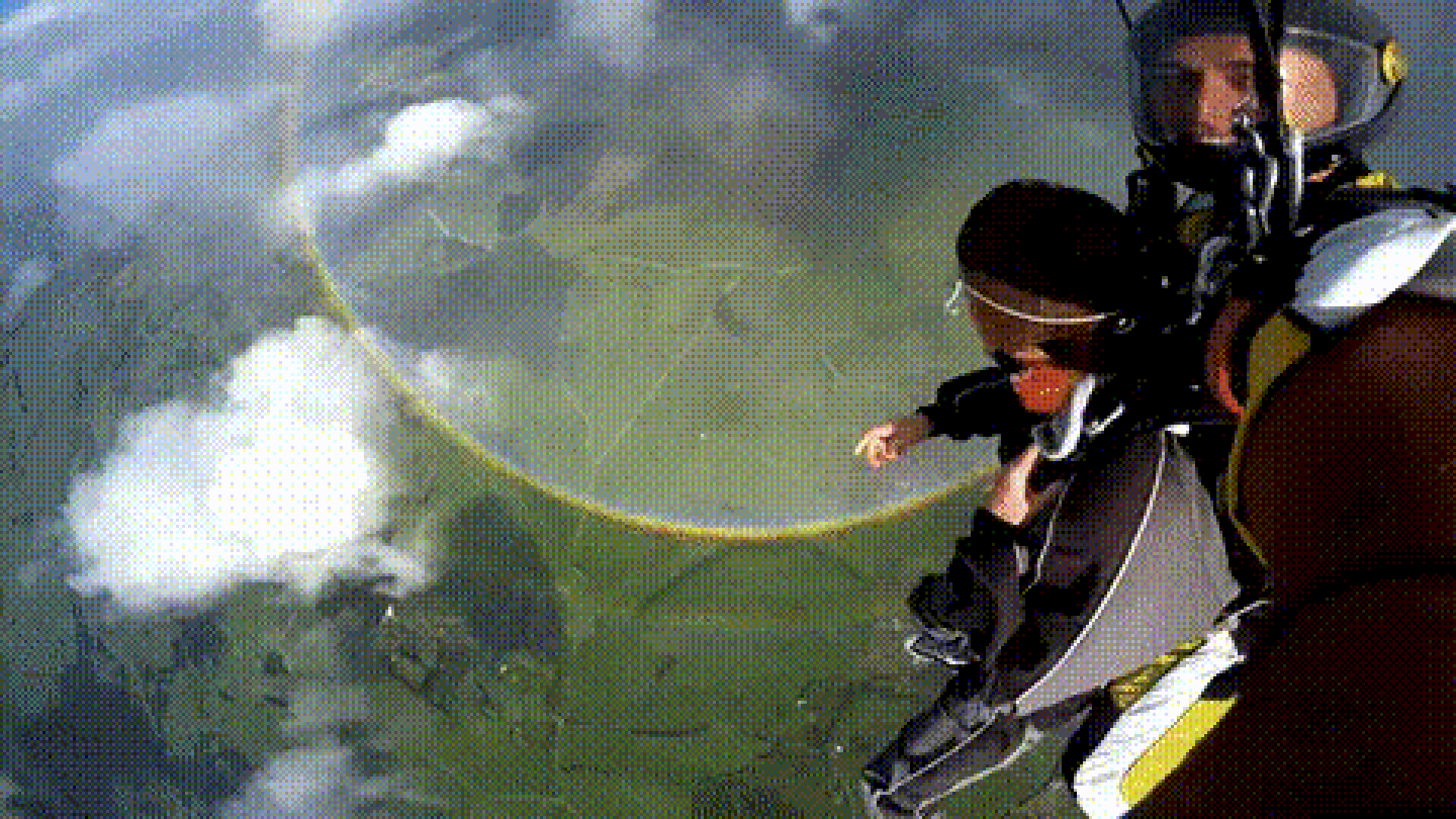 I didn't until recently. Maybe you didn't either? WRAL.com, a news outlet in North Carolina, has an interesting piece on the anatomy of a rainbow. Check it out here. It was published for the unofficial start of summer (Memorial Day) when afternoon thunderstorms roll in like clock work — and often leave behind rainbows.
Thanks for making it until the end! Questions, comments, ideas? Reach me at [email protected].