Axios Generate
June 29, 2017
Good morning! It's Amy from the west coast holding down the fort for Ben today.
We might want to call this "the Energy Week that isn't." Most of Washington is paying more attention to other issues, like the health care bill, and most of the news happening this week on energy goes counter to the Trump administration's agenda. What's more, my colleague Jonathan Swan tells me that even some White House officials are skeptical of these themed weeks.
But hey, there isn't a shortage of real news, so let's get to it.
Trump touts natural gas exports Obama approved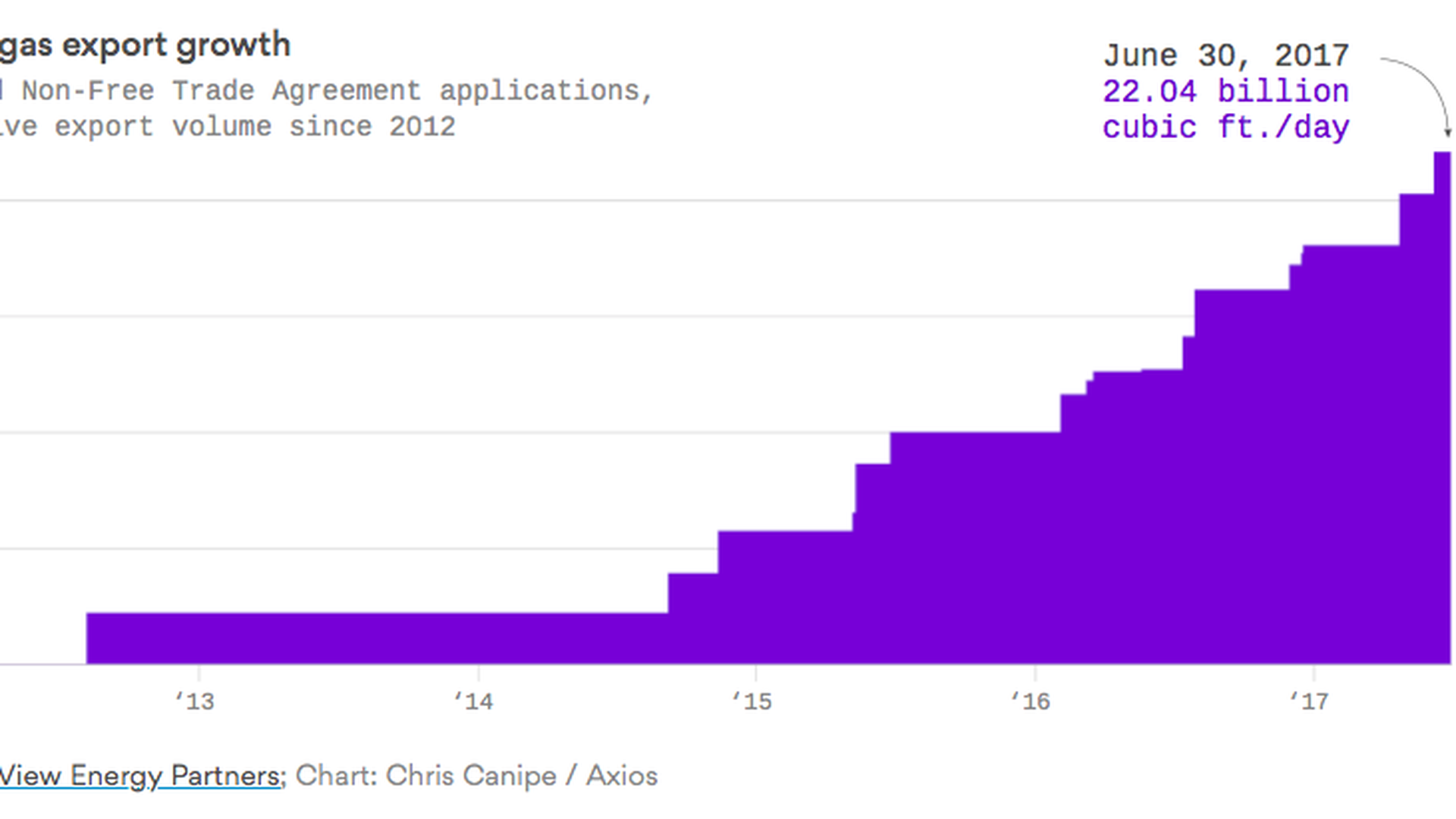 President Trump won't admit it, but he's taking credit for something former President Obama did.
Expected today: In a speech at the Energy Department, Trump is likely to tout America's oil and natural gas boom and in particular how his administration is greenlighting exports of liquified natural gas, which has been a recurring presidential talking point of the last few months. But it was actually the Obama administration that approved nearly all of the LNG poised to be exported, and Trump is, so far, just reiterating what his predecessor did.
Why it matters: The Trump administration has displayed a lot of positive rhetoric about LNG exports, but as yet it hasn't made any explicit policy changes to how the federal government reviews applications for LNG. An Energy Department spokeswoman declined on Wednesday to say whether Trump will make any related policy announcements in his speech today.
To be sure: Obama took credit for things his predecessor did, too. In 2011, he was touting increased offshore oil and natural gas production, even though a top official in his administration at the time said such increases were due to policies his predecessor, Republican President George W. Bush, put in place that increased access to federal waters.
Read more of my analysis here.
Pulling the plug on clean coal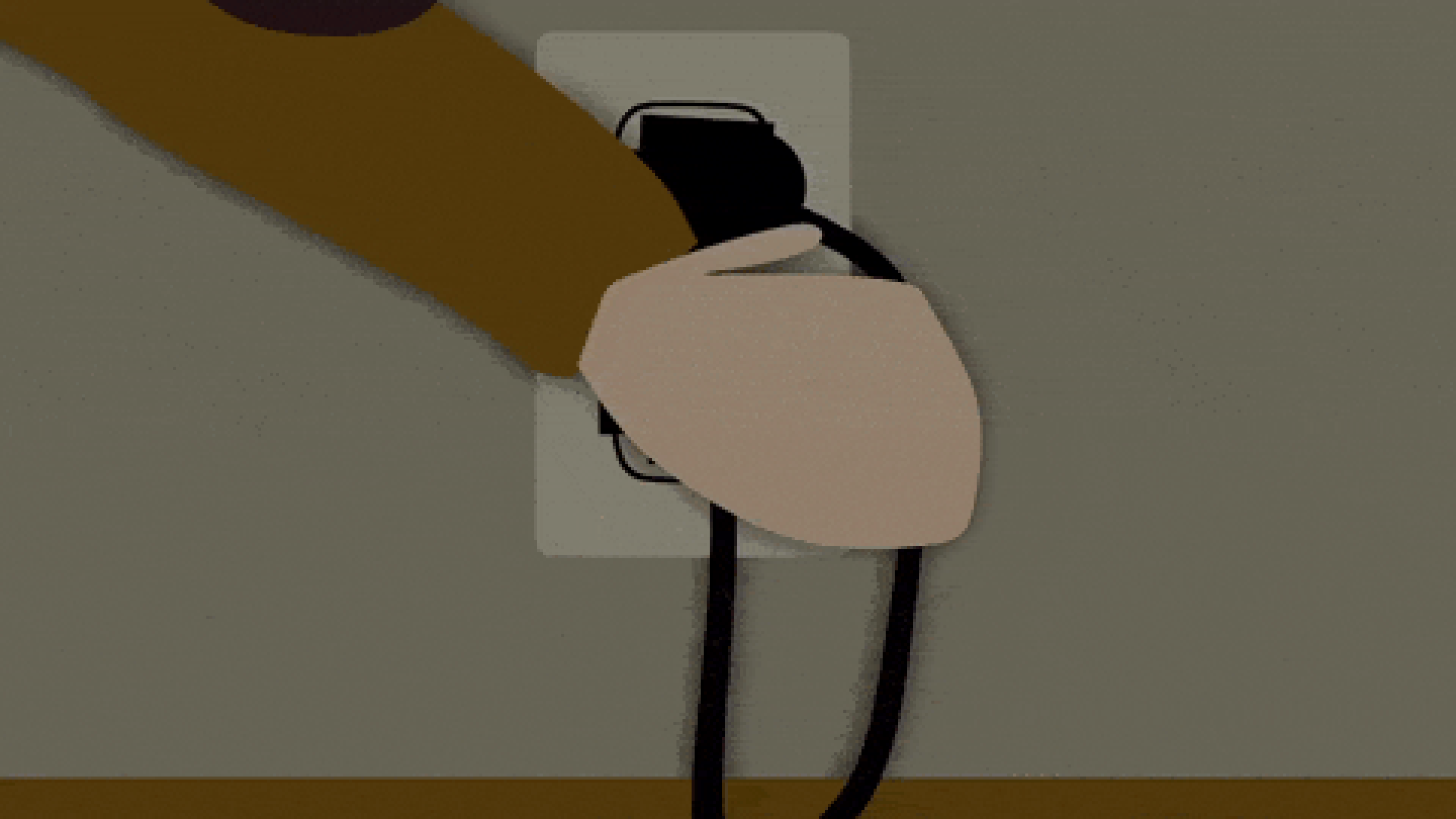 Southern Company announced Wednesday it is abandoning its long-touted efforts to capture carbon emissions from its coal plant in Mississippi, and instead is going to keep running Kemper on natural gas for the indefinite future.
Why it matters: The Kemper power plant, economically struggling for years, was supposed to be the model for America's "clean coal" technology, being touted by both President Obama and top officials in the Trump administration as recently as this week. Instead, it's becoming a poster child for all the reasons "clean coal" technology just isn't workable in most scenarios today:
Cheap natural gas is flooding the electricity market, hurting coal, nuclear power, and, in many cases, renewable energy too.
Electricity demand in the U.S. isn't growing, exacerbating competition among fuel sources.
The technology, which captures carbon emissions from a coal-fired facility and stops it from being emitted, is technically feasible but expensive.
Without market trends or government policies that make other sources (namely natural gas) more expensive, clean coal technology will remain out of reach in the U.S.
Quoted: Energy secretary Rick Perry praised the plant earlier this week. "I have full confidence the Kemper plant is going to be operational," Perry said. "It's going to be functional." Technically, the plant is operational, but not the part that Perry is referring to.
A clean coal catch: Perry was on hand at the grand opening of a Texas-based plant that is currently capturing carbon emissions from a coal-fired power plant. It's making things work financially partly because the carbon dioxide is being used as a sellable product to pump oil out of the ground at a nearby operation.
Banks and companies back report on climate disclosures
There's more news breaking today related to my Harder Line column this week, about how investor concern for climate change is increasing.
The Task Force on Climate-Related Financial Disclosures, created in late 2015 by an international body overseeing the global financial system, issued its final report today. Included is a statement of support for its recommendations from a deep bench of companies and financial institutions, including Bank of America, Barclays, and HSBC.
Why it matters: The lengthy list of companies demonstrates wide-reaching support in the global financial community for disclosure related to climate change, regardless of political winds in any particular country, including the U.S.
The details: The report's recommendations create a voluntary framework for companies to disclose climate-related information in their financial filings, focused around four elements of companies' operations: governance, strategy, risk management, and metrics and targets.
Who's missing: The companies highlighted in my column for having record investor support for disclosing the risk that carbon regulations pose to their bottom lines are not among the list of backers. This includes ExxonMobil, Southern Company, and Occidental Petroleum.
The other side: Marlo Lewis, a fellow at the conservative Competitive Enterprise Institute, wrote a piece in response to my column, questioning whether the increase in support is actually surging — or merely peaking in response to anticipation Democrat Hillary Clinton was going to win the presidential election.
Like Obama, like Trump: ethanol delays
The EPA will soon issue the levels of ethanol that refineries must blend into the nation's gasoline supply, but multiple industry officials close to the deliberations say the date keeps slipping, and it now may be a few more weeks at least.
This should sound familiar. The Obama administration was also regularly late in issuing the quotas, which current law requires EPA to issue each year. One time it even justified one delay with an earlier delay. (Check out page 73008 of this document for proof.) Trump's EPA still has time to issue final standards by the required November deadline, but it's getting tougher by the day, industry sources tell me, because it first must go through a public comment period that typically takes a few months.
Why this matters: The renewable fuel standard is a complex law that brings with it a host of political, market, and policy implications touching everything from corn and oil markets, to environmental issues, to politics (election battleground Iowa is also the nation's top corn producer). These delays by Trump's EPA show these issues are as thorny as ever, even with the administration change.
The obligation fight: Multiple industry officials say that when EPA issues the draft 2018 ethanol levels, it will be unlikely to issue a decision about a pending request to change what categories of companies must comply with the mandate.
The little energy bill that tried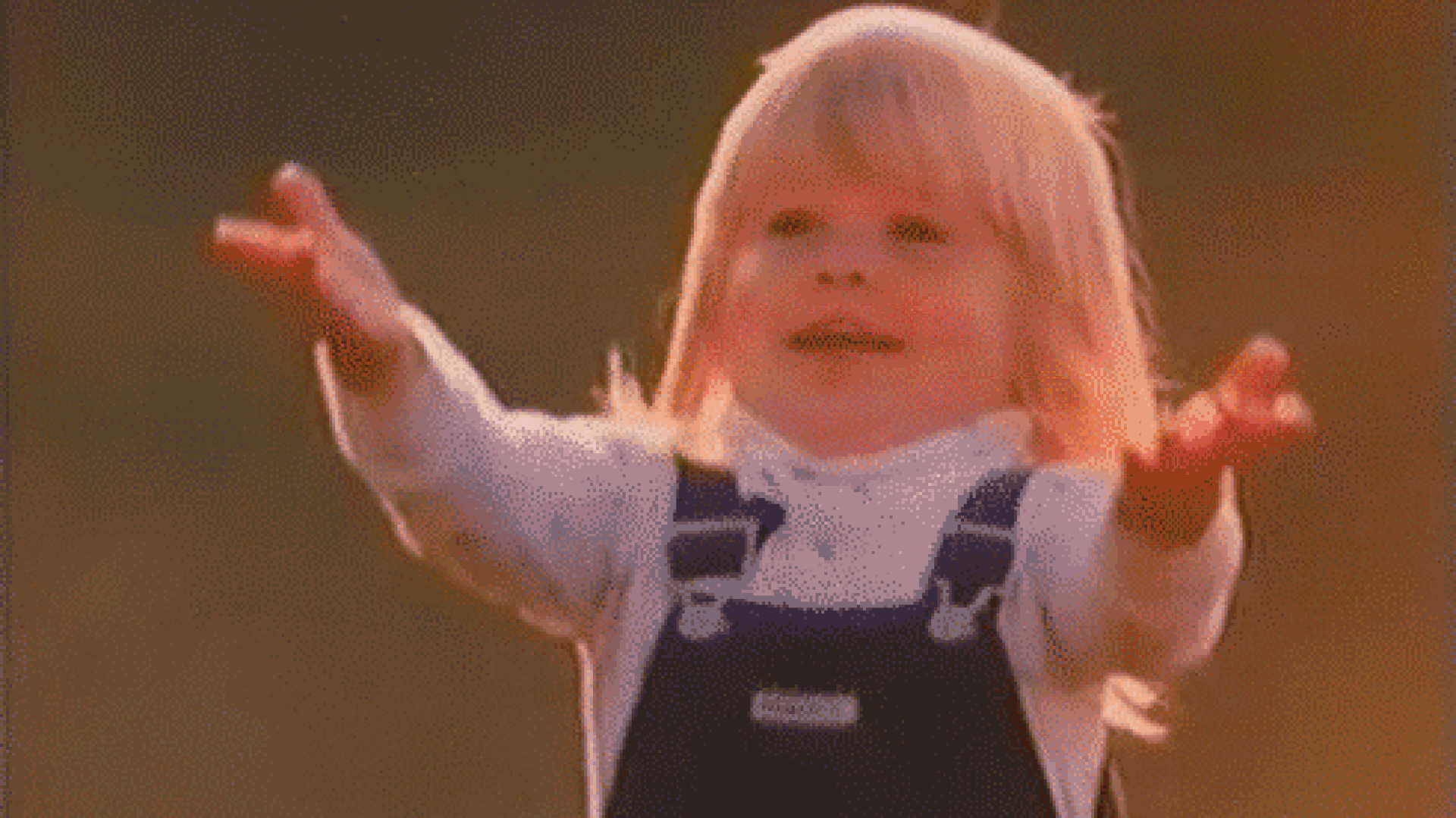 Bipartisan leaders of the Senate energy panel are introducing today an energy bill similar to the measure that both chambers passed last Congress but that didn't make it to the finish line before the congressional session was over.
Why it matters: Congress has been trying for years to do something on energy, and this modest bill is the best chance it has in the foreseeable future. Whether Congress can pass it -- and whether Trump will sign it — could indicate the appetite for Congress to do important if not sweeping policy reforms on a host of issues, including energy.
What's in it: Similar to what was passed the Senate last year, including provisions on the following issues:
LNG exports
Electric reliability impact statements
Cybersecurity
Hydroelectric licensing reforms
Nuclear research and development
What's next: A Senate aide said the bill is being placed directly onto the Senate floor calendar, which could expedite its passage, assuming Senate leaders agree to it and other issues don't demand attention (big assumptions none of us should bank on).
Lightening round: FERC nominee, Dallas Fed report & more
Some items that caught my eye:
One fun thing: Burning Man party goes on (probably)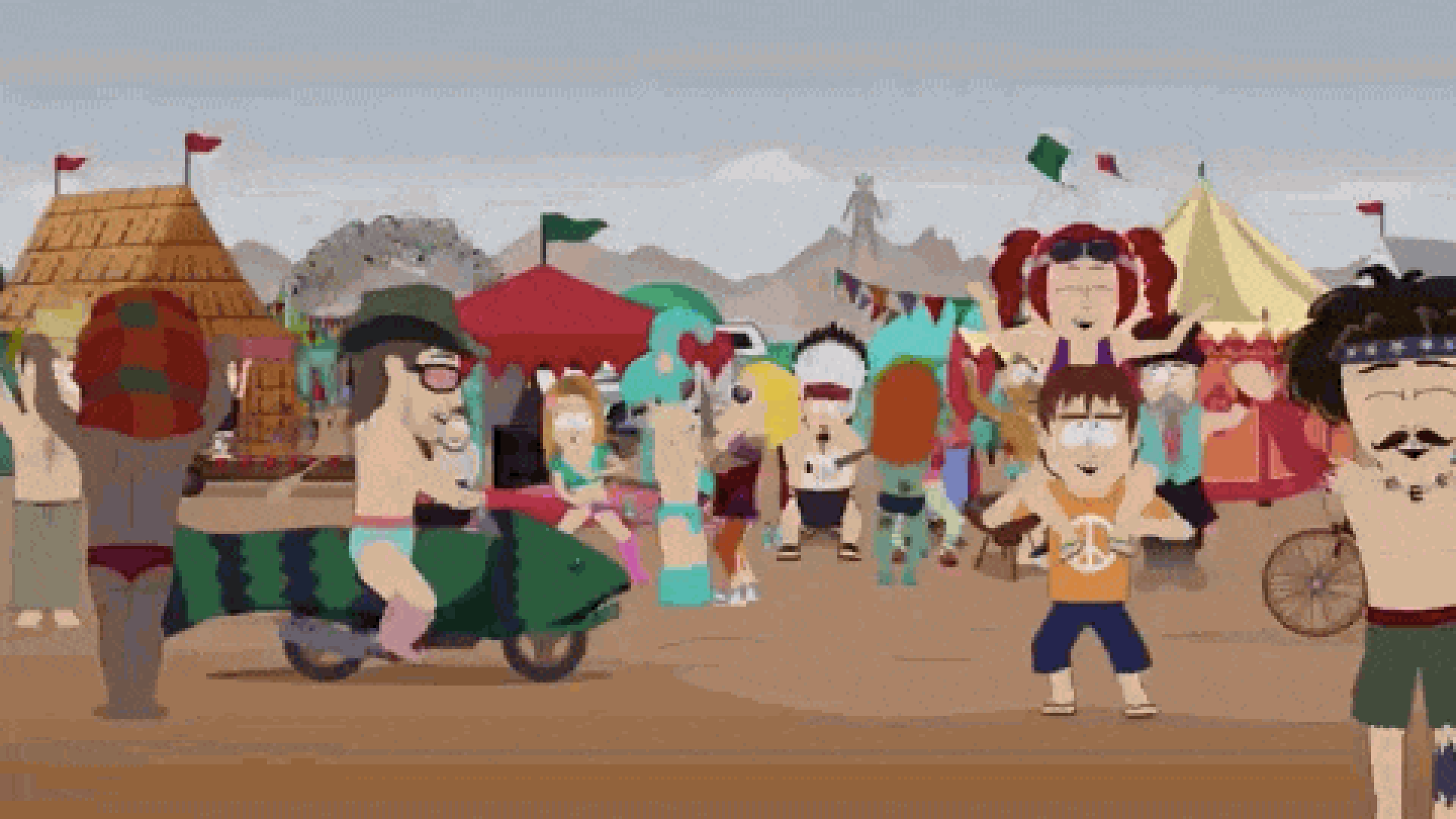 Given the unpredictability of this new Trump administration, I thought I would check to see if it would still issue a permit for Burning Man, the week-long festival of art (and more), which needs a federal permit to party in Nevada desert lands owned by the federal government. The answer is: Probably, yes, it will.
The Interior Department is set to soon greenlight a permit for the event, according to federal documents posted Wednesday and an official at the Bureau of Land Management.
Read more here.
Thanks for joining me today. Generate and my Harder Line column are both taking the July 4th week off, but stay up on the latest news in the always-updated Axios stream. Here's how to put us on your phone's home screen:
Android: When you're at Axios.com on the Google Chrome browser, click the menu bar on the top right and select "Add to Home Screen."iPhone: When you're at Axios.com on the Safari browser, click on the 'share' button at the bottom center of the screen and then click "Add to Home Screen."