Axios Generate
December 03, 2019
Good morning! Today's Smart Brevity count: 1,240 words, < 5 minutes.
Situational awareness: The World Meteorological Organization warned Tuesday that current policies, if left unchanged, will lead to an increase in the average world temperature of 3°C–5°C by the end of the century, Bloomberg reports.
"The past five years are now almost certain to be the five warmest years on record, and the past decade, 2010-2019, to be the warmest decade on record," the UN organization said.
And Tom Waits' birthday arrives Saturday, so he's got today's moving intro tune...
1 big thing: Making sense of an oil major's net-zero pledge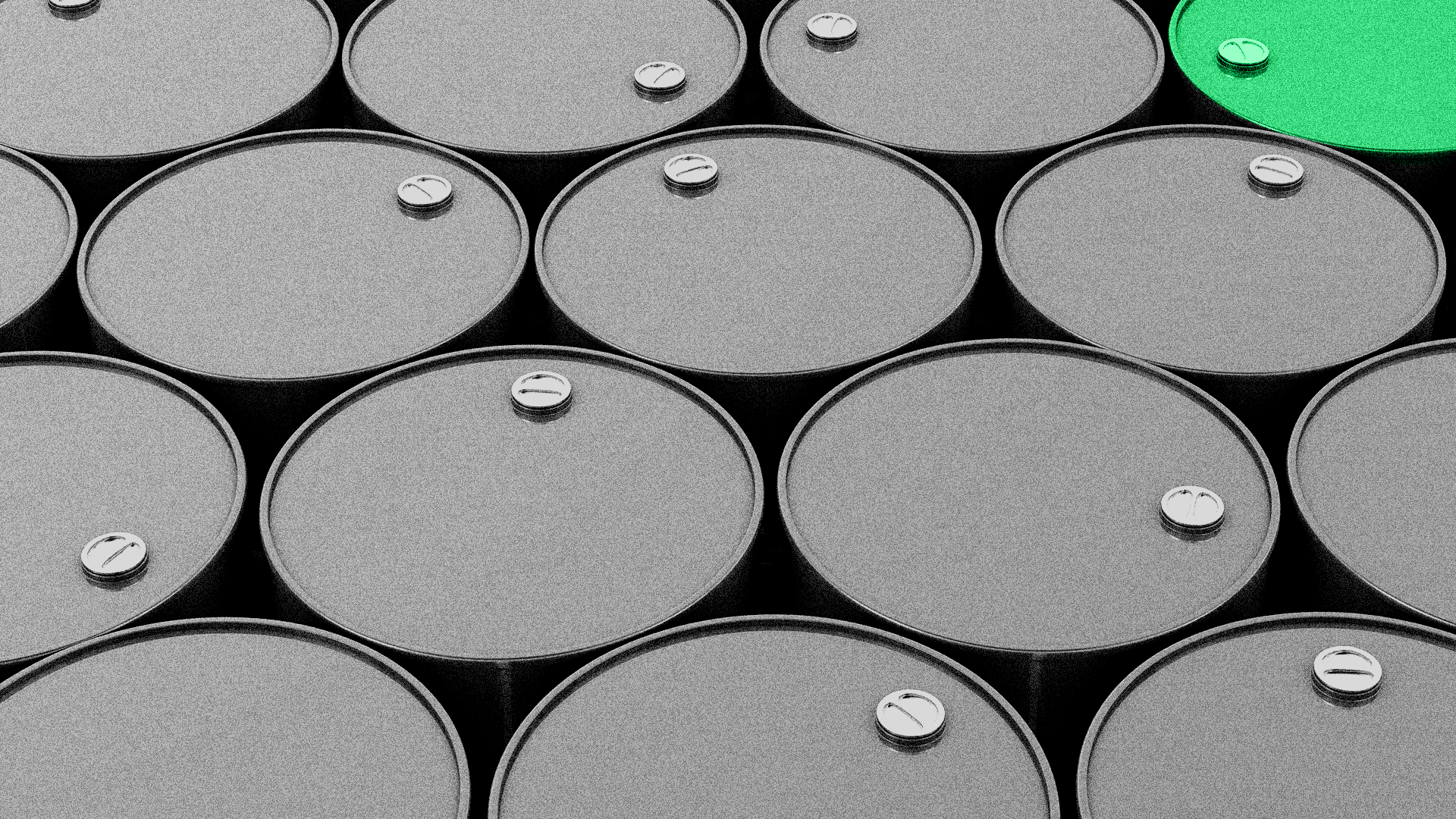 Oil-and-gas giant Repsol yesterday pledged to achieve net-zero carbon emissions by 2050 — becoming the first oil major to make a specific net-zero commitment (albeit a non-binding one).
The big question: Will they be a trendsetter or outlier?
Why it matters: Bloomberg notes that it's the "most ambitious attempt yet by an oil major to align itself with the Paris climate goals."
Driving the news: The company outlined plans that include adopting interim targets to reduce carbon intensity, moving more deeply into renewable power, and utilizing methods such as carbon capture tech, forest offsets, and EV charging at service stations.
One key thing, noted by both Bloomberg and the Financial Times, is that the emissions targets include not just Repsol's direct operations, but the larger CO2 levels produced from use of its products in the economy.
That's important because pledging this type of "scope 3" emission cuts is relatively uncommon for oil majors.
The intrigue: Repsol said it's taking a $5.3 billion "impairment charge" to the value of its assets. That reflects the lower value of fossil fuel holdings in a business model consistent with the Paris Agreement's goals.
What we're watching: Whether any other oil majors, including the ones that have recently increased their climate pledges, will match the step.
Repsol is much smaller than giants like ExxonMobil, Chevron and Shell.
Its project portfolio is also heavily tilted toward natural gas, so it's got something of a head start.
What they're saying: I asked Andrew Logan of the sustainable investment group Ceres about the move. He called it a "gauntlet thrown." Logan, who carefully tracks Big Oil's climate moves, added in his email to me...
"One aspect of the Repsol commitment that I think hasn't gotten enough attention is the ~$5B write-down on its existing oil and gas assets."
"This has implications across the sector, and will raise questions among investors about whether other companies should be writing down the value of their assets as well."
The bottom line: This "could be the beginning of a major realignment in the sector," Logan said.
2. Choose your own climate adventure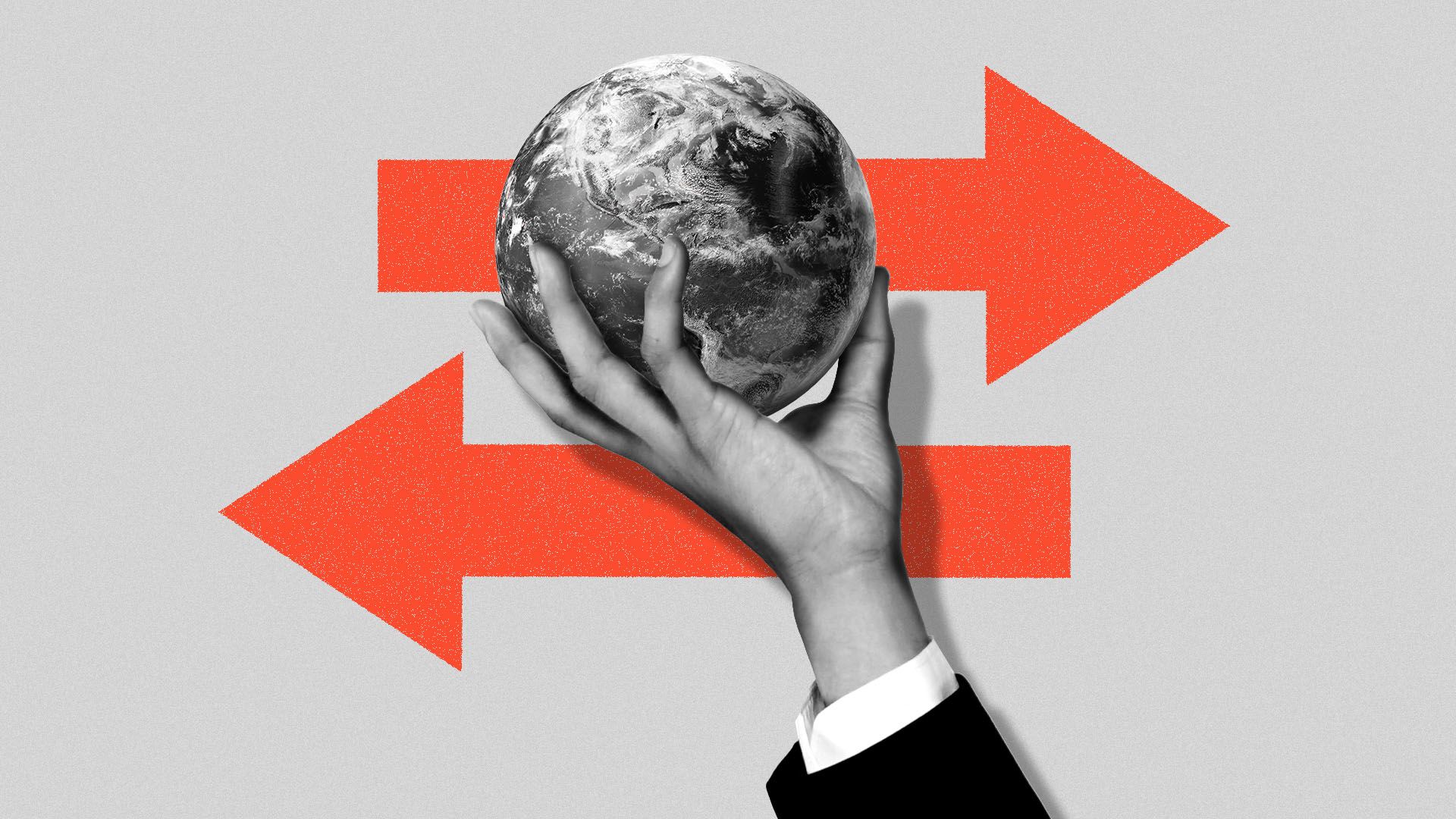 A new simulator out today empowers readers to choose their own adventure when it comes to tackling climate change, Axios' Naema Ahmed and Amy Harder report.
Why it matters: The tool, created by the Massachusetts Institute of Technology and think tank Climate Interactive, underscores the grand challenge of employing technologies and policies to tackle climate change.
What's new: This simulator is the first of its kind designed for politicians and others who care about climate change and energy, but aren't researchers accustomed to arcane models.
From this simulator, we curated a more simplified interactive.
It presents nine questions on everything from carbon dioxide prices to land management.
At the end, it shows how your choices affect annual greenhouse gas emissions, global temperature rise, and energy costs over the next 80 years.
How it works: Think of it as choose your own adventure, like the books you may have read as children.
For example, let's select one "adventure," the most aggressive where you choose to subsidize all clean energy technologies, pursue the most climate-friendly policies, and enact a global carbon price of over $200 a ton.
The results are an aggressive and gradual reduction in greenhouse gas emissions and a temperature rise of 3.1°F.
That would keep the rise to lower than 3.6°F (2°C), which is a benchmark most scientists say Earth should stay below to limit the worst impacts of a warming world.
But, but, but: In this aggressive adventure, global energy costs rise sharply through the 2020s and then start moving back down.
3. Poll shows support for clean energy tax credits
New polling shows voters in battleground states and congressional districts support extending tax credits for renewable power and creating incentives for deploying storage technologies.
Why it matters: House Democrats recently unveiled legislation that would lengthen expiring incentives for developing wind, solar and other projects, and add a new credit for batteries and other forms of storage.
What they did: The Democratic polling firm Global Strategy Group conducted the national survey, and broke out results for nine Senate battlegrounds (including Michigan, Colorado and Arizona) and swing congressional districts nationwide.
It was commissioned by the League of Conservation Voters, the Sierra Club, the Solar Energy Industries Association and others.
What they found: Check out the chart above. Also, the polling showed that support for the incentives is quite strong across party lines.
Other results show that Democratic candidates who support the incentives would see increased support in political battlegrounds.
The big picture: Portions of the House bill may be up for negotiations in this Congress, so the polling could provide political ammunition for backers.
And looking past the bill's uncertain near-term prospects, the results could be used to bolster political support for Democratic policy efforts if the party gains more power in the 2020 elections.
Of note: The online nationwide survey of 800 registered voters was conducted in early November and has a margin of error of plus-or-minus 3.5%. The MOE is 3.7% for Senate battleground results and 3.9% for the swing congressional districts.
Go deeper: The Global Strategy Group presentation is here.
4. Putin's pipeline politics
Axios' David Lawler reports that yesterday's opening of a huge new Russia-China natural gas pipeline is about far more than energy flows between the two powers.
Why it matters: The pipeline could also be seen as a physical manifestation of Russia President Vladimir Putin's China strategy, David writes.
Putin is squeezing everything he can out of a relationship that currently provides massive economic and strategic benefits, while putting off the question of what the increasingly unequal relationship across one of the world's longest borders means for Russia.
Where it stands: It's also a big deal for Russia's revenues and its energy posture. The Power of Siberia pipeline is expected to "generate $400 billion for Russian state coffers" over three decades, per Reuters.
"The move cements China's spot as Russia's top export market and gives Russia a potentially enormous new market outside Europe," their story notes.
The big picture: The Financial Times points out it's one of several collaborations between mammoth-producer Russia and energy-thirsty China.
"China has become heavily involved in Russia's gas projects in the past years, becoming the largest foreign shareholder in Russia's Arctic gas liquefaction projects, Yamal LNG and planned Arctic LNG 2," they report.
* * *
Speaking of Russian energy projects, just-departed Energy Secretary Rick Perry tells The Washington Examiner that the U.S. failure to thwart the Nord Stream 2 pipeline to Germany isn't such a failure.
That's because of the growing availability of U.S. liquefied natural gas, he argues.
"Whether or not Russia finishes Nord Stream 2 or not is going to be not as consequential as our being able to be a supplier," he said.
"American LNG can be delivered to Europe as cheap if not cheaper to what the Russians are going to be able to deliver there."
Meanwhile, the Senate voted 70-15 yesterday evening to confirm Dan Brouillette as the new secretary of energy.
5. Catch up fast: PG&E, EVs, lobbying
Utilities: Via the Wall Street Journal, "PG&E Corp. failed to adequately inspect and maintain its transmission lines for years before a faulty line started the deadliest fire in California history, a state investigation has found."
Electric cars: Per TechCrunch, the EV startup Lucid Motors yesterday broke ground on its production plant in Casa Grande, Arizona, that's designed to build the Lucid Air sedan. The company hopes to begin production late next year.
Coal: E&E News reports: "American Electric Power Co. and Southern Co. will not renew their membership in the American Coalition for Clean Coal Electricity next year, leaving the prominent trade association without any utility members."
The two power companies confirmed to Axios that they're leaving the coal lobbying group.