August 21, 2018
Good morning and welcome back! We're just a few days past the 1987 release date of the Tom Waits' album "Frank's Wild Years," so he'll play us into today's edition...
1 big thing: the limits of Trump's coal move
EPA's proposal to weaken climate rules for power plants will do little to blunt the forces undercutting coal in electricity markets, several analysts told me yesterday.
Why it matters: President Trump has made efforts to cut regulations on coal — which is the most carbon-intensive power source — a centerpiece of his energy agenda.
Yes, but: The administration has few tools to make substantial changes to the trajectory of the once-dominant fuel's declining share of power markets (see chart above), let alone reverse the trend.
"With [natural] gas prices looking low for the foreseeable future and now unsubsidized renewables starting to look attractive, it is just too little too late for coal."
— Joshua Rhodes, energy expert, University of Texas
Driving the news: EPA will unveil draft rules today that would replace the Obama-era Clean Power Plan. The 2015 plan never kicked in, but would have set standards that sought to cut nationwide power-sector carbon emissions by 32% below 2005 levels by 2030.
Via press reports and a summary obtained by E&E News, the replacement basically abandons the prior rule's effort to hasten the transition to other sources, and instead calls on states to make efficiency improvements to coal plants.
It would also ease regulations that govern when plant owners can make upgrades to plants without triggering mandates to install new pollution controls.
Reality check: "Most coal plant retirements have been based on poor economics, not on smokestack limitations," electricity consultant Alison Silverstein says. Referring to the way power market regulators order specific generation sources to meet demand, she adds:
"Coal is still going to be more expensive per kilowatt-hour than gas, wind, solar PV, so that coal will still be higher on the dispatch stack and won't be dispatched more."
Go deeper: Read the full story in the Axios stream.
2. The SpaceX factor in Tesla's plan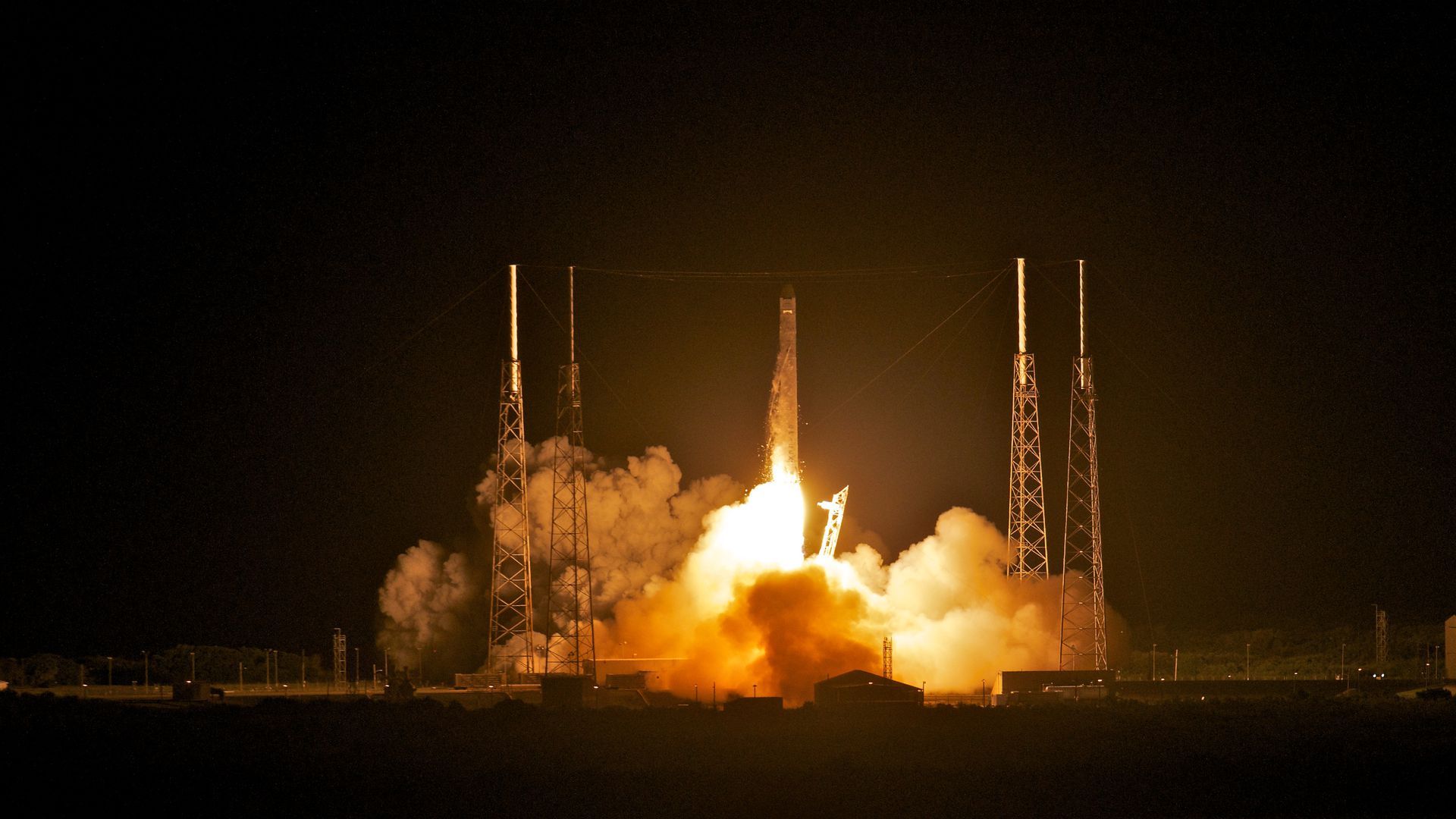 Axios' Dan Primack takes stock of the New York Times report that SpaceX may help CEO Elon Musk finance his attempted buyout of Tesla.
Take it away, Dan...
Bottom line: It's possible, but SpaceX shareholders would throw a fit if it's done directly.
Here's what the NYT wrote, within a piece that was broadly noted for Musk's apparent mental fatigue:
Another possibility under consideration is that SpaceX, Mr. Musk's rocket company, would help bankroll the Tesla privatization and would take an ownership stake in the carmaker, according to people familiar with the matter.
What they're saying: Dan spoke to several SpaceX shareholders, who told him the following...
Most of them believe Musk could pledge some or all of his stake in SpaceX, which was last valued in mid-2017 at $21 billion.
They don't want SpaceX to directly finance the Tesla buyout, at least in any meaningful way.
Yes, SpaceX is profitable, but its earnings before interest and taxes (EBIT) is quite narrow and could could blow up if a rocket or two does.
Read Dan's whole story in the Axios stream.
* * *
Speaking of Tesla, the Wall Street Journal has a detailed story about some suppliers' concerns about the company.
"A recent survey sent privately by a well-regarded automotive supplier association to top executives found that 18 of 22 respondents believe that Tesla is now a financial risk to their companies," WSJ reports.
On the other side: The paper adds, "In [an] interview, Mr. Musk and financial chief Deepak Ahuja said Tesla's financial strength is improving and it remains on track to be cash-flow positive and profitable in the current quarter. They said relations with its suppliers are good."
3. On my screen: EVs, bitcoin, Venezuela
Electric vehicles, part 1: A new blog post at UC-Berkeley's Energy Institute at Haas argues that as as federal officials ease auto mileage rules that would have benefitted EVs, more robust investments in charging networks can help states keep adoption moving forward.
Andrew Campbell, the institute's executive director, notes that California has made a number of moves and "other states that want to keep the electric vehicle momentum going might want to take a similar course."
He also explores research showing that "public spending on charging infrastructure could be twice as effective at encouraging electric vehicle adoption as subsidies on the vehicles themselves."
Electric vehicles, part 2: Bloomberg has a look at luxury EV startup Lucid Motors, a company that reportedly could get a big cash infusion from Saudi Arabia's sovereign wealth fund.
"Funding would be a welcome new lease on life for Lucid, which had been trying to raise a series D round of $700 million last year to get a plant up and running in Arizona," Bloomberg reports.
Digital mining: Over at The Conversation, the University of Pittsburgh's Katrina Kelly-Pitou writes that discussion around the large and growing energy thirst of bitcoin mining has become "oversimplified."
Instead, she says it's vital to look at the carbon intensity of power generation in areas where the mining happens.
"[P]erhaps people should quit criticizing bitcoin for its energy intensity and start criticizing states and nations for still providing new industries with dirty power supplies instead," she writes.
Oil: Per Reuters, "U.S. producer ConocoPhillips and Venezuela's PDVSA have reached a payment agreement over a $2 billion arbitration, the companies said on Monday, suspending a dispute that blocked the state-run company from exporting oil from most of its key Caribbean facilities."
4. A crude oil milestone
Crude exports from the port district of Houston-Galveston surpassed imports in April for the first time on record, the federal Energy Information Administration said in a report Monday.
By the numbers: Per EIA, exports from Houston-Galveston exceeded imports by 15,000 barrels per day in April. In May, the difference swelled to 470,000 bpd.
Houston-Galveston overall accounted for 70% of U.S. crude exports in May and 12% of imports.
Why it matters: The data from the busy industrial region, which accounts for the largest share of U.S. crude exports, highlights the transformation of the country's energy market position in recent years.
The crude oil production surge has helped to cut U.S. import needs, and a late 2015 law paved the way for large-scale exports to begin.
5. What 25 years of climate litigation tells us
A new paper from George Washington University scholars analyzes nearly 900 climate-related lawsuits in a variety of venues decided between 1990 and 2016.
Why it matters: The courts have long been influential in shaping the scope and success of climate and energy policies, and that's not going to change.
What they found: Decisions around renewable energy and efficiency policies favored pro-regulatory litigants more often than cases around coal-fired power plants, according to the analysis in Nature Climate Change. They also say...
"Proregulatory" litigants won most often in cases brought under the Clean Air Act, the Endangered Species Act and the California Environmental Quality Act.
"Antiregulatory litigants have the most success in cases that raise issues under the public trust and other common law doctrines," it concludes.
The intrigue: The paper arrives following dismissal of federal court cases in New York and California in which cities sought to use nuisance claims to force major oil companies to pay damages for effects of climate change like sea-level rise.
While those outcomes are too recent for the newly published study, they're consistent with the analysis of other cases using similar tactics.
"These kinds of approaches so far haven't really panned out. That is not to say that they won't," Sabrina McCormick, the paper's lead author, tells Axios.
McCormick says that as the science linking emissions to specific outcomes improves, "there may be a stronger leg to stand on for some of these plaintiffs."