Axios Generate
July 11, 2018
Good morning and welcome back!
Twenty-five years ago this week, Janet Jackson was just ending a 6-week run atop the Billboard album charts with "Janet," which provides today's intro tune...
1 big thing: Trump targets Nord Stream 2 at NATO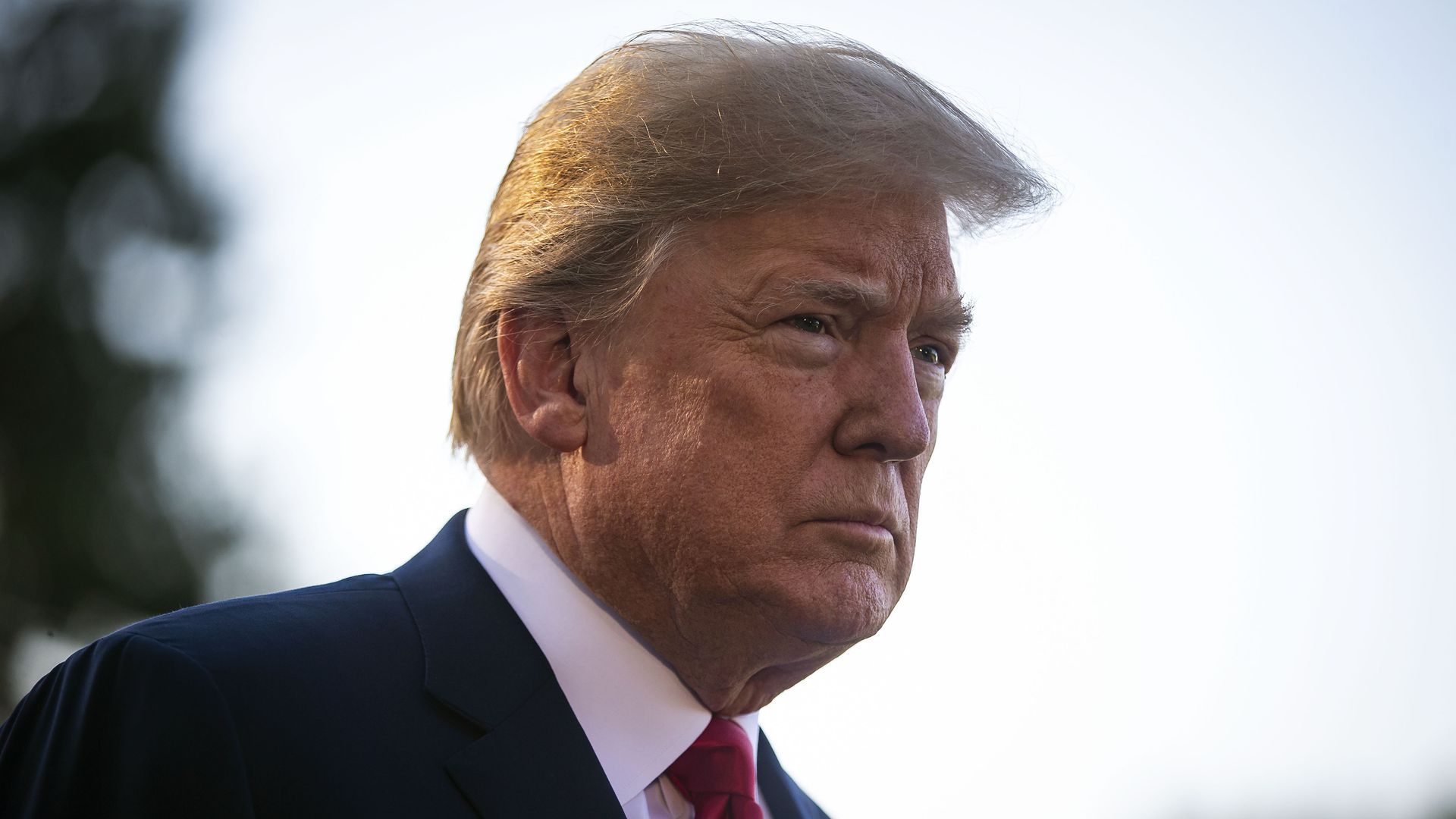 Axios' Jonathan Swan and Steve LeVine report ... President Trump, in a "startling public outburst" at the U.S. chief of mission residence in Belgium ahead of the NATO summit, asserted that "Germany is a captive of Russia" and "totally controlled by Russia" because of energy purchases.
Be smart: This is the sound of a natural gas war. Trump wants Germany — an enormous gas purchaser — to buy U.S. LNG, and is attempting to steal the market now held by Russia.
Between the lines: The long-proposed Nord Stream 2 gas pipeline from Russia to Germany is something Trump has been complaining bitterly about for months.
He views it as one of German Chancellor Angela Merkel's vulnerabilities, and he fully intends to hammer it at the NATO summit.
Trump has two main complaints, per sources who've spoken to him about the pipeline:
He wants Germany to buy U.S. gas, not Russian gas.
He views Merkel as a hypocrite — she's always lecturing him about the "rules-based international system," and yet, in Trump's mind, not spending enough on Germany's defense, while sucking up to Iran and Russia.
Yes, but: In fact, Merkel has been the strongest hand in Europe, holding the line against Russian President Vladimir Putin and keeping Russian allies like Italy and Hungary from breaking EU unity.
Read more from Jonathan's coverage of the NATO summit.
2. U.S. global warming views are shifting
The share of Americans who see solid evidence of global warming is at a 10-year high, and the acceptance of human impact has also trended upward, new polling data shows.
Why it matters: The latest from the ongoing series of University of Michigan and Muhlenberg College polls shows the public, as a whole, is getting slightly closer to endorsing consensus science on human-caused warming, but still remains far, far from full acceptance.
By the numbers: 73% of people polled in April and May see "solid evidence" of warming, a slight uptick from recent years.
That's about where it was a decade ago, but in twice-yearly polls between the fall of 2009 and spring of 2015, the total percentages bounced around from the low-50s to the mid-60s.
Check out the chart above: 60% — a record in their joint polling — see some level of human influence, including 34% who see direct causation. The consensus scientific view is that human activities, notably burning fossil fuels, have been the dominant driver of warming since the mid-20th century.
Yes, but: The political chasm is immense. Per the report:
"The divide between Democrats and Republicans on the existence of anthropogenic induced global warming is also at record levels with 78% of Democrats now holding the view that humans are at least partially responsible for warming on the planet compared to only 35% of Republicans."
3. The evolution (or not) of Iran sanctions
Oil prices are heading downward this morning, as traders respond to the escalating trade war with China, reopened Libyan exports terminals, and fresh signs the U.S. could provide buyers of Iran crude oil some wiggle room on sanctions, per Reuters.
The intrigue: U.S. Secretary of State Mike Pompeo seemed to make news yesterday when he said in Abu Dhabi that the U.S. would "consider" waiver requests from a "handful" of countries. But that was in the context of generally tough remarks.
Yes, but: Markets moved, even though it's not so clear he went beyond State Department official Brian Hook's July 2 comments that while the U.S. is not looking to grant waivers, it would work with countries that are reducing imports on a "case by case" basis.
I touched base with three analysts — one interpreted Pompeo's remarks as a "marginal softening," while two others saw no change from Hook's comments.
To muddy the waters, Hook and Pompeo both seemed more open to some waivers than what an unnamed State official said on background on June 26, so... ¯\_(ツ)_/¯
Quoted: Hedgeye Risk Management's Joe McMonigle doesn't see wiggle room, noting State officials have spent weeks telling foreign leaders they expect full compliance.
"The President is focused on cutting off Iran's oil revenues and that is the U.S policy. I doubt there are any countries with whom the U.S. has met that still believe they will be provided an exception to the policy," he said via email.
Meanwhile: "U.S. government teams spent three days in Saudi Arabia discussing ways to cut off money flows to Iran without disrupting energy markets as Washington presses nations to stop buying Iranian oil by Nov. 4," Bloomberg reports.
4. What China's trade stance reveals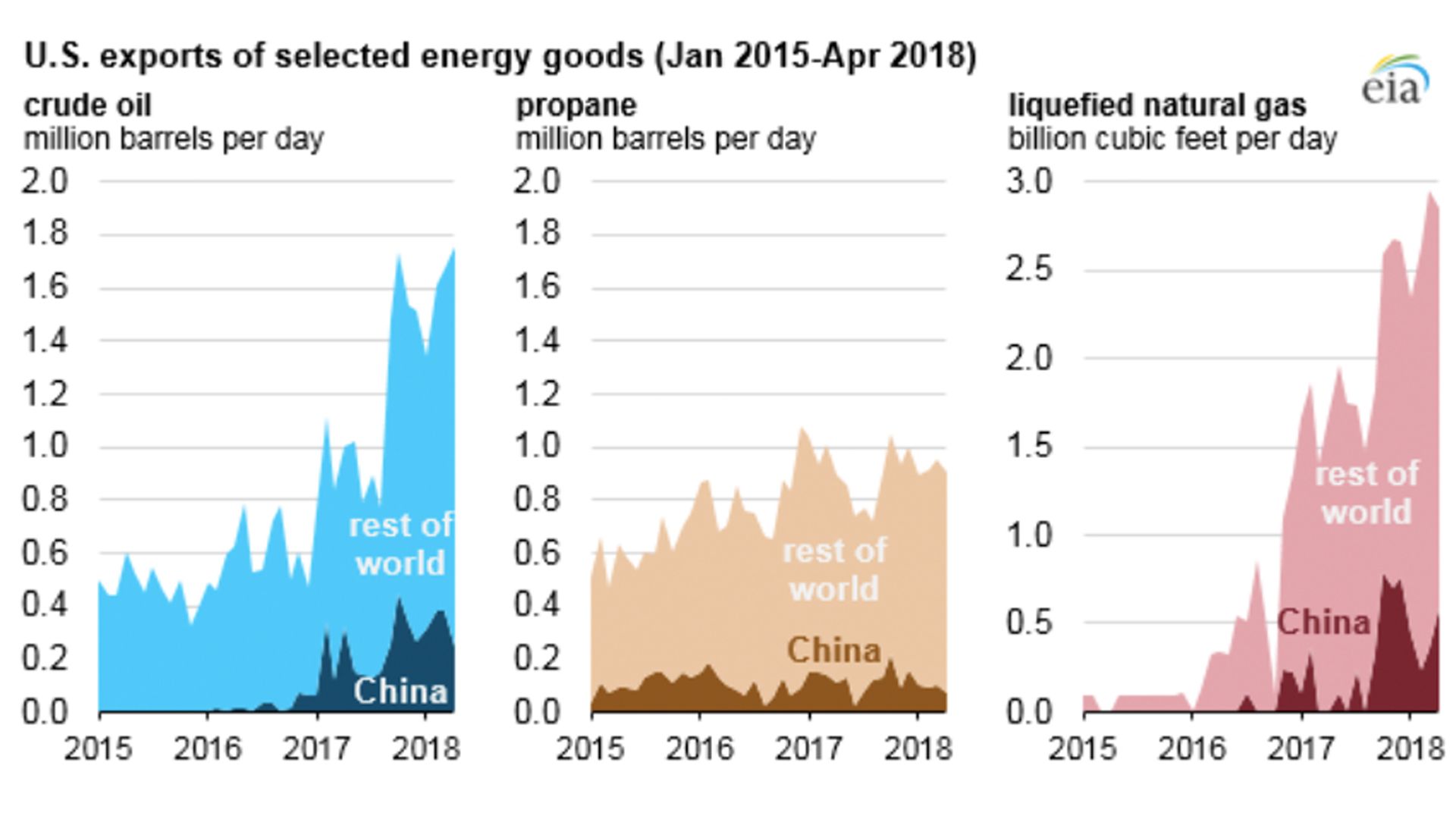 A new Bloomberg column by Harvard analyst Meghan O'Sullivan takes stock of the prospect that China will hit oil exports with tariffs (which they plan to do) and LNG too (which has been spared from the trade war so far).
Why it matters: As the Energy Information Administration chart above shows, China has become an increasingly important destination for U.S. crude oil and LNG exports.
O'Sullivan, who served in the George W. Bush administration, says tariffs that make U.S. LNG uncompetitive in the Chinese market could stymie investment in new U.S. export infrastructure.
The big picture: O'Sullivan says a few broad conclusions could be drawn if energy-hungry China decides to put tariffs on a key gas supplier...
It would mean they're confident that global gas markets will remain well-supplied enough that stifling development of some new U.S. export terminals is an acceptable outcome.
"Alternatively, the Chinese may have decided that, whatever the costs, they are not comfortable relying on the U.S. as a source of one of their most strategically important commodities, regardless of the financial risks that such a decision may entail."
The latest: A note this morning from ClearView Energy Partners says, "We would not expect the Chinese to exclude LNG from a reprisal" against new U.S. plans to slap tariffs on an additional $200 billion in Chinese goods.
Go deeper: China will soon be the world's largest natural gas importer.
Speaking of LNG: Another data point in the evolution of the increasingly globalized trade is Cheniere Energy working with CME Group to develop a futures contract for the delivery of LNG, per the Houston Chronicle. The paper reports it could be:
"[T]he latest in a series of early developments towards what some believe could be a transparent, global LNG market, similar to oil and other commodity markets."
5. Latest in electric vehicles: Ionic, Tesla, BYD
New Ionic backer: Hyundai CRADLE, the automaker's venture arm, announced yesterday that it's investing in the Massachusetts-based solid-state battery startup Ionic Materials.
The amount was not disclosed. "Our investment in Ionic Materials will keep us at the forefront of battery development, allowing us to build better eco-friendly vehicles," Hyundai CRADLE vice president John Suh said in a statement.
Why it matters: Developing energy-rich, solid-state batteries without safety hazards or very high production costs could help spur wider electric vehicle growth.
Hyundai is the latest big name company to back Ionic. Other investors include Samsung, Dyson, A123, Hitachi, and a French-Japanese carmaking alliance of Renault, Nissan and Mitsubishi.
Tesla's China move: Via The Wall Street Journal, "Tesla will build a factory in Shanghai, the city government said Tuesday, a move expected to boost sales in the world's largest auto market but that comes as U.S. companies face pressure to keep jobs at home."
Bus boom: Per CleanTechnica, the Chinese-based EV company BYD has "announced a new electric bus leasing program in partnership with Generate Capital."
"The new program is seeded with an initial $200 million investment that is geared towards lowering the barrier to adoption for electric vehicles for public and private-sector buses," they report.
6. Following up on the SCOTUS nominee
A couple of analyses about Supreme Court nominee Brett Kavanaugh's view of regulatory powers caught my eye...
The Clean Air Act: Over at Legal Planet (a joint blog of two University of California law schools), UCLA's Ann Carlson looks at his history with Clean Air Act cases and concludes...
"The takeaway message, for me, from all of these cases is that he will construe EPA authority very narrowly and virtually always, but not every single time, in favor of regulated parties and against environmental interests."
While he may view global warming as a real problem, "He's not going to recognize EPA's power to do much at all to regulate greenhouse gases."
Agency powers: A well-reported piece in Greenwire looks at how Kavanaugh has viewed the doctrine of "Chevron deference" — basically the idea that agencies should be given running room when underlying laws are vague or silent. From Greenwire's Amanda Reilly...
"From his 12-year record on the U.S. Court of Appeals for the District of Columbia Circuit and a review of his speeches and law articles over the last several years, Kavanaugh appears mostly concerned with the first step of the Chevron test — discerning whether a statute is ambiguous."
"He has also embraced a Supreme Court doctrine that calls for not applying Chevron to major agency rules."
Why it matters: The doctrine of Chevron deference is an important concept in fights over Clean Air Act regulation of greenhouse gases, because the decades-old law was not written specifically to address climate change.
7. Electric scooter wars enter new phase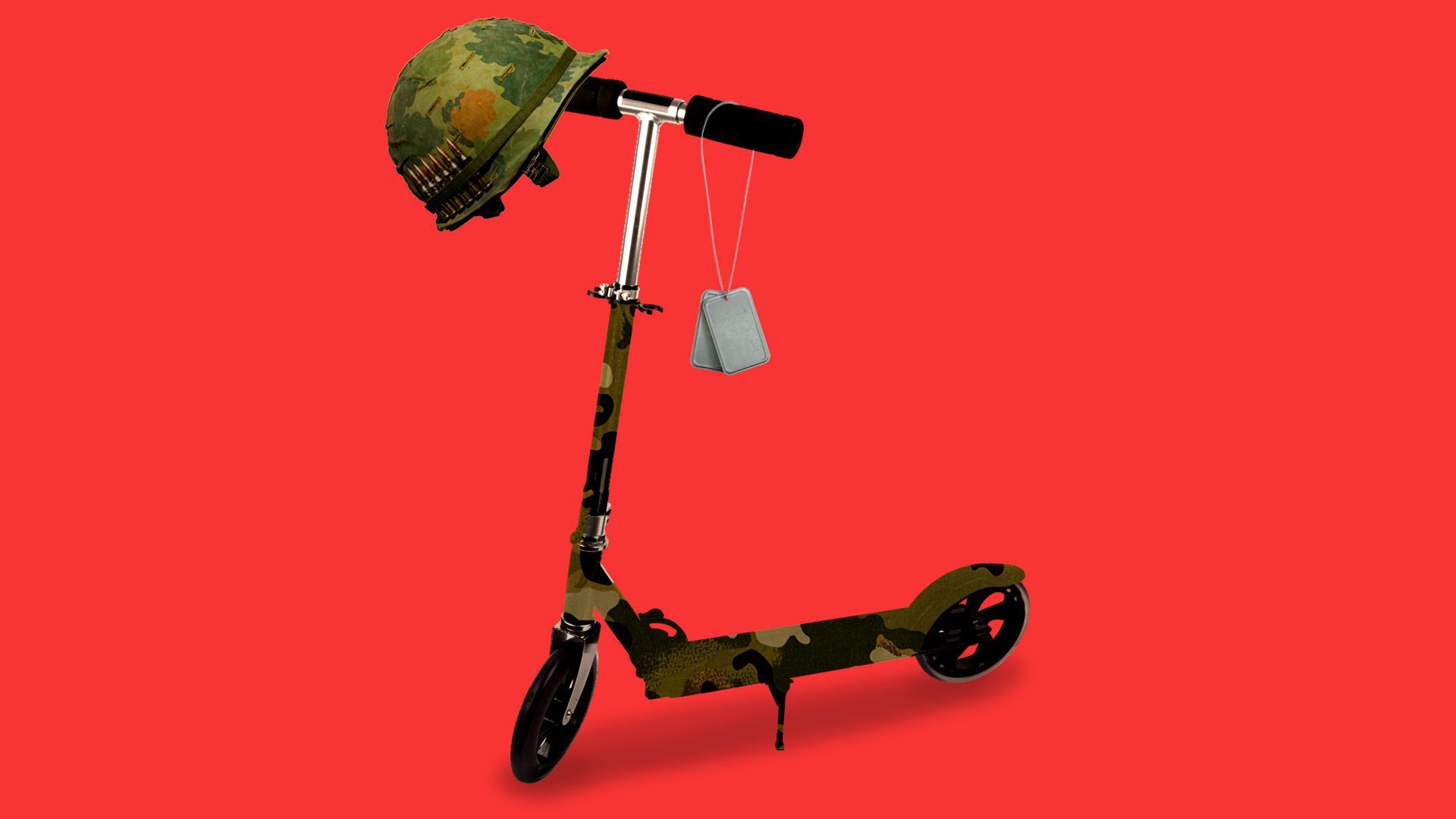 Axios' Dan Primack and Kia Kokalitcheva report ... Uber has announced that it participated in Lime's new funding round, which topped out at $335 million, and that the two sides are working on a strategic partnership whereby people would be able to rent Lime scooters via Uber's app.
Why it matters: New developments suggest a consolidation phase is coming in the electric scooter wars. We're heading toward full-stack local transportation companies, and what we've seen with bikes — such as Uber buying Jump and Lyft buying Motivate — should eventually come to scooters.
The details: The strategic partnership isn't yet finalized, but a source says it will include at least temporary restrictions on both sides.
For Uber, that means rules around its own e-scooter fleet launches (although it says it isn't pulling its SF permit request) and investing in Lime rivals.
For Lime, that means working with other ride-hail companies.
Go deeper: Read the full story in the Axios stream.