May 08, 2018
Happy Tuesday!
It's also the birthday of Talking Heads drummer and co-founder Chris Frantz, so they've deservedly got today's intro tune . . .
1 big thing: Oil markets tense as Iran decision looms
Get ready: President Trump, facing a May 12 deadline, says he'll announce his plans for the Iran nuclear deal today at 2pm ET.
Why this matters: Trump opposes the deal and at some point he's widely expected to reimpose sanctions designed to restrict Iranian crude sales to other buyers (the U.S. does not import Iranian oil).
The latest: Secretary of State Mike Pompeo indicated this is likely to some of his European colleagues on Friday, Barak Ravid reports.
The details will matter a lot, and the Washington Post runs down some options here.
Estimates of how many barrels will ultimately come off the market vary greatly too.
"Analysts' estimates for the oil supply impact at least six months after the US reimposes sanctions range from zero to 1 million b/d," notes S&P Global Platts.
No matter the decision, there's likely to be little near-term supply effect.
Big picture: "[It] is not clear whether the US will exit the Iran deal altogether or offer a window for negotiation with other signatories. Further, even if sanctions are re-imposed, the impact on the oil market may not be immediate and we tentatively expect that several hundred thousand barrels of Iranian exports could eventually be at risk," Goldman Sachs analysts said in a note Tuesday.
Be smart: Barclays analysts say in a note that the Iran deal is ultimately ka-put under Trump but that he has options...
A more "disruptive" one where he ends waivers this week and enforces restrictions within six months.
A more "benign" one where he renews waivers while restating his opposition to the deal, which buys time for separate nuclear negotiations with North Korea.
The bottom line: Either way, Barclays' Michael Cohen writes, the White House moves will put long-term upward pressure on prices, even if prices fall in the "benign" scenario.
"The geopolitical consequences of a possible dismantling of the JCPOA would likely to play a larger and long-lasting role in pushing oil prices higher than short-term policy uncertainty," he writes.
Market uncertainty: In the short term, however, oil prices, which have been trading at their highest levels in well over three years, dropped slightly Monday after Trump announced via Twitter that the decision would come today.
The latest: Prices this morning dipped to $70.07 per barrel for WTI and Brent was at $75.56. During Monday's session, WTI settled at $70.73 while Brent traded at over $76.
2. Chart of the day: pipeline capacity crunch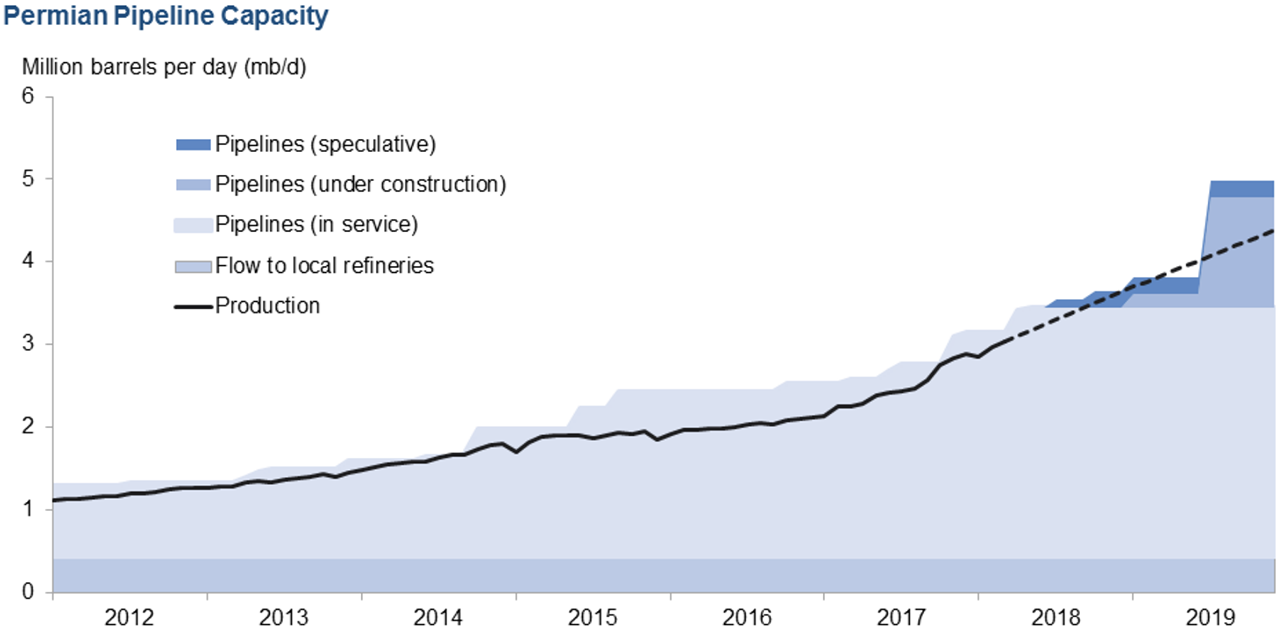 Warning signs: The May version of the Dallas Fed's monthly Energy Indicators report has a nice visualization of a challenge confronting oil producers in the surging Permian Basin — a looming pipeline capacity crunch.
Why it matters: The report says that while that's not currently limiting new barrels, production could "exceed transport capacity" sometime between mid-2018 and mid-2019 if new pipelines aren't brought online.
The report adds that a range of data sources together suggest that "pipeline congestion could become a significant challenge to production in early 2019."
The context: Oil production in the Permian region of Texas and New Mexico is over 3.1 million barrels per day, according to Energy Information Administration data.
3. Big Oil vs. Big Auto vs. Trump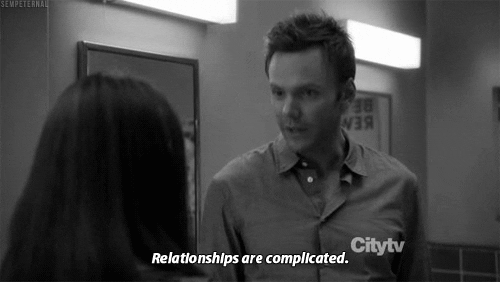 Driving the news: A House hearing today will offer a window onto the complicated political battles unfolding over electric vehicle and auto mileage policy.
Here are a couple takeaways from testimony prepared for the Energy and Commerce subcommittee session on EVs and conventional vehicles...
1. Warning: The head of Alliance of Automobile Manufacturers signals that the Trump administration should not freeze Obama-era mileage rules at 2020 levels.
That's an option reportedly under consideration as EPA and the Transportation Department prepare to roll back standards for model years 2022–2025.
Instead, Alliance CEO Mitch Bainwol — whose group represents Ford, GM, VW and other giants — says the administration should "increase fuel efficiency standards year-over-year."
Why this matters: It signals that while the industry has called the Obama rules infeasible and too aggressive, it's wary of the White House going too far in the other direction.
2. Taxes: The American Petroleum Institute's testimony criticizes federal tax credits for EV purchases, saying these and other federal and state incentives "distort free markets."
But Bainwol backs the existing $7,500 federal tax credit, and hints the would support an expansion — which GM CEO Mary Barra has called for — as some automakers begin hitting the 200,000 vehicles per manufacturer cap.
"If some automakers are reaching the cap, [policymakers] should take another look at that," Alliance spokeswoman Gloria Bergquist tells Axios.
3. Messaging: API's Frank Macchiarola pushes back against calling EVs "zero-emissions" and uncorks a phrase that's new to your Generate host.
He says they're better described as "emissions displacement" vehicles, due to energy used in manufacturing and charging.
4. Legal shot across Perry's bow
New today: Renewables and natural gas groups are warning Energy Secretary Rick Perry that invoking emergency powers to prop up coal-fired and nuclear power plants would be illegal.
"There is no emergency or threat to the national defense on which the Department could lawfully base the exercise of its emergency authorities," per a new letter.
Quick take: The dense 12-page letter from 6 trade groups often reads like a court brief. It's a preview of litigation that would greet attempts to save economically struggling plants that could close in coming years.
The context: DOE is weighing a request from FirstEnergy Solutions to invoke emergency authority under the Section 202(c) of the Federal Power Act to bolster ratepayer revenues for coal and nuke plants in the PJM region.
Yes, but: The protesting group writes: "FirstEnergy's true problem is not that there is an emergency on the grid, but that its power plants lose money at current market prices."
It also warns that DOE would lack legal justification to use its powers under: the Defense Production Act of 1950 (to ensure supply of critical industrial materials for security needs) and the 2015 addition to the Federal Power Act, Section 215A (to protect critical infrastructure and address a "grid security emergency.")
Letter signatories: The group includes Advanced Energy Economy, the American Petroleum Institute, the American Wind Energy Association, the Electric Power Supply Association, the Interstate Natural Gas Association of America, and the Natural Gas Supply Association.
5. Number of the day: Jobs in renewables rise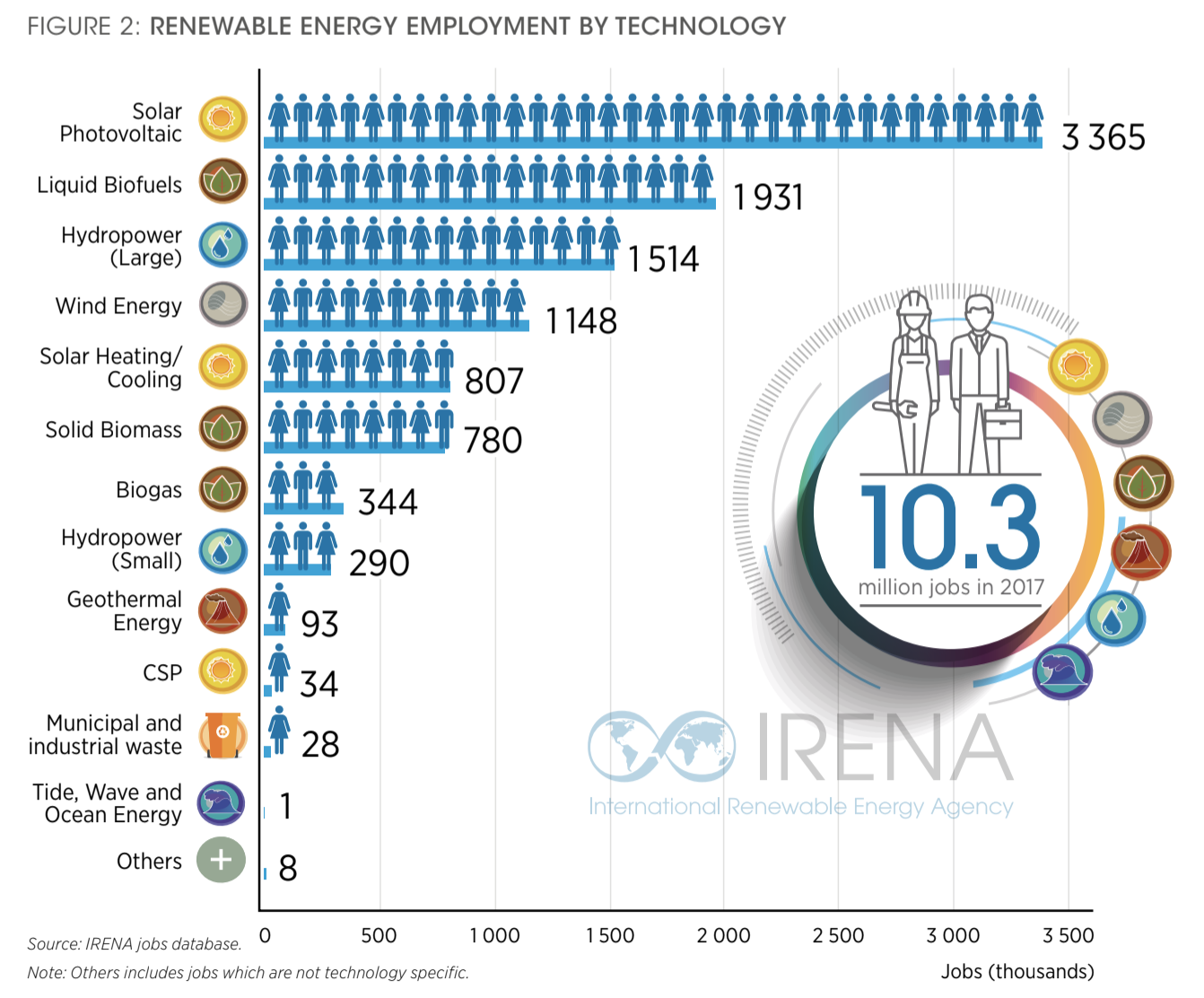 10.3 million: That's the number of global jobs in the renewable energy industry last year, according to a new report Tuesday by the International Renewable Energy Agency. The figure grew by 5.3% over the prior year.
Why it matters: It's the first time employment in the sector has crossed 10 million, marking a symbolic milestone that signals the real-world growth of the industries.
One level deeper: The report delves into the way China, which has aggressive government policies, is fueling the growth.
"China alone accounts for 43% of all renewable energy jobs. Its share is particularly high in solar heating and cooling (83%) and in the solar photovoltaic (PV) sector (66%), and less so in wind power (44%)," it states.
6. On my screen: Shell, BP, Tesla
Getting out: Royal Dutch Shell is selling its shares in oil-sands producer Canadian Natural Resources for $3.3 billion, the company said Tuesday.
Why it matters: Per Bloomberg, "The sale serves the dual purpose of shedding one of its dirtiest assets, while reducing debt accumulated after the $50 billion purchase of BG Group Plc."
Getting closer: A potential Alaskan LNG export project took a step forward yesterday as the state-backed Alaska Gasline Development Corporation said it entered into a deal to purchase gas from BP's Alaskan operations.
Solar power: Via the San Francisco Chronicle, California officials are weighing a major new solar requirement.
"The California Energy Commission on Wednesday is expected to mandate solar arrays on almost all new single-family houses built after Jan. 1, 2020, as part of the state's fight against global warming. The rule also would apply to new multifamily buildings up to three stories tall," they report.
EV: Tesla CEO Elon Musk is expanding his own stake in the company, buying nearly $10 million worth of additional shares, MarketWatch reports, noting that he was already the largest shareholder.
The intrigue: "Musk last week promised to 'burn' those betting against the company, which hasn't earned a yearly profit in its 15-year history and who analysts believe will continue to 'bleed cash,'" MarketWatch notes.