Axios Generate
June 04, 2019
Good morning! D.C. readers: Join Axios' Bob Herman Wednesday at 8am for Beyond 2020: Making Care Affordable on the future of health care and drug pricing.
He'll sit down with Sen. Chuck Grassley (R-Iowa) and Sen. Debbie Stabenow (D-Mich.), along with former FDA Commissioner Scott Gottlieb and Chester 'Chip' Davis Jr., CEO of the Association for Accessible Medicines.
Today's Smart Brevity count: 1,118 words/< 5 min. read.
Finally, today marks 35 years since Bruce Springsteen & the E Street Band released "Born In The U.S.A.," so my favorite cut is today's intro tune...
1 big thing: Biden's climate plan is here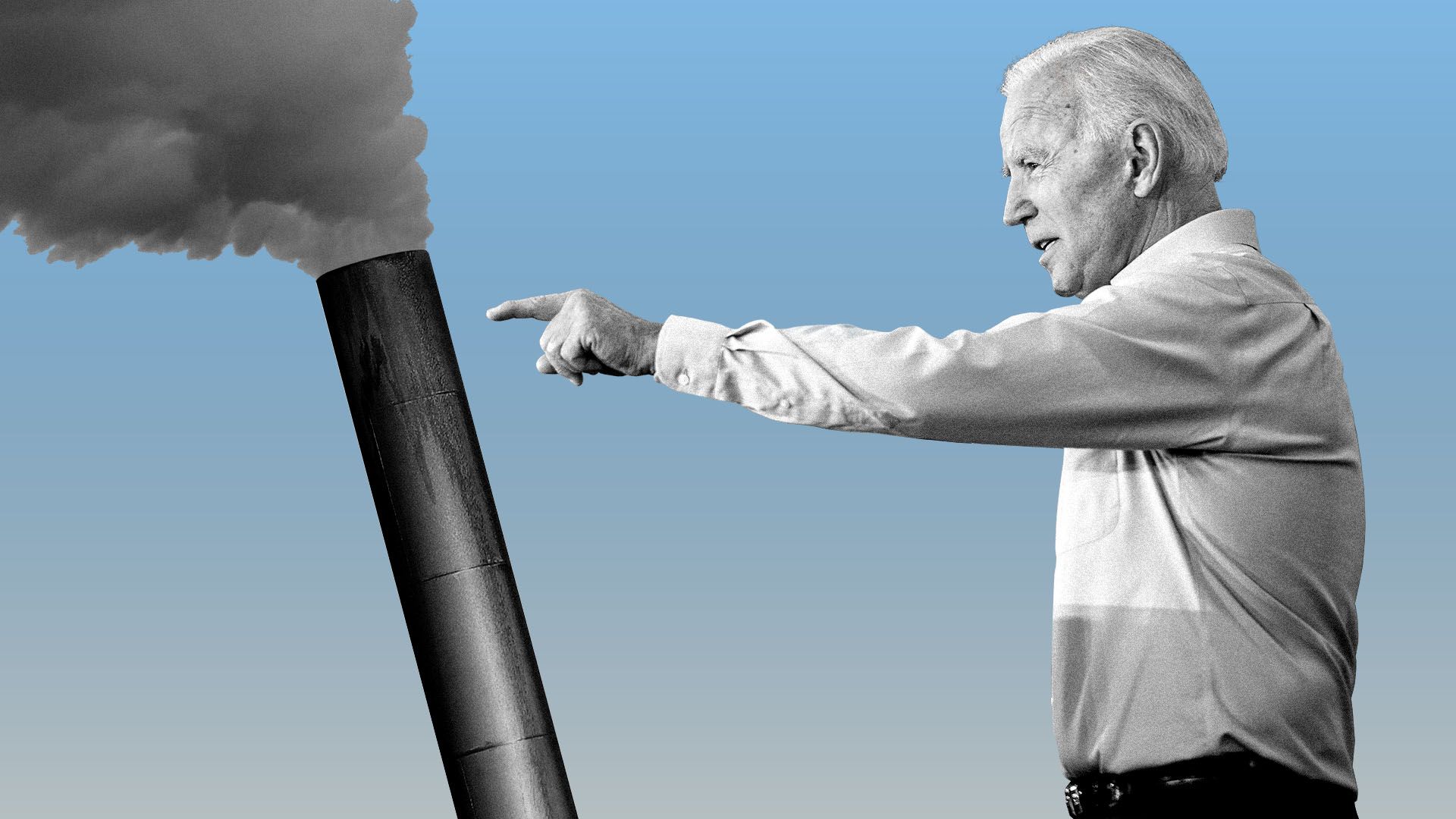 Joe Biden unveiled a wide-ranging climate and energy platform for his 2020 campaign Tuesday, vowing to go "well beyond" former President Obama's policies at a time when he's facing skepticism on the left.
The big picture: It calls for achieving net-zero U.S. greenhouse gas emissions no later than 2050. That top-level goal is within range of Gov. Jay Inslee's detailed plan, which calls for net-zero "as fast as possible" and by 2045 at the latest.
Why it matters: Biden is the early Democratic frontrunner and the stakes are high as President Trump unwinds existing policies.
The proposal follows dire scientific warnings in recent years about immense harm if the world fails to steeply cut emissions that are still rising.
Yes, but: Several key portions would require legislation. That's a big lift unless Democrats regain the Senate, and ease filibuster rules or use special budget-related legislation that could allow provisions to pass with a simple majority.
On the legislative front, Biden calls for a bill that creates "legally binding" emissions cuts with an "enforcement mechanism" to achieve the 2050 goal.
It says "polluters must bear the full cost of the carbon pollution," and the campaign confirmed to Axios this would include a price on carbon.
It calls for big spending increases in low-carbon energy and resilient infrastructure funded by reversing the Trump administration's 2017 corporate tax cuts.
It proposes a suite of tax code changes. They range from expanded electric vehicle credits for low-carbon manufacturing to ending fossil fuel-related incentives.
When it comes to executive actions, the proposal vows steps such as:
"Aggressive" methane limits for the oil-and-gas sector.
"Rigorous" new vehicle economy standards aimed at ultimately ensuring 100% of light- and medium-duty sales are EVs, although no date is provided.
Tougher appliance and building efficiency standards.
Several social justice and equity provisions, such as stepped up enforcement of pollution that affects communities of color and the poor.
Various steps to help fossil fuel workers "impacted by the climate transformation."
On the international front, Biden is vowing to go further than keeping the U.S. in the Paris climate deal. It calls for:
A "major diplomatic push" to have other nations increase their emissions-cutting ambition.
New policies to weave climate into trade policy, along with get-tough language on China — provisions that could help gain support from labor, a key Biden constituency.
"Carbon adjustment fees or quotas on carbon-intensive goods" from countries that are "failing to meet" their climate obligations.
2. More on Biden's plan
Biden's platform praises the Green New Deal, calling it a "crucial framework for meeting the climate challenges we face."
But it stops short of flatly endorsing the formal resolution led by Rep. Alexandria Ocasio-Cortez that has attracted criticism from some labor officials — a key Biden constituency.
One big question: How much the sweeping plan will defuse skepticism from activists who were angered in early May when a Biden adviser suggested he would take a "middle ground" approach.
The campaign tells Axios that Biden will sign the activist-backed "no fossil fuel money" pledge on contributions that many other candidates have already signed.
It also has another nod to the left with a call for "banning new oil and gas permitting on public lands and waters."
By the numbers: Some of the top-line figures and goals in the plan include...
$1.7 trillion in federal investments over 10 years, including $400 billion in "clean energy research and innovation."
A goal of "conserving 30% of America's lands and waters by 2030."
A target of cutting the CO2 emissions from the U.S. building stock by 50% by 2035.
Deployment of 500,000 public EV charging stations by 2030.
What they're saying: The Sunrise Movement, a newly prominent group on the left flank of the green movement, offers cautious praise in a statement Tuesday.
The group called it a "good start" but adds "we need even more ambition."
Quick take, via Axios Science editor Andrew Freedman: The goals are generally in line with what the UN says is needed globally to meet the most stringent Paris target of 1.5 °C of warming compared to pre-industrial levels, which would be net zero global emissions by 2050.
However, for that to happen worldwide, the U.S. presumably would have to get there much faster.
Go deeper: Climate change is a massive issue for Democrats in 2020
3. The rise of electric SUVs
Let's follow up on something my Axios colleague Steve LeVine recently looked at: the coming growth of electric SUVs and pickups.
Why it matters: Both types of vehicles are hugely popular with U.S. consumers. So the true mainstreaming of EVs, now a tiny market share, will eventually require batteries to power a chunk of this segment.
Where it stands: Check out the chart above. It's based on a recent note from the consultancy IHS Markit, which forecasts that fully electric SUVs of different stripes (especially little ones) are going to start taking off in coming years.
The big picture: The number of EVs of various types available in the U.S. market is set to mushroom, IHS projects.
Overall, they see full EVs accounting for 7.6% of U.S. vehicle sales in 2026.
"By 2023, IHS Markit forecasts 43 brands will offer at least one EV option — this will include nearly all existing brands as well as new brands entering the market — compared to 14 brands offering EVs in 2018," they said in a note last week.
Getting back to SUVs, their note states they expect U.S. electric SUV sales to grow to roughly 757,000 units, or nearly 60% of total EV sales, by 2026.
Where it stands: According to the consultancy BloombergNEF, trucks and SUVs account for over 50% of U.S. car sales, but just 19% of the current EV model offerings in the U.S. are SUVs.
4. A transportation recession warning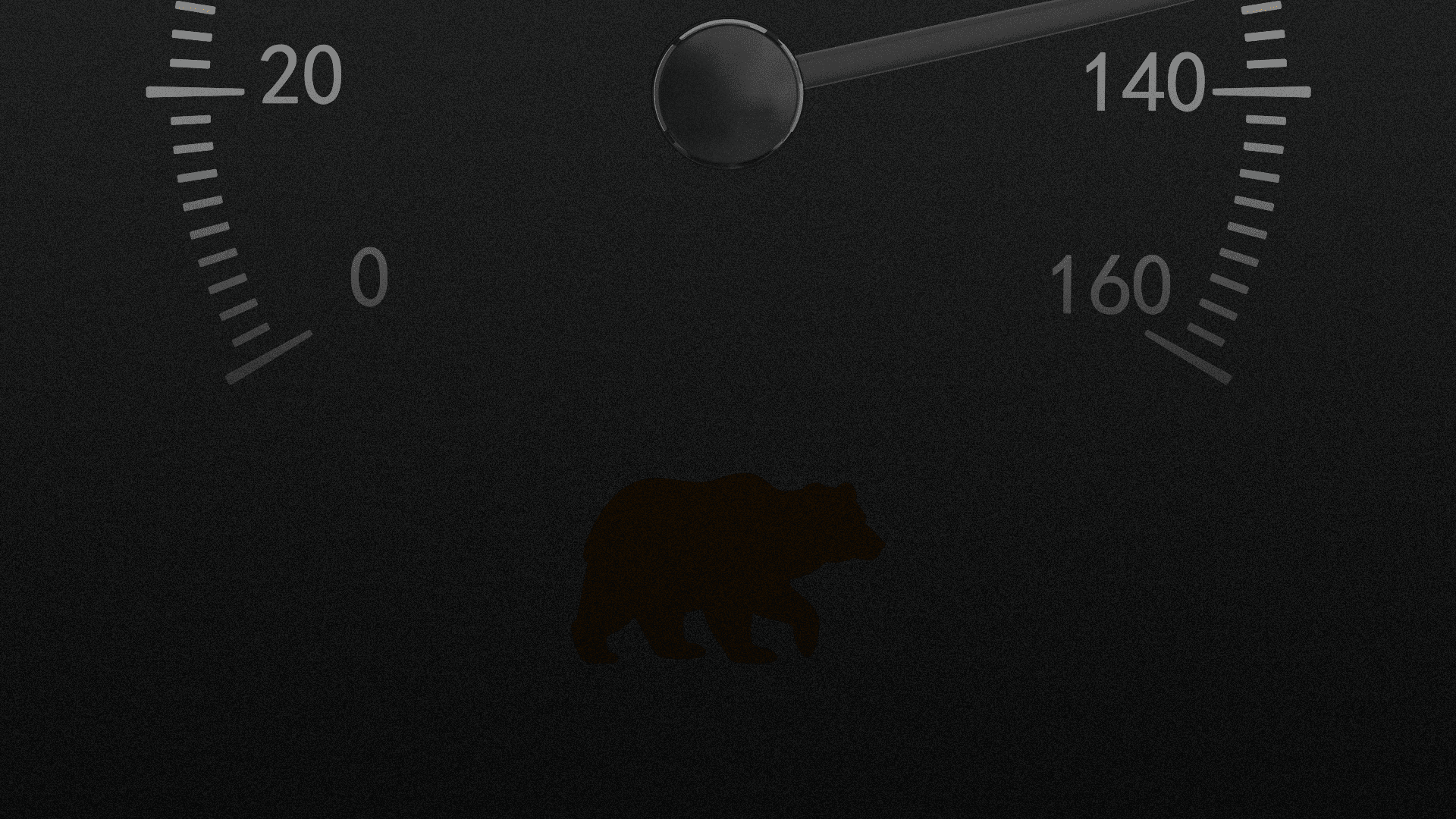 Airlines are expecting their worst year since 2014, the auto industry has laid off more people than it has in a decade, and manufacturing is starting to contract across the globe, Axios' Dion Rabouin reports.
The bottom line: While economists are increasingly warning of a recession in 2020, the global slowdown in transportation and trade is upon the world right now — and this is bound to impact energy demand.
What to watch: The probability of an economic downturn in 2020 is at least 40% due to a falloff in auto sales, an increase in unsold inventory and weakness in government spending, Noel Perry, principal and economist for Transport Futures, told a transportation industry conference in April.
Go deeper: Read Dion's full story here and sign up for his Axios Markets newsletter here.
5. Catch up fast: LNG, crude markets, Shell
Natural gas: Via The Houston Chronicle, "Houston liquefied natural gas company Cheniere Energy has signed a pair of deals amid planned expansion projects at its export terminals in Louisiana and Corpus Christi."
Big Oil: "Royal Dutch Shell Plc plans to shower its investors in money, pledging returns of $125 billion between 2021 and 2025 — twice as much as a decade earlier," Bloomberg reports.
Markets: Per Reuters, "Oil prices fell on Tuesday as an economic slowdown starts to dent energy demand, but markets won some support after Saudi Arabia said a consensus was emerging with other producers about extending supply cuts."