Happy Friday and welcome back to Generate. Today would have been Tom Petty's 67th birthday. Rest in peace.
Ok let's get to the news, and remember your tips and feedback are always welcome at ben@axios.com.
https://www.axios.com/newsletters/axios-generate-02a2db74-5d8a-4d51-b61f-63f8a15513a6.html?chunk=0#story0
New player in solar trade fight: Sean Hannity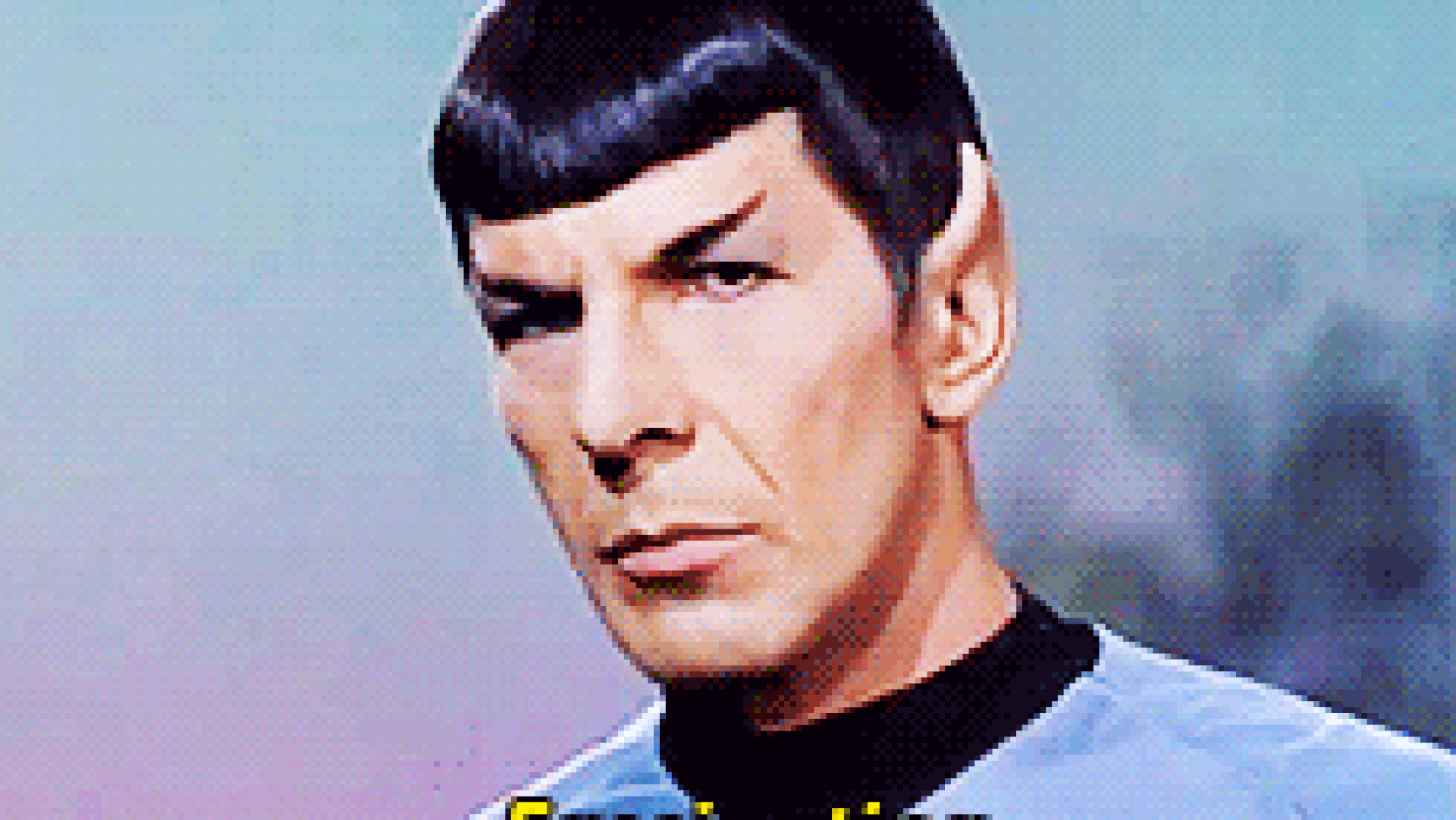 As the White House tariff decision looms, Fox News personality and radio host Sean Hannity has come out against proposals for new penalties on imported solar panel equipment.
Why it matters: Hannity is friends with President Trump, and has a big platform. The White House will make the final decision on potential new import restrictions at some point after next month's recommendations from the U.S. International Trade Commission. The ITC had concluded in September that low-cost imports from Asia and elsewhere are harming U.S. manufacturers.
Hannity's message: He cut a radio ad that ran in South Carolina over the past two weeks that calls the tariff petition by two financially distressed panel-makers an attempt to "manipulate" trade laws, and a "bailout" that would increase prices by "government mandate."
"Now that the Obama gravy train has run dry, well now they want President Trump to also stick you with the bill for their bankrupt businesses," Hannity says in the spot. "Taxpayers should not have to bail out one foreign-owned company only for their foreign financiers to get another payout."
One level deeper: The spot was commissioned by the group Solar Powers America. The group, a relatively new entrant in the renewables advocacy world, is focusing on topics including the benefits of solar energy in southeastern states, according to Bret Sowers, a board member.
Hannity was compensated for the ad, but Sowers did not disclose the amount of the payment or the overall cost of the buy. It was targeted around Trump's visit to South Carolina a few days ago.
https://www.axios.com/newsletters/axios-generate-02a2db74-5d8a-4d51-b61f-63f8a15513a6.html?chunk=1#story1
Oil market notes: Aramco IPO, crude exports, Iran
Crude exports: Lately this newsletter has been looking at the surge in U.S. crude oil exports, which recently reached nearly 2 million barrels per day before dropping somewhat.
Now, a new note from RBC Capital Markets (hat tip to Platts' Herman Wang) looks at how high they could ultimately get before infrastructure limits create a ceiling. The answer is: much higher.
"Consensus expectation for the US crude export ceiling was, as recently as earlier this year, pegged in the 1.2–1.5 mb/d range, but our figures suggest that US crude exports are unlikely to reach a physical level of capacity constraint until waterborne exports approach the 3.2 mb/d range," RBC states.
Aramco IPO: CNBC reports on the prospect of some clarity emerging in late October about the murky plans for the IPO of Saudi Aramco. From their item:
"'Saudi Arabia could use an upcoming conference by sovereign wealth fund the Public Investment Fund to shed more light on the matter,' said Ayham Kamel, head of Middle East and North Africa practice at political consultancy Eurasia Group."
Shale's impact: MarketWatch takes stock of the chatter about U.S. oil production at the big Oil & Money conference in London this week.
"A sharp rebound in U.S. shale oil production is showing no signs of tapering off and will likely keep a lid on oil prices in coming years even as OPEC and its allies continue to cut production, according to a number of industry experts," they report.
Useful: The Dallas Fed is out with its latest snapshot of oil-and-gas activity in the Texas region.
Iran: Platts has a look at what's in store on Capitol Hill — and what it means for oil — following Trump's recent actions that effectively put the ball in Congress's court. From their piece:
"[W]ith a crowded legislative calendar and growing bipartisan support to keep the nuclear deal in place, it looks increasingly likely that Congress may do nothing on Iran in the coming months, several analysts told S&P Global Platts. Or lawmakers may pass a bill with almost no significance to the deal and scant market impact, they said."
https://www.axios.com/newsletters/axios-generate-02a2db74-5d8a-4d51-b61f-63f8a15513a6.html?chunk=2#story2
Policy: EPA on ethanol, Senate votes on ANWR, FERC's earful
EPA's ethanol blessing: "Environmental Protection Agency chief Scott Pruitt assured Republicans Thursday night that he would keep the Renewable Fuel Standard intact, and would even work with them to allow more ethanol to be blended into the gasoline supply year-round," The Washington Examiner reports.
***
Arctic drilling: The Senate approved a budget blueprint last night that paves the way for writing filibuster-proof legislation that would allow oil drilling in the Arctic National Wildlife Refuge in Alaska.
Why it matters: Republicans are at their closest point in over a decade to authorizing development in the region.The refuge is believed to have large oil deposits but environmentalists fear that drilling would disrupt the sensitive ecosystem that they have long battled to keep off-limits.
What's happening now: All eyes are on a possible deal with the House on the budget measure aimed largely at laying the groundwork for major tax policy changes.
Final Senate passage followed the 52-48 rejection of a Democratic amendment that would have struck the provision that enables ANWR drilling legislation. Senate Energy and Natural Resources Committee chairwoman Lisa Murkowski of Alaska immediately signaled that she plans to use the budget's $1 billion reconciliation instruction to craft ANWR legislation.
Note: A reconciliation instruction tells a committee to craft legislation that finds new revenues or savings, and those bills, under Senate procedures, can pass by simple majority.
Yes, but: Energy markets are in a very different place than they were the last time Republicans came close to opening ANWR 12 years ago, before the lower-48 shale boom took off. The level of oil industry interest in expensive Arctic projects amid modest oil prices is a wildcard even if ANWR legislation is signed into law.
***
New wrinkle in FERC battle: A bipartisan group of former Federal Energy Regulatory Commission members is going on the offensive against Energy secretary Rick Perry's push for new power market rules that would boost compensation to coal and nuclear plants.
The Washington Post reports: "Eight former members of the Federal Energy Regulatory Commission — including five former chairmen — have filed a letter with the commission opposing Perry's proposal that would give coal and nuclear plants credit for resilience so that they would have a better chance of beating solar, wind and natural gas competitors."
Go deeper:
You can read their full comments to FERC
here
https://www.axios.com/newsletters/axios-generate-02a2db74-5d8a-4d51-b61f-63f8a15513a6.html?chunk=3#story3
Amy's notebook: Trump's energy policy swims in the swamp
My Axios colleague Amy Harder passed along a few observations about what's new and what's not in Trump's Washington...
The big picture: Trump campaigned on draining the swamp, but in three different energy areas, he's taken steps that are classic Washington moves. Let's run them down:
His administration has, for now, capitulated to the demands of corn-state lawmakers worried about the Environmental Protection Agency considering scaling back a federal biofuels mandate. Big Corn is alive and well inside the swamp (and in the corn-rich battleground Iowa).
The Energy Department gave a conditional $3.7 billion loan guarantee to a struggling nuclear reactor project under construction. President Obama gave the project $8.3 billion in three other loan guarantees. To be sure, this is only a guarantee in the event of a default, but it's nonetheless classic Washington — picking perceived winners and losers.
The Energy Department is asking an independent federal agency to issue a rule that would ensure a resilient grid — and also benefit energy sources Trump has said he wants to help revive: coal and nuclear power. While this is a rare regulatory step, it is a prime example of an administration using all the Washington levers it has at its disposal to fight market trends.
https://www.axios.com/newsletters/axios-generate-02a2db74-5d8a-4d51-b61f-63f8a15513a6.html?chunk=4#story4
On the record: Perry
The Energy secretary chatted with Major Garrett of CBS News on the new episode of The Takeout podcast, called "Fueling up on Donuts." It's a pretty breezy chat that roams from big picture politics and headlines to the former Texas governor's views on DOE.
A sampling...
Done running: Perry, who has run for president twice, ruled out the idea of challenging Sen. Ted Cruz in a 2018 primary (an idea Trump once seemed to praise) or seeking any elected office.
"I am not going to run for public office again," Perry said.
Perry joked about the gravitas of saying he was done seeking office. "Let's make some news, let's make some history," he quipped.
Defending his credentials: DOE is a massive science agency and oversees the nuclear weapons complex. Perry represents a sharp break from Obama-era DOE predecessors Ernest Moniz and Steven Chu, academics with doctorates in physics (whom he praises in the interview).
"If you wanted to have a secretary of Energy that could build you a nuclear bomb, I am probably not your guy, but if you want somebody to manage a large agency, I had 14 years experience running the 12th largest economy in the world," he said, referring to his time as governor.
Making peace with Trump: Perry, when seeking the White House himself in the 2016 cycle, hit Trump hard and at one point called him a "cancer on conservatism." Now he has a different view.
"We don't play beanbag in American politics. We hit hard. Donald Trump took as well as he gave. He hit back and hit back hard. That is our process," Perry said, and alluding to Trump's win, noted, "I respect the American electoral process."
Memory lane: Perry recalls the famous "oops" moment in 2011 when, during a presidential debate, he forgot that DOE was among the agencies he had called for eliminating. He called it "one of the more interesting things to happen in my life."
Perry also gets into how he came to have a greater appreciation for the agency in 2012, especially the "extraordinary jewels" that are the national labs.
Elsewhere they discuss the controversy around Trump's interaction with the families of fallen soldiers, to the use of private and military planes by Cabinet members (including himself), to the future of the proposed Yucca Mountain nuclear waste dump.
https://www.axios.com/newsletters/axios-generate-02a2db74-5d8a-4d51-b61f-63f8a15513a6.html?chunk=5#story5
One fun thing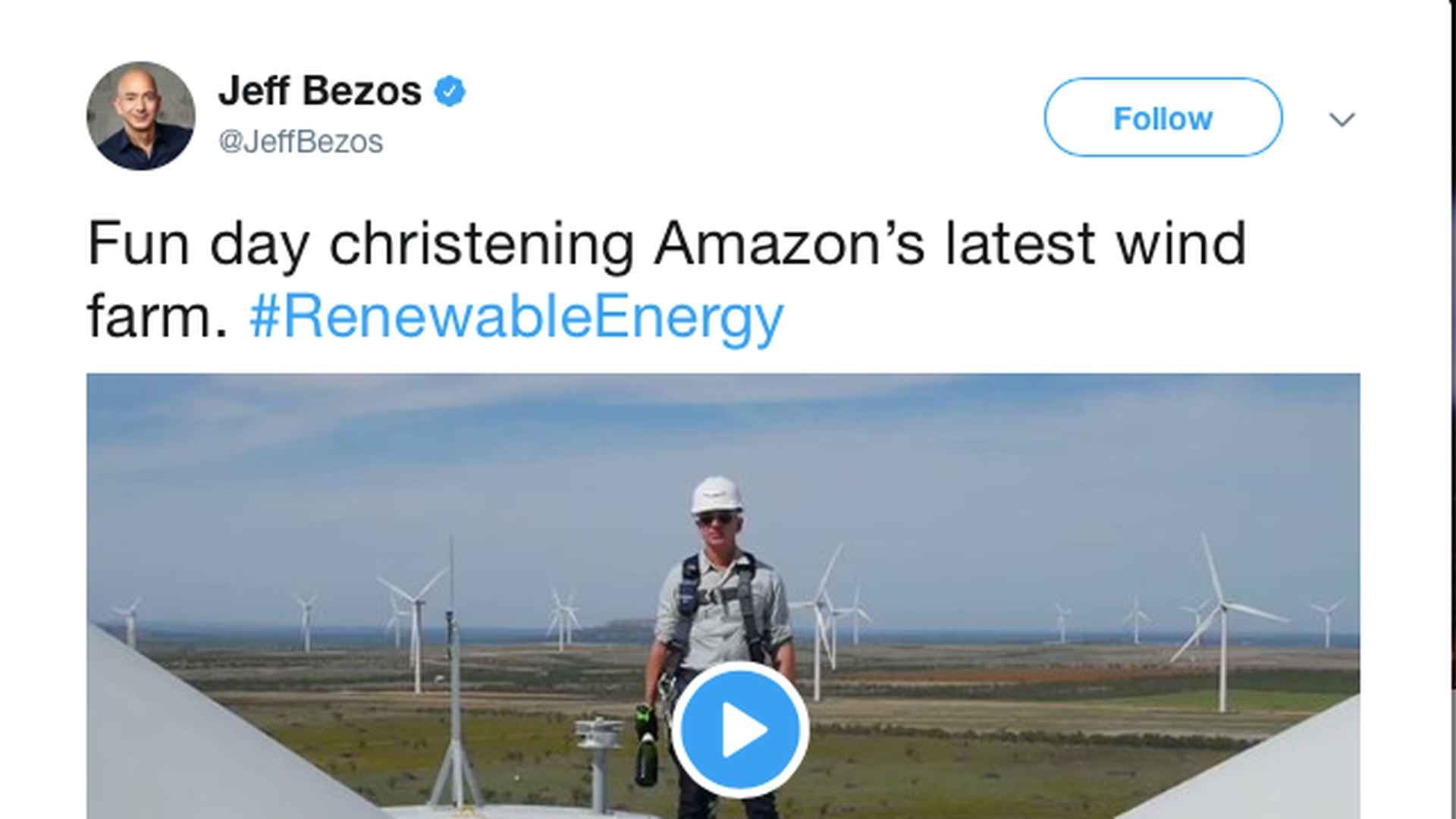 That's one way to celebrate: Amazon head Jeff Bezos tweeted this clip of himself atop a wind turbine yesterday to christen the company's latest and largest wind farm, now running in Texas.
"Amazon Wind Farm Texas includes more than 100 turbines – each over 300 feet tall with a rotor diameter more than twice the wingspan of a Boeing 787," Amazon announced.
Read more: Recode writes more here.