Good morning, and greetings from the "other" Washington, where I am speaking at a conference later this week. I hope you all had a great weekend.
My latest Harder Line column looks at the collection of contradictory energy policies out of the Trump administration — and why it matters. Then I'll hand things back to Ben to get you up to speed on everything else.
Questions, comments, or tips? You can always reach us at amy@axios.com and ben@axios.com.
https://www.axios.com/newsletters/axios-generate-0238bfc4-50db-4296-ae00-c17cbbb5d280.html?chunk=0#story0
What Trump gets wrong about coal, natural gas, and CO2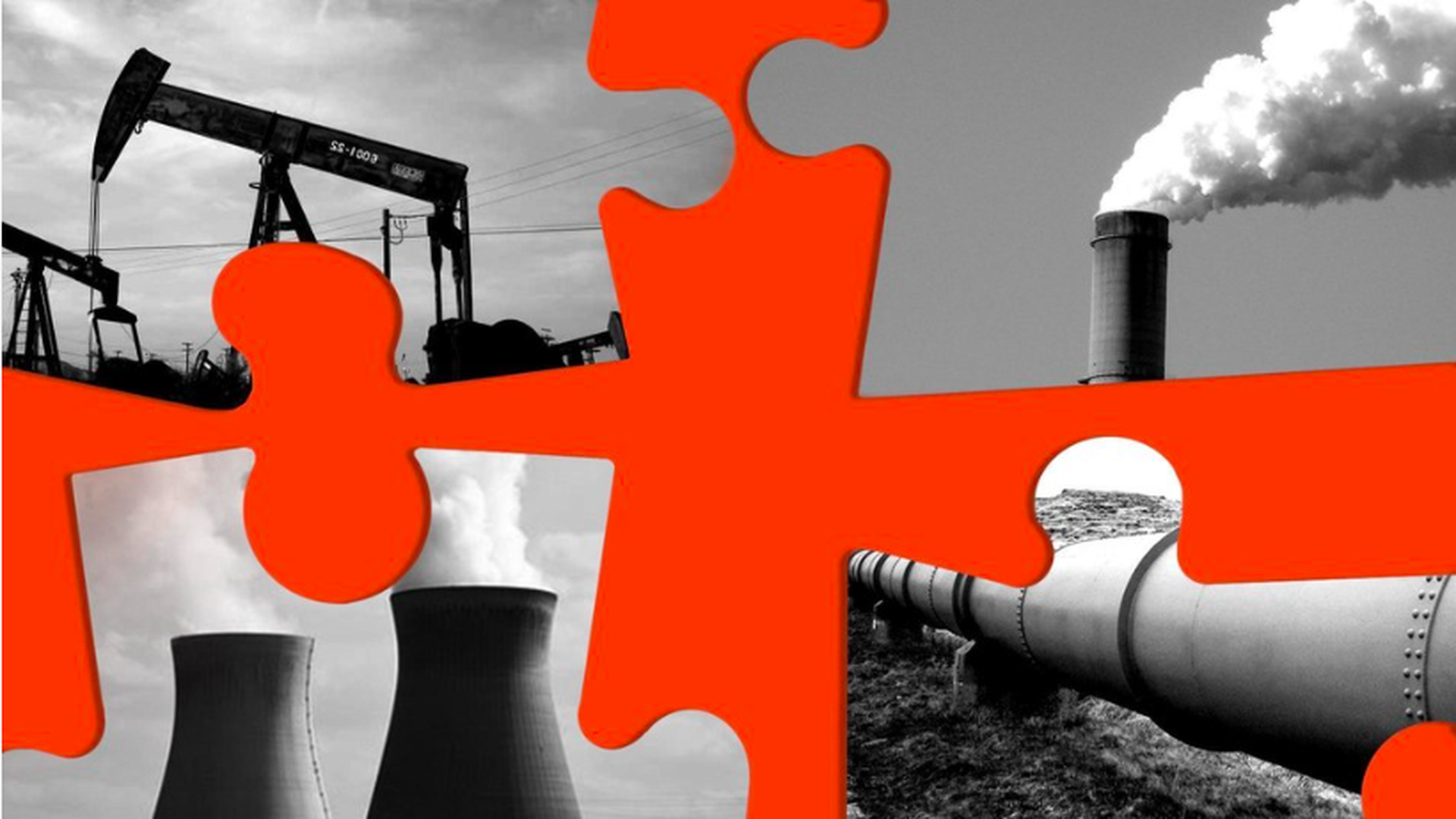 The closest thing President Trump has to a climate and energy policy is actually a collection of contradictions.
He touts natural gas as a carbon-cutting mechanism, but he also promises to bring back the carbon-emitting coal industry. He talks about "clean coal," but his actions will make it harder for "clean coal" technology to make any headway.
Why it matters: Misleading statements are nothing new in Washington. But these contradictions are becoming the Trump administration's core policy framework. Top officials, including Secretary of State Rex Tillerson and EPA administrator Scott Pruitt, have repeatedly pushed these contradictory positions, so let's take a closer look at them.
Read the full column here.
https://www.axios.com/newsletters/axios-generate-0238bfc4-50db-4296-ae00-c17cbbb5d280.html?chunk=1#story1
Scoop: Jeff Holmstead expected to be #2 at EPA
Axios' Jonathan Swan and Amy Harder have inside information on a big move at EPA: Jeff Holmstead, a former top EPA official under President George W. Bush, is expected to be tapped as the No. 2 official at the agency, according to two sources familiar with the decision-making process.
Holmstead, now a partner at law and lobbying firm Bracewell, is the last man standing for the deputy administrator post. EPA chief Scott Pruitt has met with him and likes him, and the White House recommended him, so he's an easy pass from that end. No final decision has been made, but there is no other serious contender for the job at this moment. Why it matters: If Holmstead is nominated, it would represent a moderate tilt inside the agency's leadership.Click here for the whole story.
https://www.axios.com/newsletters/axios-generate-0238bfc4-50db-4296-ae00-c17cbbb5d280.html?chunk=2#story2
Big this week: Rick Perry's return
This week Energy secretary Rick Perry will make his first public appearance before Congress since his confirmation.
Why it matters: 3 hearings on DOE's budget will give lawmakers a chance to publicly grill Perry on topics like...
The ongoing power grid study that critics fear is a stalking horse for anti-renewables policies.
The future of DOE's work on climate, especially in light of plans to curtail an international climate office.
Proposals to deeply slash renewable energy and efficiency R&D.
DOE's work to protect the grid against cyber threats.
Schedule: Perry appears Tuesday afternoon before a House Appropriations subcommittee, Wednesday afternoon before a Senate Appropriations subcommittee, and Thursday morning before the full Senate Energy and Natural Resources Committee.
Don't forget Zinke: Interior secretary Ryan Zinke will testify at three hearings this week too. He'll be before the Senate's Energy Committee on Tuesday, a Senate Appropriations subcommittee on Wednesday, and the House Natural Resources Committee on Thursday on Interior's budget.
Programming note: Speaking of DOE, the American Energy Innovation Council, a group of blue chip CEOs in favor of robust federal R&D support, holds an event Tuesday about the federal role in spurring progress in energy tech.
GOP Sen. Lamar Alexander, who heads the Appropriations subcommittee on DOE's budget, will speak. Then Axios' Ben Geman is moderating a panel. Details here.
https://www.axios.com/newsletters/axios-generate-0238bfc4-50db-4296-ae00-c17cbbb5d280.html?chunk=3#story3
The battle to shape power's future
A few notes from the fight to shape the future of power markets and grids...
Food for thought: On Friday, the grid operator PJM posted several "working papers" aimed at advancing discussions of the effect of state policies on power markets.
One is a rough outline for how willing states in its region could adopt a coordinated "carbon pricing framework." It touches on revenue distribution principles, how to ensure a level economic playing field between states with and without a CO2 price, and more.
Good listen: The Interchange, one of Greentech Media's podcasts, has good interviews with power company execs on: resource planning timelines (hint: they're way longer than four years), AI, distributed energy, and much more.
Quotable: PNM Resources CEO Pat Vincent-Collawn, on the growing interest from younger consumers on how their power is generated:
"They are the ones that are really going to continue help us drive the change in the industry. They are used to using these little iPhone devices for banking, paying for pizza, probably most of them haven't been into a bank, and they see no reason why their electricity can't be done the same way."
DOE's defense: Here's how the agency will defend the rigor of its study of baseload power and reliability — due out later this month — that Democrats call a thinly veiled attack against renewables.
DOE's internal process for the study "substantially relies on the research and internal knowledge of our foremost career and contractor employees across all relevant program offices and National Laboratories," according to a letter obtained by Axios from Perry to several Senate Democrats last month.
United front: 8 renewable energy trade associations on Monday released a "shared vision of the 21st century grid" organized via the American Council on Renewable Energy.
https://www.axios.com/newsletters/axios-generate-0238bfc4-50db-4296-ae00-c17cbbb5d280.html?chunk=4#story4
On my screen: oil markets and Paris
Oil markets: Bloomberg reports on what's putting fresh downward pressure on prices. "U.S. drillers targeting crude added rigs for a 22nd straight week, the longest stretch in three decades, according to data Friday from Baker Hughes Inc."
New normal: "[P]etrostates, investors and major oil companies are adapting to a world in which they see a range of $50 to $60 a barrel as the new equilibrium," the Wall Street Journal reports.
Paris: A new Council on Foreign Relations blog post makes the case that Trump's decision to abandon the Paris climate deal is a better outcome than allowing the U.S. to "erode the foundations of the deal from within."
Finance: The Financial Times takes stock of the Bank of England's announcement that it will review climate-related risks to the U.K.'s banking sector.
"This is the first time a financial regulator has looked at climate risk in such a comprehensive way and at the banking sector in particular," Ben Caldecott, an expert on sustainable finance at Oxford, tells the paper.
Oil sands: Reuters looks deep at efforts to develop new technologies that will "end a two-decade drought in innovation and stem the exodus of top global energy firms from Canada's oil sands."