August 06, 2021
We have entered Friday, now with more Megan Farokhmanesh.
Today's edition is 1,100 words, a 4-minute read.
1 big thing: Bucking expectations
One of the many challenges for indie game developers is being pigeonholed into a specific genre, making it important for some developers to subvert expectations by tackling surprising projects.
Why it matters: For developer Ben Esposito, establishing that his new game, "Neon White," is a sharp turn from his previous work has been at the forefront of how he's presented his game.
"Neon White", a first-person shooter about slaying demons in Heaven, is his attempt to move away from the wholesome persona he established with "Donut County."
Esposito's "kind of ridiculous" goal was to make a game for everyone, regardless of their experience. "Neon White" is the opposite — a game for very specific people, which Esposito lovingly defines as "freaks."
By the time "Donut County" launched in 2018, wholesome or cozy games — a relentlessly cute, whimsical genre — had exploded in popularity. Esposito grew tired of being nice: "Let's go ape s--t."
He's leaned into the weird, retro vibe of the game to get ahead of reactions from players who might expect the same from him.
The details: "Neon White" is heavily influenced by anime like "Cowboy Bebop" or "Trigun" — the Y2K Toonami era — and mixes together elements of retro shooters and visual novels.
The game is being published by Annapurna Interactive and will launch for PC and Nintendo Switch.
"I'm doing this because I'm in a unique position," Esposito says. "I can make whatever I want. And so I'm going to exercise that."
The bottom line: Esposito has leaned into the radical change between games to get ahead of reactions from players who might expect the same from him. "If it's not for you, that's fine," he says. "We don't need you. But if it is for you, it might be your favorite game."
2. Controversy over "Pokémon Go" changes
"Pokémon Go" creator Niantic is assembling an internal task force to address the recent player uproar about the rollback of features implemented during COVID.
Why it matters: The response from players has been largely negative, with some threatening to boycott the game.
Niantic says its cross-functional team will "develop proposals designed to preserve our mission of inspiring people to explore the world together."
The developer, which plans to consult with players in its community as well, will share its findings by Sept. 1.
Niantic's decision to roll back some of those features is part of its aim to "restore some of the foundational elements players enjoyed prior to 2020." The changes have specifically been for U.S. and New Zealand players, "where it is deemed safe to be outdoors."
The big picture: COVID posed challenges that were existential to "Pokémon Go," a game that at its core is about encouraging players to go outside and socialize.
Reducing the distance players would typically have to travel to reach spots like gyms or PokéStops, for example, made it easier for people to still play the game safely.
But players believe those changes benefit the fan base with or without a pandemic. "Many disabled Trainers could now interact with locations that previously excluded them from the 'Pokémon Go' community," players wrote in a recent letter to Niantic.
3. Activision Blizzard is losing sponsors
Activision Blizzard sponsors Coca-Cola and State Farm are reconsidering their Overwatch League partnerships with the company in light of the company's ongoing scandal, the Washington Post reports.
Why it matters: These partnerships are a huge source of revenue for the company's esports leagues.
What they're saying: State Farm is "reevaluating our limited marketing relationship with the Overwatch League," a spokesperson told WashPost. The company also requested that "no advertisements run during the matches this weekend."
"We are working with our partners at Blizzard as we take a step back for a moment to revisit future plans and programs," a Coca-Cola spokesperson said.
The big picture: Fallout from the ongoing lawsuit of a sexist, toxic workplace continue to plague the company.
As reported by Dexerto, T-Mobile also appears to be reconsidering its support, as the company's branding has disappeared from promotions for Overwatch League and Call of Duty League broadcasts.
4. That elusive, perfect name
Today on Reporter's Notebook, a segment where we share previously unpublished interview excerpts, Stephen Totilo gets into what's in a name.
Veteran games writer Chet Faliszek cannot stand naming things in his games, he recently explained to Axios.
Why it matters: Faliszek is the co-writer behind several revered games, including "Portal" and "Left 4 Dead," but it's naming characters, places and other elements that's posed a formidable challenge.
What he's saying: "Naming is horrible because you don't know what the right name is, but you know what the wrong name is," Faliszek said. "You eventually get to this point where you just know everything sucks but you haven't found the right thing."
He came up with the names for the characters in "Left 4 Dead," naming one, Zoe, after his sister's dog. Naming for that game, he said, "was a six-month process."
In Faliszek's next game, "Anacrusis," human characters will encounter alien invaders who they struggle to name. Faliszek is scripting dialogue where they discuss what to name them, and he said he is open to changing those names if the community comes up with better ones.
He's also been welcoming naming suggestions from colleagues working on the new game. "If anyone ever volunteers to name something, I'm not stopping them," he said. "They can run with it."
5. Need to know
[email protected] will hold an indie showcase on Tuesday, Aug. 10 beginning at 12PM ET. Expect to see titles such as "The Artful Escape," "OlliOlli World," "Library of Ruina," and "RPG Time."
French developer and publisher Focus Home Interactive has acquired "Streets of Rage 4" co-creator Dotemu, a company that develops and publishes retro games.
"PlayerUnkown's Battlegrounds" has gotten a name change. You may now call it "PUBG: Battlegrounds."
6. Worthy of your attention
Remember When EA Motion Capped A Baby? (Fergus Halliday, Kotaku)
"Visceral wanted to make the experience of running into your first horde of unbaptized children particularly memorable for players. Naturally, the team went to bizarre lengths to make these limbo-bound toddlers feel authentic. Jonathan Knight, "Dante's Inferno's" executive producer, actually brought his own child into the motion capture studio to make the movement of the creature a little more believable."
7. Old game worth more than your lifetime savings
Remember that time a copy of "Super Mario 64" sold for $1.56 million? Well, that's old news, because now a copy of the original "Super Mario Bros." for NES just went for $2 million.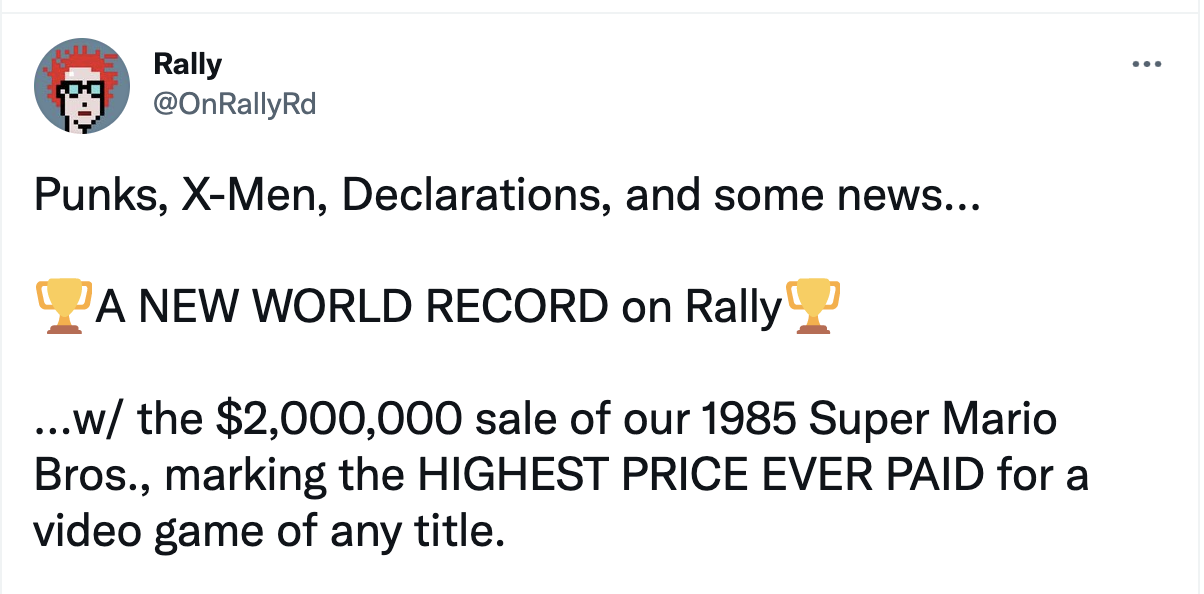 I will never complain about a $60+ price tag again.
Editor's note: The fourth item in yesterday's newsletter has been corrected to show Embracer acquired Gearbox Entertainment (not only the Gearbox Software subsidiary).
🎁 Like the newsletter? Refer Axios Gaming to your friends to spread the word and get free stuff in the process. Follow the link here to begin.
🐦 Find us on Twitter: @megan_nicolett / @stephentotilo.
Instead of dropping millions on old games, does anyone want to pay my student loans? I'll lend you my original copy of "Pokémon Blue" with my name written on it in sharpie. I said lend.