August 13, 2021
Happy Friday! Welcome back to Axios Gaming with Megan and Stephen.
Today's edition is 1,297 words, a 5-minute read.
1 big thing: Nintendo dominates the charts
New video game sales rankings released in the U.S. and Japan show demand for Switch games is strong, even by Nintendo's standard measures of success.
Why it matters: With the next-gen Xbox and PlayStation still low in supply — and marquee new releases for Switch competitors delayed due to COVID — we're seeing the strength of Nintendo's steady, stubborn approach to the gaming business.
By the numbers: In the U.S., Switch console exclusives took nine of the top 20 spots in July, according to tracking group NPD.
In Japan, Switch games by Nintendo and third parties swept the top 30 for the first full week of August, according to industry publication Famitsu.
That run in Japan is reportedly the first single-platform sweep of the weekly charts since at least 1988.
Between the lines: Switch software sales are largely thriving thanks to the appeal of Nintendo's older games, which remain popular and seldom go on sale for less than their $60 sticker price.
Nintendo took the top slot in NPD's chart with July's Switch edition of "The Legend of Zelda: Skyward Sword," a game first released for the Wii in 2011.
And it took fourth with "Mario Kart 8," a money-printer that launched for Switch in 2017 after already selling millions on the older Wii U.
It's not that Nintendo doesn't make new games. They just don't chart as high lately.
The big picture: In much of entertainment, even in gaming, the biggest companies are loading up subscription services with years of back catalogue favorites, figuring that's the best way to monetize them. This just isn't Nintendo's way.
Nintendo's gambit is that it can sell its classics all over again as if they're new, and at full price, of course.
It focuses on bringing beloved games from the past 25 years back by tweaking them — polishing graphics, improving controls and adding qualify-of-life features.
This is good news for Nintendo's business people, but a frustrating approach for fans of classic games, who regularly groan about the company's refusal to utilize its own retro subscription service to offer a wider range of old titles.
2. More "Grand Theft" Remakes
Rockstar Games is preparing to launch remakes of early-2000s hits "Grand Theft Auto III," "Grand Theft Auto Vice City" and "Grand Theft Auto San Andreas," according to Kotaku.
The outlet says the remakes are being remade using the Unreal Engine, a detail we'd heard from a source close to Rockstar in 2019, but had previously been unable to corroborate.
Rumors about remasters of classic "GTA's" had picked up recently as Rockstar and parent Take Two had become unusually aggressive in shutting down fan-made mods tied to those games.
Why it matters: Video game companies are increasingly aware that there is a market for updated versions of the classics.
Between the lines: Rockstar isn't commenting. It's barely even offered details about its PS5/Xbox Series remastering of 2013's "Grand Theft Auto V," which is announced for November.
But news of Rockstar putting yet more work in existing "GTA" games has fans again wondering about the expected next game in the franchise,"GTA VI."
Rockstar doesn't admit that game exists, but the latest reports peg it as being set in Vice City ("GTA" for "Miami"). That is echoed by an Axios source who said prior plans for the game to launch with multiple big cities have been scaled down.
3. EA loses pay vote again
For the second straight year, shareholders at Electronic Arts have voted against the "Madden" maker's executive compensation plan.
Why it matters: The unusual back-to-back rebuke is non-binding, but EA had nevertheless scrambled to avoid a loss by promising — and then promising some more — to cut back on multi-million dollar "special" stock bonuses to senior management.
The company had most recently pledged to forgo "special equity awards" for top execs five years.
Even without those extra equity awards, EA CEO Andrew Wilson had often been granted $15 million in stock annually, a figure recently raised to $18 million.
What they're saying: Thursday's vote signals that "executives need to be content with the millions in equity pay that they already receive from their ordinary-course grants," according to activist investor group SOC, which has been pressuring EA and rival Activision on pay for the past year.
EA says it will keep talking to shareholders about "a wide variety of issues," but says the vote was a referendum on the past.
"We also heard from stockholders that they were generally supportive with the changes we implemented on a go forward basis," a company rep told Axios.
4. You ask, we answer
It's Friday, so time for more reader Q&A.
Q: "What are the options for gamers that want to support good devs while also wanting to punish/not support the toxic ones. Thinking about Blizzard/Activision and Ubisoft, but plenty of other examples (sadly). If not boycotts or other 'vote with your wallet' type stuff, what are the options out there?"
A: Stephen — As Megan reported last week, protesting developers aren't keen on game boycotts.
I checked with some developers and heard the same thing. The fear is that boycotts would never be strong enough to do more than dent sales, and that would hurt profit-sharing, increase management pressure and lead to layoffs.
One developer urges concerned gamers to be vocal about workplace toxicity everywhere they can — posting articles about problems on social media, for example. They figure that can help create a world where people are more comfortable reporting abuse, because talking about it becomes more socially acceptable.
And here's another dev, who says getting to shareholders is key: "Investors, by-and-large, are amoral cowards. Their only values are the bottom line and appearances. Comment on every article, call on press beyond the gaming press, get politicians to talk about the businesses ripe with corruption. When the suits are really scared, when the investors back off and cry for action, that's when we'll see change."
Do you have a question? One you might want us to even ask someone else in gaming for you? Send it over by replying to this newsletter via the magic of email.
5. Need to know
⚡️ The Pokémon Company is holding a Pokémon Presents stream featuring updates about "Pokémon Brilliant Diamond" and "Shining Pearl," as well as "Pokémon Legends: Arceus," on Aug. 18 at 9am ET.
💰 Roblox has hired Jim Greer, co-founder of seminal web-game platform Kongregate. Roblox is absorbing Greer's video-conferencing startup Bash into its developer group.
🟪 Twitch will block users from sharing referral codes during streams that feature digital gambling.
6. Worthy of your attention
GameStop's Power Player: How Outsider Ryan Cohen Wrested Control (Sarah Needleman, WSJ)
"Though [CEO George] Sherman worked through most of the pandemic in GameStop's Texas headquarters, it was Mr. Cohen, on all-hours video calls from his apartment, who called many of the shots, according to board members. New employees frequently sought out Mr. Cohen directly with questions about the business or operations, bypassing the CEO, people familiar said."
7. What to play this weekend
Megan's recommendation: Kitfox Games' "Boyfriend Dungeon" is the thirstiest game I've played all year, and I love it.
It's a combo dungeon crawler dating sim game. You spend a lot of time going on dates with locals, who can also turn into weapons who you use to fight your way through the game's "dunj."
It's pretty straightforward, but scratches a particular itch in a breezy way. It's available on Switch (the platform I've been playing on), PC, and Xbox (where it's on Game Pass).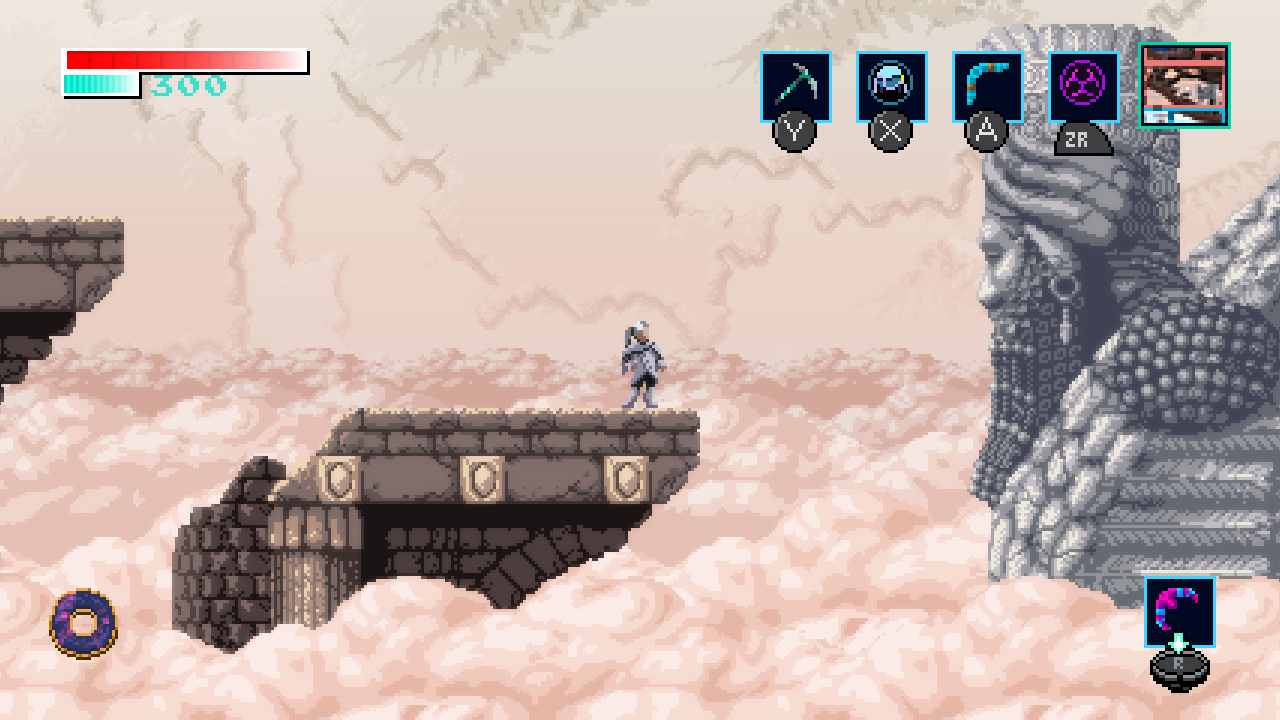 Stephen's recommendation: Thomas Happ's "Axiom Verge 2" is a side-scrolling adventure set partially in the Antarctic and partially in a mysterious other dimension.
It's the latest unofficial descendant of the "Metroid" series, challenging players to explore a mysterious landscape that is full of locked doors and other initially unpassable obstacles. The joy is figuring out how to get through all of it. It's out on Switch, PS4 and PC.
🎁 Like the newsletter? Refer Axios Gaming to your friends to spread the word and get free stuff in the process. Follow the link here to begin.
🐦 Find us on Twitter: @megan_nicolett / @stephentotilo.
Stephen will be writing all the kickers while Megan is out next week. Be sure to leave nice Yelp reviews.