Axios Gaming
May 05, 2022
Hello, and welcome to your final Axios Gaming newsletter with Megan. Tomorrow, Stephen takes the reins for a bit.
Today's edition: 1,099 words, 4 minutes.
1 big thing: A developer's journey to Nashville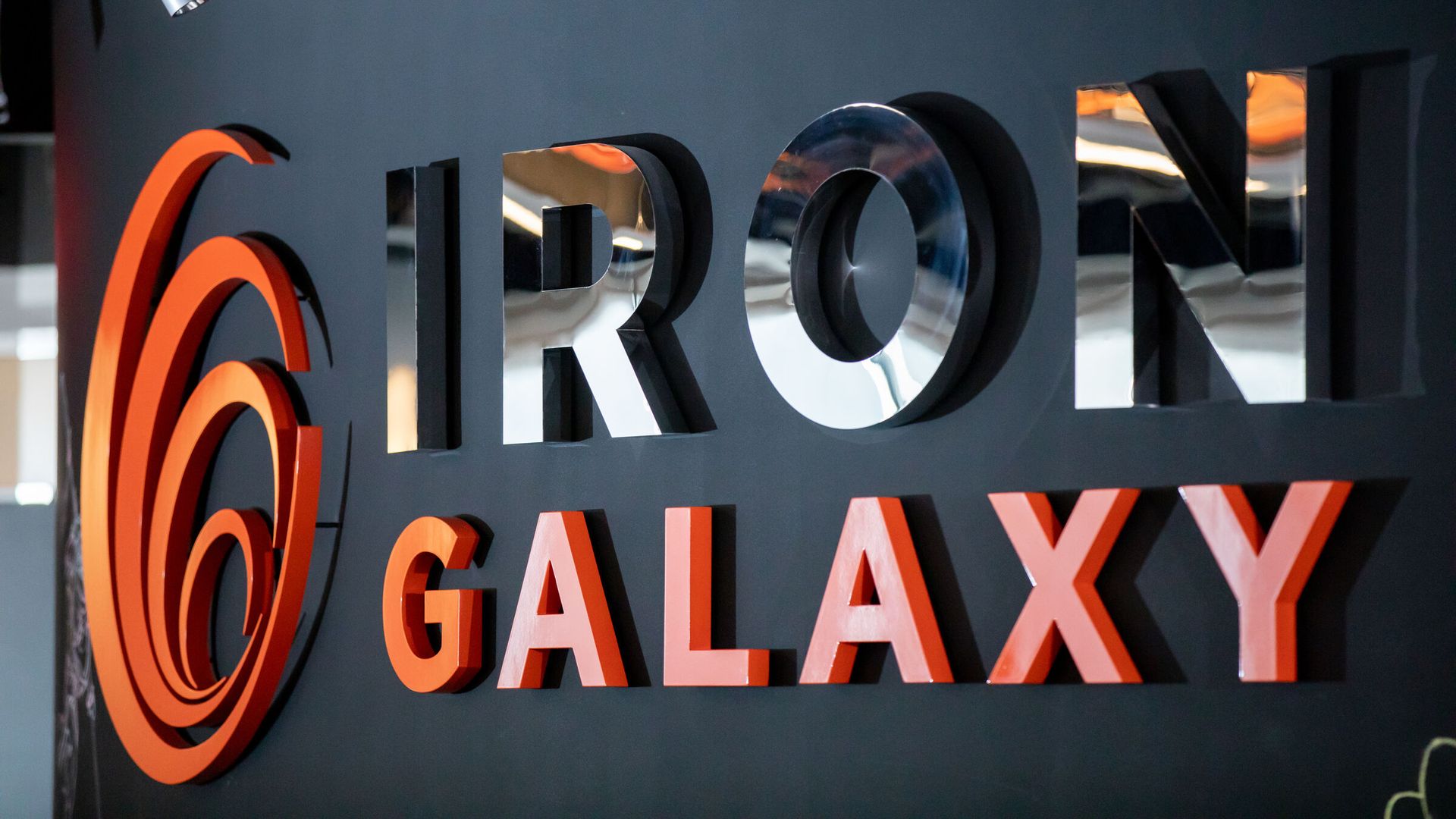 Developers are moving into new, less populated gaming cities to establish new studios in a bid to attract and retain talent.
Why it matters: Game industry hubs have historically existed in pricey areas like San Francisco, Seattle or Los Angeles.
Catch up quick: Iron Galaxy, the developer behind 2013's Killer Instinct Seasons 2 and 3, the upcoming Rumbleverse and ports of Skyrim and Borderlands 2, announced plans to open a studio in Nashville, Tennessee, in February. The company says it will create 108 new jobs over the next five years.
This is Iron Galaxy's third studio, in addition to its presence in Chicago and Orlando, Florida.
State of play: Founder Dave Lang told Axios that when it comes to choosing a new city, there are a few factors to consider.
It's important for a city to be financially viable for workers, a livable option without the high price tag of places like San Francisco. "We want our developers and everybody to be able to have a house," Lang said.
It's also difficult to find a city that "didn't have any weird caveats to it," whether it's cultural factors or even the weather.
Lang says that the city's proximity to thousands of graduating college students within a 60-mile radius is finally what pushed them over the line.
Opening a studio in Nashville is not without risks for game developers.
With a smaller selection of game companies in the area, developers who want to change jobs, or face layoffs, may have a hard time finding new positions. That can also mean uprooting entire families for some developers.
Co-CEO Chelsea Blasko said the company wants to begin with "a core of people" who transferred from their Chicago and Orlando offices.
Keeping those offices involved with each other, and bringing some employees to visit the new studio often helps "build the culture," she said.
"In that way, the remote work has been great. So we know better how to work across the studio so we can take those lessons in our hybrid environment."
What's next: The studio still has work to do building its Nashville office; Blasko said they're looking to recruit "whoever wants to move to Nashville," if they're not already local.
2. Culture where it counts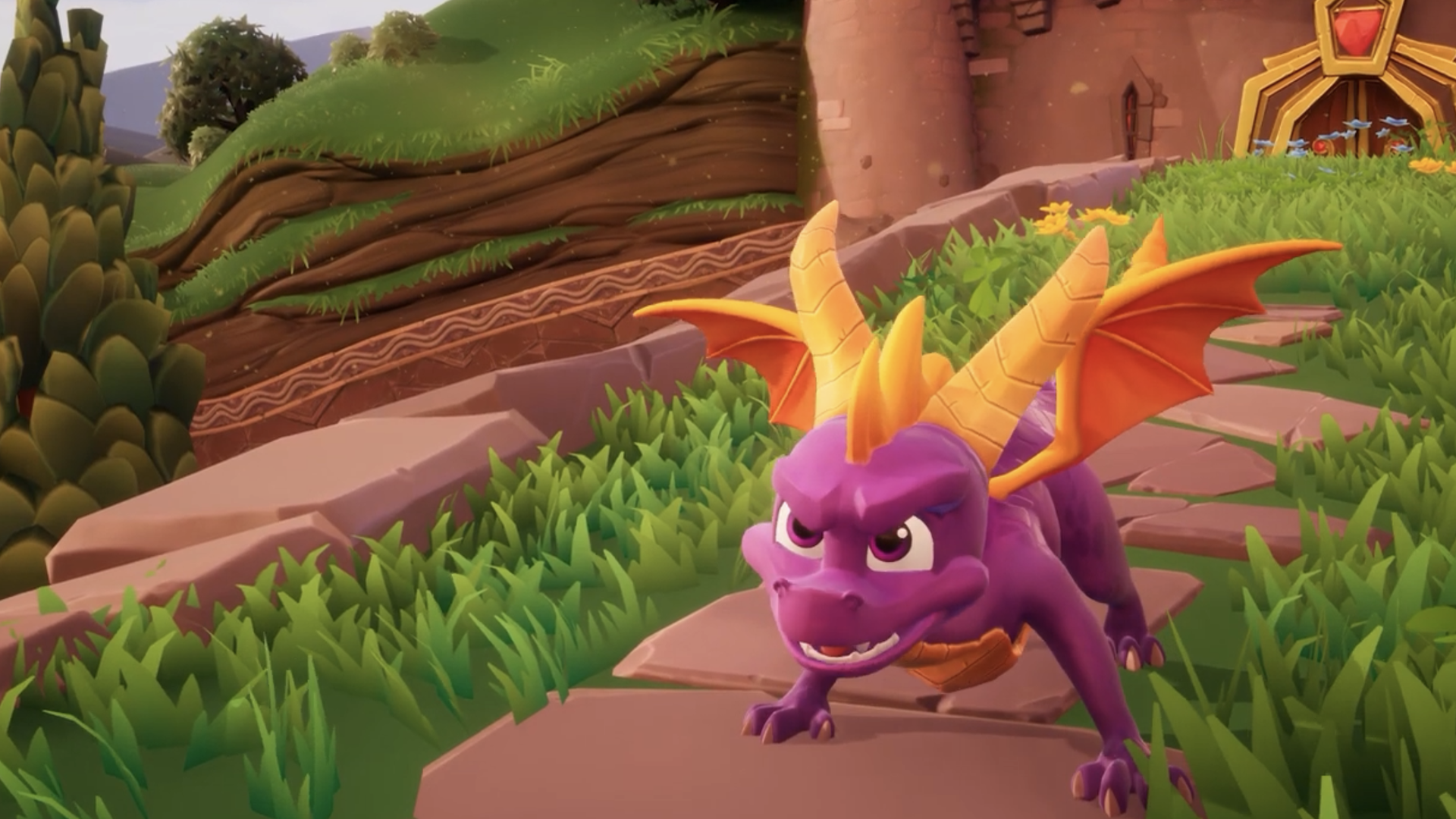 Keeping a consistent culture at Iron Galaxy is crucial to maintaining a healthy company, co-CEO Adam Boyes told Axios.
Why it matters: One of the biggest problems growing game developers often have is scaling their culture alongside their numbers; failure to do so often creates a worse work environment for employees.
What they're saying: "Culture, I think, is like a very delicate fabric," Boyes said. "And if you try to rip it and make it grow too fast, it could fall apart."
Boyes described Iron Galaxy's culture as "a lighthouse," where if people are only interested in money or a single franchise, "we're probably not a good fit for them."
Iron Galaxy's leaders aren't interested in creating a studio with developers in the thousands.
Founder Lang described the goal as a "semi-permanent bond," in which the company is financially stable and "you love it so much you never want to leave."
Staking a claim in Nashville — a city with fewer game developers — makes it easier for the company to retain its talent, Lang said.
"It's harder in places where there's like 3,000 job offers coming in your face every single day," he said. "We can build things the way we want if everything slows down a little bit."
3. Spot the scammer
Flying Oak Games director Thomas Altenburger has worked out how people scam developers for free game keys, by talking to people who scam developers for free game keys.
Why it matters: Developers will sometimes give out keys to players or streamers as a way to spread the news about their game. But scammers will inundate creators with bad faith requests, lie about who they are or even sell those keys elsewhere.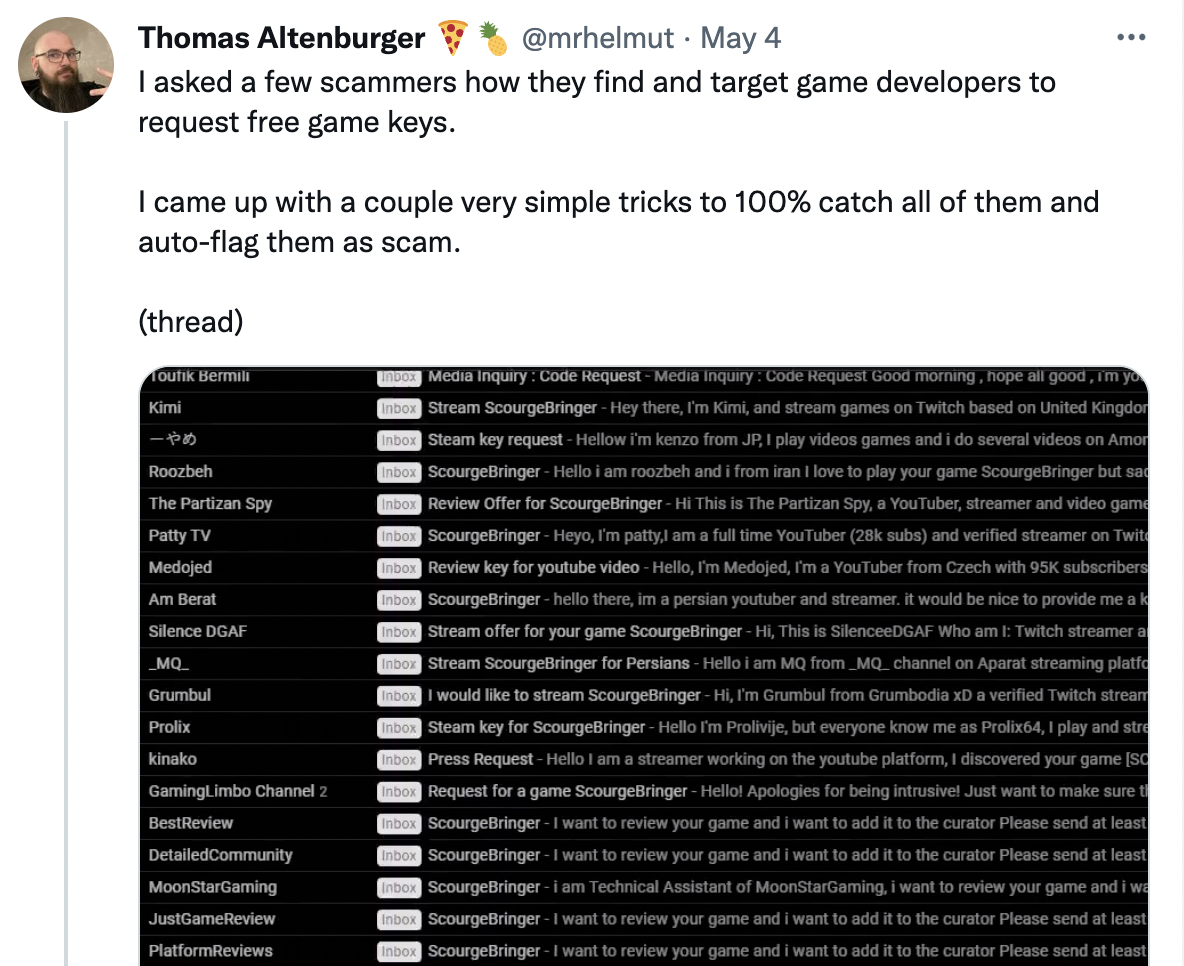 The details: According to Altenburger, they use Steam support pages for each game, which include contact info and official websites as well as public app IDs.
"It's very simple to make a bot that will grab the email here, and go to the linked website and grab an email there."
Devs who want to end spam messages can take steps like removing their contact email from Steam or putting in a fake address ahead of a real one.
What's next: "You're now 100% able to detect a scam without having to verify identities or knowing if the accounts are legit," the developer said on Twitter.
"Funny thing: if you had an e-mail setup on steam and remove it, you will continue to receive scams. Scammers have [a] private list of e-mails they share."
4. Need to know
☀️ Summer Game Fest begins June 9 at 2pm ET.
👀 Longtime Hangar 13 studio head Haden Blackman is leaving the company. Nick Baynes, who serves as studio head of Hangar 13 Brighton, will step into Blackman's role.
❌ Hitman 3's solo Freelancer mode has been delayed from its original spring date to "the second half of 2022."
🇺🇸 Chinese company NetEase is launching its first U.S.-based studio, Jackalope Games, in Austin, Texas. The studio will "be creating new and exciting PC and console games as a first-party studio of NetEase Games."
5. Worthy of your attention
Missiles And Massacres: Ukrainian Game Developers Persist Amid The Russian Invasion (Sisi Jiang, Kotaku)
The situation was the most dire for Ukrainians who lived in Bucha, a city located northwest of Kyiv. Oleksandr Androshchuk from Starni Games was living in Bucha during the Russian occupation, where he witnessed the worst of the Russian atrocities. He and his family lived in an underground basement near their house while the battle for Hostomel Airport was underway. But he says many local residents were killed, raped, or robbed by the occupying soldiers. According to [developer Oleksandr] Sienin, the developer tried to help one wounded civilian who had been shot by the occupiers, but the victim would die from a lack of adequate medical care.
6. Goodbye!
Not to get too sappy, but this past year spent writing to you has been chaotic, at times difficult, and very fulfilling. I've loved having a direct relationship with you and every email you've sent back (weirdly even the grumpy ones) has really brightened my day.
Thank you to everyone who's read our newsletter, written in and been supportive of our baby. It only just turned a year old! Wild.
If you want to follow my work, you'll find me over at WIRED later this month. If you want to read bad tweets, you'll find me over at Twitter.
Be nice to Stephen! I'll see you around.
🎁 Like the newsletter? Refer Axios Gaming to your friends to spread the word, and get free stuff in the process. Follow the link here to begin.
🐦 Find us on Twitter: @megan_nicolett / @stephentotilo.
Going to the store to get a pack of cigarettes.
Editor's note: The first story has been corrected to show that Iron Galaxy was only responsible for the development of Killer Instinct's second and third season (not the whole game).