August 30, 2021
Welcome to today's Monday edition of Axios Gaming with Megan Farokhmanesh.
Today's edition is 1,024 words, a 4-minute read.
1 big thing: The "passionate" developer myth
Game developers aired diverging views this weekend about whether encouraging developers to work "passionately" on a game is cover for inducing them to work too much.
Why it matters: Crunch has been accepted as a real, impactful issue within the game industry, but there still isn't a simple fix applicable to the entire sector.
What they're saying:
An environmental artist at Naughty Dog responded to the studio criticism, calling effort put in by leadership and employees to find solutions "dramatic."
The big picture: Naughty Dog, like many other studios, has grappled with crunch issues.
2. China cracks down on online gaming time
China will no longer allow anyone under the age of 18 to play online games for more than three hours a week.
Why it matters: The crackdown on games, which is an effort to reduce gaming addiction among young people, is the country's strictest measure yet.
Under these rules, kids cannot play online games Mondays-Thursdays and only from 8-9pm on Fridays-Sundays and public holidays.
The Wall Street Journal reports that online games will need a connection to an "anti-addiction" system, which will require players to register with their real names and identification documents issued by the government.
"The previous policy was 1.5 hours a day, so this is an extreme change and comes at a time when South Korea has just overturned its own shutdown law," tweeted Niko Partners senior analyst Daniel Ahmad.
The big picture: It's the latest in China's broader battle with tech companies, especially as it relates to video games, with a state-owned newspaper decrying online gaming as "opium for the mind" this month.
Gaming giant Tencent reacted to that by saying it would work to reduce gaming time for minors.
An analysis from Niko notes the new policy could have larger impacts, including a decline in the number of gamers under age 18 and the discouragement of young people to take up gaming as a hobby or career.
3. Another Twitch streamer gone
Twitch streamer DrLupo is leaving the platform to work exclusively with YouTube, the star announced today.
Why it matters: The jump from a livestreaming platform to YouTube —where streaming and prerecorded content can be combined —offers creators greater personal freedom.
To be successful on Twitch, streamers need to produce live content on a regular basis — a time-consuming venture that goes beyond the energy spent on camera to include planning and preparation efforts.
In an interview with the Washington Post, the streamer said "the financial situation that YouTube presented me without a doubt is like ... I'm secure for life."
DrLupo currently has more than 4.5 million followers on Twitch.
The big picture: DrLupo isn't the first Twitch streamer to jump to another platform.
Valkyrae signed a multiyear deal in 2020 to stream exclusively on YouTube; mega star Ninja temporarily left Twitch for an exclusive deal with Mixer before the platform shut down.
What's next: DrLupo's first YouTube stream takes place tomorrow to his 1.7 million followers.
5. Worthy of your attention
"Respecting retro game constraints in the age of remakes" (Don Everhart, Polygon)
"Accompanying the question of how a remake will be made are questions of when and why. Remakes of retro games demonstrate how constraints of technology, capital, and time impact art styles, designs, and game feel. As remakes bring ever higher polygon counts and ray tracing, let's embrace the distinctiveness of retro games."
6. A head of the game
Here's a fresh nightmare for you, as spotted by Kotaku: modder Winder Sun has taken up threatening "No Man's Sky" players by slapping Hello Games founder Sean Murray's face onto different parts of the game, from blobs to bushes.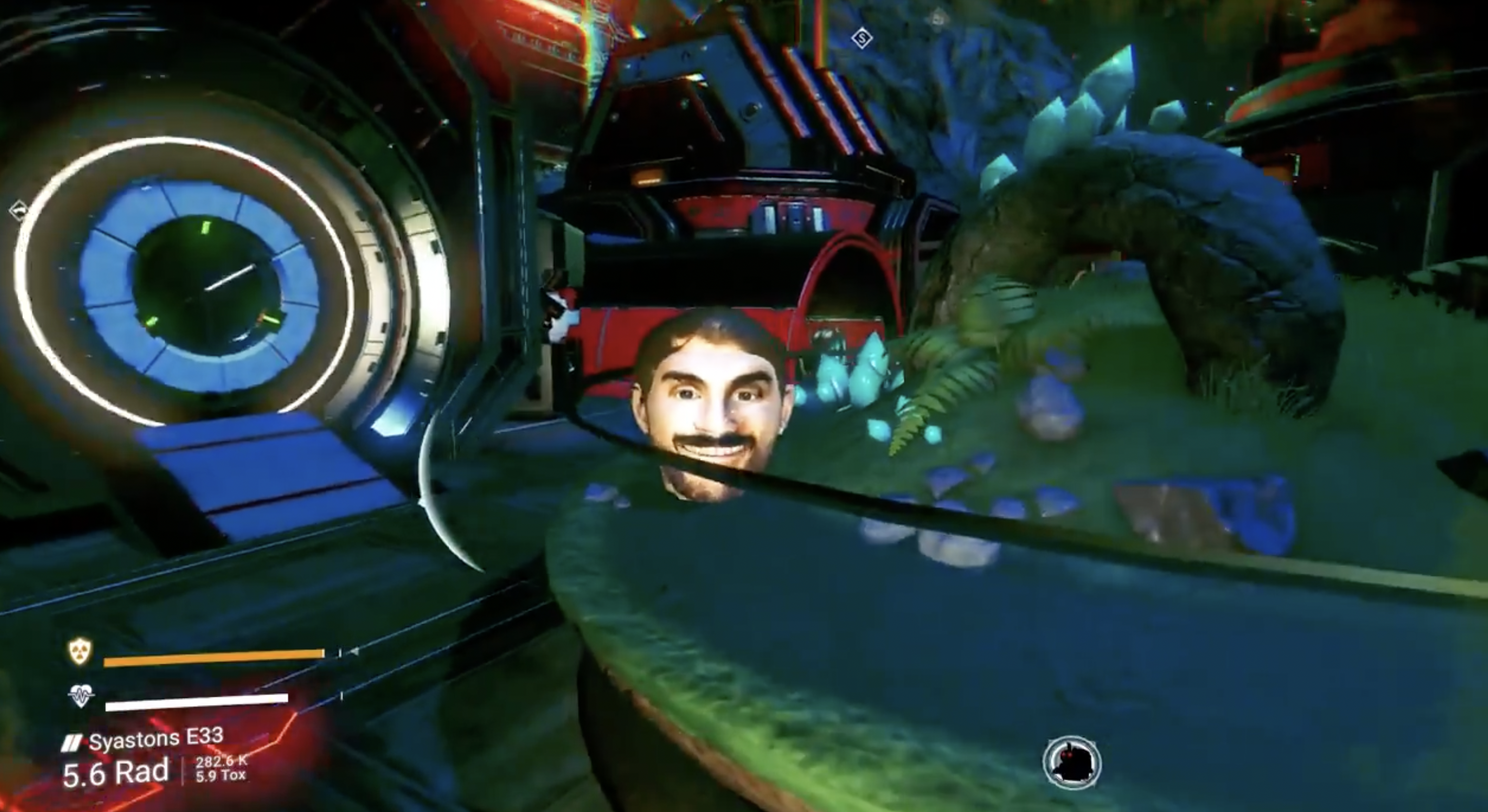 The mod is a cheeky countdown to the game's next free expansion, as Winder Sun adds a new Murray face for every day the update isn't released. Creative, impressive and also — please release the update already.
🎁 Like the newsletter? Refer Axios Gaming to your friends to spread the word and get free stuff in the process. Follow the link here to begin.
🐦 Find us on Twitter: @megan_nicolett / @stephentotilo.
For every newsletter published past deadline, I will threaten to add my own tweets.