November 29, 2021
Hi everyone. Stephen here. I've missed sending these out. Nice to be back.
🎵 I'll understand if you get sucked into this 24-minute celebration of the Nintendo Wii's great music. I did. Probably should have put this at the end, huh?
Today's edition is 1,244 words ... 4.5 minutes.
1 big thing: A metaverse pioneer's doubts
Early metaverse architect Philip Rosedale is no longer confident the metaverse will be a huge hit, despite the surging interest from Meta (fka Facebook) and many other companies.
Driving the news: Rosedale, who evangelized the concept of an immersive virtual world while overseeing the storied platform "Second Life" a decade ago, shared more tempered thoughts in an interview with Axios.
Of the metaverse, he says: "I think what we've learned — and somewhat with some sadness, given the work that I've done, I would have to agree — is that it's not for everybody, and maybe it's never for everybody."
Between the lines: Rosedale oversaw "Second Life" company Linden Lab from 1999-2013, at a time when virtual worlds were more novel. (He now runs spatial audio company High Fidelity.)
The draw of a "metaverse" then, as he recalls it now: "That inevitably we would all spend an increasingly large fraction of our lives in a virtual world."
The freewheeling "Second Life" garnered press and about a million monthly users, who could buy virtual land and make anything their imagination and the program's tools would allow.
Users staged concerts, crafted art, built virtual ecosystems, ran fashion shows and established a red light district, much of this chronicled in the essential New World Notes blog.
Rosedale highlights lessons learned from "Second Life."
"People can come together in an online place and actually treat each other well," he said, noting the conviviality of many of the service's users.
But people, in general, didn't want to spend long periods of time in it.
Rosedale cites many people's discomfort with controlling avatar versions of themselves and communicating that way with others.
History repeats itself: There's now a metaverse land rush, as companies and brands try to claim territory in the virtual world. Rosedale saw it all nearly two decades ago.
Just as he experienced with "Second Life," Rosedale says, "there still arises this weighty question of what is it that's going to cause, you know, normal people, a lot of the time, to be willing to go into these online spaces?"
"And I think we still haven't answered that question."
Rosedale hopes some of today's metaverse energy can at least result in virtual public spaces.
"You might be able to create a public space that could be a positive thing for people, where you could go and make new friends, where you could cry out about injustice."
His modern metaverse vision necessitates public freedom, one not centralized in which any company controls identity and advertising.
That's too much power to put in the hands of a big tech company, he says. "We're all watching this movie with Facebook in 2D," he said.
2. You ask, we answer
Time to answer your questions.
Q. Given inflation, rising cost of staff and time needed to thoroughly design, vet and create games, do older gamers (like myself born in 1981) need to come to terms that MTX/battle passes are here to stay?
A: Here to stay, yes. Destined to spread to every game? Harder to say.
To get everyone on the same page, a "battle pass" is a series of dozens of in-game rewards that players unlock over time by playing a game. There's usually a free track and a paid track, plus the option to pay to advance through it more briskly. They've been in vogue the past couple of years, and you can find them in "Fortnite," "Call of Duty," "Halo Infinite" and many other top multiplayer games.
Microtransactions (MTX) constitute buying extra characters, outfits, modes, time-saving boosts and more to add to a game, usually for $1-$10.
It's rare to find a major, big-budget game that doesn't have one or both of these. They're common in third-party console and PC releases from the likes of Ubisoft, EA and Activision. Free-to-play mobile gaming is based on the microtransaction model.
The exceptions are indies and many first-party games from Nintendo, Sony and, to a lesser extent, Microsoft, as there's less financial pressure to design for such systems.
Another way to finance the rising cost of development is to raise the price of major new games from the $60 mark it's been at since 2005, inflation be damned.
The bottom line: Underpinning your question is the anxiety many players have about whether these systems manipulate them to pay more.
Is this game hard — are its rewards rare — because the publisher wants me to pay to get them more easily?
3. The week ahead
We were off Friday, so here's a slightly late look at the week's gaming happenings.
Tuesday, Nov. 30
Wednesday, Dec. 1
Thursday, Dec. 2
Friday, Dec. 3
Saturday, Dec. 4
4. Need to know
🦸‍♀️ The makers of DC Universe Online say they're working on a new massively multiplayer game starring Marvel Comics characters, according to a financial report spotted by a sharp-eyed streamer.
⬆️ Valve's dominant PC gaming service Steam hit a new all-time peak of 27,384,959 concurrent users Thursday, according to SteamDB.
⬇️ PC gaming marketplace GoG lost money last quarter and will be refocusing on its "core business" of offering a "hand-picked selection of games," its bosses at CD Projekt RED told investors today.
5. Worthy of your attention
'I am not gonna die on the internet for you!': how game streaming went from dream job to a burnout nightmare [Keza MacDonald, The Guardian]
"Burnout is an incredibly real thing in gaming," says Imane Anys, AKA Pokimane, who has put in thousands of hours to become the most popular female streamer on Twitch, with 8.4 million subscribers. "A streamer sets their own work hours and it can be easy to fall into the trap of streaming eight to 12 hours a day, seven days a week. It's frightening because people grind crazy long hours, and see results – hence why so many do it. I've veered away from doing extreme hours of livestreaming in an effort to upkeep my mental health and I've found that it aids in the longevity of my career."
6. All-time great graphics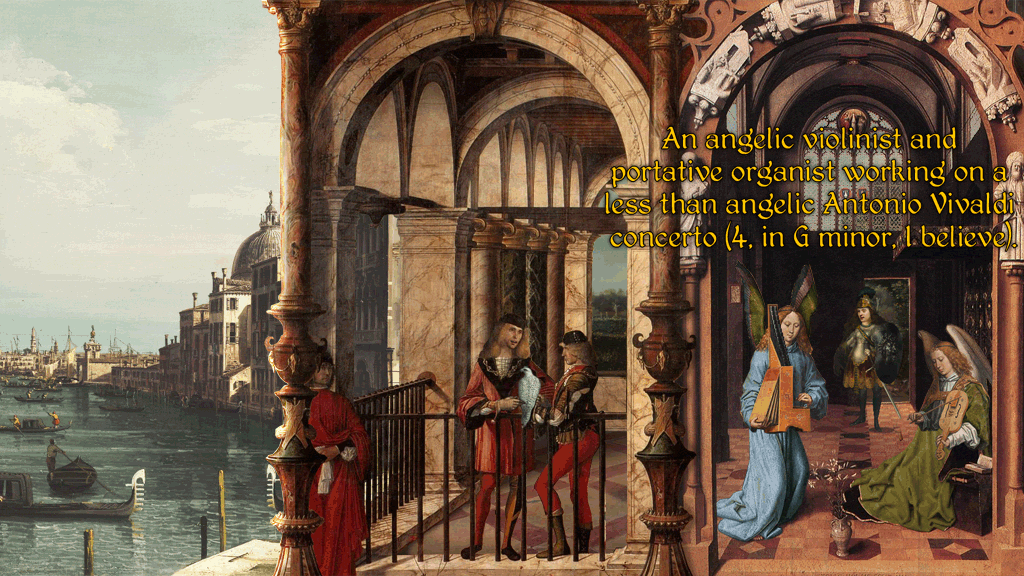 I'm having just an OK time playing "The Procession to Calvary," but I'm having a great time looking at it.
The point-and-click PC and console game is composed of lightly animated Renaissance paintings.
It's a welcome break from the graphical styles most games use.
And it's the perfect game for a subscription service like Xbox Game Pass, where it was recently added: a game I wasn't going to buy but feel enriched for getting the chance to try.
🎁 Like the newsletter? Refer Axios Gaming to your friends to spread the word and get free stuff in the process. Follow the link here to begin.
🐦 Find us on Twitter: @megan_nicolett / @stephentotilo.
Bring back PlayStation Home. (Wait. Someone's already doing that?)