Axios Gaming
April 18, 2022
Happy Monday. Stephen here, back from a week of vacation.
I got excited about this recent NPR bit about Olympic champion Usain Bolt developing his competitive edge by playing video games as a kid, then discovered it was based on a BBC interview from December in which he played a FIFA video game as a hologram. Time to pull myself out of that rabbit hole.
Today's edition: 1,286 words, 5 minutes.
1 big thing: 2022's weirdest game system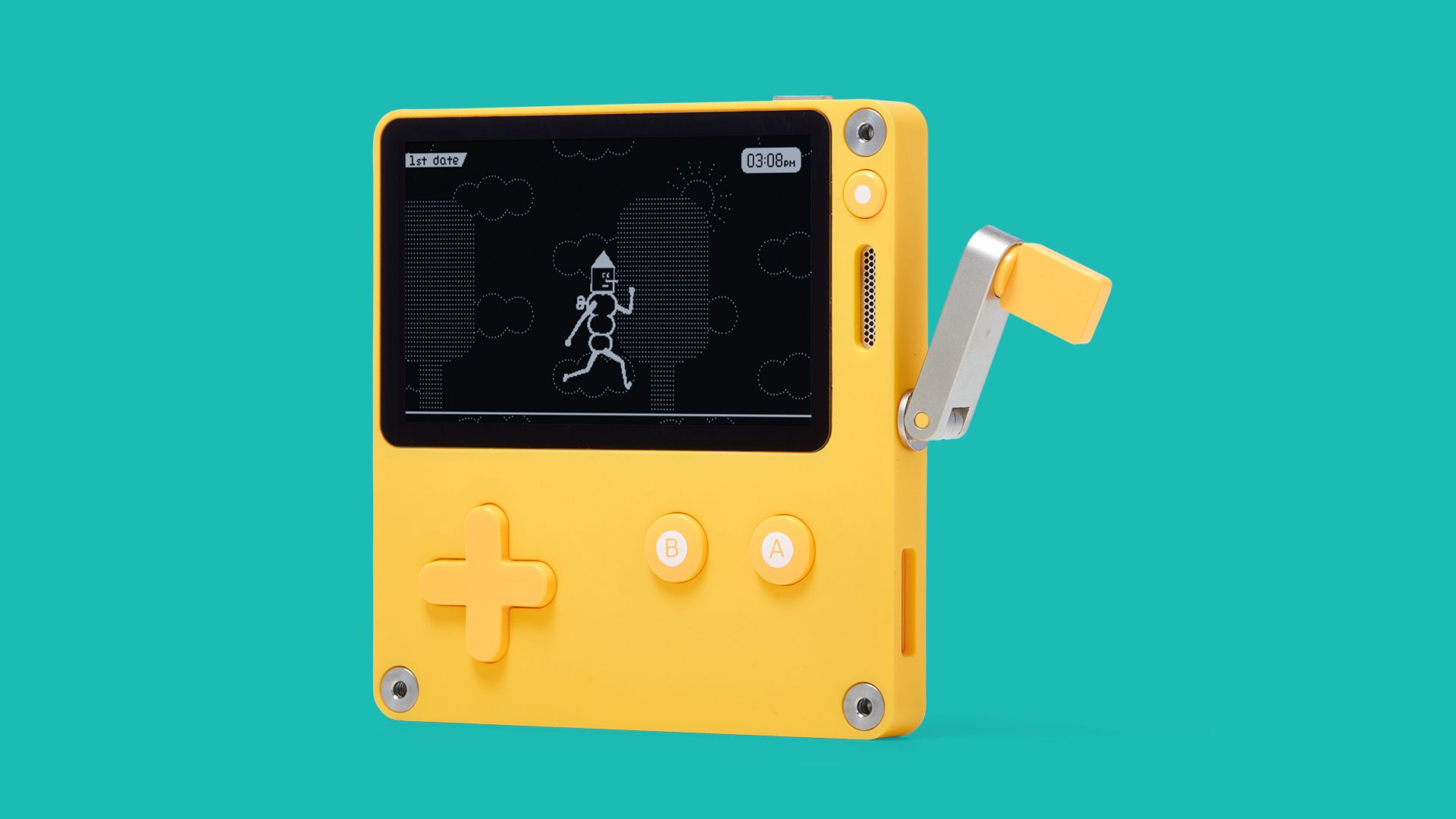 The brand-new Playdate portable gaming device has more going for it than a striking yellow color scheme and a crank you can use to control some of its games.
Driving the news: Launching today, the Playdate is a mix of retro and modern with a clutch of unexpectedly pleasing games.
It's also in short supply. The first wave of devices are shipping today, according to its designers at Panic.
But anyone who preorders one of the $179 machines today won't get theirs until next year.
The details: The Playdate is a tiny block of plastic about 3 inches square, with a monochromatic screen that harkens back to Nintendo's original Game Boy.
It has buttons and a crank, the latter used in some of Playdate's first wave of games for stirring potions, swinging a sword, rotating a surfboard and, in at least two games, turning back time.
But the system's most novel idea is its initial seasonal approach to game releases, doling out two new games a week — and at least one surprise — for 12 weeks, starting the moment an owner first connects the system online.
The season feels of the moment. On a Playdate, the update awaiting you as you check the device isn't a bunch of emails, Instagram photos or depressing tweets. It's small, often quirky new games that come digitally gift-wrapped.
Our impressions: Panic provided Axios with a Playdate running on an accelerated two-week season, which still made discovery delightful and let us pick some early favorites:
Demon Quest 85 — Gather the right high school friends and kitchen ingredients to summon specific hellish demons. Then chat with them.
Zipper — Rapid yet somehow strategic sword-fighting.
Questy Chess — You're on an adventure to fight and slay bad guys, but you're a chess piece.
But a catch: The device's dim screen is disappointing and leaves it unplayable in darker rooms, one Game Boy throwback experience best left in the past.
Micro interview with Panic's director of special projects Greg Maletic, (very condensed):
Q: Some games were made a long time ago?
A: "Many were substantially completed as long as 2 or 3 years ago" [and have been updated since].
Q: Will there be a season 2?
A: "Whether we do so will just depend upon how Playdate customers react to this first one: its length, the game mix, etc." [More games are in development for purchase outside of the first season.]
Q: People who want to preorder today really have to wait until 2023?
A: "Unfortunately, yes. … This is largely due to trouble securing parts in the current market."
2. The NFT reality
Hype for NFT-based video games is calming a little, as some boosters begin to express more grounded thoughts about the tech's potential.
Why it matters: The investments are still pouring in, the games are still coming, but we're closing in on more realistic visions of what NFT gaming will look like.
The lowered expectations approach shows up in a new PC Gamer interview with online gaming pioneer Richard Garriott.
He says his next game's use of NFTs is focused strictly on letting players sell virtual land and items to each other more securely than they could in older online games such as his team's classic Ultima Online.
It'll be a background component of the game — a massively multiplayer adventure called Effigy — and easily ignored if players choose to.
Garriott dismisses many other blockchain-based games as "flights of fancy" and said the oft-hyped concept of moving player-owned NFT items from one game to another is impractical.
The compensation-for-previously-unpaid-labor approach comes from Square Enix president Yosuke Matsuda:
He told Yahoo Japan (via VGC) that the Final Fantasy mega publisher could use blockchain tech to pay a subset of gamers to make new content for games, "instead of relying on goodwill."
Then there's the we've-got-enough-problems-already approach from Blizzard boss Mike Ybarra, reacting to an article about the World of Warcraft studio polling interest in NFT games:
3. Your questions answered
It's Q&A time. But the mailbag is getting empty, so we're ready for more.
Q: I'm curious about the availability between physical games and digital games in the future. I've read that once the eshops for the digital games close, the digital games are unavailable for re-download in case a hard drive or micro SD card goes bad. I've also read one opinion that the eshops are closed for new purchases but open for re-downloading lost games.
I'm looking forward to more game time when I retire. Is the fear of losing digital games real?
A: Yes, unfortunately, though many of the looming problems are unavoidable.
Online marketplaces for older consoles are beginning to face shutdown deadlines (3DS and Wii will hit in March 2023, for example), though usually with a promise that players still can re-download games they bought in those stores. We've got the likes of Nintendo promising re-download support "for the foreseeable future," if that inspires sufficient confidence.
4. Need to know
🤔 Activision has acknowledged in a new SEC filing that it is cooperating with an insider trading probe. In the same filing, it emphasizes that CEO Bobby Kotick has not discussed nor negotiated with Microsoft about whether he'll stay with the company should Microsoft acquire it.
🎮 Players have spotted differences in the new-gen version of Grand Theft Auto V that suggest development studio Rockstar has removed transphobic content from the game, VGC reports.
🎬 Nintendo's 1986 Super Mario anime has been restored in 4K and posted online for all to watch, until Nintendo's lawyers inevitably spoil the fun.
🏠 Final Fantasy XIV is having another housing crisis, this time due to a botched lottery for rare land in the popular massively multiplayer online game.
🇨🇳 China is banning its citizens from livestreaming games that aren't authorized for sale in the country, potentially impacting some huge games like Elden Ring.
5. Worthy of your attention
Will Netflix's video game gamble pay off? [Marketplace, Meghan McCarty Carino]
McCarty Carino: How much of this do you think is just about bolstering the Netflix brand, sort of another branch of merchandising for them?
Financial analyst Michael Pachter: I think ultimately that's going to be what they ascribe to their aspirations. And I think that Netflix could succeed there. I do think it's smart for Netflix to do kind of a low-cost investment in things that create more awareness of the Netflix brand, and I think games is part of that. So I will concede that they're probably going to continue to do this for several more years, and that's fine. That's a good investment. They spend north of a billion dollars a year in marketing, so why not spend 10% of that on game development and see if it helps marketing?
Note: Netflix today announced the development of an animated series and mobile game based on the popular card game Exploding Kittens.
6. Oh, no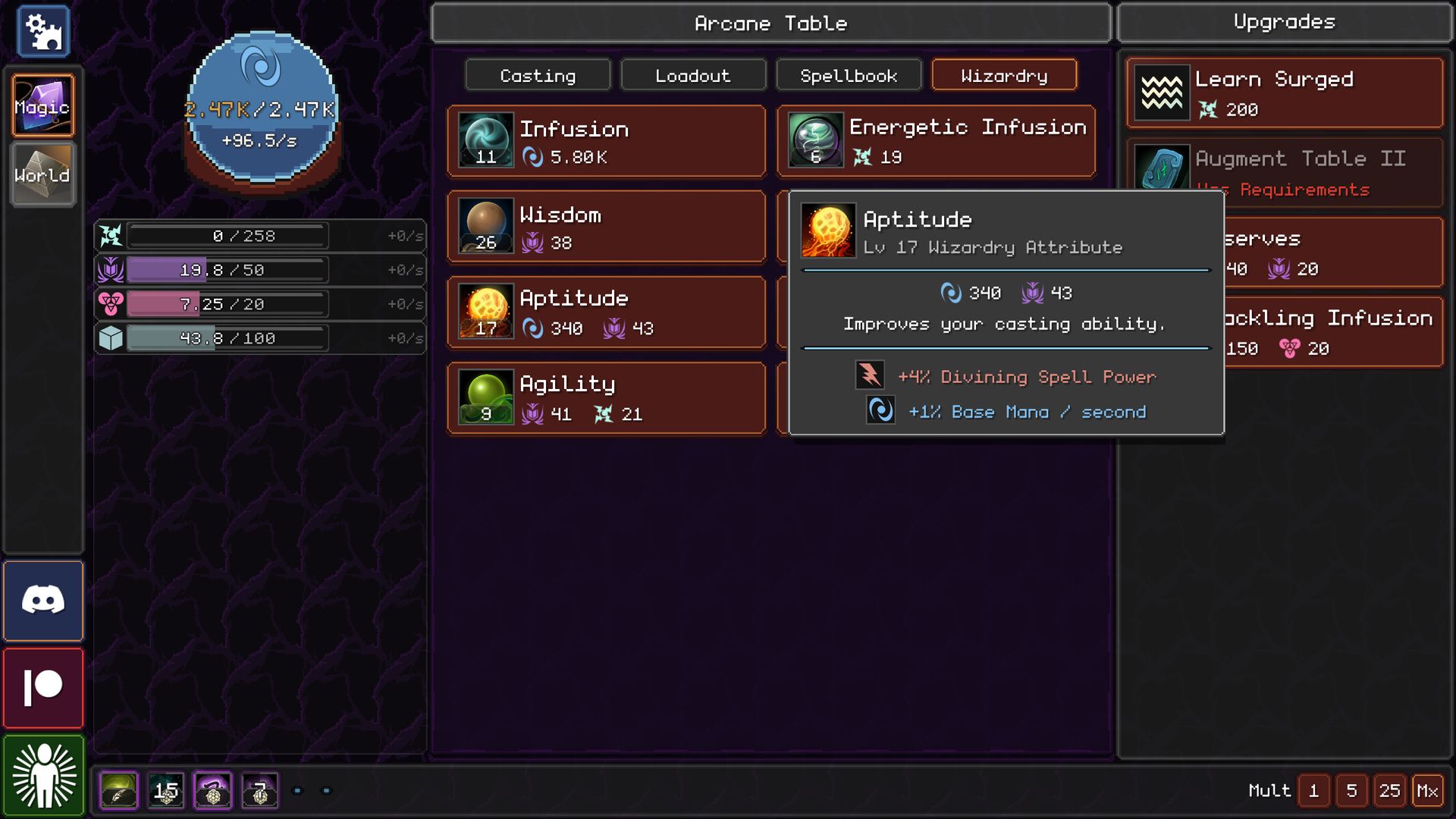 I confess a weakness to so-called clicker games, in which you try to make numbers go up by clicking a lot on a screen. Then waiting. Then clicking some more.
Now I'm worried that I'm going to click way too much to make magic spells in a game called Orb of Creation. It nearly derailed my Sunday evening newsletter research after I read about it in PC Gamer.
Well, if I can't resist, come join me. You can try the game for free right here.
🎁 Like the newsletter? Refer Axios Gaming to your friends to spread the word, and get free stuff in the process. Follow the link here to begin.
🐦 Find us on Twitter: @megan_nicolett / @stephentotilo.
Tip for amateur Roblox developers: don't piss off a Kardashian.
Editor's note: An item in last Friday's newsletter has been corrected to remove an incorrect statement that Diablo 2: Resurrected's new patch is the first patch in over a decade.